The best of mountain tourism in Austria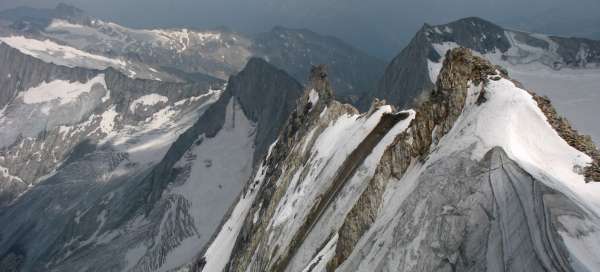 Austria offers countless amazing mountain ascents, you will also find thousands and thousands of mountains here. Let's take a look at the most famous and beautiful mountain ascents you can take in Austria and be inspired by your next trip to Austria.
The Big Bell unexpectedly without people
|
Altitude: 3 798 m / 12 461 ft
We chose a somewhat untraditional variant with a starting night at Erzherzog-Johann-Hütte, which meant a… continue reading
Two-day skiing in the Pitztal
|
Altitude: 3 770 m / 12 369 ft
Winter ascent to Austria's second highest mountain Wildspitze (3,772 m.) Crossing the Taschachferner Glacier… continue reading
A two-day alpine hike
|
Altitude: 3 666 m / 12 028 ft
The Großvenediger, or Greater Venetian, lies west of the Großglockner and is considered Austria's fourth… continue reading
View of the Hohe Tauern
|
Altitude: 3 666 m / 12 028 ft
Großvenediger, located in the Hohe Tauern, has a height of 3,666 meters. nm the fourth highest mountain in… continue reading
Trek to mythical mountain
|
Altitude: 3 606 m / 11 831 ft
Similaun (3 606 m asl) is one of the most popular and highest mountains in Austria. Moreover, it is not very… continue reading
Awesome outlook around Ötztal
|
Altitude: 3 455 m / 11 335 ft
Kreuzspitze (3455 m asl) belongs among the highest easily accessible austrian hiking peaks (you do not need… continue reading
Plangeross - Gahwinden - Westgrat - Hohe Geige
|
Altitude: 3 395 m / 11 138 ft
The ascent from Plangeross to Hohe Geige in one day is quite challenging, but in good weather it can be… continue reading
To the highest mountain Geigenkammu
|
Altitude: 3 395 m / 11 138 ft
Hohe Geige (3,395 m above sea level) is one of the most accessible hiking mountains in the Ötztal Alps,… continue reading
Mittelberg - Mittagskogel and back
|
Altitude: 3 133 m / 10 279 ft
The Mittagskogel can be reached from Mittelberg relatively easily using the Gletscherexpress tunnel, which… continue reading
The outlook over Finstertaler Stausee
|
Altitude: 3 016 m / 9 895 ft
From Kühtai Pass ( 2017 m asl ), which lies on the mountain road that connects the Ötztal valley with… continue reading
Ascent along the classic path to Hochkönig
|
Altitude: 2 905 m / 9 531 ft
Hochkönig is one of the most beautiful massifs in the northern limestone Alps. The normal classic ascent path… continue reading
Applaud the author of the article!