Steep ascent above hut of Martin Busch
The path from the Martin Busch hut to Kreuzspize rises sharply along the grassy slope that becomes unpleasantly slippery and muddy in rain. You can nicely see the valley modeled by glacier. (The previous hike from the Vent to mountain hut Martin Busch is HERE)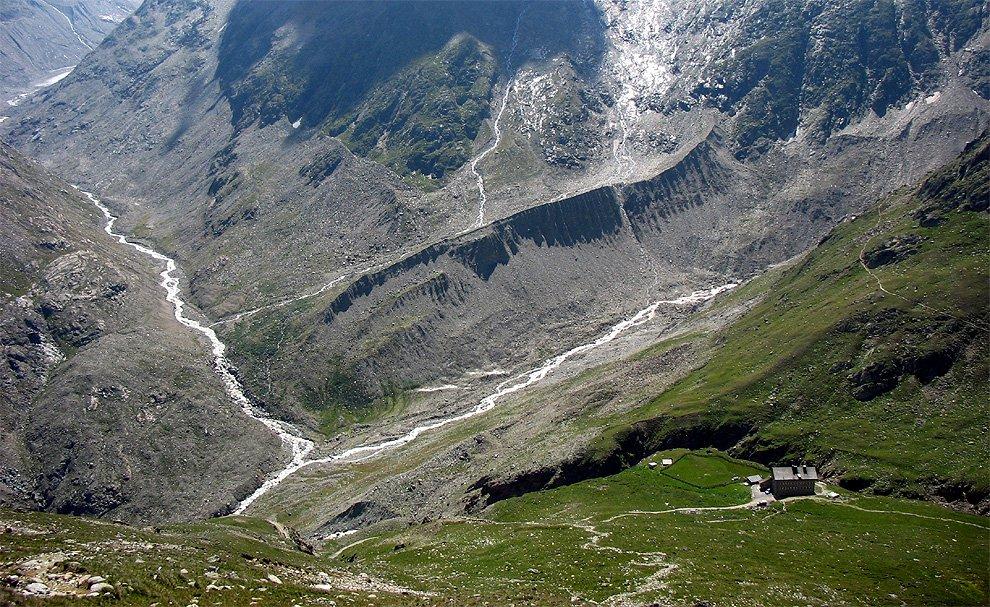 Mutmalspitze (3522 m asl)
Directly across the valley rises the beautiful mountain of Mutmalspitze (3522 m asl).
The upland plateau full of stone cairns
Steep grassy slope ends unexpectedly at 2900 meters above sea level with an extensive rocky plain nicely decorated with a number of well worked-out rock cairns. Over the plateau rises the final ridge, from which rise the peaks of Saykogel, Sennenkogel and many others.
Brizzisee
Just 200 meters off the tourist path on the upland plain there is a small, but nice pool Brizzisee. If you are not in time pressure, we recommend coming up to it and enjoying the mountains mirrored in its waters.
Rotkar and Talleitspitze
The path rises through the rocky slope into a small pass on the side ridge. In bad weather it would be easy to go off the path in this section, so it's good to keep a close watch to the marking. There is a nice view of the huge vale of Rotkar (3340 m asl) from the small pass, but there is practically not much left from the glacier marked in the map.
Top of Kreuzspitze (3455 m asl)
It is only 110 height meters in technically quite simple terrain from the small pass. Of course, at the beginning or end of the season there may be snow fields and the ascent is suddenly much harder.
Finailspitze (3514 m asl)
Views from the top are amazing – the wildest are probably the views to the south. You can see almost all the whole pommel leading from the huge mountain Finailspitze.
Weisskugel (3739 m asl)
Southwest is dominated by a huge Weisskugel (3,739 m) – called Palla Bianca in italian.
Disappearing glaciers
At any point of view here you can beautifully see how incredibly are the glaciers receding. Maybe just a hundred years ago it could have looked here almost like in Himalayas.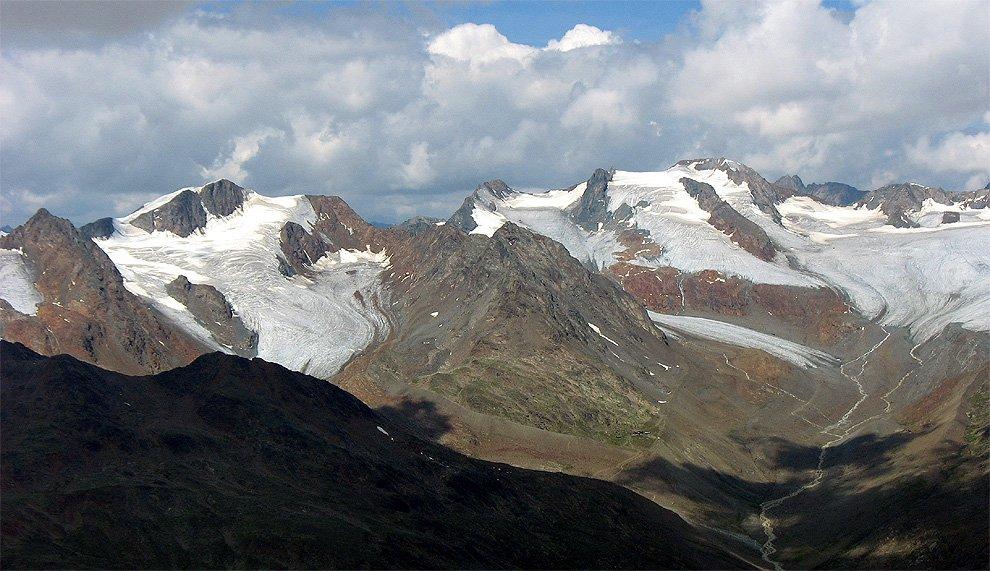 Sharp ridge
The ridge continues from the top to both sides really sharply and it's certainly not suitable path for tourists.
Wildspitze (3774 m asl)
You can nicely see the highest mountain in Tyrol – Wildspitze from the top.
Similaun and Marzellkamm
During the entire ascent the most common view is of Similaun and a long ridge of Marzellkamm that seems like a high wall from the beginning.