Long trek from Manang to Mustang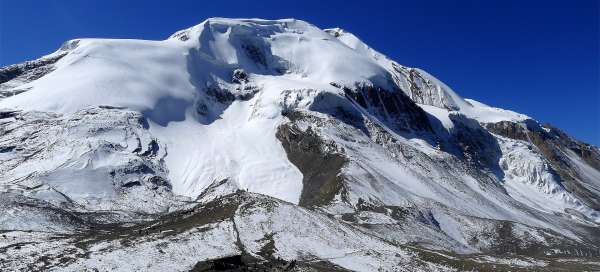 The most challenging stage of the entire trek around Annapurnas leads across one of the highest "tourist" passes in the world – Thorong la (5 416m asl) (sometimes written also as Thorung la) in between nepalese regions of Manang and Lower Mustang. High difficulty of this crossing is determined mainly by its high altitude and long and tiring ascent and descent than by technical difficulty. However there has always been a trade route, along which trudged caravans laden with goods from Tibet, so the path itself is quite comfortable in nice weather. The pass usually becomes impassable for a few days just after big storm, when it is covered with snow.
Ascent to tea house
The vast majority of tourists start this "great day" already from Thorong Phedi. The trek is described in the previous photoreports, so there will be only a description of the journey from High Camp over the pass up to the endless descent into the final destination Muktinah. The first part of the ascent, about 200 altitude meters, leads from High Camp to the refreshment house. You must overcome side moraine from Syagang mountain along the way, so there are also some minor descents, which are not pleasant for tourists. But thankfully, there is a small bridge leading across the small glacial river. In the house you can have a tea to warm you up.
Wrong impression that it's easy to reach
It is only less than three kilometers and 350 altitude meters from the refreshment house to the pass, but at this altitude it subjectively seems longer. Moreover, it seems several times on the way that the pass is already in sight, but later it turns out that it was just an illusion. The path leads across the moraines and debris and is not very interesting. Along the way, it is possible to meet guys with horses looking for people that are exhausted by altitude sickness or just too tired and lift them in the saddle to the pass. On the horizon is already seen Thorong Peak towering directly above the pass.
Thorong la (5 416m asl)
After approximately two hours of the way from High Camp we are finally standing in the pass. Emotions are quite active here. Everyone realizes here that he has basically done the trek and just a way down is waiting for him. Most tourists make their height records here and this makes them even happier.
Over the pass
The pass itself is no high mountain wilderness as someone might think due to the elevation. It is a wide flat pass lying between the peaks Yakwakang (6482 m asl) and Thorong Peak (6144 m asl). It separates two different worlds a little . Unique is here the rough house, where tea is sold. Who knows whether it is not the buffet in the highest altitude ever. The work must be really hard here, so everyone gratefully accepts, on Nepali conditions, relatively high tea price. Just ascent a few meters above the pass and now is clearly visible both pass and nice Thorong peak.
Lake in the pass
Not many people rush down quickly from here in good weather. Apart from visiting tearoom it is worth to walk a few meters from the pass to the south to the small lake.
Last view to Chulu West
Nice view is back on Chulu – although more from distance than in previous days, but also more from a "bird´s eye view".
Last view to Purbung (6 500m asl)
Even on Purbung (6500 m asl) is an interesting view from here, especially on its western side, which is not even visible from High Camp.
Neverending descent in the wasteland
After an hour of "discovery" around the pass it is now the right time to set up for an endless winding descent into arid areas of Lower Mustang, part of a small former Tibetan kingdom Lo. There are still 1700 vertical meters down and about four hours of walking remaining to Muktinah.
Thorong Peak and Khatungkang
It is worth to look back after a while of the descent, because Khatungkang (6,484 meters asl) finally peeks out, which was hidden the whole time behind lower Thorong Peak (6144 m asl). Very rarely you can meet tourists, who maybe just a matter of principle, don't walk the trek according to the guide, but vice versa. They usually look quite tired. After all, it is 850 m higher from this side, if they go directly from Muktinah.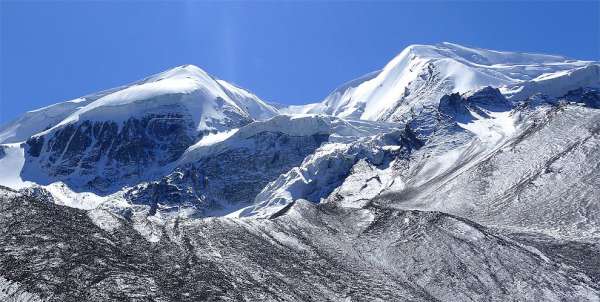 Neverending descent in the wasteland - c
After more than an hour of descent finally appear first grassy fields and even herd of cattle graze on the horizon. Deep below us it is finally visible Muktinahu oasis.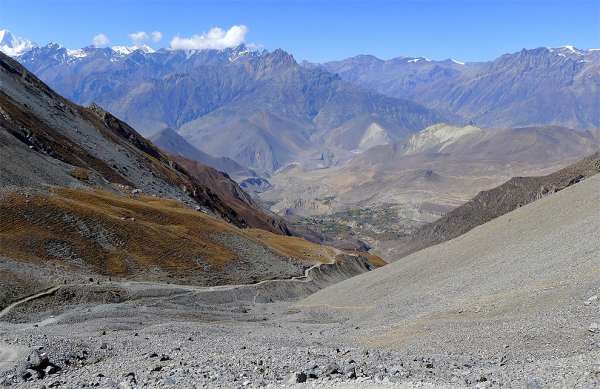 Looking back to the pass
The next part is slightly monotonous and tiring. You descend the steep slope. There is a little surprise at 4400 meters above sea level – up to here winds a jeep way. Slightly lower in 4170 m is a group of tearooms Muktinah Phedi, an ideal place for a well-deserved lunch. Especially on older tourists you can observe that they are tired and their knees are pretty sore. Nice view back is significantly lower and then at the confluence of rivers.
Khatungkang (6 484m asl) in distance
From the confluence of the rivers it is possible in all its glory to see, from here monumental Khatungkang (6484 m asl).
Dhaulagiri (8 167m asl)
Nice views are also to Dhaulagiri Pyramid (8167 m asl) and Tukuche ridge (6920 m asl), which dominate the western part of the trek around Annapurnas. But they are shown at better light at the sunrise.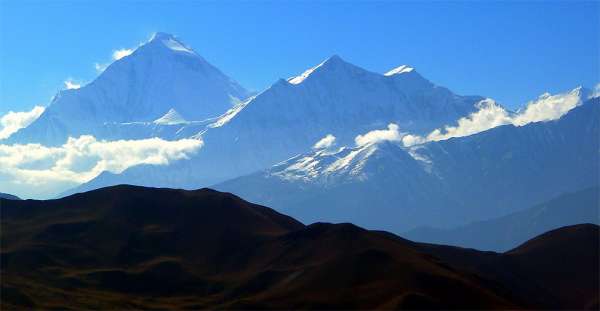 Muktinahu oasis on sight
Finally, the overall view to Muktinah oasis with its sacred temple opens. But it is still more than ten minutes to the village Ranipauwa (3680 m asl), where you can accommodate and have well-deserved beer Everest. Horizon is dominated by Sangdachhe Himal (6403 m asl) – white tip above the arid mountains of Mustang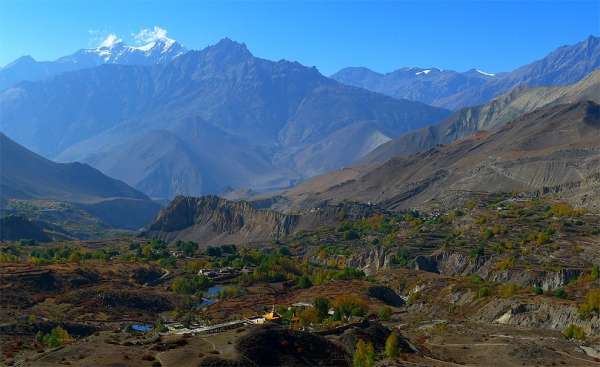 Applaud the author of the article!
Articles nearby
Part of itienary
Article:
Manang trek
Manang trek is for most tourists the most important part of big walk around Annapurnas. You'll see the individual peaks of this… continue reading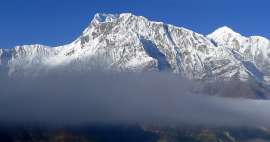 Part of gigalist
Giga List:
The highest tourist ascents
Many enthusiastic tourists are attracted by hikes that lead to high mountains or mountain passes, but do not have climbing… continue reading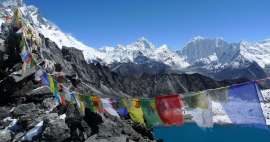 Part of gigalist
Giga List:
The most beautiful stages of the Annapuren trek
The trek around Annapuren is considered one of the most beautiful in Nepal, or in the whole of Asia. It is also due to the fact… continue reading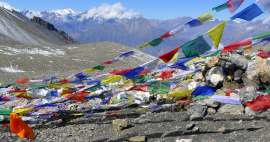 Thanks!
Have you been there? Write a review of this place
Already rated by 0 travelers