Annapurna II
There are two paths in western direction from Manang. The main path leads to the village of Ghusang and further in the direction of Thorong la. Significantly fewer tourists set off to Khangsar and further to lake Tilicho along the minor path. The path leads along the lowest-lying fields above the canyon of the river and beautiful views to the west side of Annapurna II make tourists constantly turn their head back.
Canyon of Marsyangdi
You can see typical landscape of upper Manang from the viewpoint to the canyon – rocks sculpted by erosion towering above the river. On the horizon you can see a bridge, over which you pass to a promontory above the confluence of the Marsyangdi and Thorong Khola rivers. Above this all is the great rock lookout reached from Upper Khangsar.
Bridge over Thorong Khola
After about 45 minutes walk from the previous outlook point we ascend directly to Thorong Khola river, over which leads fortunately decrepit bridge.
 
Impassable canyon of Thorong Khola
During the ascent to the headland you can nicely see to the canyon of Thorong Khola, which is in these places pretty wild and virtually impenetrable. This explains why the main path to the pass Thorong la leads more than 200 vertical meters above the surface of the river high in the hillside above the canyon.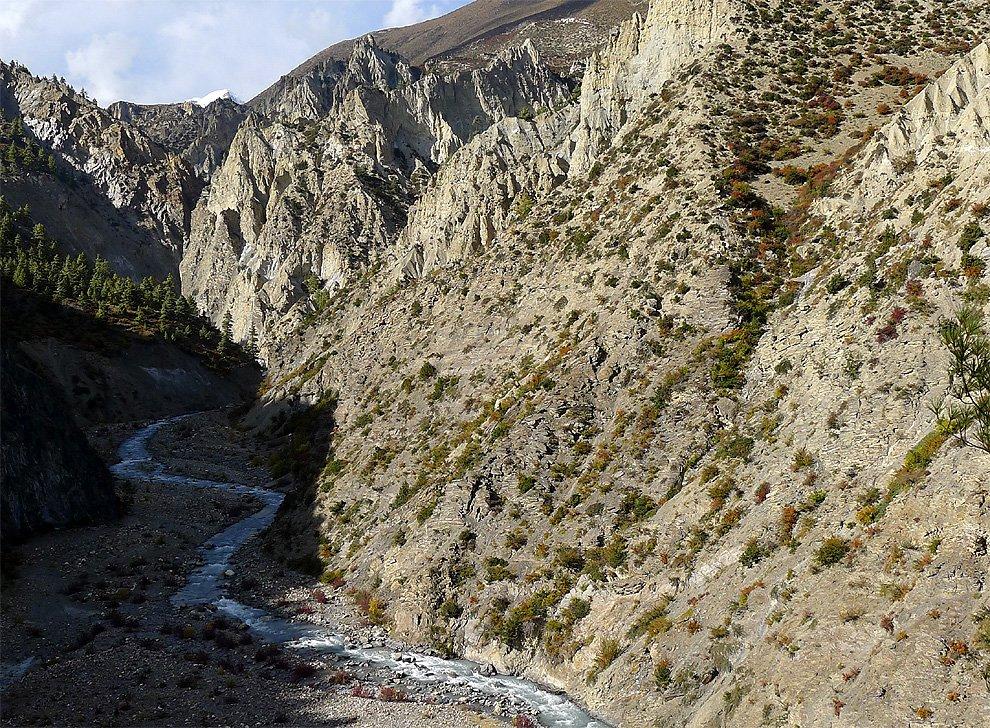 Grove at Khangsar
The path rises slowly and the surrounding landscape is gradually becoming full of forests.
Khangsar
After about two hours walk from Manang you come to a nice village of Khangsar (3 760m asl.). There are accommodation facilities at the lodges. It is ideal to climb to the roof here and enjoy the views.
Sunrise over Tilicho Peak in Khangsar
The views are best just after dawn, when the Great Barrier and Tilicho peak becomes amazingly colorful