Khangsar early in the morning
Khangsar is typical pretty Nepali village in upper Manang. There are prayer flags everywhere and hay is dried on the roofs. Horizon is dominated by special pointed mountain of Idam Phra (5875 m asl). It is ideal set off to Tilicho BC early in the morning, when the mountains are in perfect light.
Tilicho peak and Idam Phra
After a while you can see the entire end of the valley of Marsyangdi and with it practically all the way to the BC. The path leads high above the east bank of the river, so do not be tempted by paths to the river – e.g. to the bridge that you can see in this photo. Horizon is dominated by icy Tilicho peak (7134 m asl) and Phra Idam (5875 m asl) looking almost as lookout.
Sherpa with wooden logs
Even the once abandoned route like this from Khangsar to Tilicho lake is gradually changing. New lodges are built in the halfway, so it is necessary to bring also bulky material like wood. But local carriers manage it and they are able to walk even a few hundred meters sideways just to fit on the path.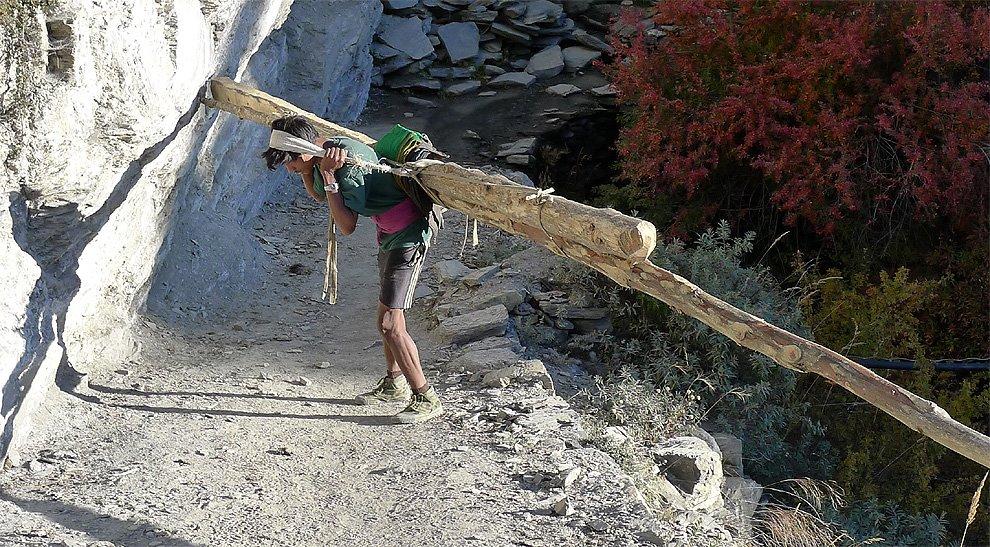 Great Barrier
Views of the Great Barrier are amazing.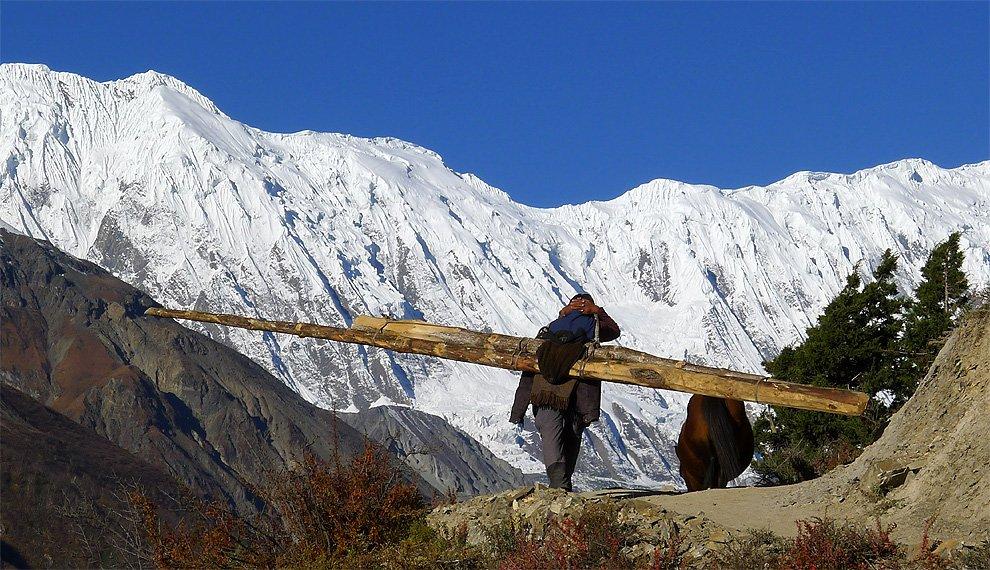 View of Khangsar gompa
After 40 minutes of walk from Khangsar appears a small solitary gompa (3930 m asl). It is a good reference point for those, who do not want return the same way, because 300 meters further and 110 meters higher there is a turning to the alternative path leading over Upper Khangsar.
View of the mountain giants including Ma
There is a beautiful view to the east from the path over time at good visibility. In the foreground you can see the newly built lodge and alternative way up to Upper Khangsar and also the way down to Khangsar. In the background you can see from left to right: ice pyramid of Kangur (6981 m asl), trekking Pisang peak (6091 m asl), further trio of high mountains – spike of Manaslu (8163 m asl), nepali "broad peak" of Ngada Chuli (7871 m asl ) and Himal Chuli (7893 m asl).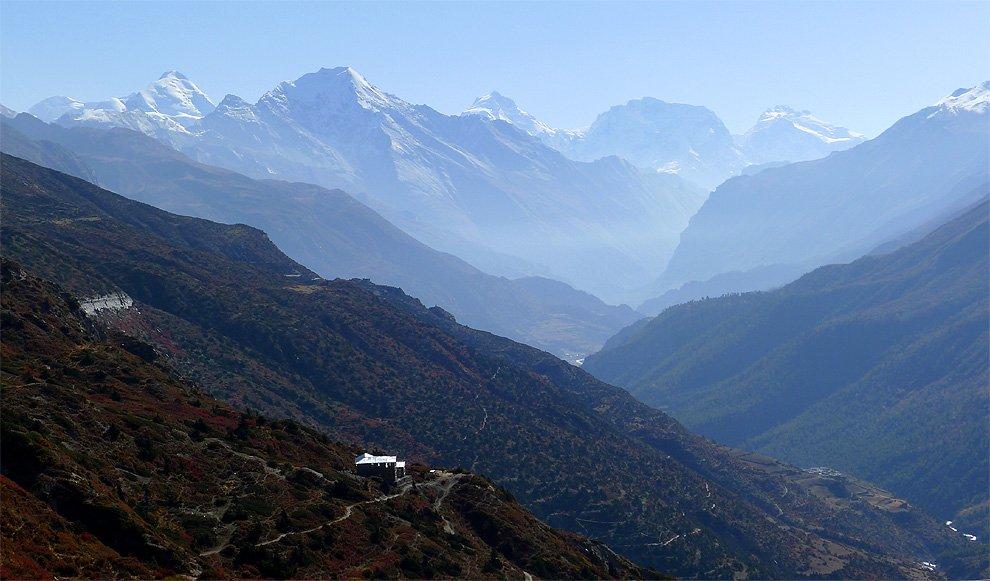 Marsyangdi river canyon
From the path you can see how is the river canyon less and less passable – the way bypasses it in traverse in an awkward scree slope. Above this all rises impenetrable Great Barrier.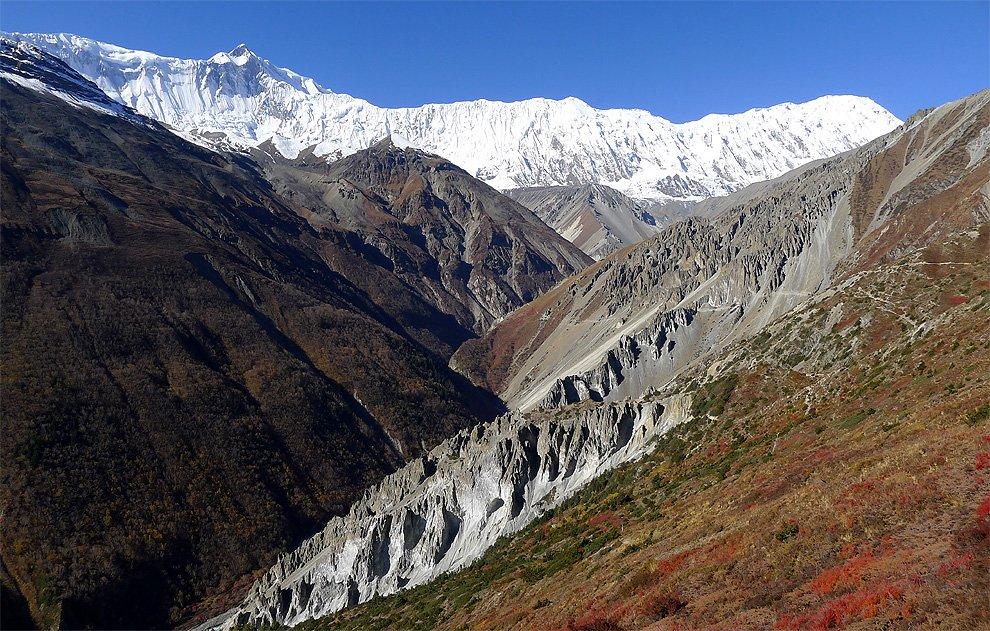 To Khola
In about halfway you must cross the largest side tributary at this stage across the bridge– To Khola. This river "springs" 750 vertical meters above the lake Memechho. There is no path leading there according to the map and there is also no information about this lake on internet, so it is perfect destination for discovery expedition :-). From the bridge it is a few meters of unpleasant steep ascent to the scenic rock.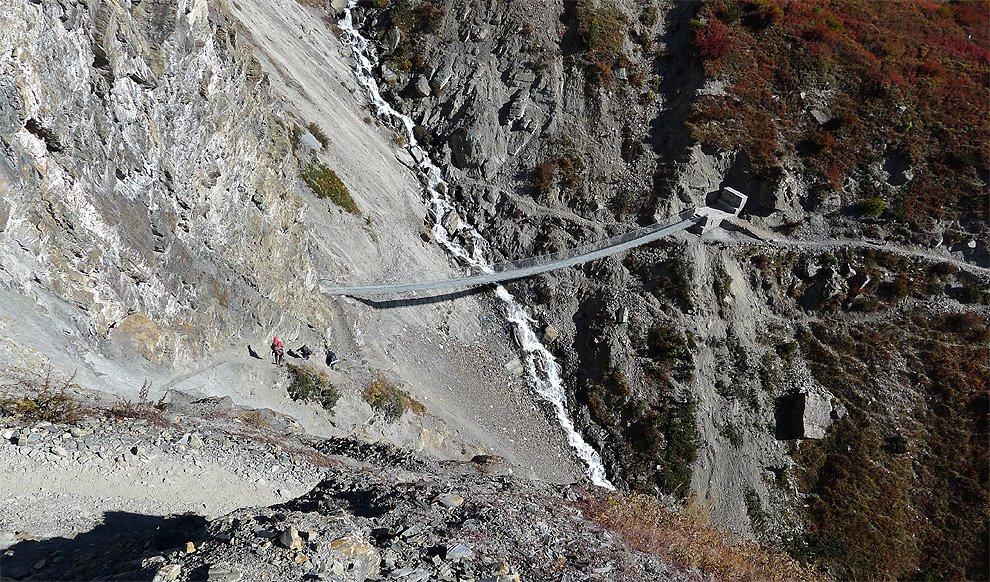 Khangsar Kang / Rock Noir
People usually constantly admire the dominant of almost the whole stage of the trek.
 
Bharal alias Himalayan Blue sheep
With a little luck you can see in the rocks above the path wild himalayan sheep Bharal.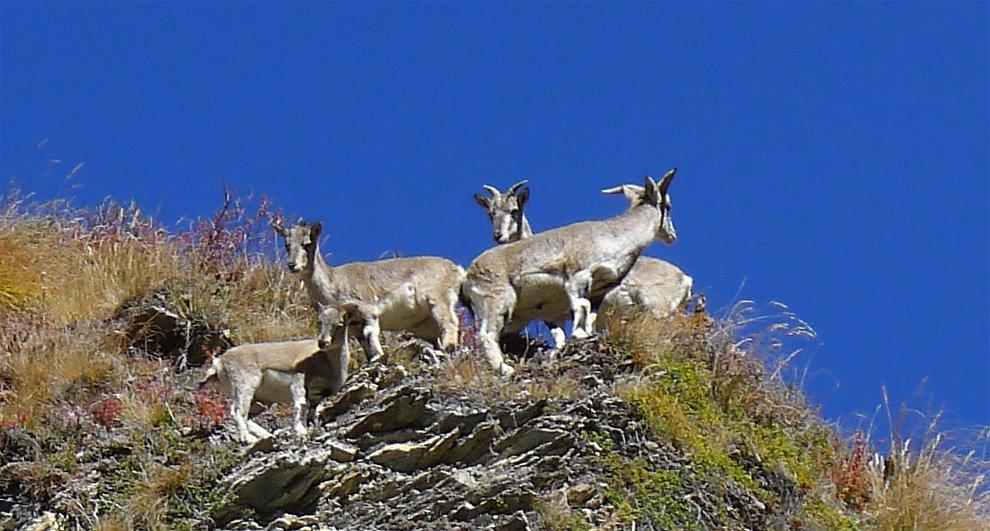 Debris slope
Just behind the highest point of the journey at about 4280 meters above sea level you come to a crossroads. The original path led through the top of the Col (4920 m asl), but the way from this outlook site disappeared in scree slopes and going that way is now not recommended. Now you walk around this mountain and traverse uncomfortable debris fields. It's probably the most difficult "hiking" trip in Manang.
Look back
The way through the scree slopes between weathered rocks takes more than half an hour. You need to be very careful not to fall about 250 vertical meters down.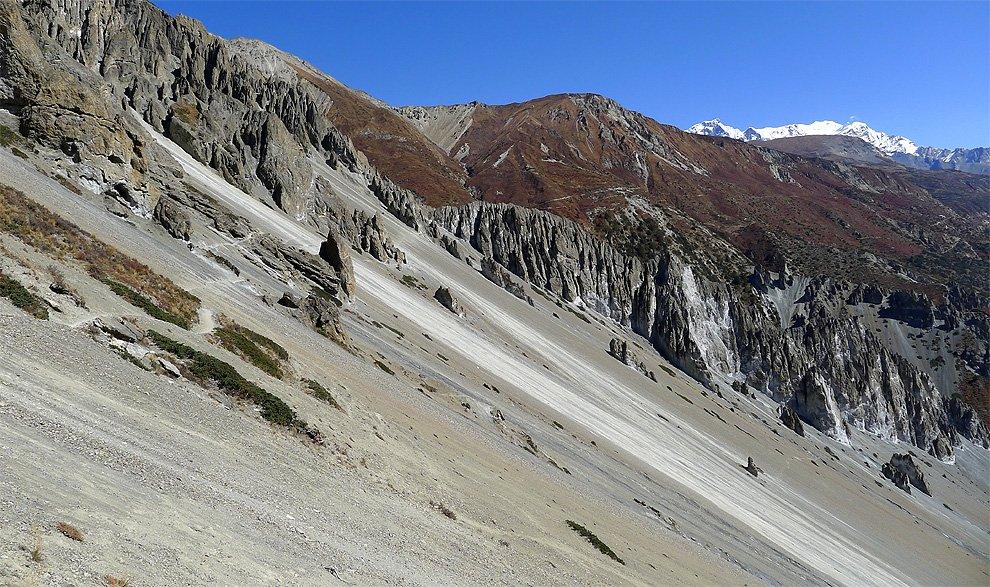 Moonscape
Some parts of the trail look almost as from different world.
Tilicho BC (4140 m asl) at reach
Finally the goal of this stage appears – Tilicho base camp tactically positioned at the side valley with a small stream full of fresh water. You can also nicely see further continuation of the path to lake Tilicho.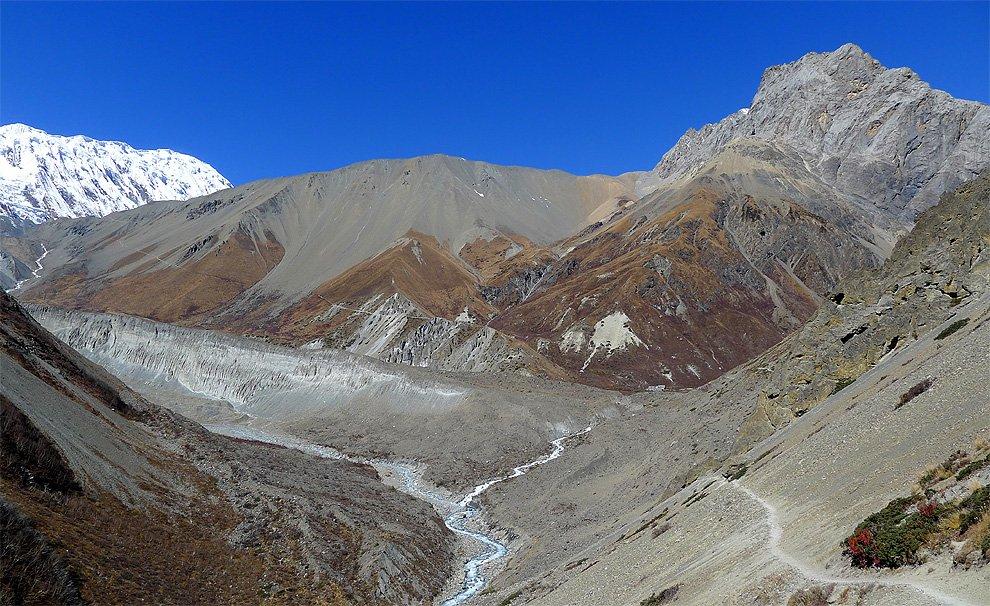 Views from Base Camp
A few dozen meters before Basecamp there are beautiful views of the ridge from Khangsar Kang to Tilicho peak. There are only two lodges in BC, so if you do not have a reservation, it is good to come soon. So start from Khangsar is better than from Manang.