Hike under Syagang
Along the moraine to the impressive rock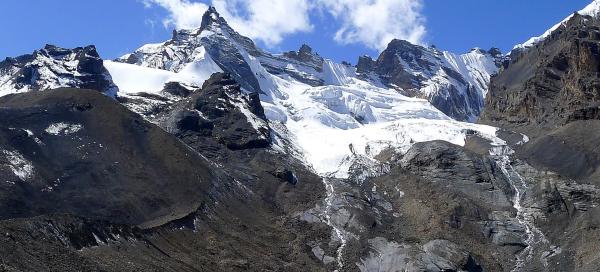 In Thorong High Camp you does not have to just be bored and lie in the tent with the expectation of tomorrow's Thorong la pass crossing or hike to a nice little outlook hill above the camp. You can have a slow acclimatization walk along moraine above the last remnants of glaciers, now for good covered under debris, toward the rock tooth Syagang (6026 m asl). This walk is quite interesting, but it is not frequently walked by people.
Yakwakang (6 482m asl)
The path up to Syagang is very simple. From Thorong High Camp one sets out in the direction Thorong la pass, but before the first major descent to the river flowing from the glacier under Syagang turn to the moraine and then ascent along it. If there were not a few stone cairns, it would seem that there no one have gone here before. Noise from civilization is far away. On the horizon you can see almost the whole way to Thorong la pass tohether with the refreshment house in the halfway. Rocky spire Yakwakang dominates the view. No one would say that it has almost 6,500 meters above sea level.
Panorama Damodar Himalaya
The views of the Damodar Himalaya and Thorong High Camp together with the little outlook hill nearby open more and more with higher altitude meters.
Chulu West (6 419m asl)
Also for this trip it holds true that the best view is to Chulu
Jinjang (6 111m asl)
It is possible to see clearly that Damodar Himalaya mountains have two faces. On the southern sides there are smoothed gigantic rock plates and under them a gigantic pile of debris. Northern sides are still covered by huge snowy glaciers.
Syagang and Khatungkang (6 484m asl)
Perhaps even more impressive than the mountains is the gigantic mountain valley. There must have been a big glacier flowing in the past. Today there is just little remnant of it, in addition discreetly hidden under tons of debris.
They want there (0)
Be the first, who want to go there!
Have you been there? Contribute a good advice to travelers who want to go to this area or add places to your visited list.
Do you want to go there? There is nothing easier than having to deal with others and go on a trip or get tips on where you want to go.
Activities
Practical information
Part of itienary
Article:
Manang trek
Manang trek is for most tourists the most important part of big walk around Annapurnas. You'll see the individual peaks of this… continue reading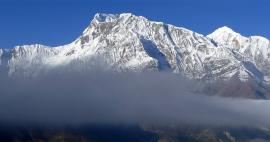 Applaud the author of the article!
Thanks!
Have you been there? Write a review of this place
Already rated by 0 travelers