Ascent over Thorong High Camp
Beautiful view of mountain giants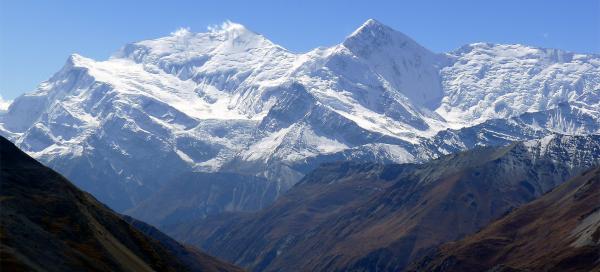 Only seventy altitude meters above Thorong High Camp is located amazing outlook to six thousand Damodar Himalaya mountains and Annapurna III. with Gangapurna on the horizon. Deep in the ravine glisten roofs of Thorung Phedi and in the west winds a way through the moraine in the direction Thorong la pass.
Small horse in Thorong High Camp
"Parked" little horses resting after hard work make the atmosphere in High Camp, which is normally very cold most of the day, more pleasant. Even from the foot of the hill there are nice views of Annapurna III. and Gangapurna on the horizon. But the best views are from the outlook.
Thorong High Camp (4 880m asl)
Already during the ascent to outlook along the dusty path is a nice view back to Thorong High Camp located between moraine slopes and Yakwakang (6482 m asl) dominating the horizon. From here you can also nicely see the biggest lateral moraine, along which you can make an undisturbed walk under Syagang. Above it lurks Thorong Peak and Khatungkang. Most people ascent here with very slow pace, it's after all in almost five thousand meters above sea level.
Conclusion Kone Khola valley
Kone Kola stream running through the total wasteland of moraines and weathered scree slopes collects water from melting glaciers on the southern slopes of the Damodar Himalayas and then falls a few hundred meters of steep ravine to the lodges in Thorong Phedi (4538 m asl).
View of the Thorong Phedi
More than 400 meters of the free fall directly under the outlook it is possible to see the conglomerate of lodges in Thorong Phedi. It is significantly better lodging choice than here at High Camp for those, who are not acclimatized. But expect here significantly longer pass crossing. And because people are usually tired then, only very few of them reach to this outlook.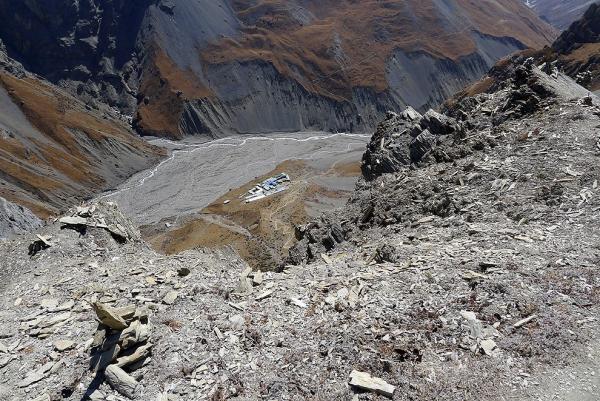 Heavenly view of Annapurna III and Ganga
Panoramic view of Annapurna III. and Gangapurna is the best from here.
Chulu West (6419 m asl) to reach
Mountain "within reach" from this outlook is Chulu West with exactly exemplary icy tip.
They want there (0)
Be the first, who want to go there!
Have you been there? Contribute a good advice to travelers who want to go to this area or add places to your visited list.
Do you want to go there? There is nothing easier than having to deal with others and go on a trip or get tips on where you want to go.
Activities
Practical information
Part of itienary
Article:
Manang trek
Manang trek is for most tourists the most important part of big walk around Annapurnas. You'll see the individual peaks of this… continue reading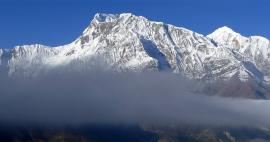 Applaud the author of the article!
Thanks!
Have you been there? Write a review of this place
Already rated by 0 travelers