The most beautiful hikes in the Upper Mustang area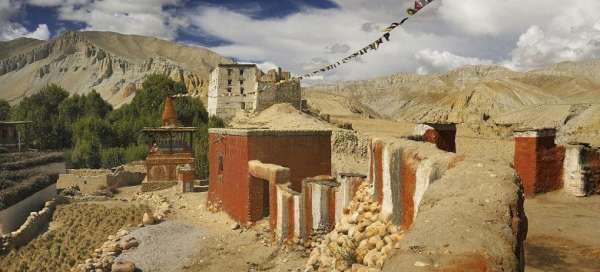 Upper Mustang is a former small kingdom through which the trade route connecting Tibet with India passed. It now belongs to Nepal and is a very interesting tourist and cultural area as it is located to the north behind the Himalayas on part of the Tibetan Plateau. There is a beautiful route of the Upper Mustang trek, the most beautiful stages of which will be described here.
To the most beautiful outlook of Annapur
|
Altitude: 4 020 m / 13 189 ft
Mustang trek 6: The way from Tsarang over Ghemi into a small settlement Jhaite is like on a swing and leads… continue reading
To chortens and Buddhist monastery
|
Altitude: 4 170 m / 13 681 ft
Mustang trek 3: The entire trek through Upper Mustang is about overcoming a number of passes at a height of… continue reading
Walk around royal town
|
Altitude: 3 825 m / 12 549 ft
Lo Manthang is the capital of the ancient kingdom of Mustang. It offers some interesting gompas, royal palace… continue reading
Over the highest pass in Mustang trek
|
Altitude: 4 230 m / 13 878 ft
Mustang trek 4: One day trek from Ghar Gumba over the pass Marang La (4 230 m asl), the highest point of the… continue reading
Quiet village surrounded by mountains
|
Altitude: 3 575 m / 11 729 ft
There is a great opportunity to enjoy this beautiful place after an easy half-day walk from Lo Manthang to… continue reading
Half-day walk to beautiful village
|
Altitude: 3 920 m / 12 861 ft
Mustang trek5: Easy half-day trip from the capital of the Kingdom of Lo to the village Tsarang, beautiful… continue reading
Return to the river Kali Gandaki
|
Altitude: 3 630 m / 11 909 ft
Mustang trek 8: Enjoyable half-day journey, during which we are getting back to the valley of Kali Gandaki.… continue reading
First mountain passes
|
Altitude: 3 830 m / 12 566 ft
Mustang trek1: The first stage of Mustang trek tests the trekker with its elevation profile. There are… continue reading
Farewell to a height of four kilometers
|
Altitude: 4 010 m / 13 156 ft
Mustang trek 7: The last stage of return part of Mustang trek, which will examine the trekker with all the… continue reading
To narrow streets of Ghemi to see local
|
Altitude: 4 020 m / 13 189 ft
Mustang trek2: The next day lasting stage of Mustang trek "pushes us a little"  to the maximum height of 4… continue reading
Last stage of Upper Mustang Trek
|
Altitude: 2 970 m / 9 744 ft
Between Chhusang and Kagbeni is the last part of the trek around Upper Mustang, which still falls within the… continue reading
Applaud the author of the article!
Articles nearby