Tips for interesting mountain climbs in the Taures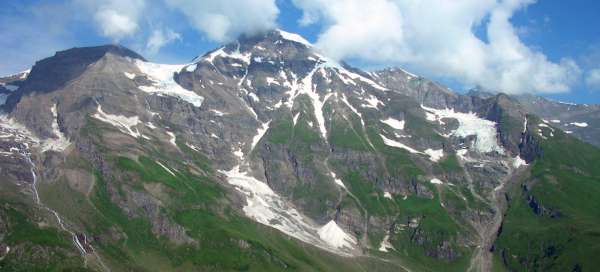 The High Tauern is proud of Austria's highest mountain – the Grossglockner, and it is one of the main goals of climbers in this environment. You can climb it by various difficult routes. The second most famous and lighter mountain is Grossvenediger. In addition to demanding climbing ascents, you can go on a whole range of mountains from walking difficulty to a highly difficult all-day hike.
The Big Bell unexpectedly without people
|
Altitude: 3 798 m / 12 461 ft
We chose a somewhat untraditional variant with a starting night at Erzherzog-Johann-Hütte, which meant a… continue reading
View of the Hohe Tauern
|
Altitude: 3 666 m / 12 028 ft
Großvenediger, located in the Hohe Tauern, has a height of 3,666 meters. nm the fourth highest mountain in… continue reading
A two-day alpine hike
|
Altitude: 3 666 m / 12 028 ft
The Großvenediger, or Greater Venetian, lies west of the Großglockner and is considered Austria's fourth… continue reading
View of two beautiful lakes
|
Altitude: 2 459 m / 8 068 ft
Medelzkopf (2,762 m above sea level) is a peak with a beautiful view of two dam lakes – Weißsee and… continue reading
Outlook of the valley Ferleintental
|
Altitude: 2 084 m / 6 837 ft
If you have already set out for a nice hike around five waterfalls to the homestead Walcher Hochalm (1 855 m… continue reading
Applaud the author of the article!