What to visit and see on Karpathos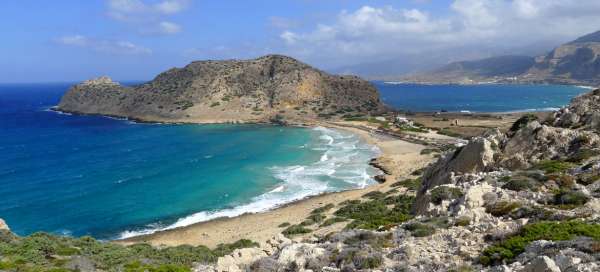 Karpathos is rightly one of the most beautiful Greek islands. Here you will find beautiful beaches, mountainous hinterland and distinctive villages and towns. Trips around the island most often go to individual beaches or views of individual towns.
Beautiful beach under the mountains
At the end of a long valley surrounded by high mountains you will find the fabulous Achata beach. Driving… continue reading
Trip to the most famous beach in Karpathos
Karpathos is an island famous for its beautiful beaches. The most dramatic are located in places where the… continue reading
Scenic walkway across four beaches
On the east coast of the island of Karpathos, just a short distance from the capital Pigadia, you will find… continue reading
The ruins of an ancient city
|
Altitude: 57 m / 187 ft
On Karpathos are the ruins of four Doric cities. One of them is the acropolis of ancient Arkasa (Palaiokastro… continue reading
Beach under the cliff
Damatria is one of the most popular beaches due to its location on the east coast of the island of Karpathos,… continue reading
Picturesque mountain town
|
Altitude: 349 m / 1 145 ft
On the mountain road connecting Arkasa on the west and Pigadia on the east coast you will find the mountain… continue reading
Airplane landing over the beach live
Diakoftis beach is located in the very south of the island of Karpathos. They are actually two beaches along… continue reading
Beach with big waves
Just outside the historic center of Arkasa is the beautiful beach of Agios Nicolaos. Due to the fact that it… continue reading
Beach at the end of the world
At the southwestern end of the island of Karpathos, just five kilometers away from the town of Arkasa, lies… continue reading
A short walk to the hills above the city
|
Altitude: 87 m / 285 ft
Directly from the town of Arkása you can take a nice walk to the hills directly above the city. On this walk… continue reading
Bay with two beaches
Christou Pigadi beach is relatively little visited in Karpathos, despite being located in a very magical bay.… continue reading
Fishing village and picturesque bay in one
Just north of the town of Arkasa is the picturesque fishing village of Finiki. It lies in a breathtaking… continue reading
Applaud the author of the article!
Articles nearby