Arrival to Cabo de Gata
You need for to overcome the rocky ridge during the arrival at Cabo de Gata at about 90 meters asl, from where is visible both the lighthouse and the beach, as well as the rock at the southernmost point of the whole area. The hill above you is Cerro de Tesa (310 m asl), where you can ascend to have interesting views. For photographers is more interesting the late afternoon here. The road is in these places very narrow /it is currently broadened/, in addition there are a lot of cyclists, so be careful.
 
Lighthouse at Cabo de Gata
The first landmark here is the lighthouse standing on a colorful reef. If you are here early, you will be able to park just below it. Otherwise, there will definitely be a place at dusty places at the beach about 300 meters earlier.
 
Sirens and lighthouse
Set out for a walk from the lighthouse along the cliffs to the east. You can enjoy views of the local rocks called Sirens.
 
Arrecife de las Sirenas
Pointed reef of Sirens is the most famous rock in this part of Natural Park of Cabo de Gata.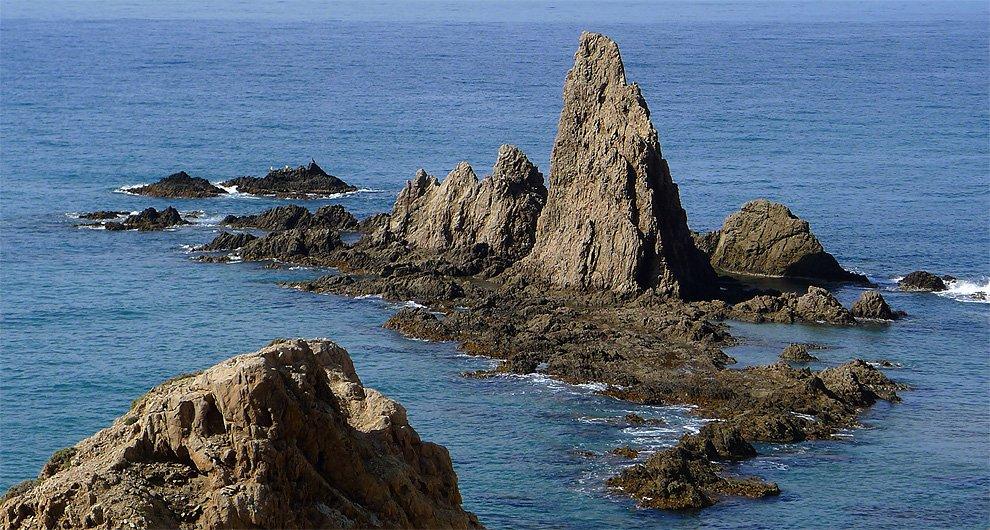 Looking into the interior
Nice is also the view into the interior with 200–400m high towering hills.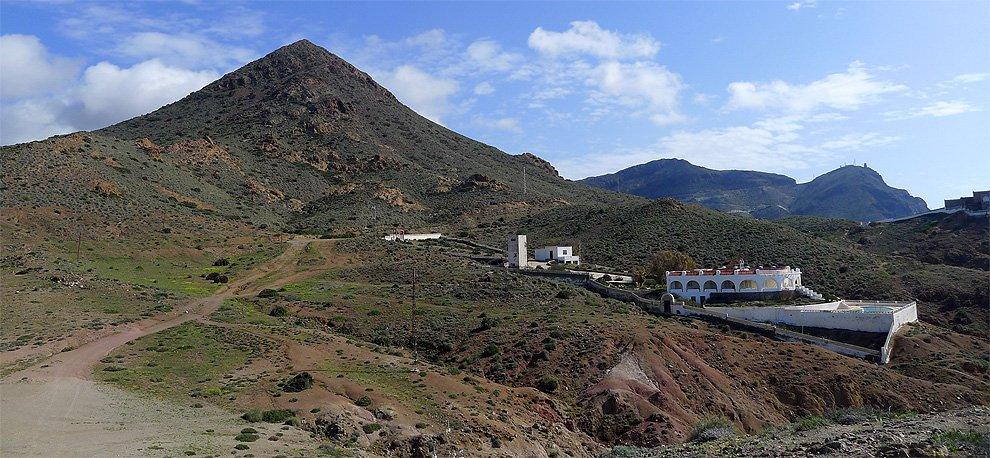 View of Punta Baja
The destination of this walk is Punta Baja, the southernmost tip of Cabo de Gata. But there is no proper trail leading here, you must select it intuitively by yourselves.
 
The way along the cliffs
On the way up the cliffs note that the edges are very weathered, so do not walk to the very end of the rock.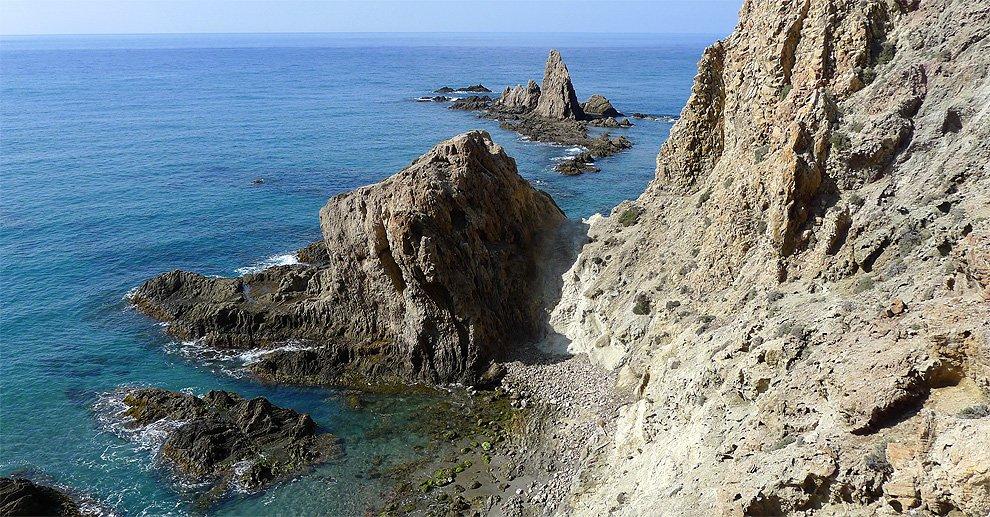 Punta Baja
The rock Punta Baja itself is both interesting for its volcanic structure, but it is also a very nice outlook on both sides.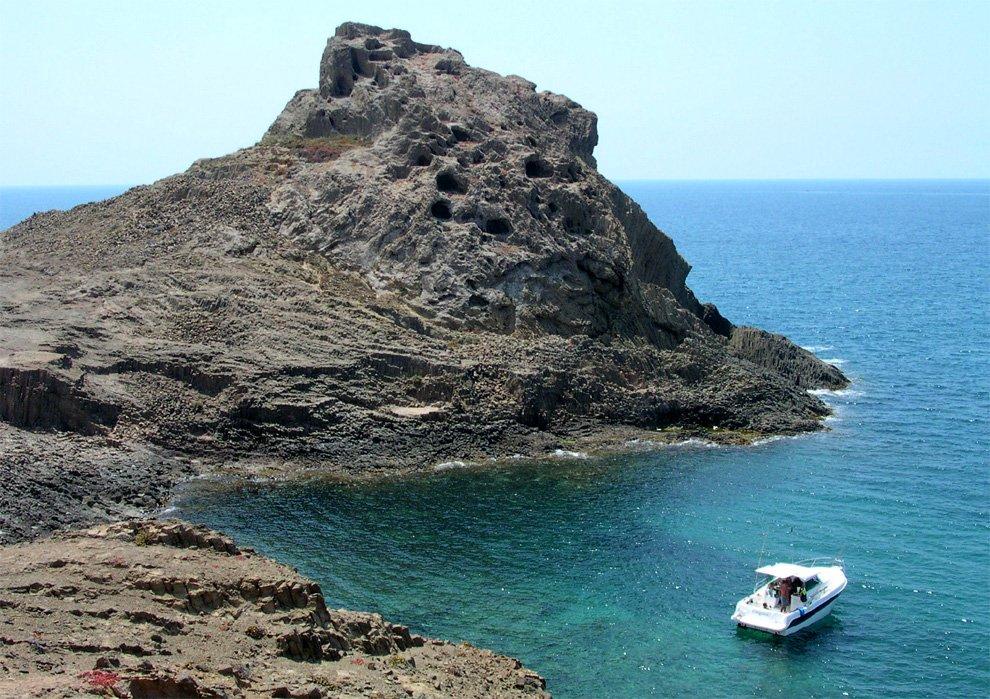 Volcanic cliff
Before you reach the rock itself, you can admire interesting volcanic reef remotely resembling Giant's Causeway in Ireland.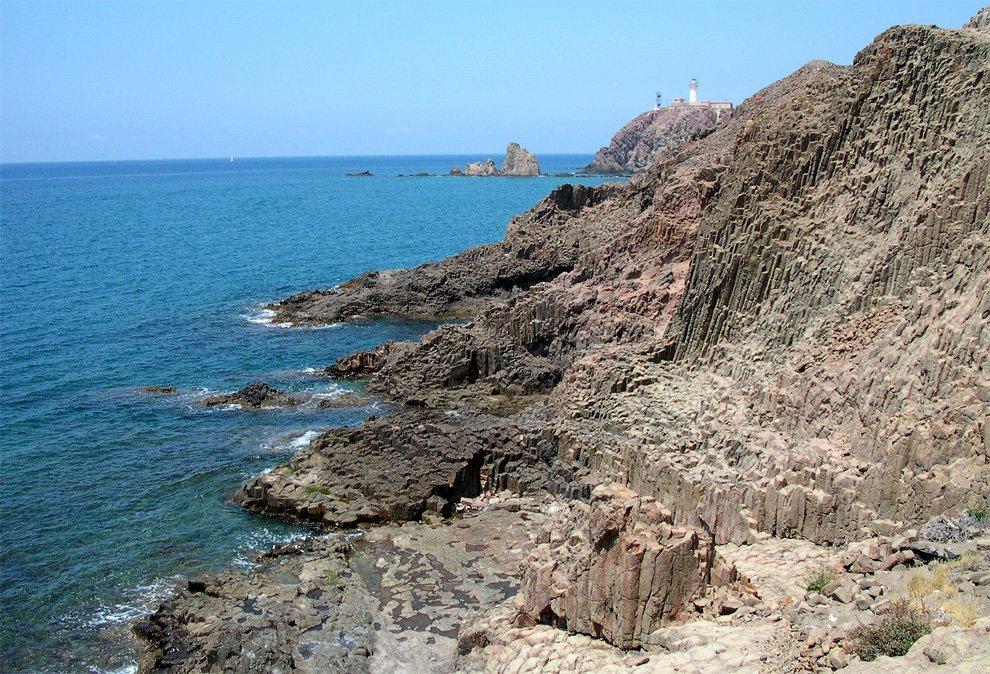 View from Punta Baja to the lighthouse
From Punta Baja, the destination of this short walk, is a nice view of both the lighthouse and the mountain Cerro de Tesa, in the slope of which is fired a road to the lighthouse.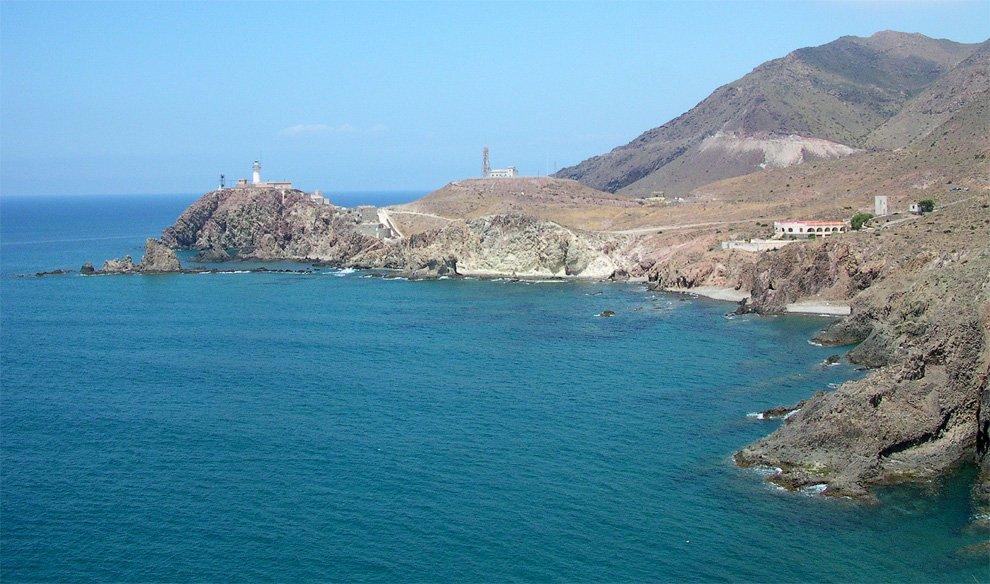 Torre de la Vela Blanca
Perhaps even nicer view is farther to the east on the massive volcanic cliff, on which is built an ancient tower, at about 180 m asl. Directly below Punta Baja is a nice beach, where you can have a swim before the way back to the lighthouse.