Monumental Moorish castle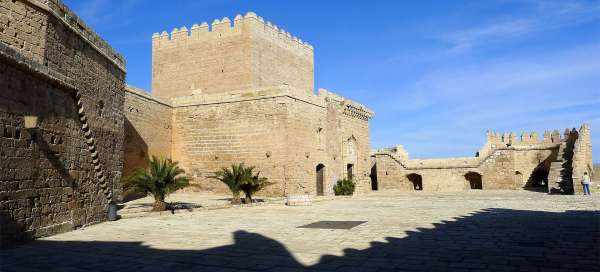 Alcazaba in Almería belongs among the largest castles throughout Andalusia. It is located at the west end of the old town. Except for the monumental walls, towers and sprawling gardens you can enjoy here the views of the town, harbor and over bridges on the coastal highway A7. It is the most important monument of the entire town, which is definitely worth a visit. There is no admission fee.
 
The castle from the outside
Entrance to the castle is just below the massive tower evoking classical Arabic castle.
 
Cerro de San Cristobal
After you pass through the gate of the castle, you come to relatively large gardens. Very nice will be the view from the walls on the opposite hill San Cristobal, where the fortification of the old town leads.
 
The ruins of the central castle
From the gardens you will pass through another gate into the part of the castle, where are only remains of the former beautiful buildings. Unfortunately, towers which would provide the best view of the castle, are closed.
 
In the castle
In the castle is an interesting nooks reminiscent of the old era of conquer machinery and slingshots.
Picturesque courtyard
Through the third gate you get to the most fortified part of the castle. There is a massive tower and at the very western end another one with cannons securing three world sides.
 
View of the mountains behind the town
From the cannon tower are nice views to the mountains behind the town. There is also visible massive bridge of motorway A7.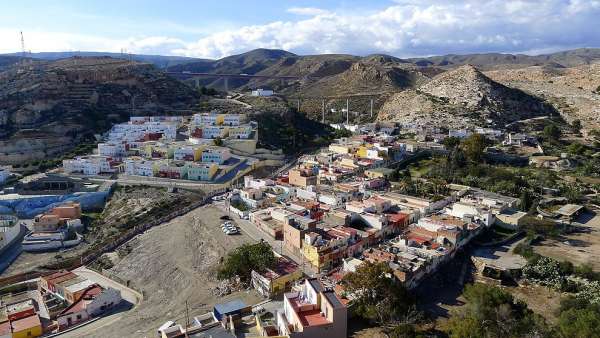 Port of Almeria
In the south direction is visible only small remnants of walls. Most of them had to retreat modern development long ago. Port of Almeria, which is also well visible from here, is really huge.
 
Almería
View from the ramparts to the old part of the town is also nice, although it would certainly be better from the towers.
 
The outlook of the cannon tower
You can possibly bypass the castle and admire the walls also from the outside.
Applaud the author of the article!
Articles nearby
Thanks!
Have you been there? Write a review of this place
Already rated by 0 travelers