The most beautiful hikes in the Baltoro Glacier area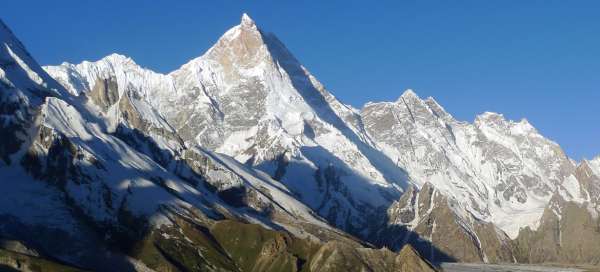 The most beautiful region of Pakistan is the Karakoram Mountains. Here you will also find a breathtaking trek over the Gondogoro la saddle leading along the famous Baltoro glacier with a view of the highest mountains in the world including K2. Let's take a look at the most beautiful stages of this amazing trek.
Trekkers paradise on earth
|
Altitude: 4 595 m / 15 075 ft
After five days of intensive walk from Askole you come to a fabulous place Concordia (4595 m asl), situated… continue reading
Walk among the giants
|
Altitude: 4 600 m / 15 092 ft
Gondogoro trek 5: Twelve kilometers between Goro II. camp and Concordia by air equal more than six hours long… continue reading
Climbing available for tourists
|
Altitude: 5 625 m / 18 455 ft
Gondogoro trek 7: The most difficult part of the Gondogoro trek leads through the same pass bearing the same… continue reading
Entrance to Baltoro glacier
|
Altitude: 4 125 m / 13 533 ft
Gondogoro trek 3: The third day of Gondogoro trek you enter to a huge front moraine of Baltoro glacier and… continue reading
Path throw the Vigne valley
|
Altitude: 4 958 m / 16 266 ft
Gondogoro trek 6: The last stage before crossing Gondogoro la pass is approximately six hour lasting ascent… continue reading
Along Masherbrum
|
Altitude: 4 325 m / 14 190 ft
Gondogoro trek 4: People almost do not want to leave from the camp of Urdukas (4 050m asl.) renowned by… continue reading
Trek under the second highest mountain in the world
|
Altitude: 5 079 m / 16 663 ft
The hike to BC under one of the world's most difficult mountains K2 in Karakoram is the most famous side trip… continue reading
Descent from the pass Gondogoro la
|
Altitude: 5 625 m / 18 455 ft
Gondogoro trek 8: The descent from the pass Gondogoro la along the glacier bearing the same name is quite… continue reading
To the moraine of Baltoro glacier
|
Altitude: 3 400 m / 11 155 ft
Gondogoro trek 2: At the beginning of the second day of Gondogoro trek lasting about seven hours and 20km,… continue reading
Final stage of Gondogoro trek
|
Altitude: 4 160 m / 13 648 ft
Gondogoro trek 9: Also during the final stage of Gondogoro trek is always something to look at. The way… continue reading
Warming-up stage of Gondogoro trek
|
Altitude: 3 150 m / 10 335 ft
Gondogoro trek 1: The first part of Gondogoro trek leads along a comfortable path through relatively arid… continue reading
Applaud the author of the article!
Articles nearby