Temples over the river Mae Kok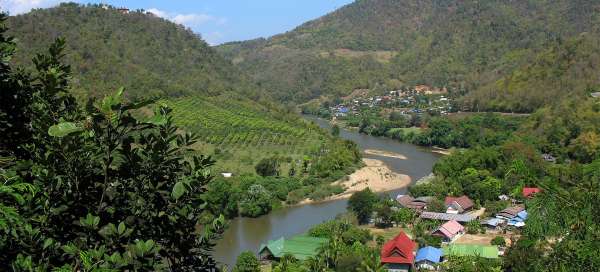 Thaton is just a small town on the Kok River flowing from Burma, five kilometers away. An interesting short stop is for those who want to climb to the temple with a big white Buddha and enjoy the views of the picturesque river valley, or a starting point for those who are going on a river cruise to the larger city of Chiang Rai.
Kok river canyon
The best landmark in Thaton is the massive concrete bridge over the river Kok. It also has a nice view of the rock ridges surrounding the river. Temples are built on the individual peaks, so you can quite stretch this walk.
Cruise ship dock
Thaton's location is interesting in that it is exactly where the river leaves the mountains and continues to flow through the lowlands for a relatively long time. On the "flat" side of the river are moored cruise ships, which you can sail to Chiang Rai.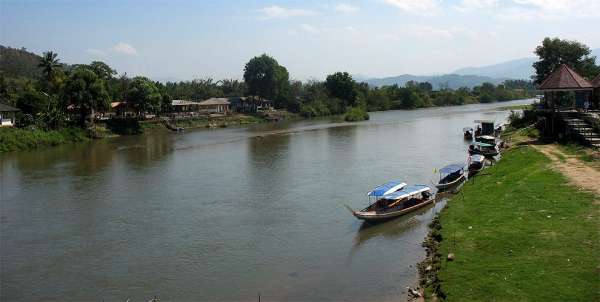 Ascent between the statues
From the concrete bridge, set off on a path between a disparate mixture of different temple buildings and statues. Some corners here look slightly kitschy.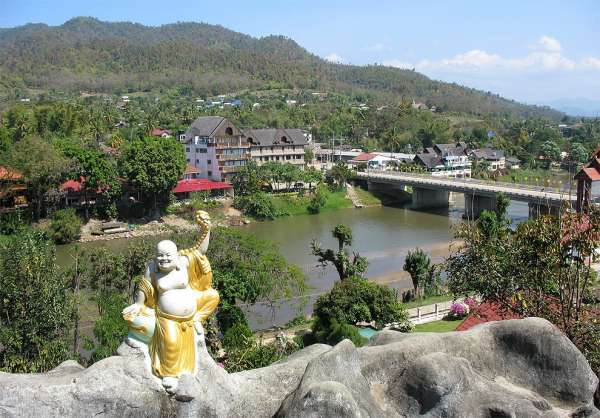 Viewpoint at the temple
From the individual temples there are nice views of the river canyon and the surrounding hills. Here is the first significant part of Wat Thaton temple – the Bodhisattva Kuan-Im statue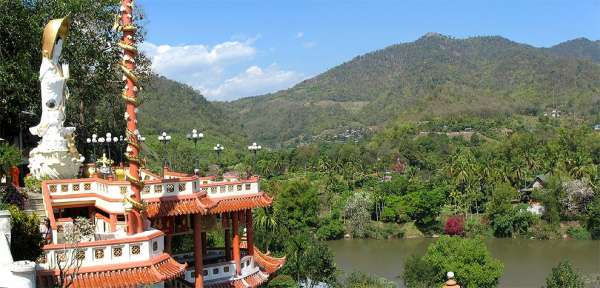 Nook with Buddha
The trail leads quite steeply uphill, so it is pleasant every corner where you can breathe, or at least hide from the sun for a while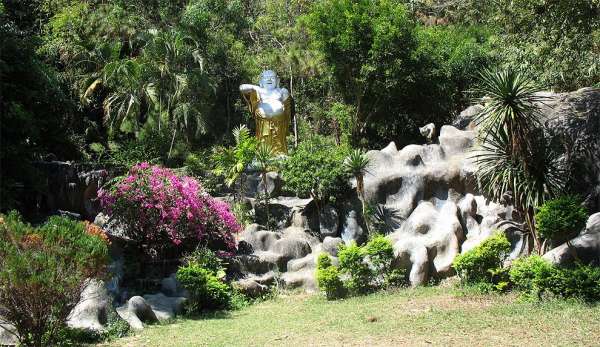 Big white Buddha
The first great goal of this walk is an impressive statue of a white Buddha, about ten meters in size
A view from the White Buddha
From the White Buddha is a beautiful view of the valley of the river Kok. The last Thai village can be seen on the horizon, then there is basically wilderness and significantly less populated Burma. From here you can see the temple, where you can walk along the ridge.
Phra Nakprok
From the White Buddha, the road rises further to the golden statue of the seated Buddha, which is protected by a seven-headed water snake (Naga)
View of the lowlands of the river Kok
From the statue is a beautiful distant view of the wide valley of the river Kok, which has made its way through the mountains and in the lowlands just flows lazily. However, another mountain section awaits her before Chiang Rai. The path can be continued far, on the one hand to the top of the hill, where the beautiful Wat. From there, the path leads along the ridge to the most beautiful view of the canyon.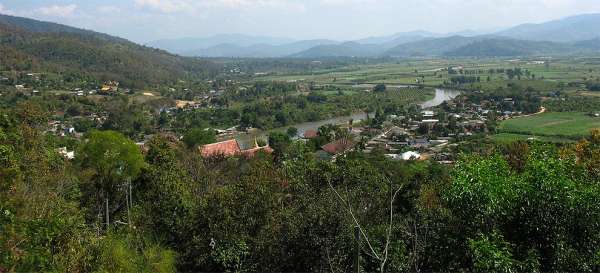 Applaud the author of the article!
Thanks!
Have you been there? Write a review of this place
Already rated by 0 travelers