The most beautiful temples of Northern Thailand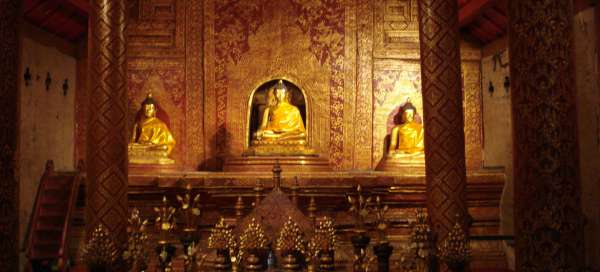 Thailand is a country where you can find thousands of temples. The most famous for tourists are located in the capital city of Bangkok, but also in the north of Thailand you will find a lot of really beautiful Buddhist temples that are worth visiting.
Whipped cream or concrete?
|
Altitude: 409 m / 1 342 ft
Wat Rong Khun or White Temple as it is called by tourists is one of the main tourist attractions in northern… continue reading
Wat Rong Suea Ten
|
Altitude: 397 m / 1 302 ft
The Blue Temple, also known as Wat Rong Suea, should not remain in the shadow of the most famous tourist… continue reading
Chiang Mai city center
|
Altitude: 314 m / 1 030 ft
Wat Chedi Luang is one of the most respected Buddhist complexes in Chiang Mai. It is located right in the… continue reading
Buddhist temple in the mountains
|
Altitude: 1 047 m / 3 435 ft
Wat Phra That Doi Suthep Buddhist Temple is located on a hill near Chiang Mai in northern Thailand. In the… continue reading
Temples over the river Mae Kok
|
Altitude: 620 m / 2 034 ft
Thaton is just a small town on the Kok River flowing from Burma, five kilometers away. An interesting short… continue reading
Applaud the author of the article!
Articles nearby