The best of Jordan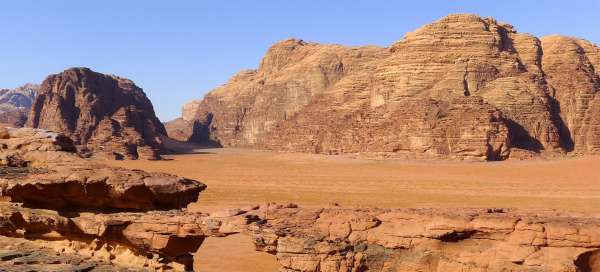 In Jordan you can take a lot of really beautiful and diverse trips. There are interesting deserts with orange sand, ancient rock towns and canyons falling into the depths of the Dead Sea. In addition, interesting ancient monuments and castles. Come and see what is definitely worth a visit here.
Dolomiti in orange desert
|
Altitude: 1 050 m / 3 445 ft
Amazing orange desert Wadi Rum is somewhat unjustly in the shadow of Jordan's largest tourist magnet – rock… continue reading
Amazing rock tombs
|
Altitude: 1 000 m / 3 281 ft
The whole impressive rock town of Petra is carved into the hillsides and canyons of the mountains Jabal al… continue reading
Ancient town destroyed by earthquake
|
Altitude: 600 m / 1 969 ft
Jerash (Gerasa) founded by Alexander the Macedonian had long been one of the most important towns in the… continue reading
Capital of Jordan
|
Altitude: 830 m / 2 723 ft
If you arrive to Jordan by air, your first and last stop will probably be in Amman. It does not offer much… continue reading
Trip to the deepest depressions of the w
|
Altitude: -415 m / -1 362 ft
You can get from the rock town Petra to Amman quickly along the Desert Highway. But more interesting, however… continue reading
Famous Crusader castle
|
Altitude: 1 000 m / 3 281 ft
Famous Crusader castle Karak (sometimes also called Kerak) (1000 m asl) guards the valley leading to the Dead… continue reading
To the Red Sea
For most travelers is Aqaba the beginning or end of their travel around Jordan. More than for foreign… continue reading
Applaud the author of the article!