Below the rock castle
Rock castle is located just off the road connecting towns Nový Bor and Zákupy, so it is very easily accessible. Except for the paid parking place directly below the castle there are not many places to park. Through Sloup lead many hiking routes connecting major towns in its vicinity (Česká Lípa, Nový Bor and Cvikov), so there are a number of possible options for a longer trip.
 
Hradní rybník ("Castle pond")
Except for the classic tourist routes there are another four trip circuits. If you'd like to go through all of them, you have a program for the whole day. But it is definitely worth to walk a few hundred meters to the Hradní rybník ("Castle pond"), from where is very romantic view of the castle.
 
View from the wetland
Walk to the outlook place called Na Stráži leads along the red tourist route along a vast wetland.
 
Forest theatre
Once you pass around the last cottages, awaits you the ascent of 50 vertical meters between sandstone rocks to the interesting forest theater.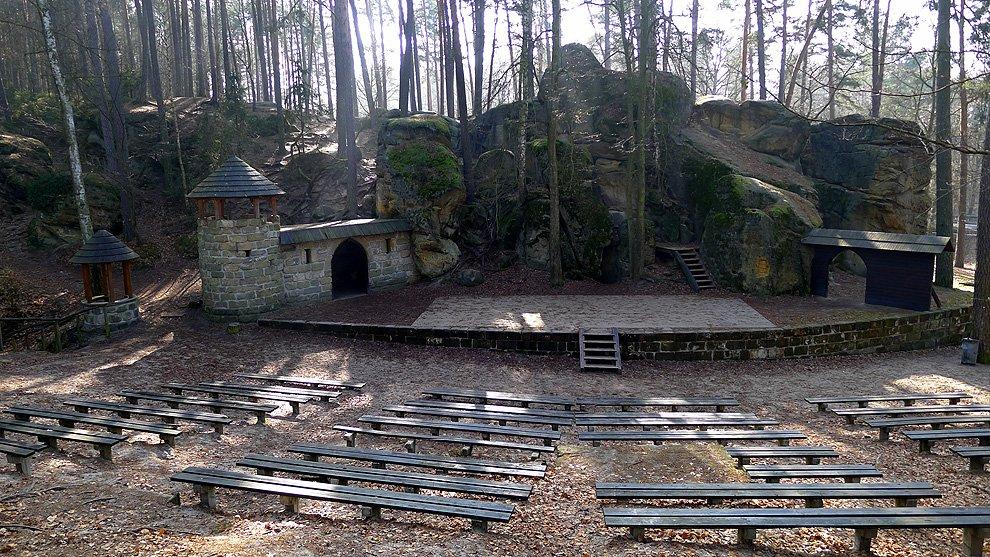 Lookout called Na Stráži
From the forest theatre will wait for you the second part of the ascent to the newly built cottage and lookout called Na Stráži. You do not need to climb to the lookout, because there is similar beautiful view of the castle deep below you from the front of the cottage.
 
Panorama of Lusatian Mountains
Of course, the biggest dominant is the rock castle, which is on the horizon picturesque lined by the hills of Lusatian Mountains.

 

Typical view of Sloup
If you've already seen photos of the castle Sloup, it was definitely from here.
Village Sloup v Čechách ("in Bohemia") a
Many hills on the northern horizon are dominated by hill Ortel (554 m).

 
Rock formation Medvěd ("Bear")
Just a few meters from the lookout is quite interesting and unique rock formation called Medvěd ("Bear") overlooking the village in Sloup v Čechách ("Sloup in Bohemia").