A beautiful trip on the edge of the Lusatian Mountains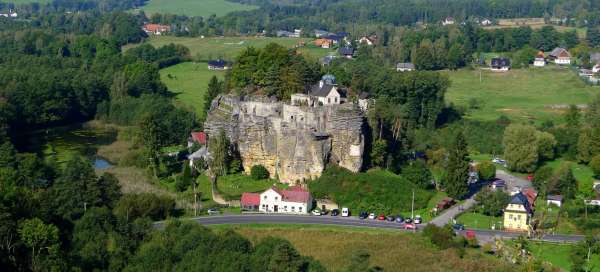 Just outside the borders of three protected areas (Lusetian Mountains, Bohemian Central Mountains and Kokořínsko – Macha region) lies a beautiful area full of sandstone rock towers, caves and valleys – the area between the villages of Svojkov and Sloup in Bohemia. Thanks to the many routes, you can invent a lot of hiking trails. The classic trip is along the most famous of them: Modlivý důl, rock castle Sloup and lookout tower Na Stráži
Surroundings of Svojkov
We will start the first part of the trip in Svojkov, where we simply park at the local chateau. We will be the first to go to the local rock castle and then take a short hike through Dědovy kameny to the biggest attraction to Modlivý dol.
Part of itienary
Article:
A tour of the Svojkov rock castle
Svojkov is a pleasant starting point for several tourist circuits with attractions such as Modlivý důl, Slavíček or Dědovy kameny… continue reading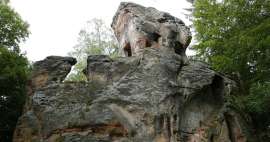 Part of itienary
Article:
Hike around Modlivý dol near Svojkov
The Modlivý důl rock chapel is one of the biggest attractions, which you will find in a picturesque area southeast of Nový Bor.… continue reading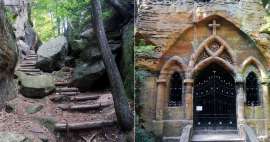 The surroundings of Sloup in Bohemia
Then we will move just a short distance away to Sloup in Bohemia. Here we can see the famous castle and then climb from it through the forest theater to the lookout Na Stráž or even higher to the lookout tower of the same name.
Part of itienary
Article:
Walk around the castle Sloup
One of the most picturesque places in the Lusatian Mountains is the castle Sloup and its surroundings located just four… continue reading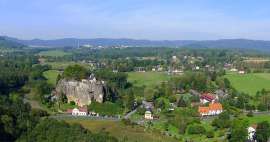 Nový Bor
We can end the trip in Nový Bor, where you can see the Glass Museum
Applaud the author of the article!
Thanks!
Have you been there? Write a review of this place
Already rated by 1 traveler