Tribe of hunters and gatherers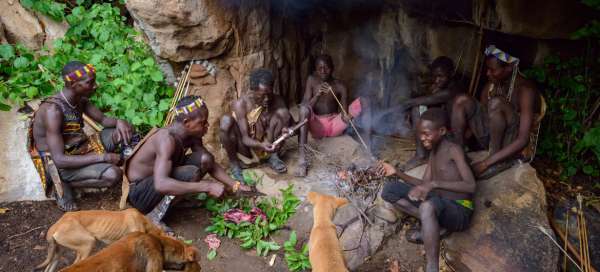 Tanzania currently has about 120 different tribes of people who differ in tradition, culture and language (although most of them speak their official language as well as the official language – Swahili). However, one tribe differs diametrically from the others and has many exceptions from the government – it is one of the last tribes of hunters and gatherers: Hadza (or Hadzabe).
Exploring the local culture
After a challenging climb to Kilimanjaro and a safari, we decided to spice up a visit to Tanzania by learning about the local culture. We visited four tribes of people, living in a traditional and yet very different way. In addition to the Masai tribe and two different Datoog tribes, we also knew the Hadza tribe.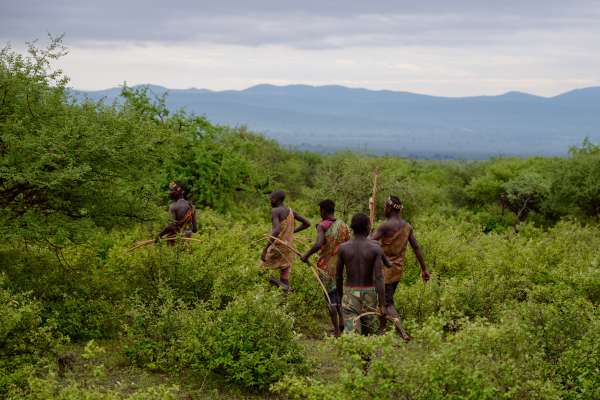 Name "Hadza"
He got the name Hadza from another tribe – the Maasai and loosely translated means "respected adversary". In recent history, the Maasai tribe has been at war with many other (less numerous) tribes. The struggles with the people of the Hadza tribe, unlike the others, were incredibly difficult for them, even though there were many times as many Maasai. Thanks to their hunting experience and their knowledge of archery, Hadza was able to inflict huge losses on the part of the Maasai, even in small numbers. The photo shows Adenium – the so-called "desert rose". Hunters use its sap as a poison to hunt larger animals.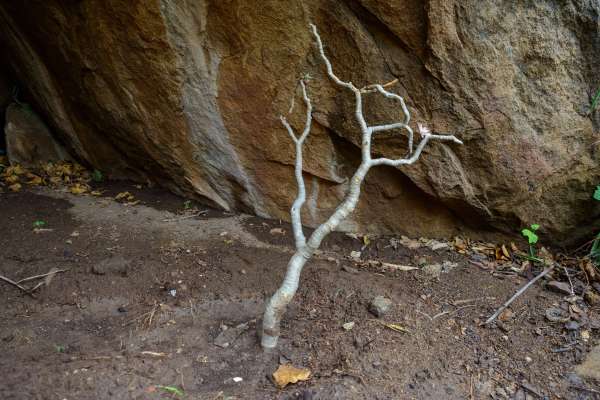 Language
The language that Hadza people speak is very interesting. It is a language that includes certain clattering and slapping sounds. For a better idea, I recommend the film "Gods Must Be Crazy" from 1989, where one of the main characters, Xixo the Bushman, uses a language that sounds quite similar. The photo shows cannabis that Hadza hunters smoke practically all day.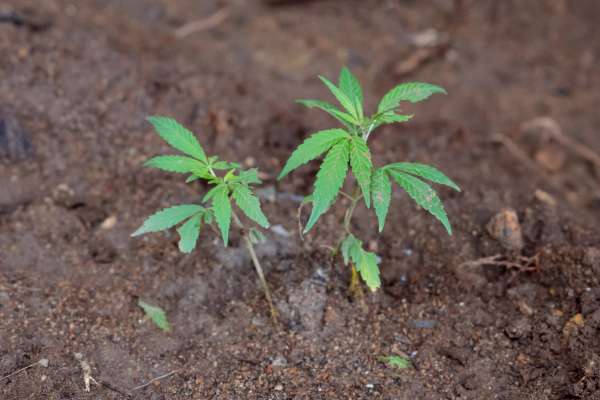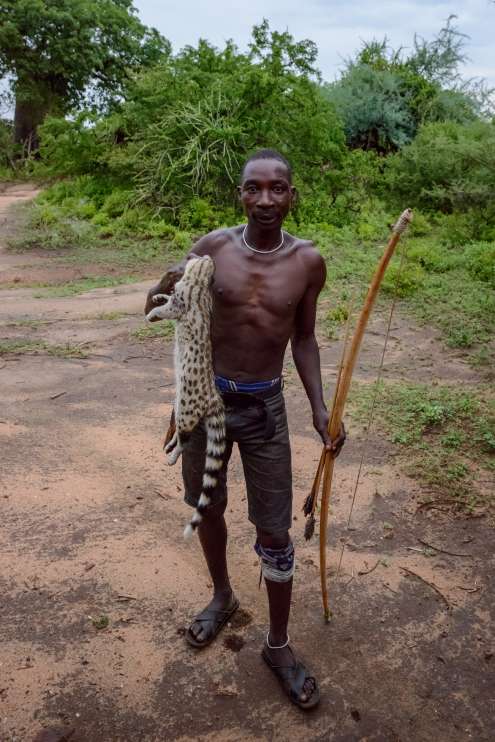 First meeting
The introductory meeting with this tribe was funny – the timing couldn't be better. Immediately after arriving at the car, a half-naked tribal chief with a bow and arrows ran up, holding a freshly caught civet in his hand and running something at us with their speech. I listen to his witty speech with a surprised expression on my face and nod at him without understanding anything. Then the chief hands me the civet in my hand, followed by a joint photo and goes to a party – somewhere other than the cave.
Roasting civet
The interesting way is that they don't care about the skin at all and they throw the whole animal on the fire whole – the skin just gets roasted. The only thing cut off was the tail.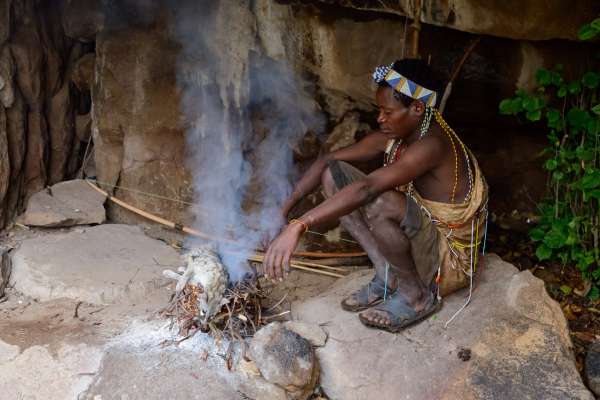 Toasting
During the toasting, there is peace, they put a joint, straighten the arrows and have fun with their language together.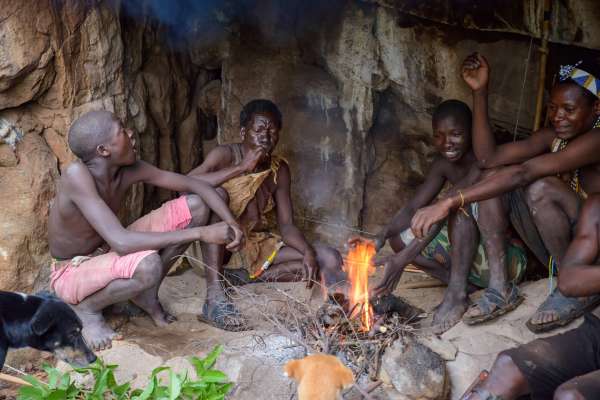 Feast
After the civet was pre-roasted, one of the hunters gutted it, threw some of the organs back on the fire and hung the meat nearby on a branch (probably for later). After a moment of toasting, each of them had a piece of prey caught. Of course they also offered us and it is polite not to refuse :-). Roasted civet liver tasted really great.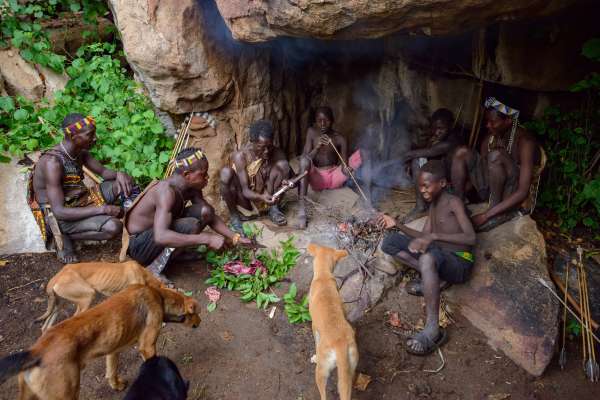 Hunting
Men of the Hadza tribe have been hunting every morning since they were young. This was no exception, so we went with them to explore the terrain after the party. Their pace was incredible and we had something to do to keep up. The most successful hunter that morning was a twelve-year-old boy who was the first to hit a bird in a tree. The older boys were unlucky this time.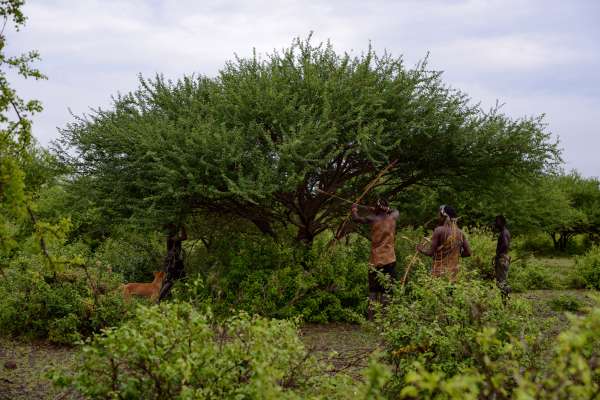 Honey collection
Hunters consider honey to be the most valuable raw material they obtain from bees nested in a baobab trunk. First you need to cut a hole in the soft baobab and then the bees smoke out.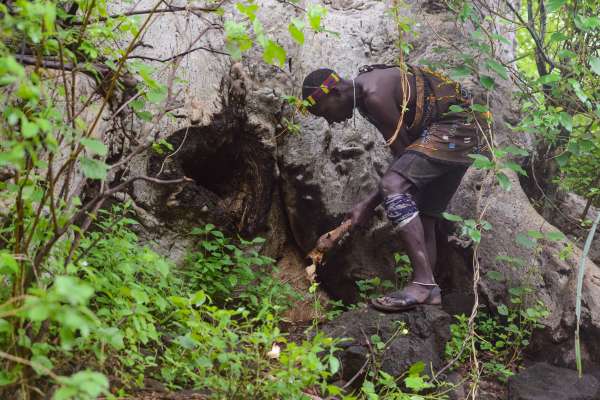 Manufacture of tools
If the ax is not very effective, they will turn it into a chisel in a moment and continue to roll.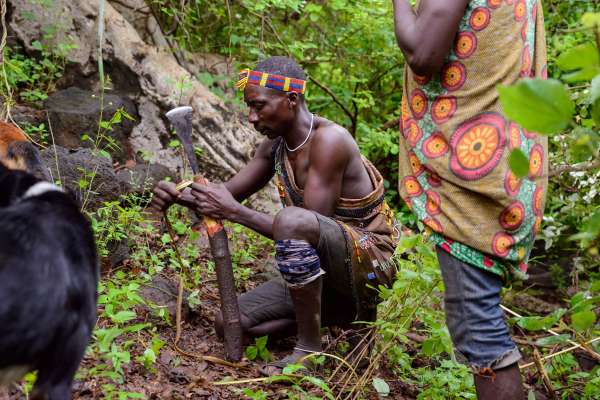 Honey collection
Unfortunately, this time it didn't work because the bees were too deep in the trunk. Even so, the boys got a few stings.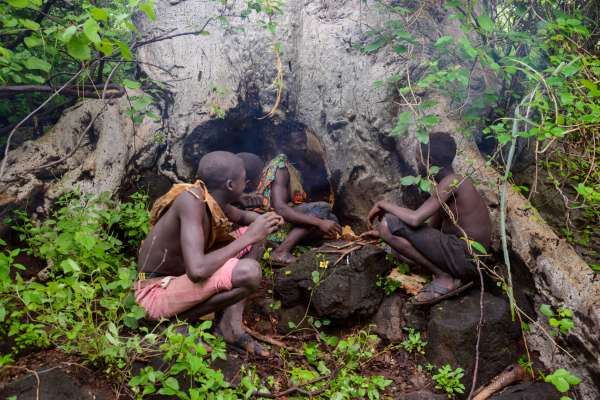 Hunting
The Hadzas have many exceptions in Tanzania, and one of them is hunting. However, they cannot fish in national parks, for example. They hunt almost any animal and the only exceptions are snakes and hyenas. Snakes do not hunt because they consider them dangerous and poisonous. Hyenas, on the other hand, because they left the dead to nature in the past, and hyenas took care of them most often – they do not consider their meat clean.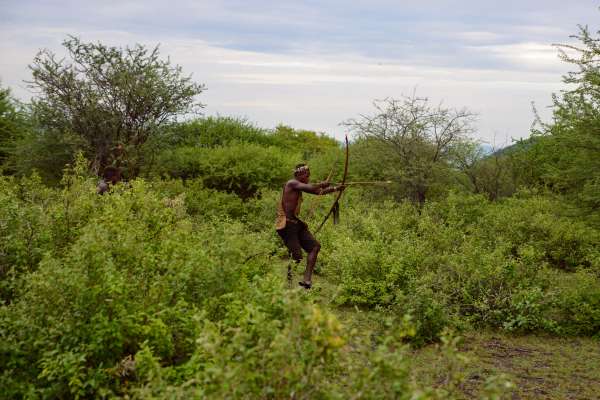 Berry
When hunting is not very successful, hunters run out of various berries and fruits. We tried two types of berries, both sweet and sour and bitter. However, hunters prefer meat, so when the game runs out in the area, they move a little further.
Dwelling
The Hadz live around Lake Eyasi and live in small groups of about 30 members. Their total number is estimated at only a thousand, but only about 400 of them live this traditional nomadic life of hunters and gatherers. Interestingly, they are not genetically related to any other people. Unlike huts from other tribes (such as the Maasai and Datoogas), their huts (due to frequent migration) are not rainproof and serve more as a temporary shelter. They also often use caves.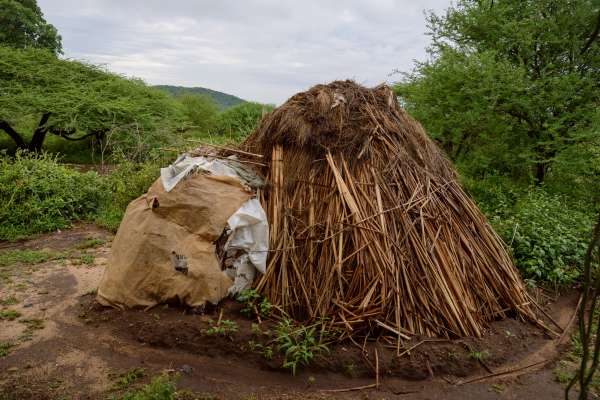 Barter
A pleasant surprise is that the Hadz are not trying to make money on tourists (which is really unusual in Tanzania). However, they like to accept gifts (for example, arrowheads, which can be obtained from Datooga blacksmiths or clothes). In return, they donate something apart (often a handmade piece of jewelry or a wooden pipe).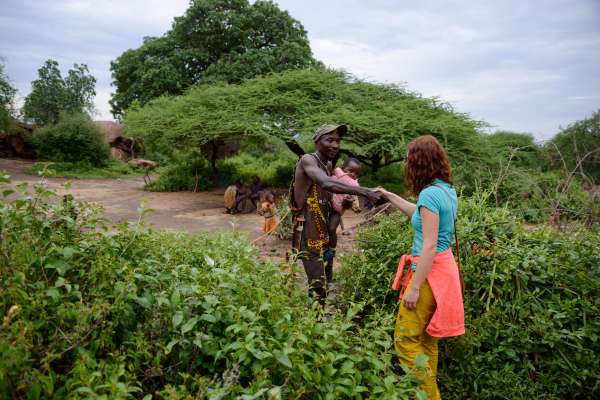 Roots
Women have different roles than men. They take care, for example, of finding wood for fire or digging up roots.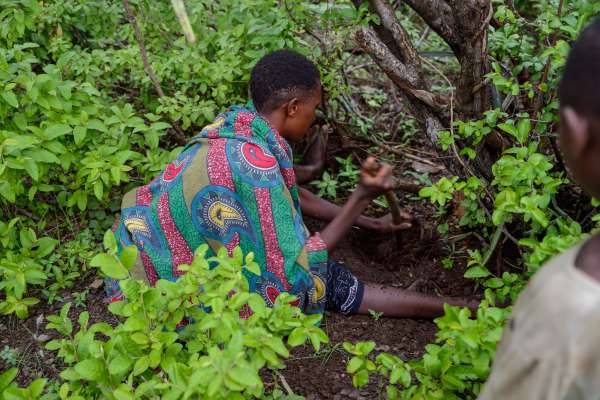 Collection of roots
We also tasted the roots and they are fantastic. I would compare them to a sweet apple and a structure to a carrot.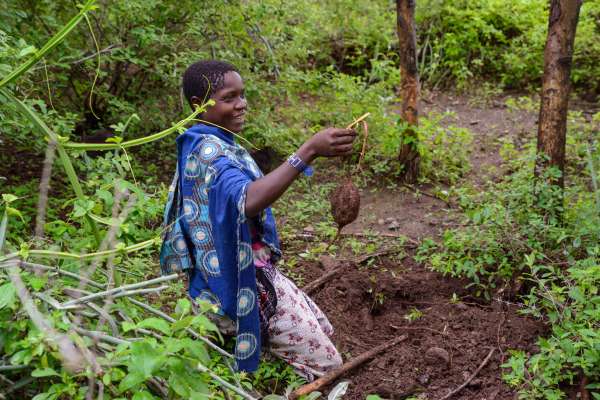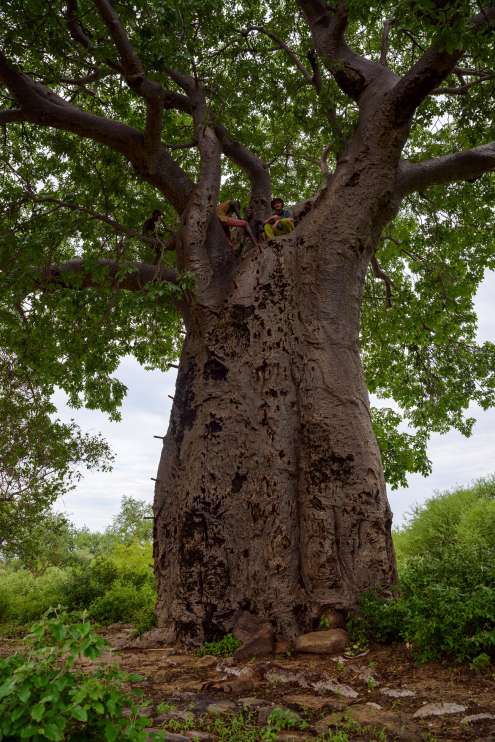 Baobab
As a climber, of course, I was also fascinated by the huge baobab, in which the boys were hammered by poles from the branches with which they climbed. I couldn't miss that.
Dance
As in other cultures, entertainment also includes dancing and singing.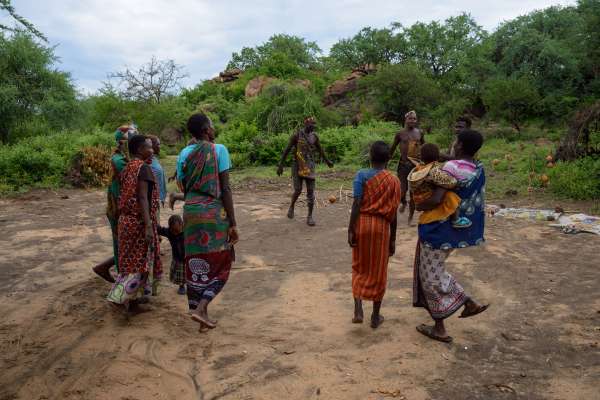 Archery
At the end of the visit, we had the opportunity to try archery at a target made from a baobab branch. At first, the strength was measured by 6 local fighters, but only one of them hit. I definitely didn't want to be ashamed and with the fourth well-aimed shot I showed the local hunters a bit of Czech quality. :-)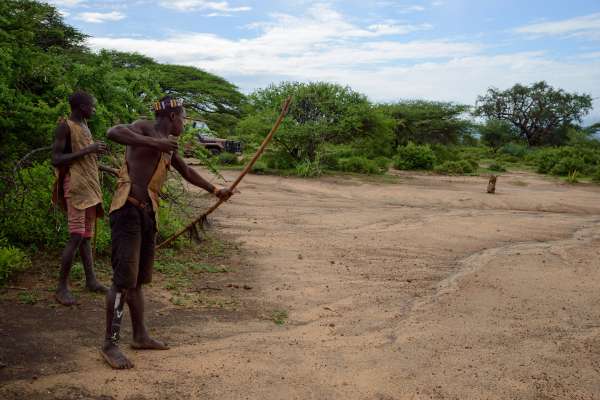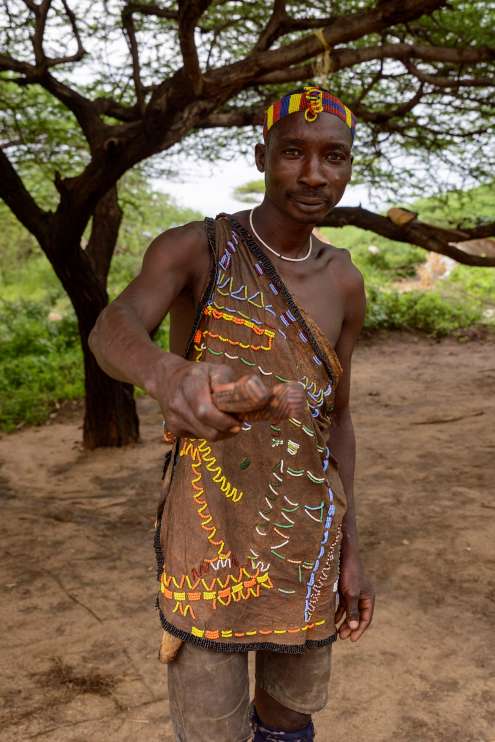 Farewell
I consider the visit of the eternally laughing and experienced hunters of the Hazdabe tribe to be one of the highlights of an entire more than three-week holiday in Tanzania and an absolutely fantastic and unforgettable cultural experience. After saying goodbye, only a relaxing Zanzibar was waiting for us.
Applaud the author of the article!
Articles nearby
Part of gigalist
Giga List:
The most beautiful places in northern Tanzania
… continue reading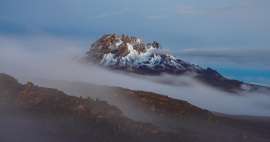 Thanks!
Have you been there? Write a review of this place
Already rated by 0 travelers