An ideal safari for elephant lovers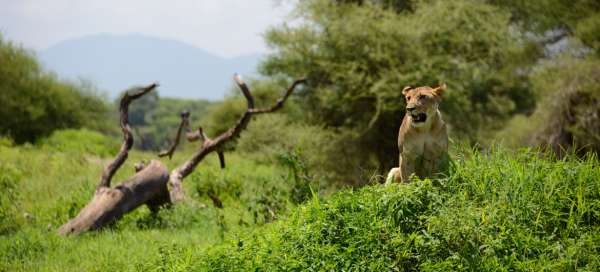 The safari in Tarangire National Park, along with Lake Manyara National Park, is a bit in the shade of the much better known Serengeti and Ngorongoro, which is perhaps a bit of a shame as it has a lot to offer. In addition to many animals (especially elephants), there are also beautiful baobabs and a giant termite mound.
Giant termite mound
Right on the edge of the park at the entrance gate, we are greeted by a giant termite mound. These buildings reach heights of up to five meters, they are rarely more common, as they are destroyed after the rain and must then be rebuilt. Termites are very remarkable insects and our planet has been inhabited by dinosaurs since ancient times. Often people confuse them with ants due to their appearance and caste division (workers, soldiers, royal couple), but their closest relatives are cockroaches.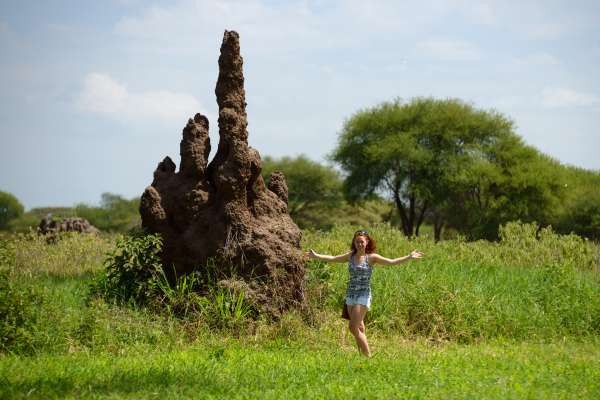 Nile monitor
A short distance behind the gate, a two-meter Nile monitor crossed our path.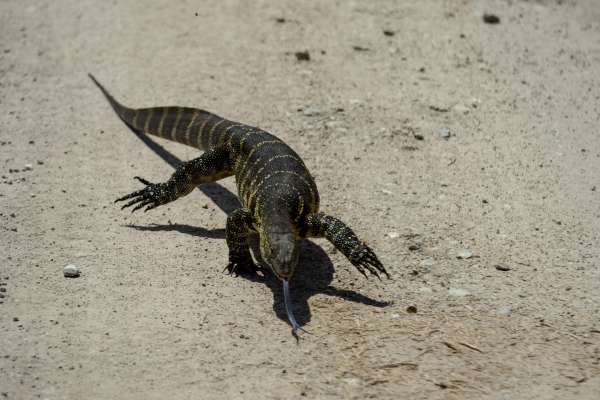 Baobab
In addition to lots of animals, Tarangire also offers a number of beautiful baobabs.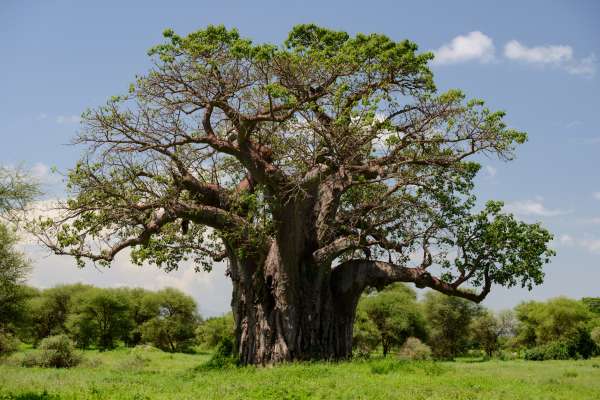 Lioness
Even large felines thrive here. One of the first animals we met was a lion family.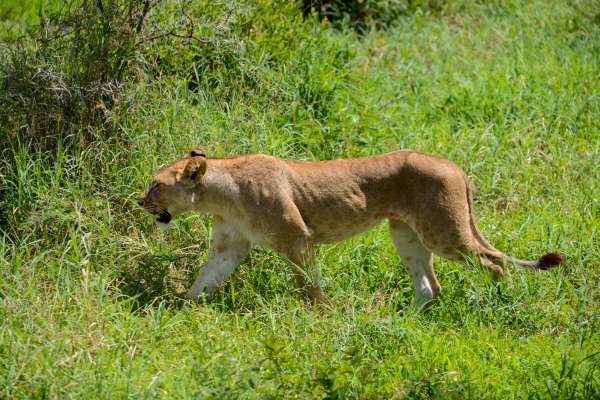 Savannah pig
Just a short distance away, a savannah pig is grazing. Although they are omnivores, they mostly feed on various grasses and roots. It uses strong tusks to carve underground parts.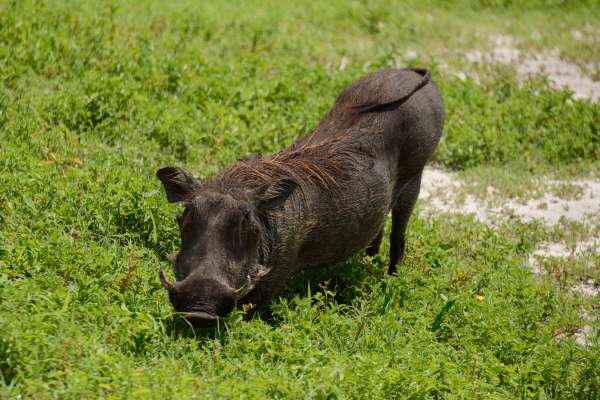 Piglets
Because they love water, like to bathe and roll in the mud, Tarangire Park is a popular refuge for them. However, the funniest is their walk, which is exactly the same as in the fairy tale The Lion King from 2019.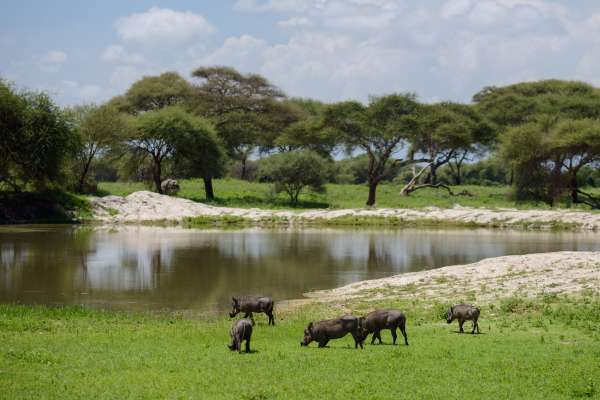 Impala
At first glance, a completely ordinary and uninteresting antelope. However, it can jump up to 3 meters in height and 10 meters in distance, which is a remarkable performance.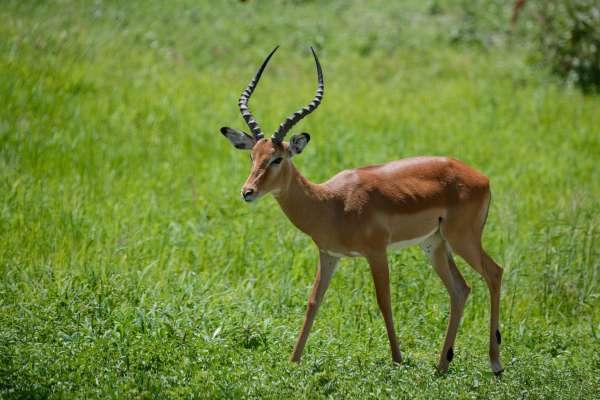 Elephants
Elephants are certainly one of the biggest magnets in this park.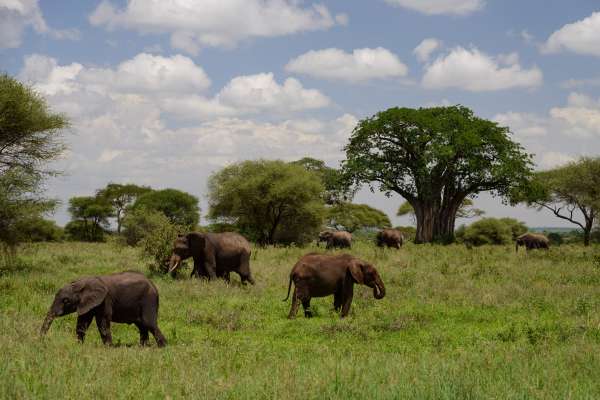 Covering the skin with mud
Elephants like to cover their skin with mud. On the one hand, it protects them against high temperatures, and on the other hand, against annoying insects.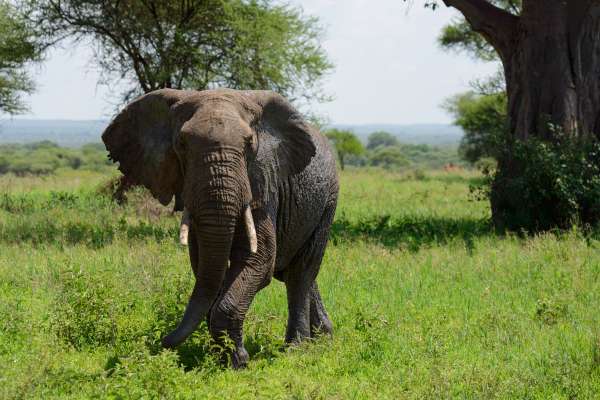 Lunch break
We take a break for lunch at a picnic spot on a hill above the river Tarangire. The company makes us a lot of vertebrates and various colorful birds.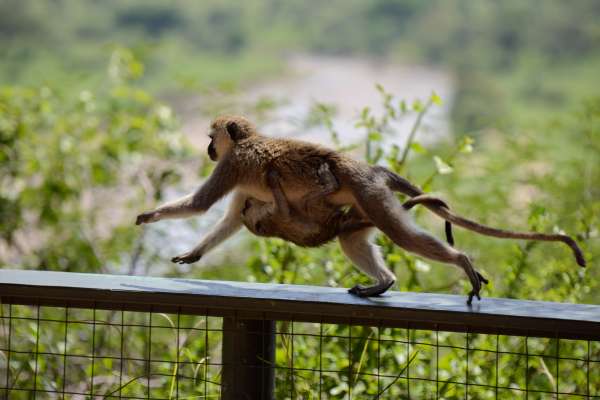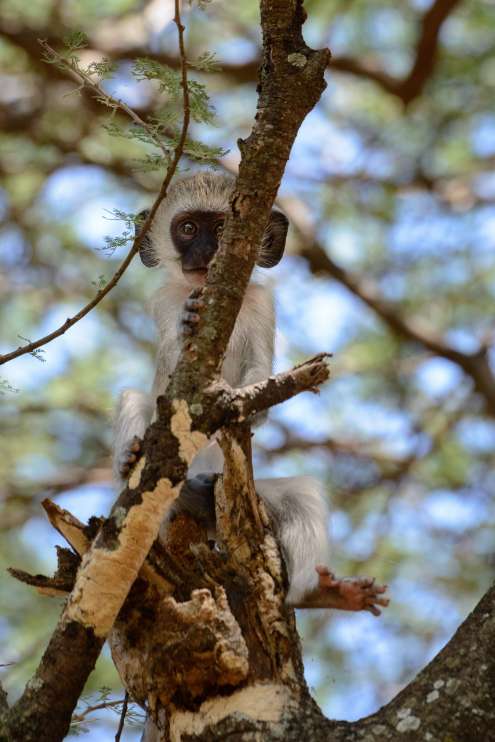 Squirt
You need to be a little careful during lunch. Vertebrates run all around and sometimes they manage to steal some fruit. All I had to do was lift my eyes from the plate and a small naughty man was lurking inquisitively on the branch above me.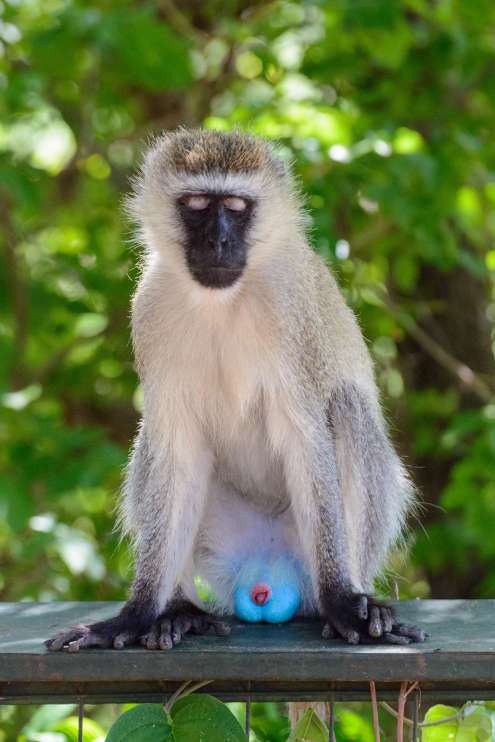 Red-green vertebrate
Why did they give it the name red-green? I really have no idea. I think the English popular name "blue ball monkey" is much more apt.
Safari
The southern part of the park is beautifully visible from the viewpoint at the picnic. It is not always accessible, as the Tarangire River is impassable during the rainy season.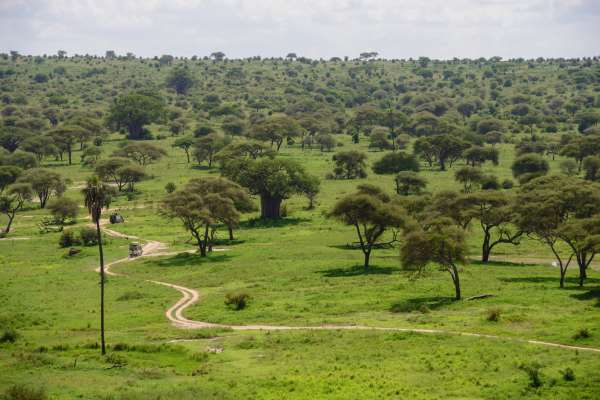 Waterbuck
After lunch we went to the southern part of the park. One of the larger antelopes, which got its name "vodka" due to the fact that it uses water to escape from predators.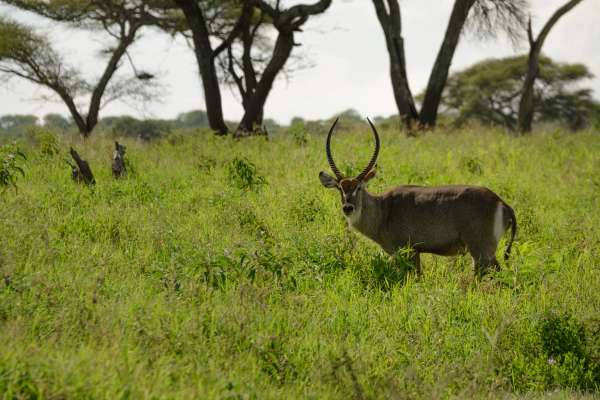 Steppe daman
Unbelievably, the closest relatives of these small mammals (only slightly larger than the guinea pigs) are elephants and manatees.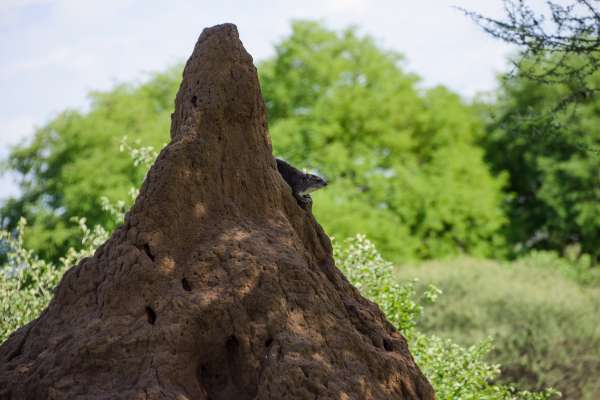 Giraffes
Beautiful giraffes with their long necks roam the park.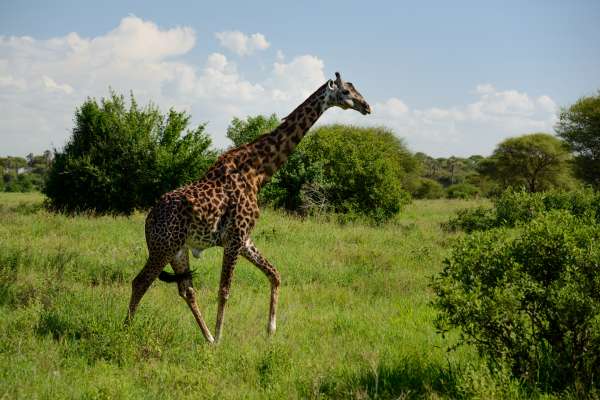 Bitten baobab
At the end of the dry season, when there is not much water, elephants bite baobab tribes to quench their thirst. These are soft enough to hold large amounts of water. Often they can cut down an entire tree.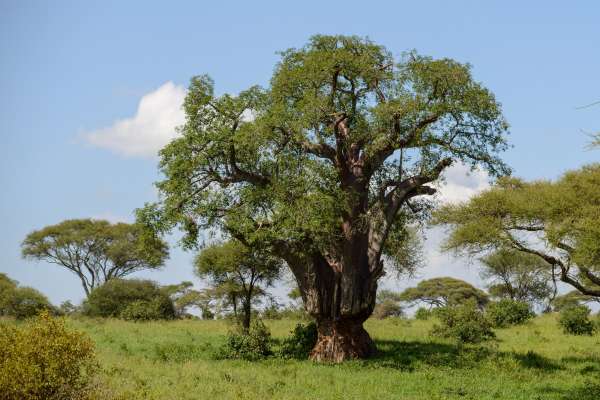 Leskoptev beautiful
One of the unmissed birds is the beautiful woodpecker. And that she's really beautiful.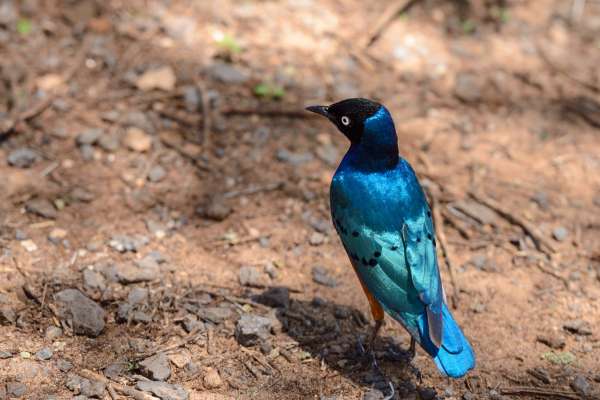 Red-billed Hornbill
Another of the many beautiful birds we saw was the red-billed hornbill.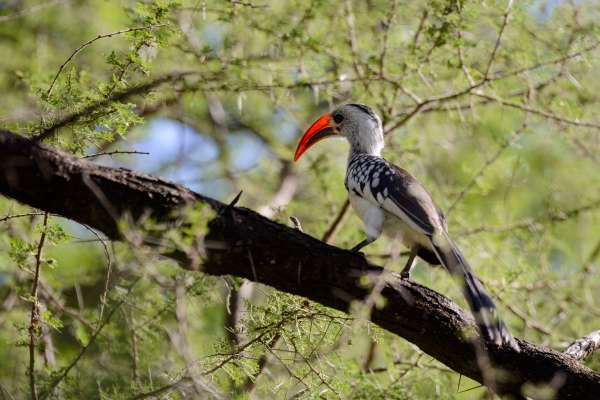 Applaud the author of the article!
Articles nearby
Part of gigalist
Giga List:
The most beautiful places in northern Tanzania
… continue reading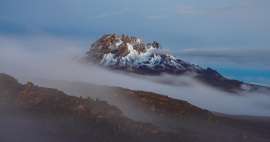 Part of gigalist
Giga List:
The most beautiful safari in Equatorial Africa
The eastern part of Equatorial Africa occupies Kenya, Uganda and Tanzania. All three countries offer amazing safaris in animal… continue reading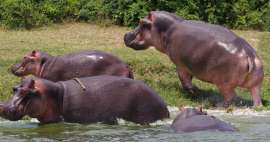 Part of gigalist
Giga List:
The most beautiful safari in Tanzania
Tanzania attracts travelers for three main reasons: there is the highest mountain in Africa, Kilimanjaro, the holiday island of… continue reading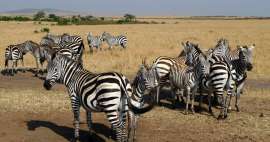 Thanks!
Have you been there? Write a review of this place
Already rated by 0 travelers