Paradise not only for migrating wildebee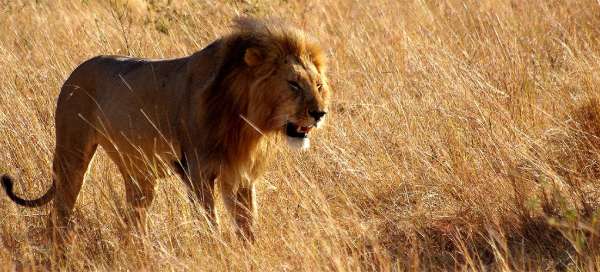 Masai Mara is certainly one of the most popular safaris in Kenya. In picturesque savannah landscape with rounded hills is incredible abundance of wildlife. If you are lucky, you will see all species of "African Big Five' (elephant, rhino, buffalo, lion and leopard). But safari is the most famous by huge wildebeest migration, about which countless number of natural history films have already been filmed. The Masai culture is also very interesting. You can make a trip here just for a half day or for a few days, if you are a photographer or you really want to see all the species living here.
 
Landscape of Masai Mara
Most trips to Masai Mara start either early in the morning or evening – i.e. in the time of the biggest activity of animals. A few hours around lunch time are always relaxing, because animals are hidden from the sun and you will not see them much. Masai Mara region is upland savanna in relatively high altitude of 1,600m asl. Extensive grassy plains are interrupted by flat hills and scattered trees.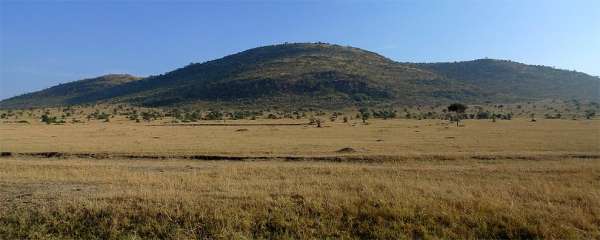 Vultures waiting for breakfast
Most visitors to the reservation want to see the lions. There are two simple hints – either the presence of vultures waiting for the remains of the feast, or a cluster of safari cars that have already discovered them.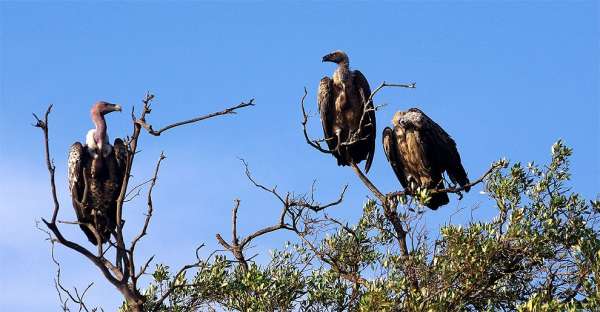 Vultures feast
Lions usually hunt large animals – wildebeest and zebras and there is always something left for the vulture. There is also usually a fight between his tribesmen for the best bites.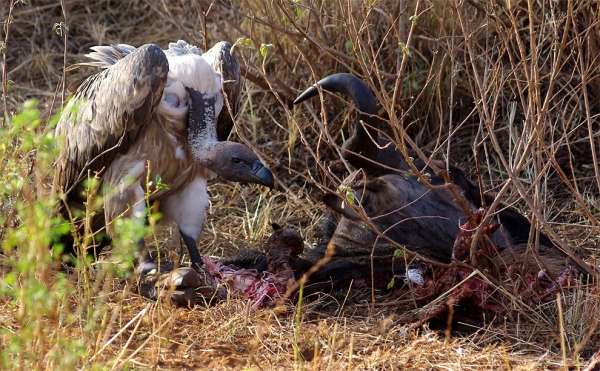 The Lion King
Because of vastness of Masai Mara you do not have quite the feeling of crowdedness and enjoy the wildlife. But if someone discovers a family of lion enjoying their night prey, there will be easily about ten other cars in a while around them. But lions do not even notice that and have a well-deserved rest afterwards.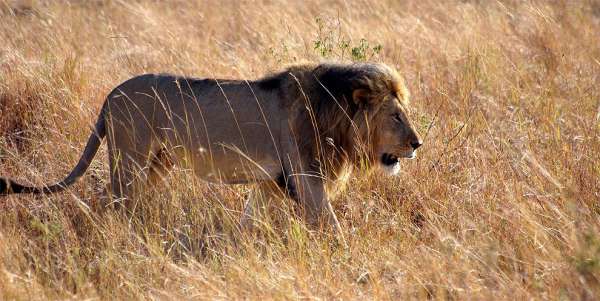 Lion cub
It is the lioness who always hunts. But eats first lion, then lioness and cubs as the last, so if we do not count the vultures.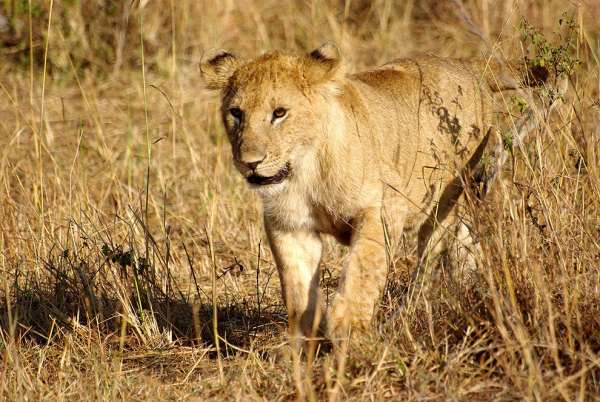 Intrepid ostrich
The ostrich is the birds king of savannah. Even large carnivores do not dare to chase him. The risk of severe injury by incredibly powerful stroke of the foot is too big. At the same time he is also the fastest runner among birds and reaches even 70km/h.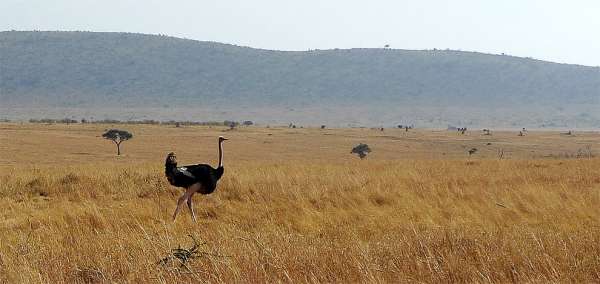 Warthog
In Masai Mara you will also see a beautiful example of the symbiosis between birds and mammals. Warthog is very happy to be deprived of parasites.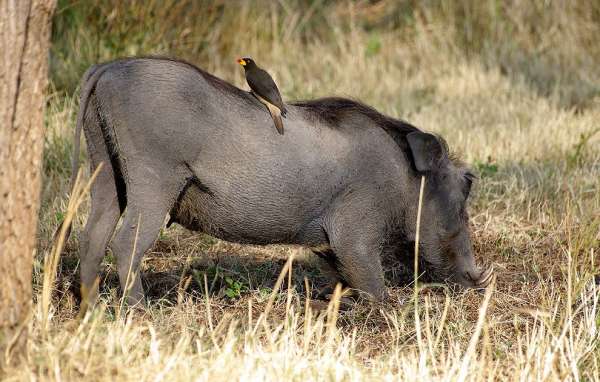 Family of warthog
Warthog must take great care of his family, because danger is practically ever-present.
 
Zebras
Very abundant are here beautiful zebras (it is estimated up to 200,000 pieces) – perhaps the most popular lunch for local lions.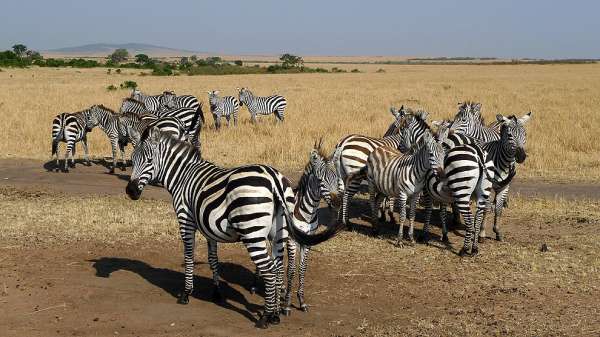 Wildebeest
Perhaps the most typical animal of Masai Mara are ugly wildebeest. Every year migrate here around 1.3 million of them.
 
Migration of wildebeest
Even during a few hours safari you will see an incredible amount of wildebeest – surrounding plains are literally full of black dots.

Common Tsessebe
You can meet here also very huge antelope Common Tsessebe.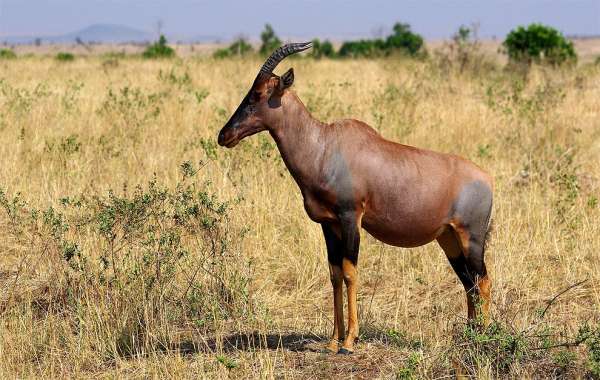 Herd of elephants
Perhaps the greatest experience is to meet a herd of elephants running through savannah.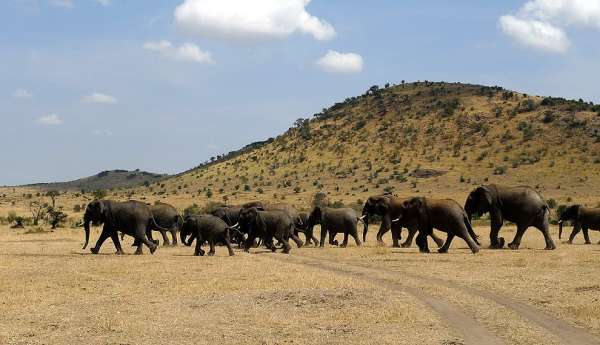 Transportation in Masai Mara
Except for safari carts you may occasionally be surprised by a truck cruising among wildlife as there is a road leading into neighboring Tanzania. But there is definitely no dense traffic.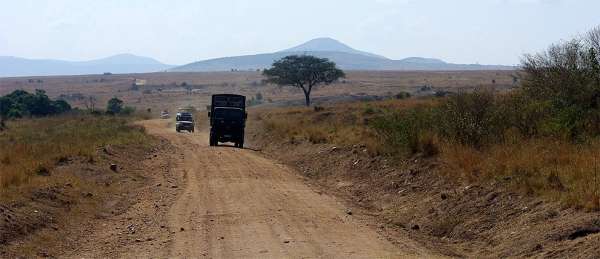 Applaud the author of the article!
Articles nearby
Part of gigalist
Giga List:
The most beautiful safari in Kenya
Animal lovers are sure to enjoy a variety of world-famous safaris in Kenya. In addition to elephants, lions, rhinos and buffaloes… continue reading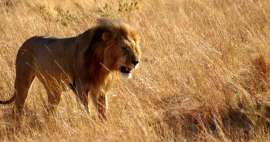 Part of itienary
Article:
Tour of Kenya, Uganda and Tanzania
If you are already going to Equatorial Africa and you have about three weeks of time, it is not wrong to make a circuit around… continue reading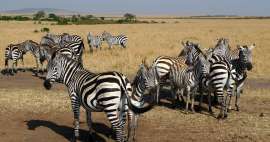 Part of gigalist
Giga List:
The most beautiful safari in Equatorial Africa
The eastern part of Equatorial Africa occupies Kenya, Uganda and Tanzania. All three countries offer amazing safaris in animal… continue reading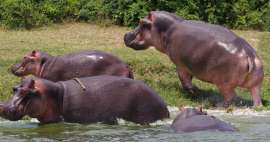 Thanks!
Have you been there? Write a review of this place
Already rated by 1 traveler