Safari around Lake Nakuru
Animal paradise surrounded by civilizati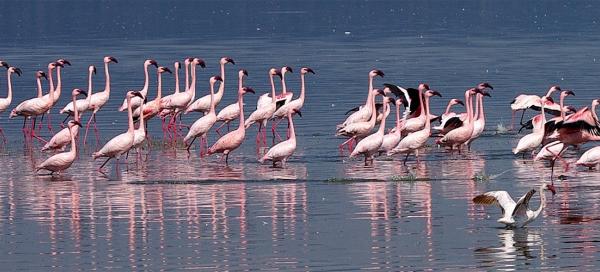 Just 160 kilometers north from the capital of Kenya – Nairobi is located town Nakuru (1,800 meters asl), next to which is one of the jewels of the local nature – alkaline lake of the same name, in which live thousands of birds, especially flamingos, pelicans and storks marabou. Apart from these, you can see here rhinos (the largest population in Kenya), giraffes, zebras, buffaloes, etc. It is one of the best safaris in Kenya, since you will really see here a lot of animals in a small area during a half day.
Antelopes Impala
You can arrange safari trip in the city. Keep in mind that it takes only about half a day, so you can plan another journey for the afternoon as well. Expeditions start, as with every safari, very early in the morning at dawn, when is animals activity greatest. At first, you will have to drive through the whole city to the south via quite dangerous districts (be happy to be in car here). Right at the entrance you can come across a great number of cute Impalas.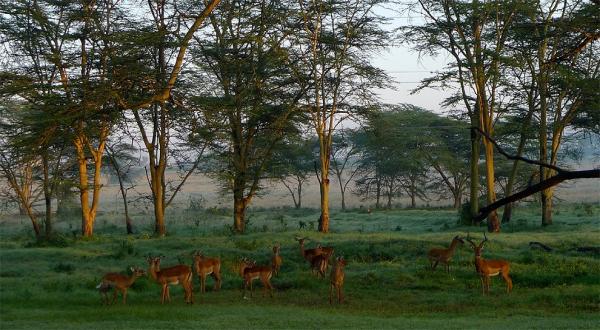 Baboons
You will then have to avoid a troop of plentiful baboons who often make kind of gathering here.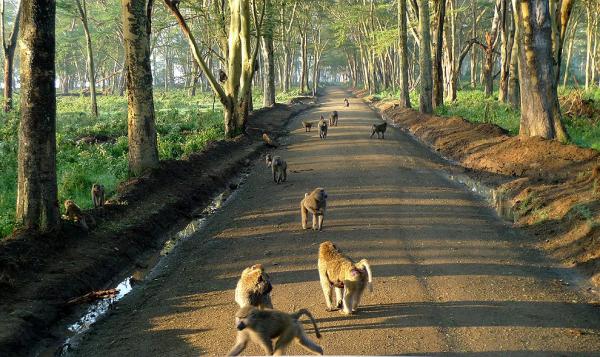 Baboon
Baboons are omnivores and they even hunt smaller monkeys and birds.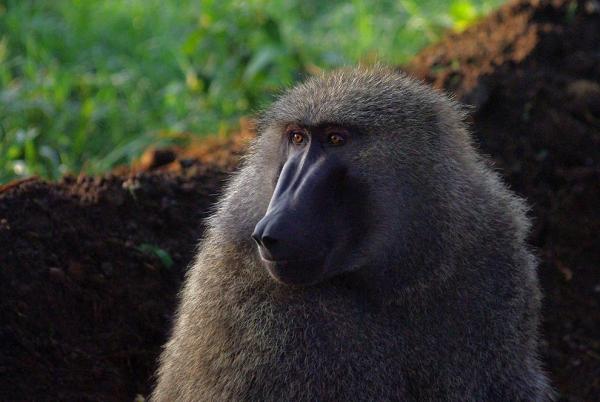 Shores of the lake
You finally approach the shores of the lake less than one kilometer from the entrance gate. The surrounding spreading trees give scenic beauty to the shores and their crowns are a frequent refuge for huge storks marabou.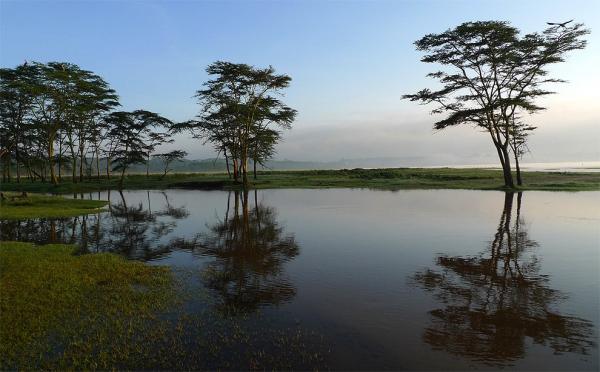 Stork marabou
Early in the morning there are large flocks of storks marabou at the lake, the largest wading birds in the world – reaching up to 150 cm. Marabou is mainly a scavenger /has a similar tactic as vulture and also similar head appearance – flies over the countryside and looks for carrion/, but he sometimes manages to catch even a flamingo and other smaller animals.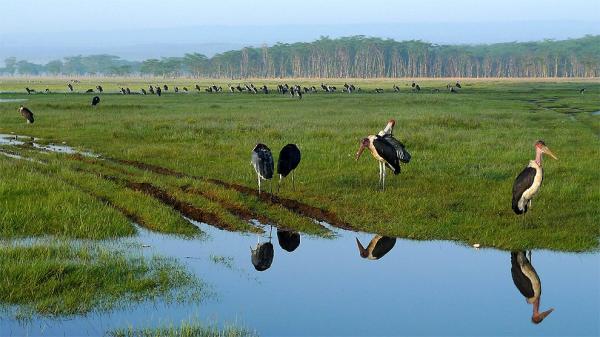 Flamingos and pelicans
Already from the first looks around the shores of lake you know that Nakuru is a real paradise for birds – there are huge numbers of pink flamingos and pelicans. In addition, you can leave the car here and move freely along the shore, which is in most safaris prohibited for safety reasons.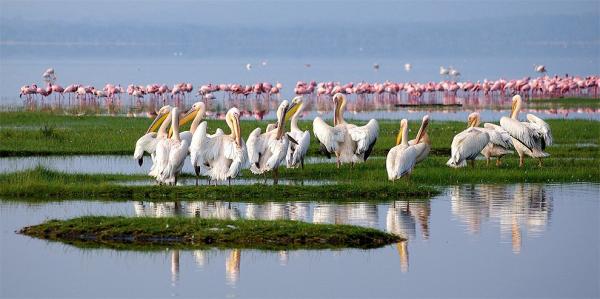 Herd of zebras
Along the shores of the lake there are relatively large herds of beautiful zebras.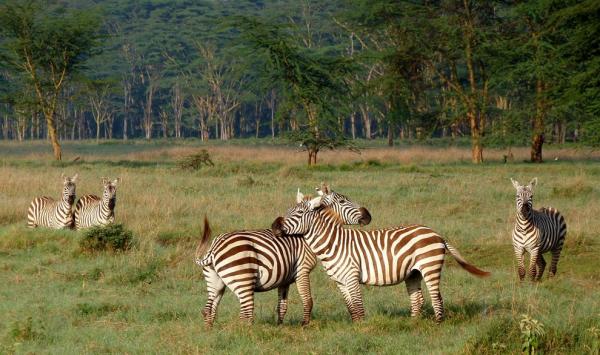 Impalas on pasture
Impalas are beautiful antelopes. They are too small for lions, so they are not his frequent prey, but for example, they must be very careful with cheetahs.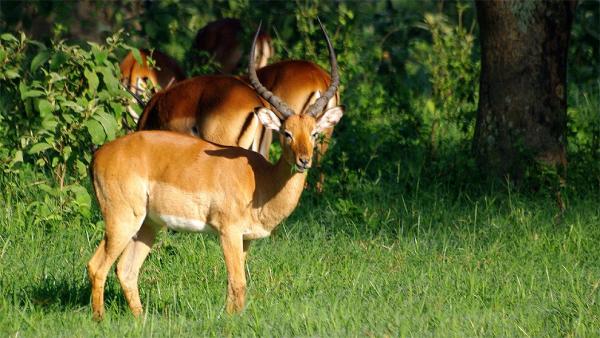 Relaxation of Capes buffalo
Capes buffaloes relax a little bit farther.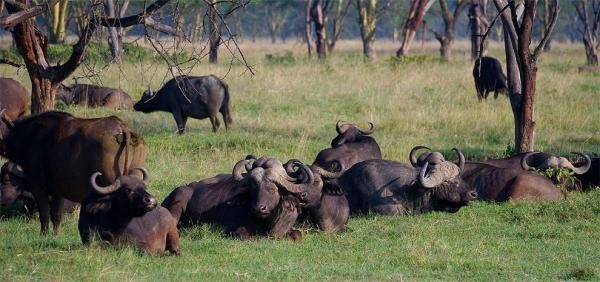 Cape buffalo
Cape buffalo is one of the most dangerous animals in Africa and together with hippopotamus they are responsible for most human deaths. He is usually very aggressive, especially if he is wounded. It is definitely not recommended to walk in his neighborhood and leave the safety of safari car.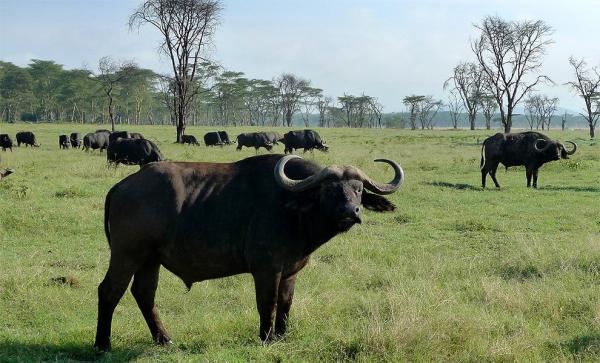 Baboon´s cliff
The path then diverges from the lake and rises to the baboon´s cliff, from which there is a beautiful view of the lake and its surroundings. Of course, there are a lot of baboons, but for example also hyraxs.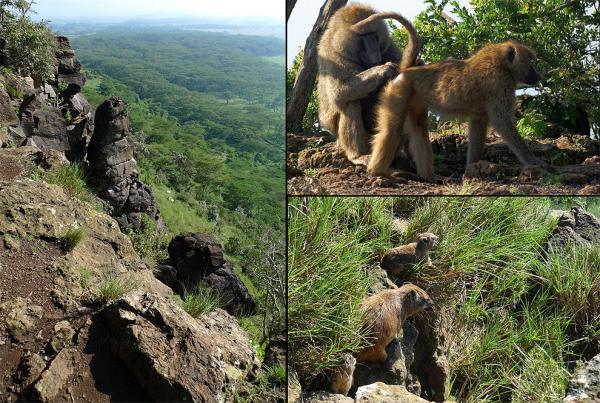 Rhino family
After nice outlooks from the cliff drops the path back to the lake and savannah that surrounds it in the south. There are a lot rhinos living in the park, so you will have a bit of bad luck not to see at least one.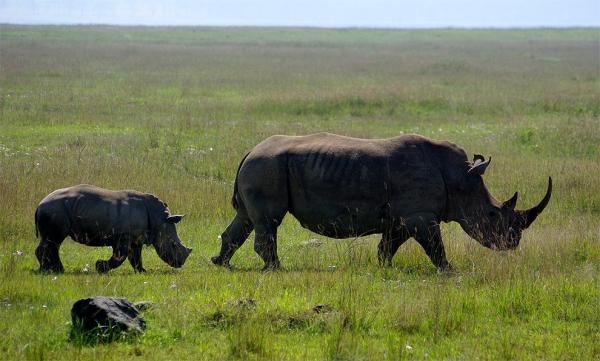 Giraffes
There are lots of giraffes in the savannah in the south side of the lake. Here you can also see ostriches and warthogs.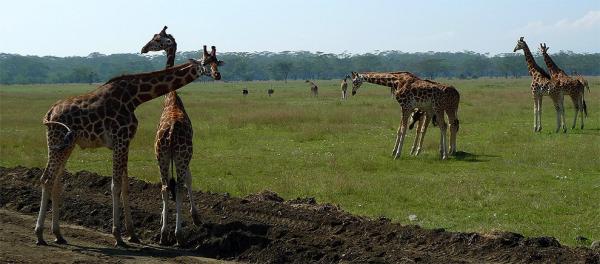 Flamingos and a lone hippo
Lake Nakuru is not famous for hippos, so you may be surprised to see one. But there are thousands of flamingos.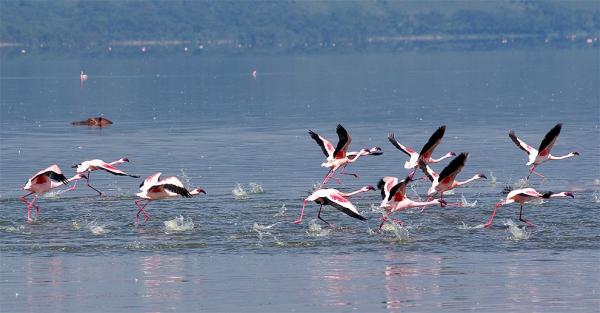 The eastern side of the lake
The gravel road is good here, so there are also passenger cars running except for the safari carts. But there is far better view from safari carts. The eastern side of the lake is much less interesting – it is bushy and you will not see many animals here.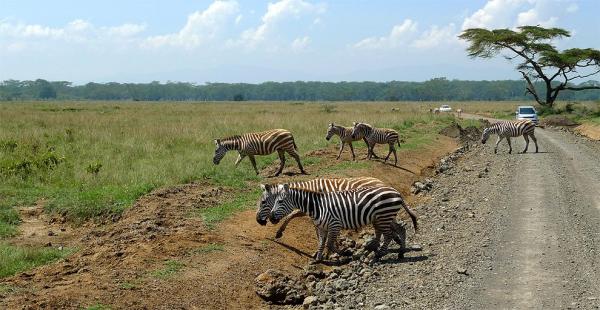 They want there (0)
Be the first, who want to go there!
Have you been there? Contribute a good advice to travelers who want to go to this area or add places to your visited list.
Do you want to go there? There is nothing easier than having to deal with others and go on a trip or get tips on where you want to go.
Applaud the author of the article!
Thanks!
Have you been there? Write a review of this place
Already rated by 0 travelers