Paradise on Earth? :-)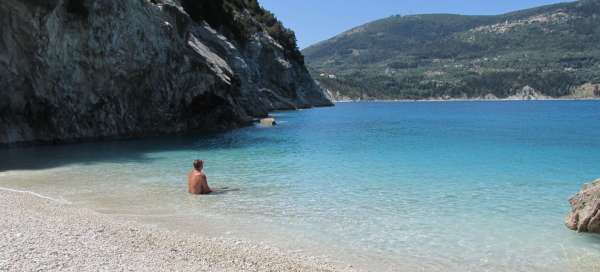 Ithaca, Odysseus' home. This year's next Greek vacation and my dream Greek island. Ithaca is one of the smaller Ionian islands. Located near Kefalonia. It is incredibly green – typical of the Ionian islands – with a sea color that plays all shades of green, blue and turquoise. I don't even have to mention the crystal clear water. Ithaca does not have an airport, so tourism is minimal and the island retains a traditional Greek touch.
ITHAKA, Odysseus' home
Paradise on Earth :-)
I longed for Ithaca for years, and I knew why. The internet is full of inspiration, the trip from Lefkada to Frikes only confirmed me and finally in 2019 I managed to visit Ithaca as befits and belongs. I love the Ionian Islands. Absolutely the most. Greenery, a combination of white rocks, emerald green sea or, conversely, beaches "ala Caribbean". I never decided whether Kefalonia or Paxos was the most beautiful for me (I classified these two islands as the most successful holiday combined – for me – with a beautiful island). I'm clear after this year's vacation. The most beautiful and unequivocal queen of the Ionian Islands is ITHAKA. And in fact, what I've been to, and I don't think anything like that will surpass her. Hmmmm, where will I go next but? There would still be some ideas and I hope that they will appear in the news at the travel agency. :-) ITHAKA in July (from the region) is incredibly quiet. Everything is just waking up, few tourists, half-empty or empty beaches (and I thought that there would probably be nothing calmer than on Kythira). Clear water, Greek myths and myths, peace and nice people – all combined, make up the most perfect Greek cake. :-)) We lived in the village KIONI, a magical place, in the pension Argalios. And if I come back (which I hope so) I will definitely choose Kioni again. Kioni is a very quiet village, bordered by beautiful sea and there are many beaches in the area, which are accessible within walking distance. Road – resp. sailing to Ithaca (from Kefalonia, from the port of Sami) was a bit wild in the waves and our little "barge". Only 10 Czechs sailed, we took it with humor, but the waves were quite big. Anyway, we survived. :-D A slightly larger boat was sailing back and it had already dealt with the sea one or two. The cruise lasted 30–45 min. max. (depending on the weather). We took the taxis to the accommodation and the dovča could start. We had a car rental with acquaintances for 2 days (from Alpha car hire, I arranged it via email and I can recommend the rental, they have a base in Vathy), a boat for the day – from Kioni (anyone who wants to sail to the luxurious Gulf of Afales stronger boat – 70 € + with us 35 € petrol). The acquaintances then had a scooter for the next 4 days and we rode a local bus (runs from Kioni 7.15 and 14.20 – in the high season). The bus will stop at a wave on the route and drop you off where you want. And back we used a taxi. Prices are higher, but it was possible. Mr. taxi driver also worked via FB, whatshap (or as it is written), sms, phone call … and he was trusted. Those who do not know English don't really mind, after the sms you will arrange and translate via google. Unfortunately, the camera betrayed me during the holidays. I'm not a photographer who knows what technique. Of course, out of nowhere, a stain appeared on it, which remained in the photos (but a new machine has already been ordered). So I also took photos with my mobile phone and was forced to pull out an old backup "compact" pofider brand. Unfortunately, you can see it in the photos. Anyway, I'm an amateur in this, so I hope you like the photos anyway. Even to the village of KIONI – it's really tiny – about 5 taverns, some souvenir shops, a cafe, a bakery – there's not much there, but it's okay, a mini market – it's well stocked. We did not need to drive to the supermarket in Vatha. However, we bought the gifts of the houses in Vathy by bus. The car was on other Ithaca fashions than shopping. :-) Unfortunately, what a pity, the "spinning" gyros is only in Vathy (from about 2 pm it is). However, in Stavros, right next to the church, at the "main" crossroads (from Kioni on the left hand side) there is such a home tavern (mainly locals go there). They have great prices, giant portions and excellent gyros – albeit with pieces of meat (probably from souvlaki). Míra is a connoisseur of gyros, and even though he wasn't "shot", he liked it very much and so did all of us. I probably haven't seen the Greek salad they brought us bigger :-D. As for prices in general, in stores it is + – everywhere the same as anywhere. The most expensive so far was Paxos, Ithaca is quite close to him, but she has not yet reached Paxos. It was still bearable for us poor Czechs. Traditional Greek dishes up to € 10, beer € 4 (as where, sometimes € 3.50 – I mean a pint, on tap), ice cream for a large scoop € 2.50, it's probably the same everywhere. Small water 0.5l 0.50 €, gyros 2.50 € etc.) I wish you a pleasant peek at my gallery. Despite the technical problems, I brought 900 photos, it will be difficult to make a small selection. :-) I apologize for the quality of the photos, not only from a technical point of view, but in general, photography is not my hobby, I rather do it for the reason that I keep my memories and create a beautiful photo book. :-) We really missed everything from Ithaca. We also had a very limited number of car days. So we couldn't search every nook and cranny, but an even bigger reason to go back to Ithaca! And I definitely have that in mind. There are many beaches on Ithaca, even nameless ones. Beaches where no one or just a few people. Not everything is well marked and a detailed map of Ithaca can be obtained for about 10 € on the spot. I ordered maps of kiwi – Kefalonia / Ithaca – was enough. There are relatively narrow roads in Ithaca, many dusty – field roads. Tourists also used electric hurried bicycles. It was more about driving smaller distances around Vatha – hl. cities. Ithaca is very hilly. It is divided into 2 parts – northern and southern. These parts are connected by a 600m wide hilly strait. I was joking that the biggest flat place on Ithaca is the square in Vathy and then nothing. :-D If you study travelogues properly, you will find out where the divine prospects are. Excavations (not easy to find) and other attractions. I don't think it is necessary to write that I absolutely recommend Ithaca to people who are looking for peace, a Greek atmosphere where there is no mass tourism. Divine beaches. Tourism and a combination of mythical mythology. So cheers for Ithaca in my memories. :-)
KIONI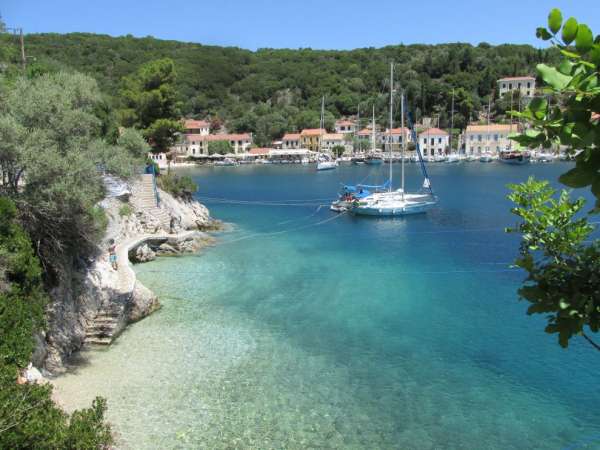 KIONI
I thought there would be head to head … after all, a mini slice … um, there was no one there. Day 1 at Ithaca :-)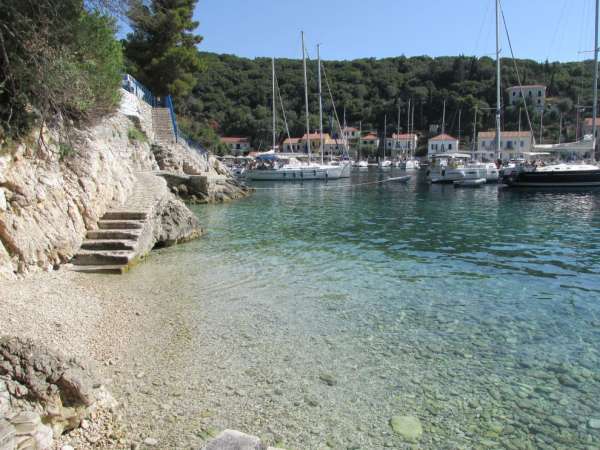 KIONI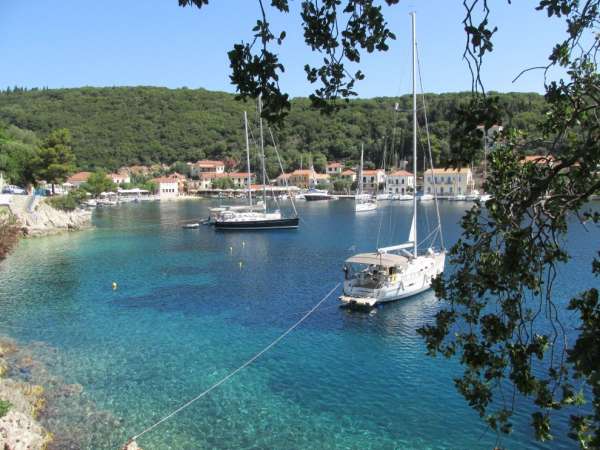 KIONI
Kioni is really magical. And do you know what is more like cats on Ithaca? "For sale" sign … we looked at prices and nothing for poor Czechs :-D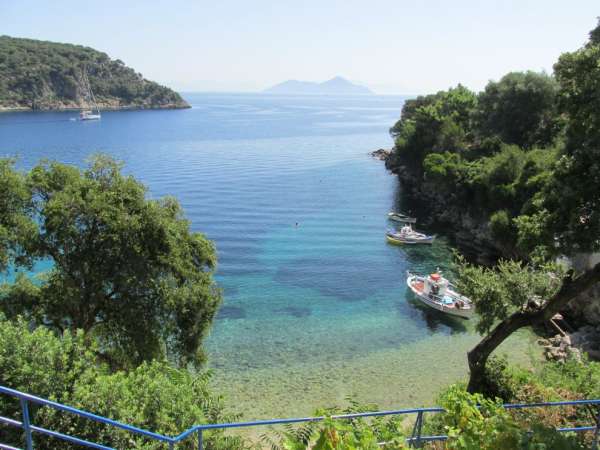 KIONI
towards the mills is Kantina beach, from which a path leads to them. There is also a snack. A little fuller at the weekend (for example 15 people). The beach in front of it is quieter. They are connected by a short sidewalk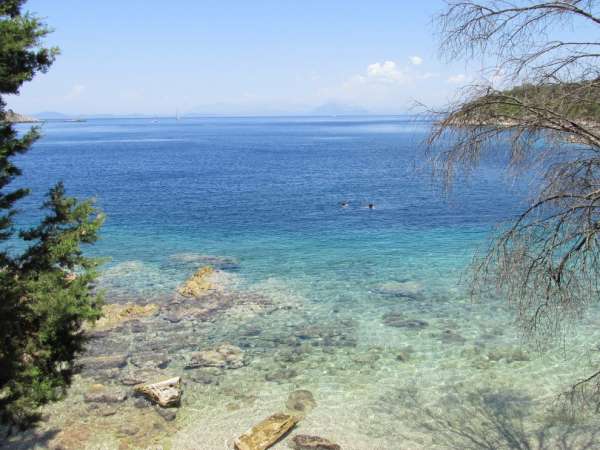 KANTINA beach
at the weekend there are more people, but take "more people" with a reserve, there is a small tavern … The canteen is connected by a short walkway to the previous beach, where there are a few people all day …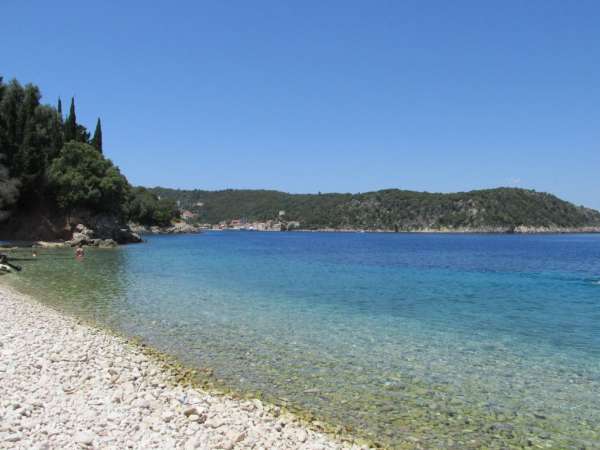 View of KIONI
Kioni overlooking the mills. The trail is so weird, but if you just keep going up and slightly to the left, you will get there anyway :-D – our tactics and it worked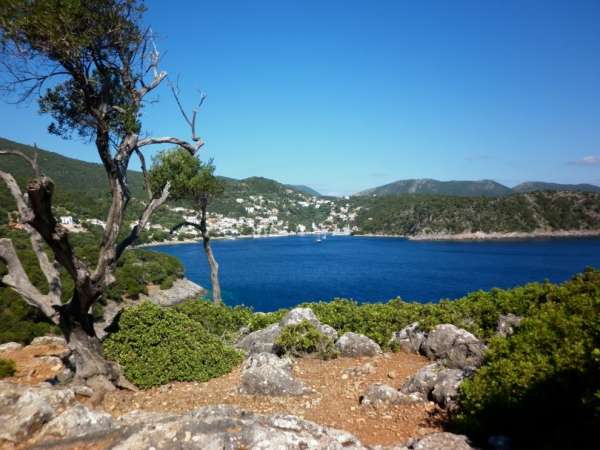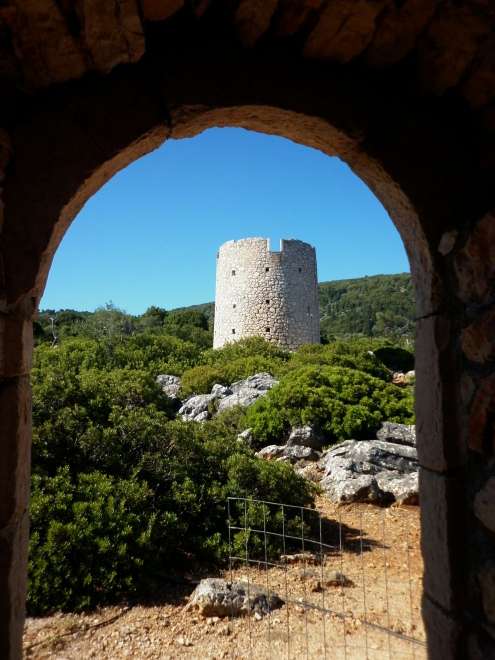 KIONI
mills can be found all over Ithaca. We chose you at Kioni :-)
KIONI
the mills are at KIONI 3 … the middle is accessible …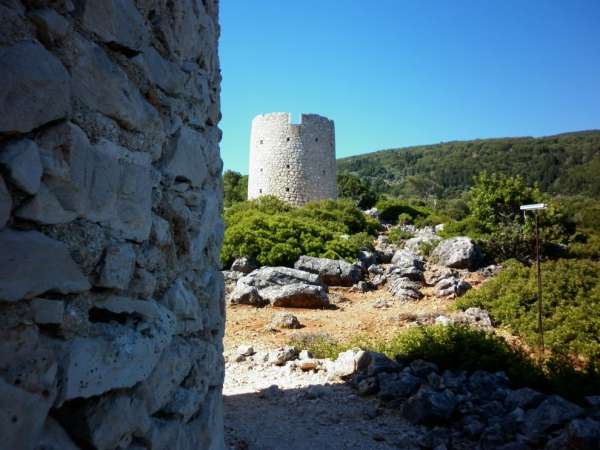 Filiatro beach
we have a car on the first day and we drive south of Ithaca … we stop at Filiatro beach, but Ithaca is busy … the water is beautiful, of course, yeah, but it's just about everywhere in Ithaca. :-)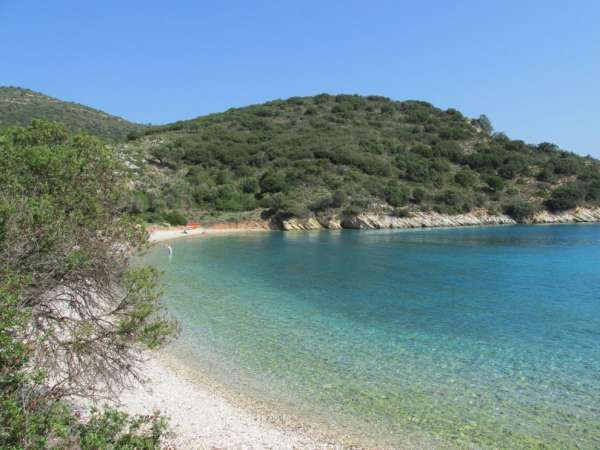 Sarakiniko beach
Sarakiniko beach is a short walk away. It has two parts. Jakooo again a few people, but the first part is a bit sandy, I would say. Such a mix, but the only beach (where we were) where there was a slight mess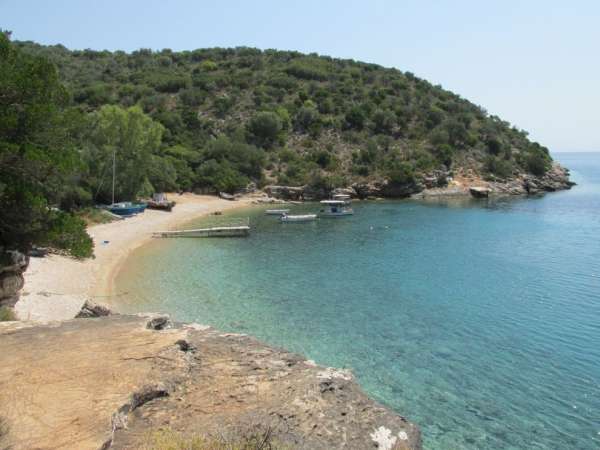 Sarakiniko beach
but the water is amazing again … what more could you want …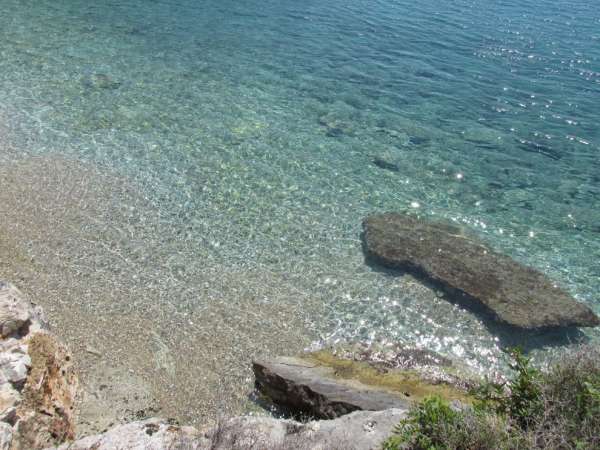 Sarakiniko beach - part 2
behind the rubble is its much nicer part. A drop of sweat is worth it. :-) No, it's really a few steps, just overcome a smaller rock and there is a cool path. But one of the few beaches where there is no shade.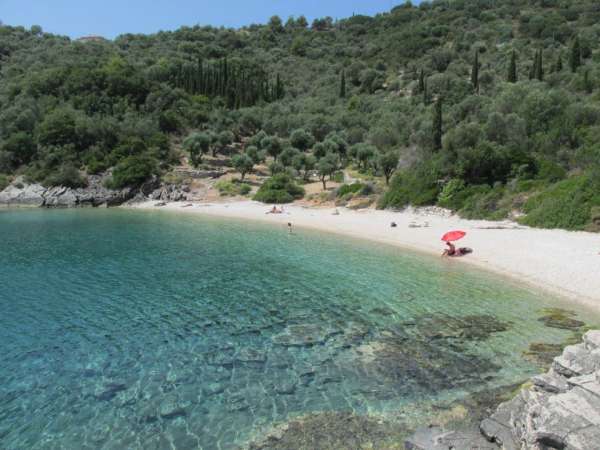 Sarakiniko beach - part 2
on the Ionian islands I love the sea … when the beach is in the green, it is emerald, when near the white rocks, it is turquoise …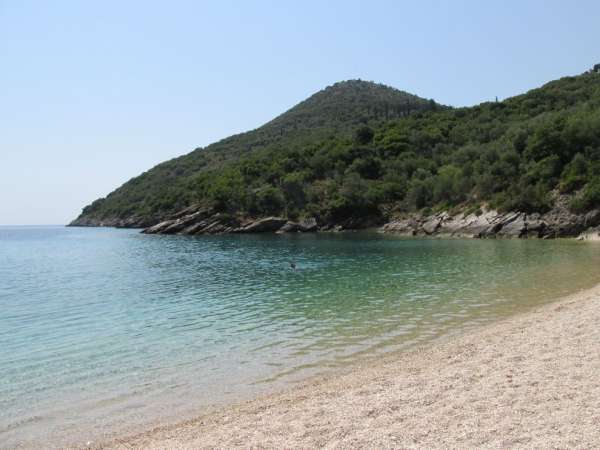 Village of Perachori
from the "center" of the village of Perachori (near the capital Vatha). We stopped at a nice lady in a cafe with a beautiful view of Vathy and its surroundings …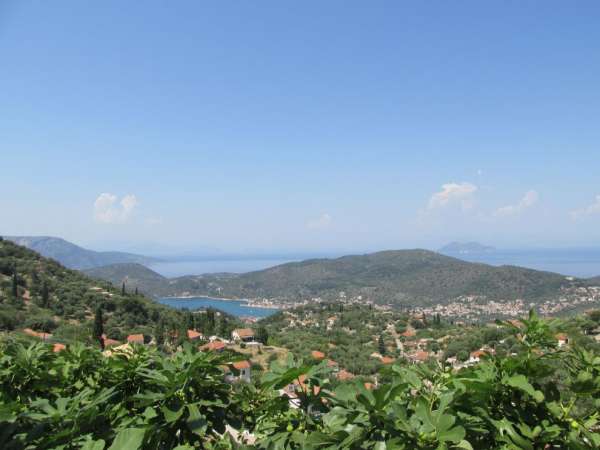 Perachori
in the direction from Perachori there was such a hotel, let's say, so we climbed his "backyard", because there he had a luuuuxus view of Vathy …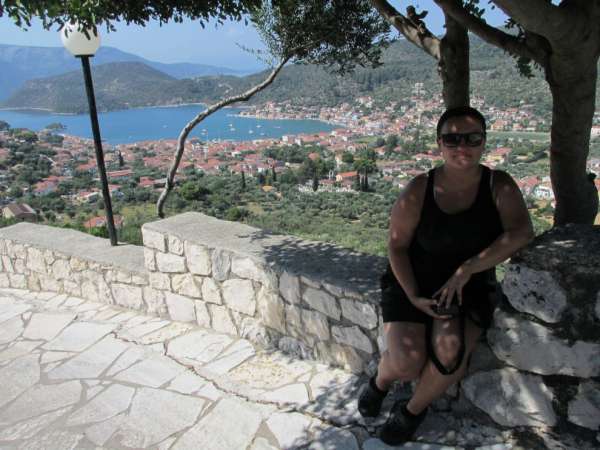 Perachori - view of Vathy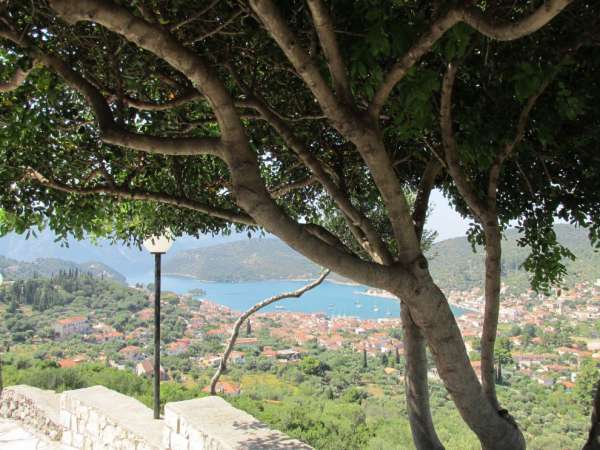 Bros Aetos beach
Bros Aetos beach. In the narrowest part of Ithaca. She is right on the road, but she surprised us a lot. Beautiful water, but really, the beach was clean without clutter and with the warmest water on Ithaca. Although very accessible, the people were very decent again in July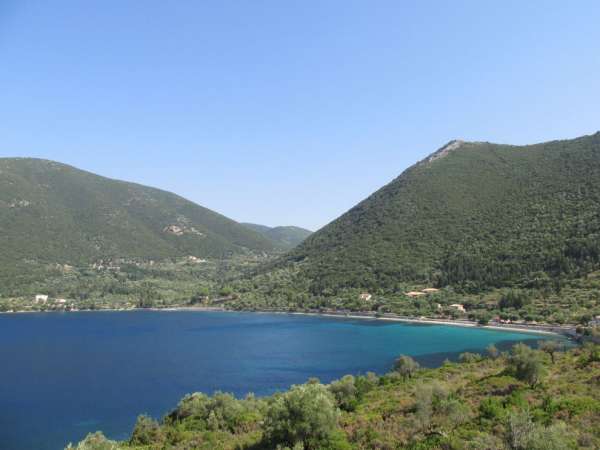 Bros Aetos beach
We returned to Bros Aetos unplanned by bus and then by taxi. The price to Kioni was 30 €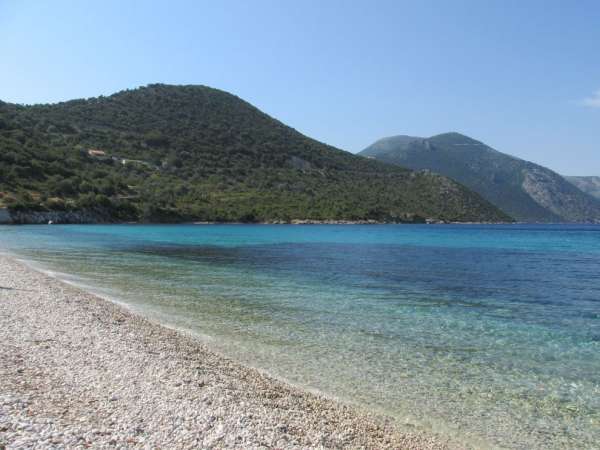 Bros Aetos beach
and I also found beautiful shells here. Bros is very long, but we didn't need to go far. There weren't many people.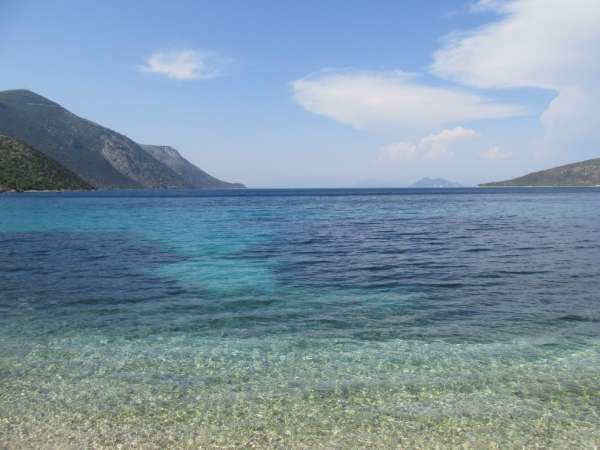 Katharon monastery
Katharon Monastery, free entry :-) – northern part of Ithaca and from it there is a luxurious view of the whole southern part of the island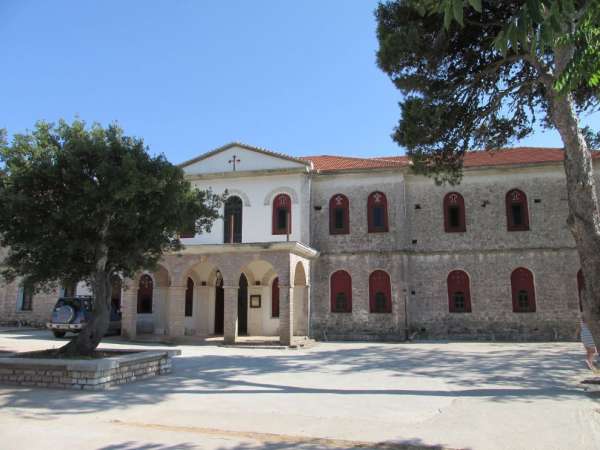 Katharon monastery
interior of the monastery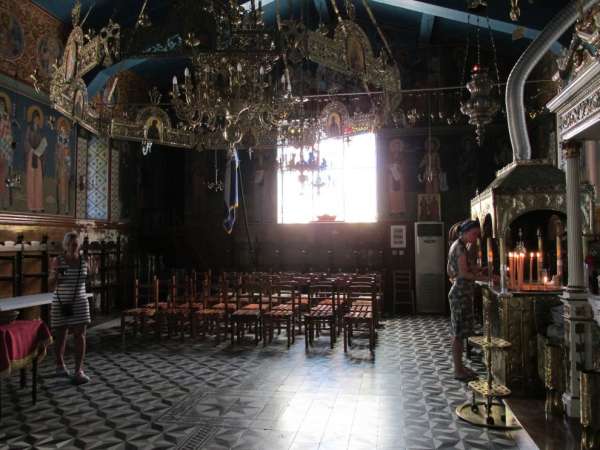 Katharon monastery
beautiful flowers in the garden of Katharon …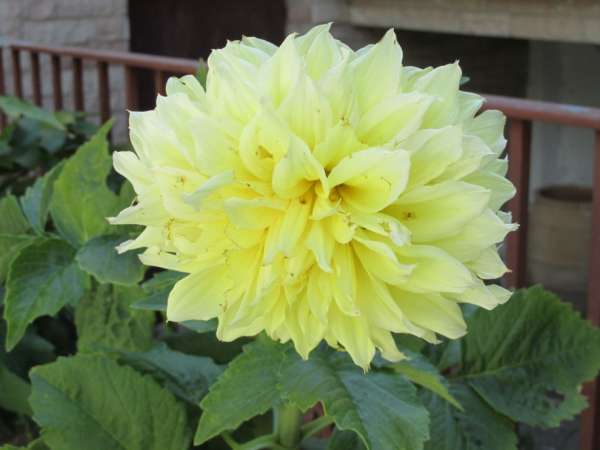 Katharon monastery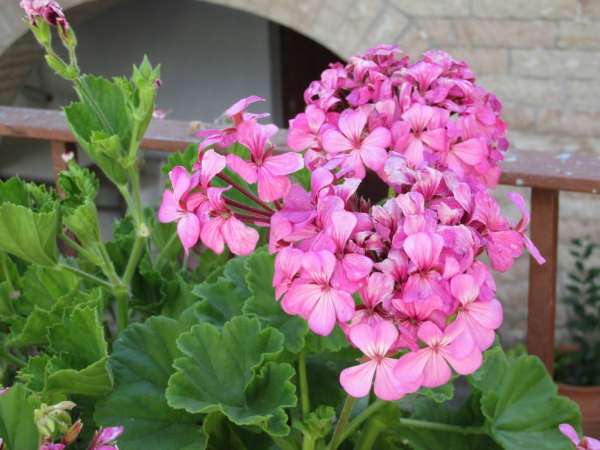 Katharon + prospect
from the monastery was a luxurious view of southern Ithaca with Vathy in the palm of your hand … it's a pity that there was a bit of a haze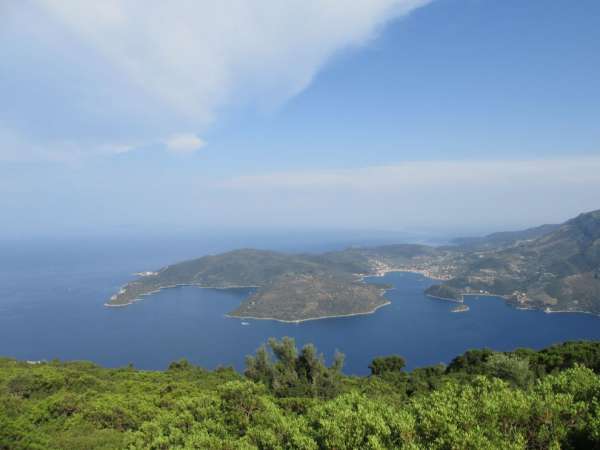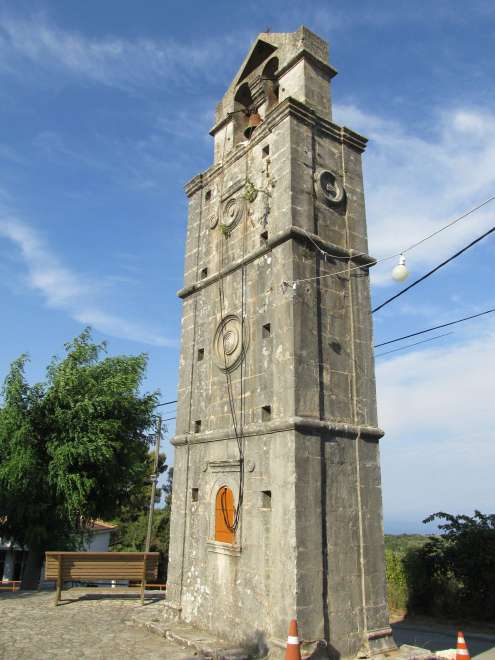 Village Anogi
turret on the square in Anogi … the church was unfortunately clo­sed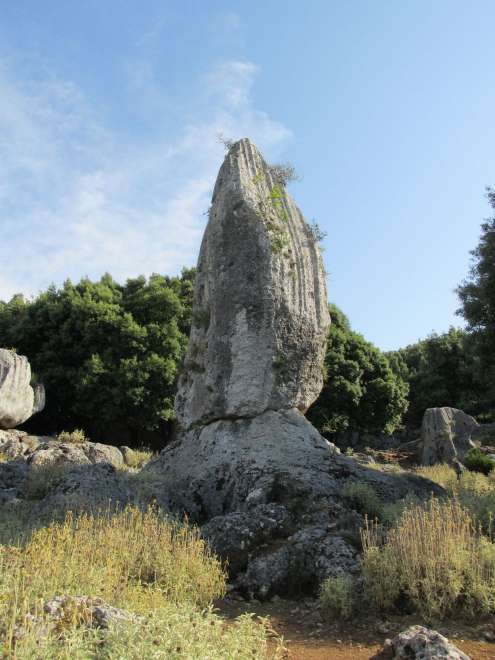 Anogi - menhirs
and the last stop of the day was in the village of Anogi. About the local menhirs … we asked the lady in the square, she knew great English, because there was no sign anywhere and we wouldn't have found it without her
Anogi - menhirs
on the square in Anogi turn right (direction heliport), but after about 300m go down to the concrete plateau. You leave the car there and you have to go through the gates around the field. The concrete narrow road turns into a dusty after a while, but about max 100m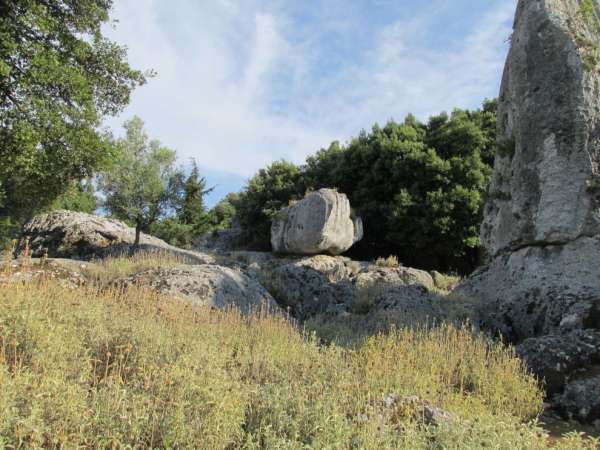 Anogi
Anogi and the lady who advised us in the right direction :-). He speaks great English.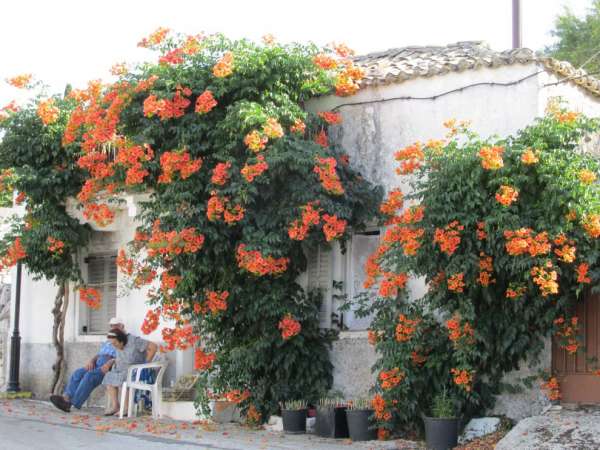 Afales beach
the next day we freak north of Ithaca. We were looking for Homer's school, a big sign, you can get there in different ways, but as I wrote, due to archaeologists, the path uphill to it was "blocked" … so we go to Afales beach. We're waiting until noon to be …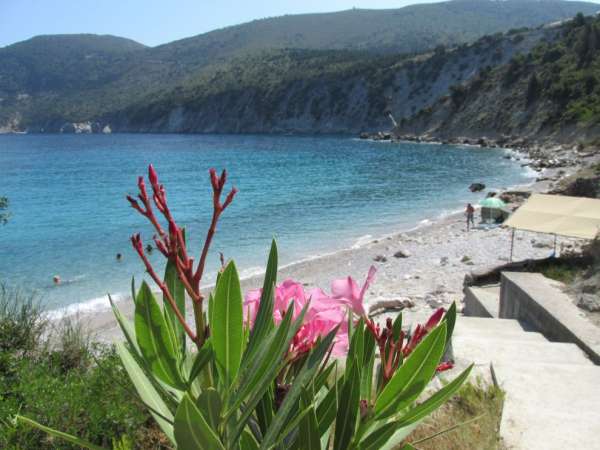 Afales beach
… the whole bay lit up. Afales beach is so wild, there was only a local family who left after a while. So we had the beach for ourselves. I definitely recommend planning an Exogi with a view in the afternoon. Because of the sun.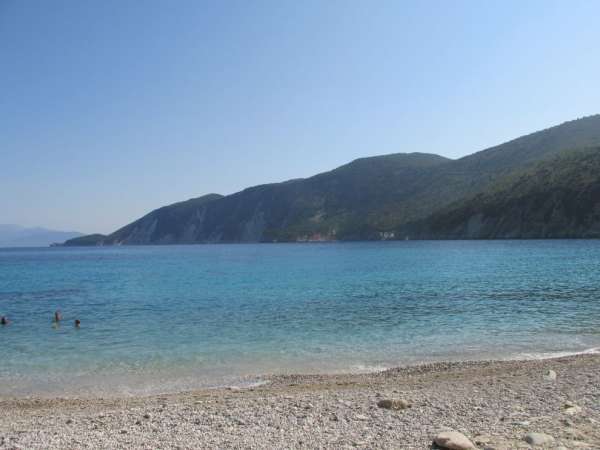 Exogi
Exogi is a beautiful village, there was no living :-D this church is unfortunately to fall, so it is closed. In the village there is another incl. cemetery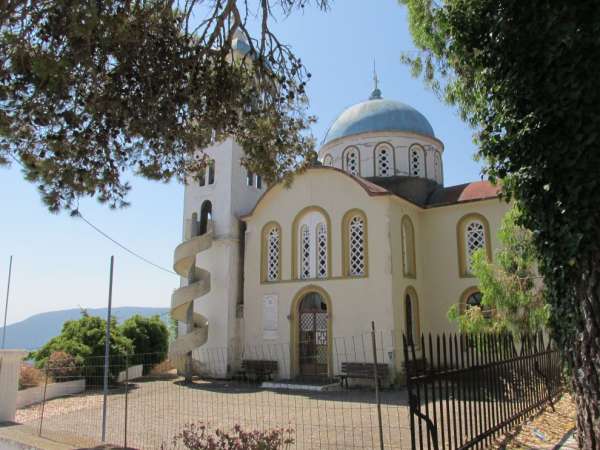 Exogi
he is what? And right next door was a gigantic pink :-)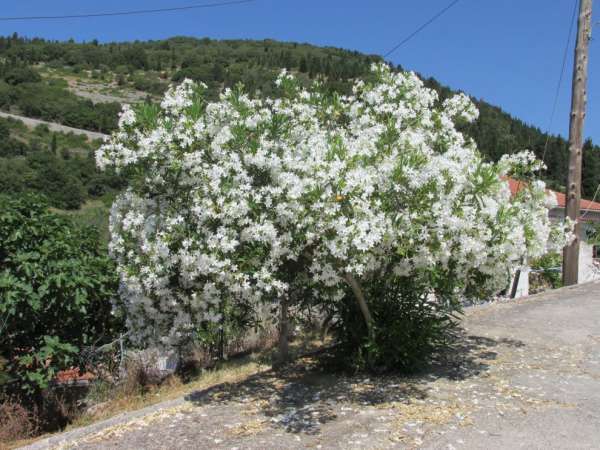 Exogi
a small sightseeing appetizer for the entire Afales Bay. In addition to Afales beach itself is accessible by boat. It has to be stronger, but it's really worth it!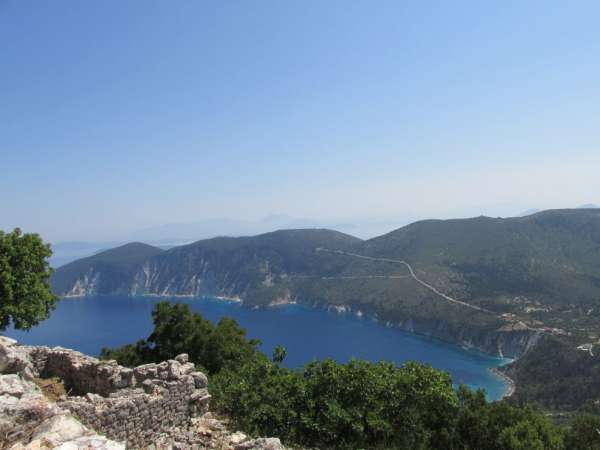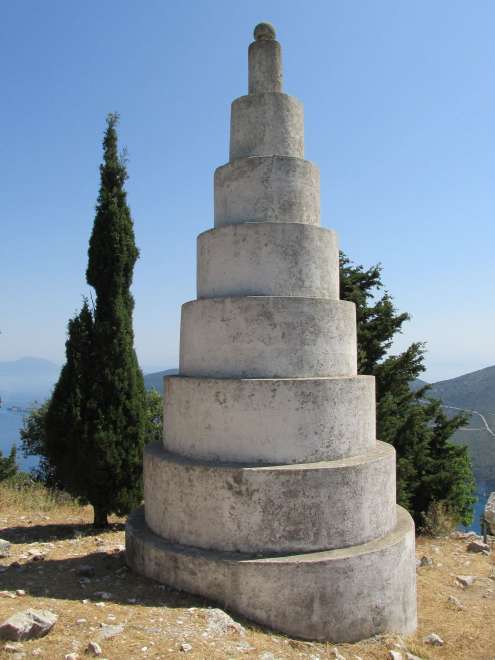 Exogi - prospect
you push Exogi and keep going up the hill. There is a narrow path around the cemetery, and then you will see a spectacle like a postcard by the church. Afales bay in the palm of your hand. aaaaaaach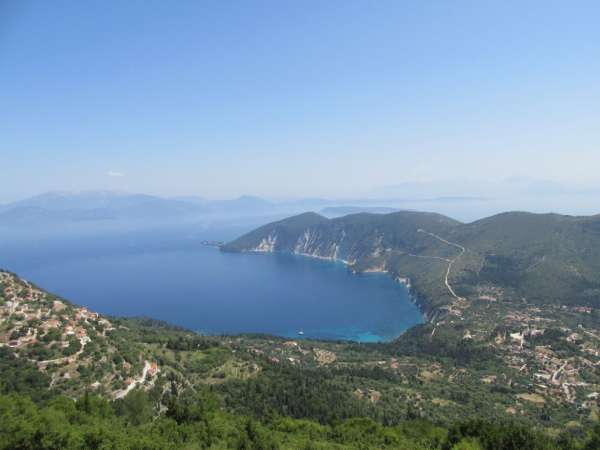 Exogi - prospect
Um, peace stuntman. We told him that we would definitely not scrape him down :-D and who would take us all to the next stops? He went there anyway … horror :-D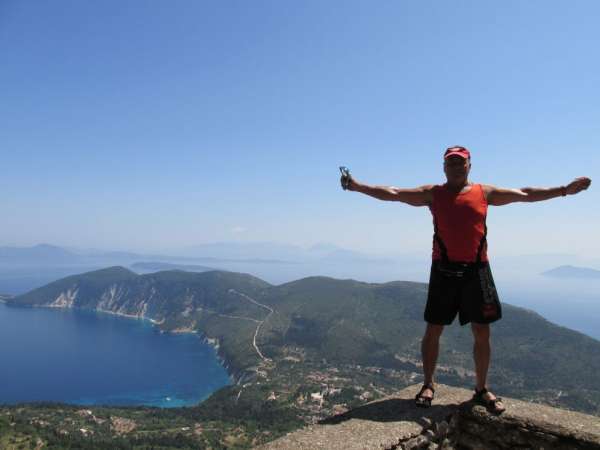 Exogi - prospect
you just can't resist, you have to sit here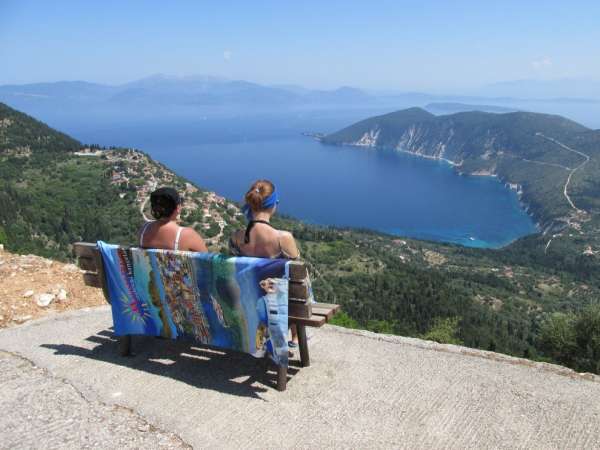 Exogi
beautiful view is also on the way out of Exogi …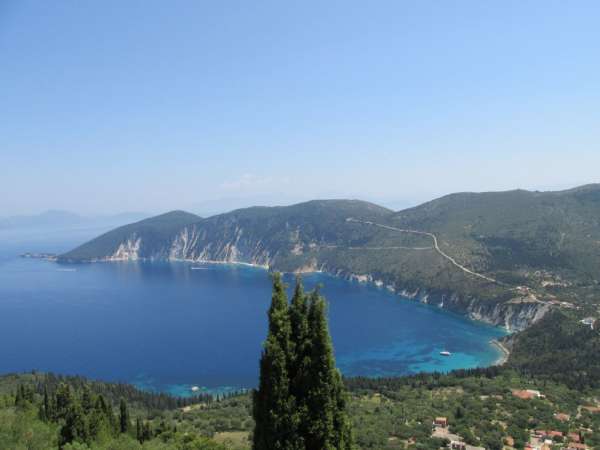 Stavros
after Exogi we had a lunch in Stavros, we stopped at the local tiny archaeologist. museum. I also recommend visiting the church. It is beautifully light blue in the interior. Odysseus Palace – photo.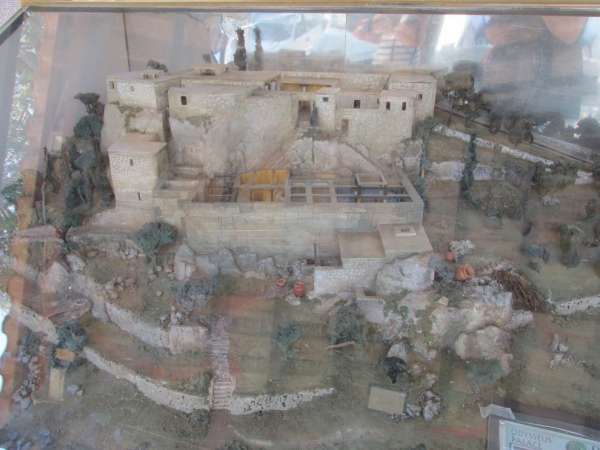 Stavros - church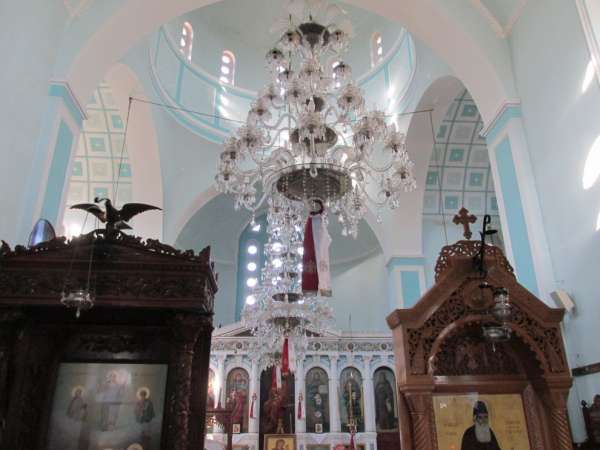 Poli beach
Poli beach just below Stavros is nice, but just for a quick swim and look for a quieter beach. It is probably the most organized Ithaca beach with Filiatro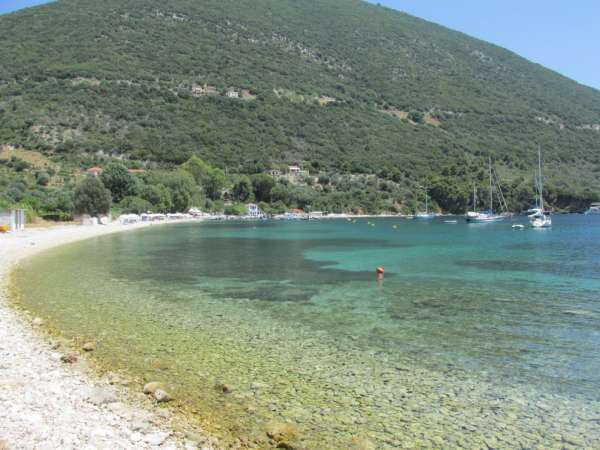 Poli beach + Louiza cave
on foot from it we go to look at the Louiza cave. The view of Poli beach very nice, we also look at the flood of hedgehogs on the rocks, but honestly. It's just a hole :-D :-D Who doesn't have time to waste, I'm not afraid to write that Poli beach with a cave can probably even release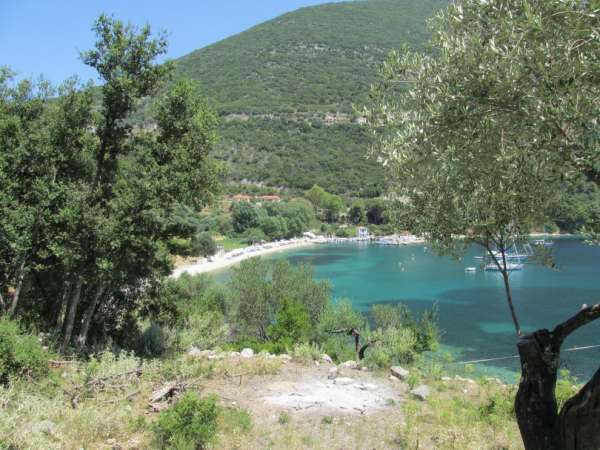 Poli beach
in any case, there are many finds from this area in the Stavro Museum (admission was free)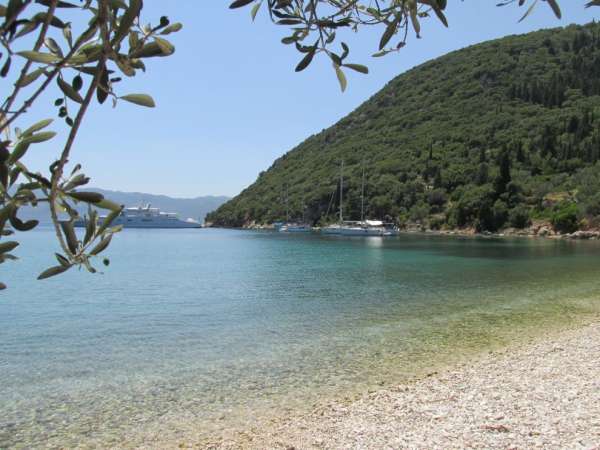 Aspros Gialos beach
below the village of Lefki are a number of beautiful beaches. Divine Aspros Gialos. Again, you have to go down a stone sidewalk. I thought there would be a flood of people and the calm pleasantly surprised me. Beautiful water, you will look in vain for shade.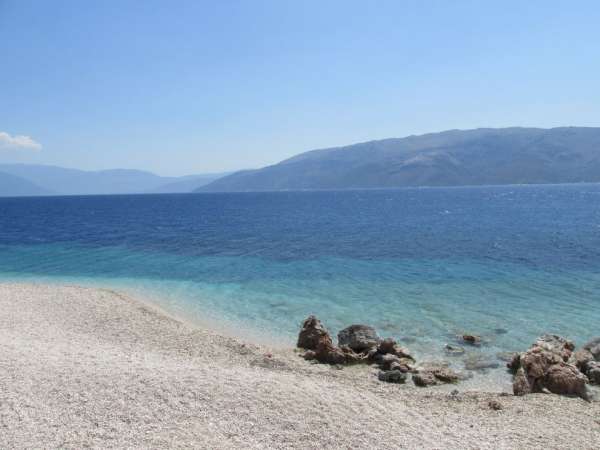 Aspros Gialos beach
just beauty and again a little people …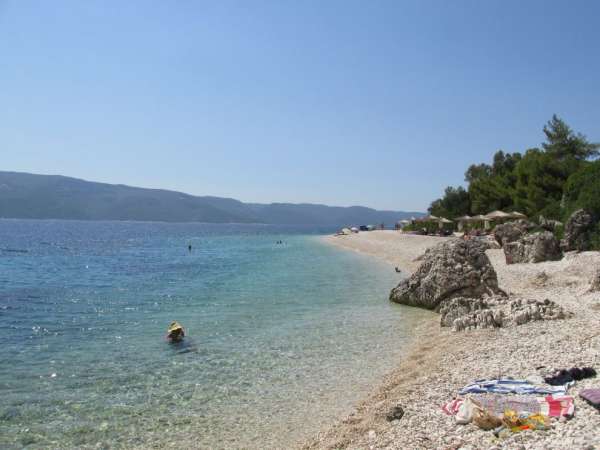 Aspros Gialos beach
I can use such water and the view from above from the road is divine too :-)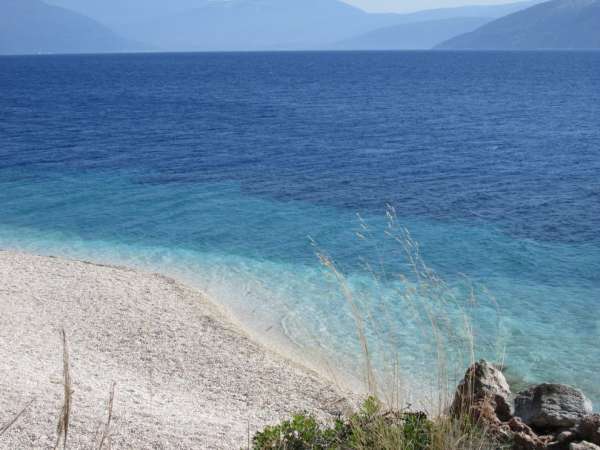 Aspros Gialos beach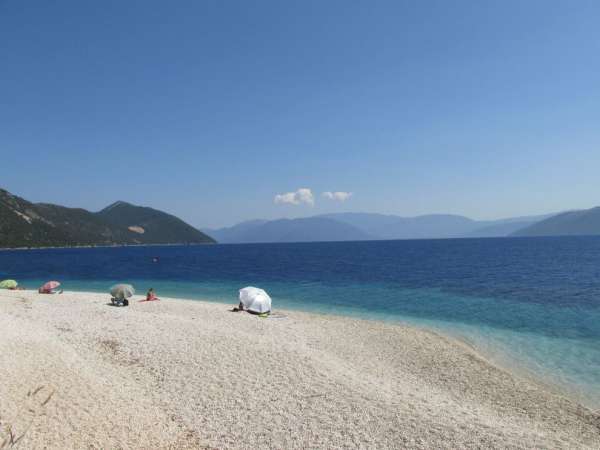 Krovoulia beach
Krovoulia beach, very nice. On the road between Frikes and Kioni.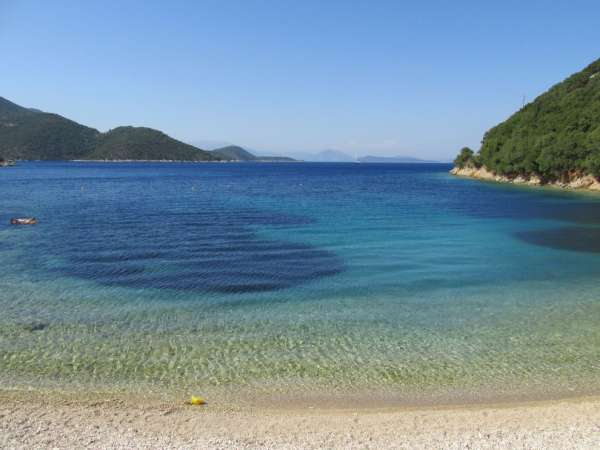 Krovoulia beach
Krovoulia – and we continue to Tsitsimat in the direction of Kioni. You have to stop directly at hl. way and meet the sidewalk. It is marked with a brown sign as an archeol. site, etc., why, I really don't know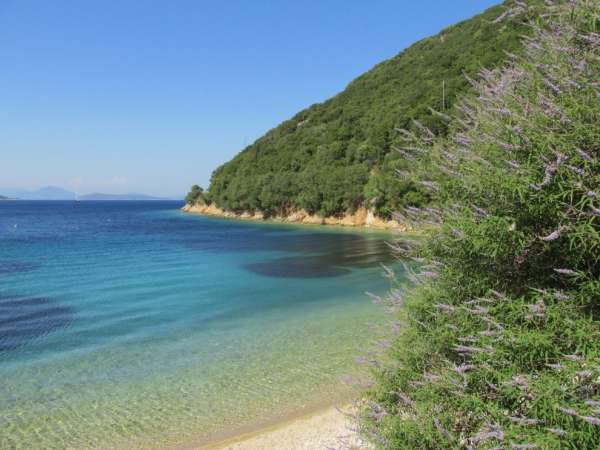 Tsitsimata beach
but we are here alone. Cháááá … mmch Tsitsimata is for sale with a plot of 5000m2 Like 70% of Ithaca. I've never seen so many "for sale" signs in my life :-D joooo and it costs € 500,000, so that's about it :-D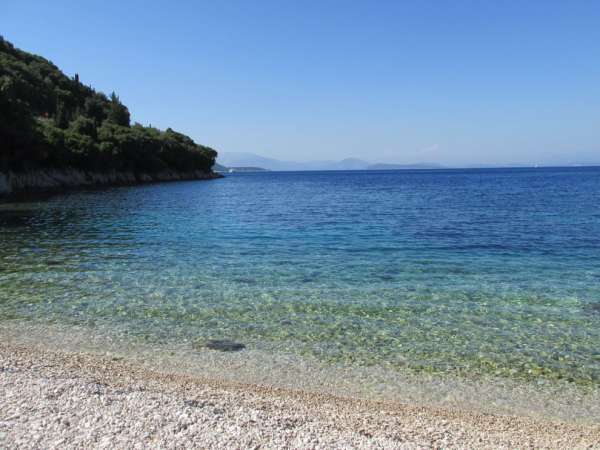 Skinos beach
Mirek returned the car in Vathy to rent a scooter with Věra and throw us off at Skinos beach. From here, a hiking trail leads to the famous Gidaki. Skinos is not private, but you probably walk through the private part, go through the gate and go over the hill to Gidaki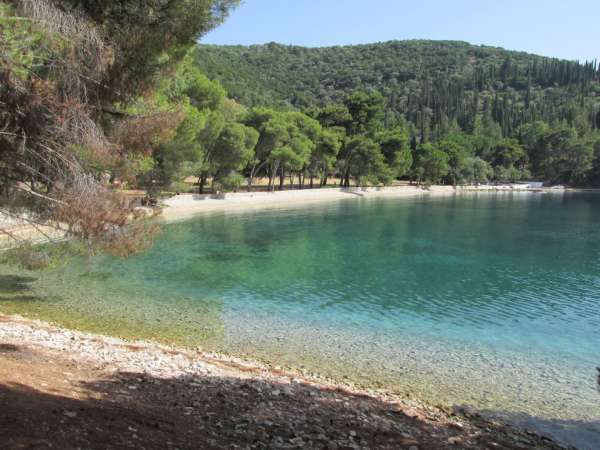 Gidaki beach
Gidaki beach – it's about 30 minutes through the forest, the views are really beautiful and if you go first (like us), you will make your way through the cobwebs :-D, but again there was no one there for 3 hours, chááááá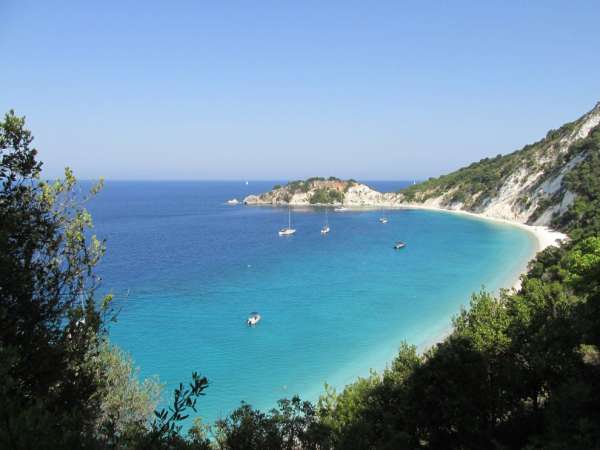 Gidaki beach
In some places, the trail is more challenging (even in the opposite direction), but it generally leads in the shade, so it can be done. For lazy people, the boat runs from Vathy Mon / Wed / Fri in July only once a day and for a while. So the best thing is to just go your own way :-)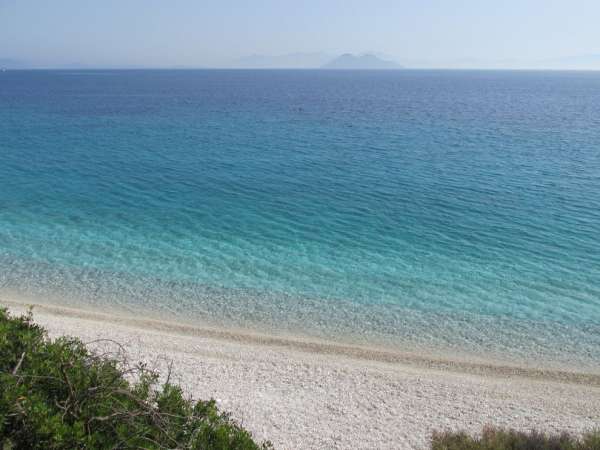 Gidaki beach
don't look for much shade here … in July divine peace, the few people spread out on the giant beach :-)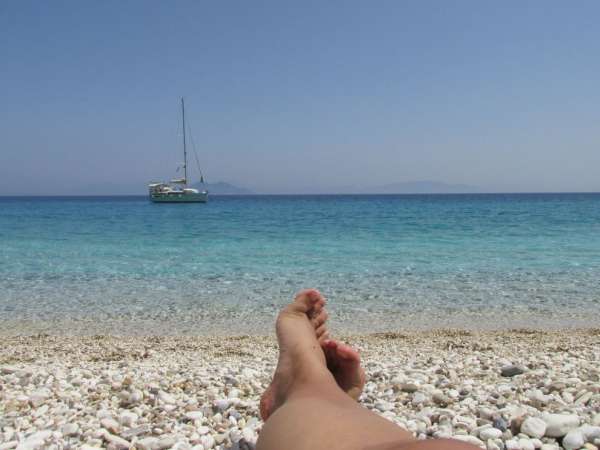 Gidaki beach
one of the most beautiful beaches, so I also really took a picture of it, right :-D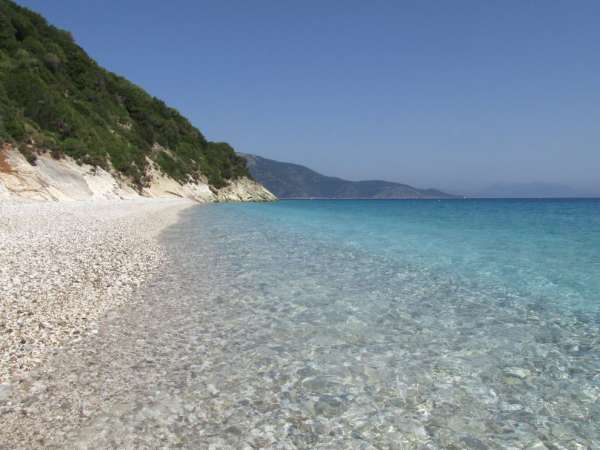 Gidaki beach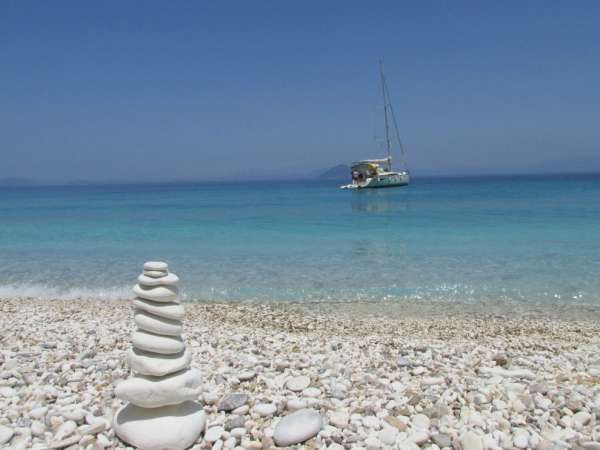 Gidaki beach
a couple of umbrellas are here. Even the stand, but the guy brought people from Vatha, they stayed here for about 3 hours, maybe not even that. The bar closed, withdrew money for the 5 sunbeds and dropped out at 2.30 pm. Nooo and then there were even fewer of us … :-D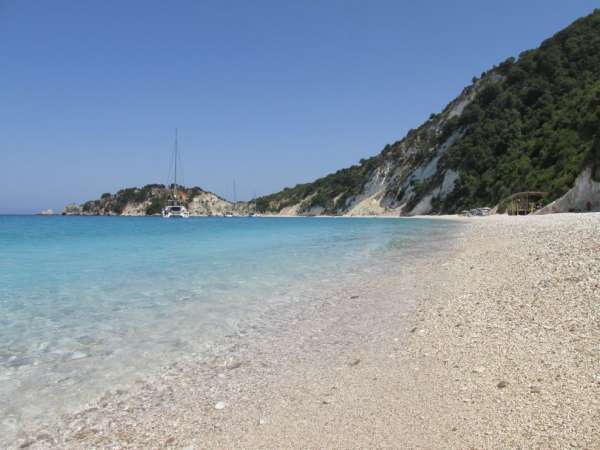 Gidaki beach
everyone must love this beach …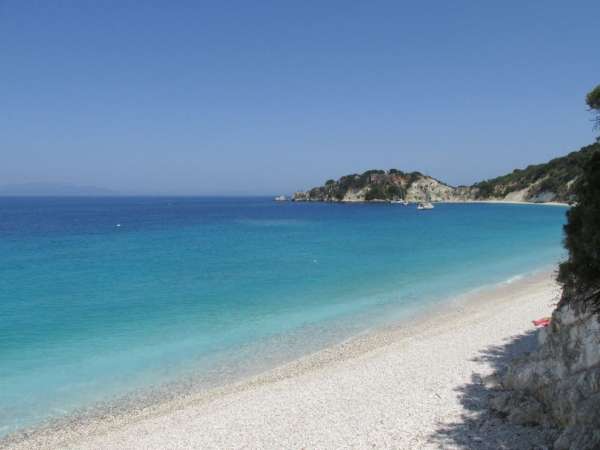 Gidaki beach
we say goodbye to Gidaki and we call a taxi to Skinos, it cost us 35 € to Kioni … unfortunately the bus leaves Vatha at 11 am: – /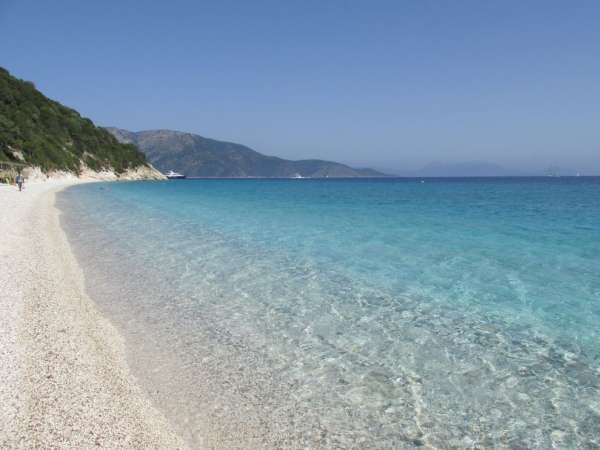 KIONI
at 7.15 there is a bus going to Vathy. Our destination is the village of Lefki, where a nice gentleman throws us out and we walk to the coast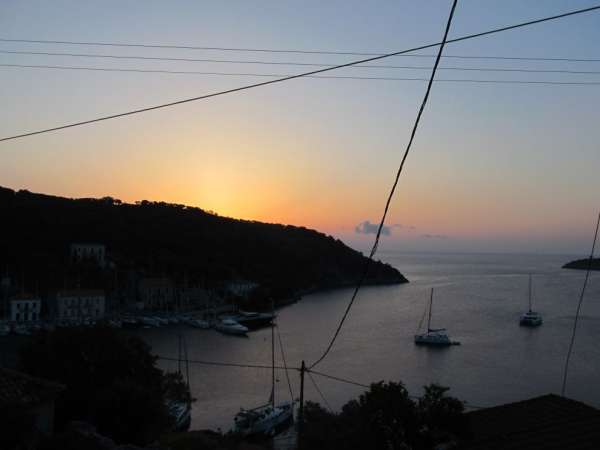 Under the village of Lefki
originally we wanted to go to Aspros Gialos beach again, but we walk through some private paths, it's still early, sunshine behind the hill, we stop at the beaches in front of Aspros and it didn't interest us at all, so we move on. We'll miss the turnoff to Aspros and head to …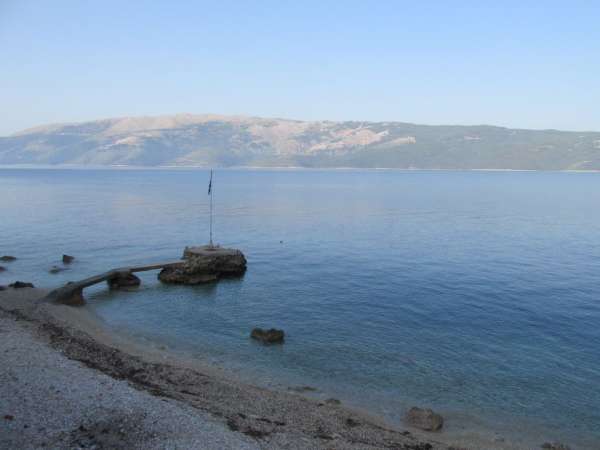 Ag. Ionasis + Kedros beach
about villages- settlements Ag. Ionasis. We didn't go to Aspros, so now I can see on google that we missed a very nice beach Kamninou Amos, where there is a footpath from the road to Aspros … however, our goal was to find Kedros beach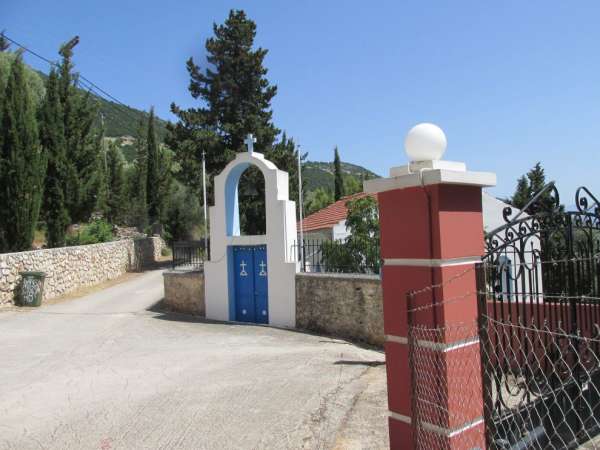 Kedros beach
from the church in the previous photo there is a shorter goat trail to Kedros beach and there was also a moment when I got this camera :-D
Kedros beach
Kedros beach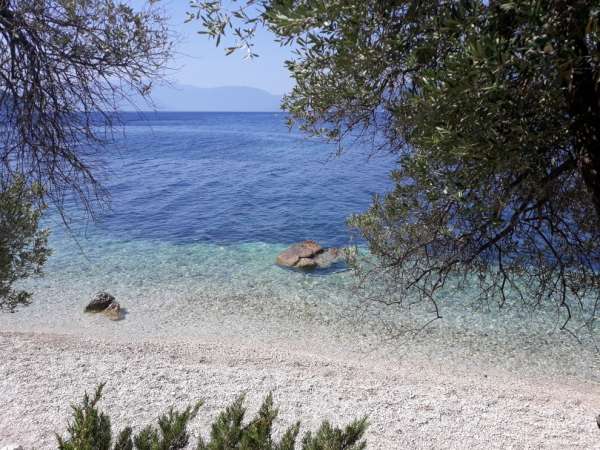 Kedros beach
Kedros is a really beautiful beach. We were here for hours, but then someone stopped here and there. So alone …
Kedros beach
a friend of the starfish was here with us. At first I saw it live, the beauty was just … the sea spat out on the edge (it is not visible in the photo, but it was still under water, so Ithaca has clear water…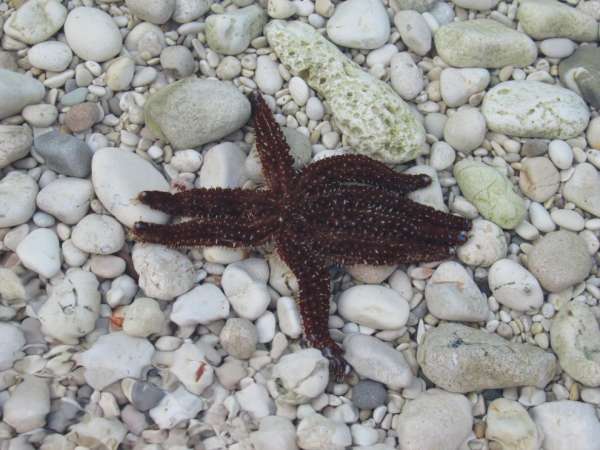 Kedros beach
the poor girl on the shore was slapping, so we played on greenpeace and carefully slid her bamboo on the stone (I didn't have the courage in my hand :-D, I know what it does, right) and moved to the bigger stones more into the sea to she could catch and hide :-)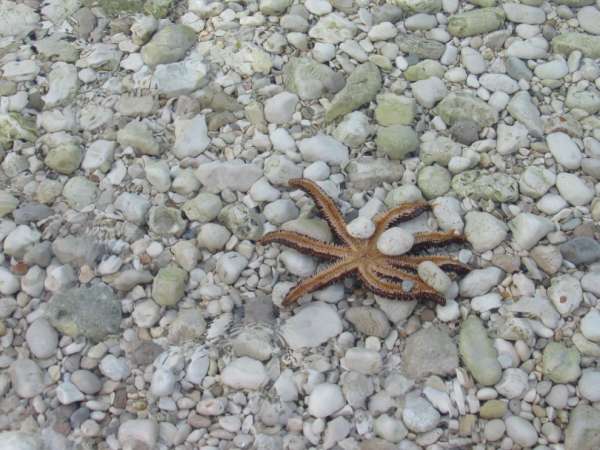 Kedros beach
from Lefka to Kedros we walked about 6 km, but still down the hill, so poooohoda and our taxi driver picked us up to Kioni. :-D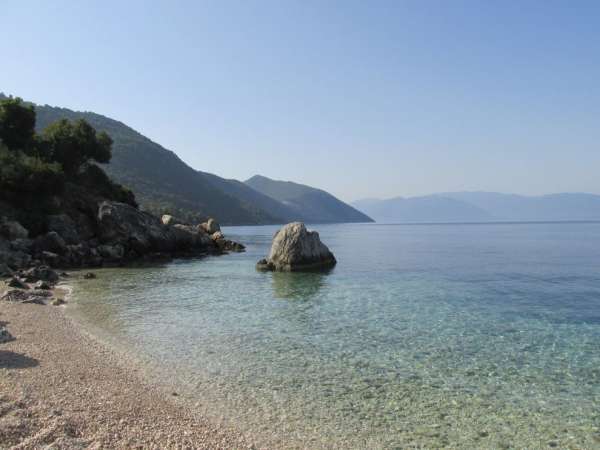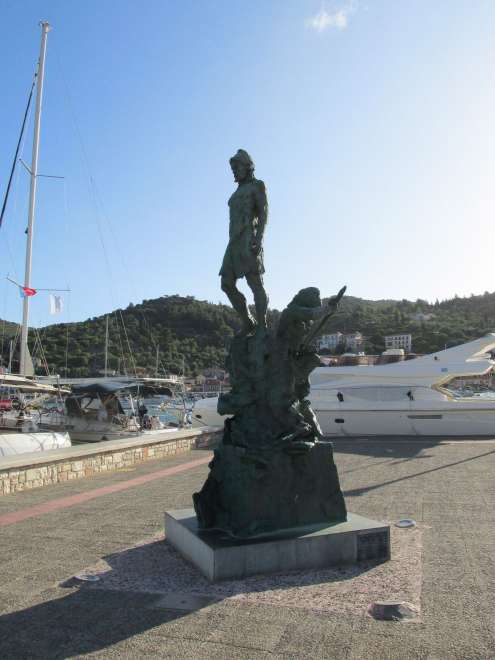 Vathy
the next day we went shopping for gifts to Vatha. Again by bus, again a great morning wake-up call (but it didn't kill me, strangely :-D it's probably on vacation differently than to work :-D) and we walk through Vathy incl. museums
Vathy
started feeeest blowing …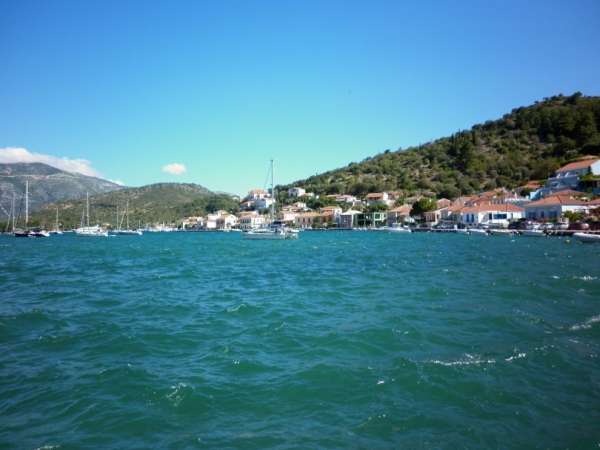 Vathy
of course it did not discourage us :-D tourists do not deny … no in the town it was pleasant on the contrary. According to the forecast, we planned it on purpose, otherwise in the city we didn't want to fry much, so ideal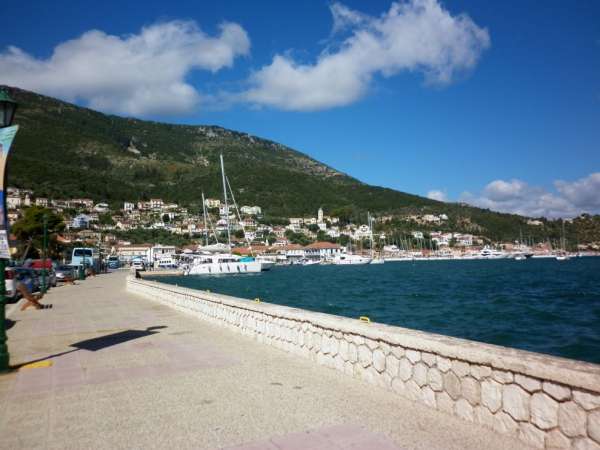 Vathy
cultural museum. It is open only on weekdays, entrance 3 € and was really beautiful! Definitely worth a visit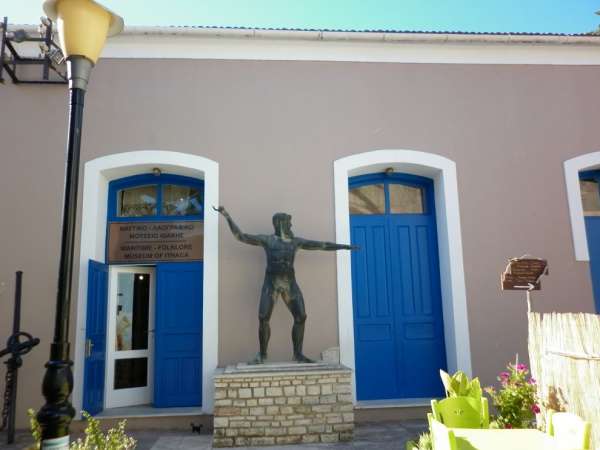 Vathy
small sample of the museum interior. The spare compact photo takes pictures indoors as if I had 3 per mille, so I preferred to take it with my own and with a stain, but at least you can see a little bit what's in the photo :-D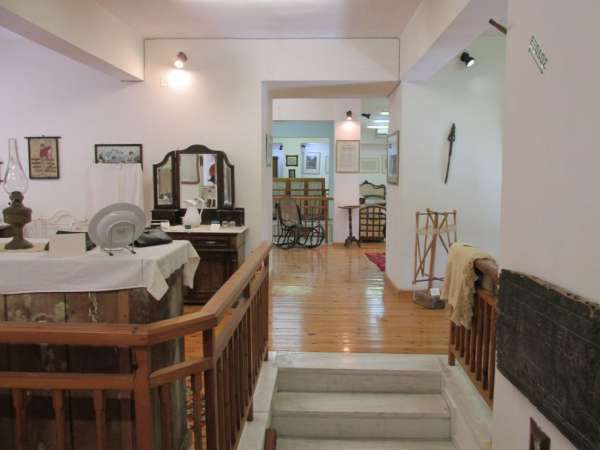 Vathy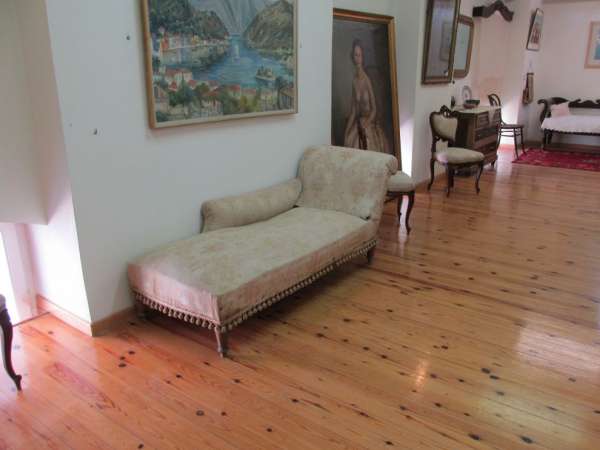 Vathy
and was followed by the Archaeological Museum. There were also beautiful things, admission was free.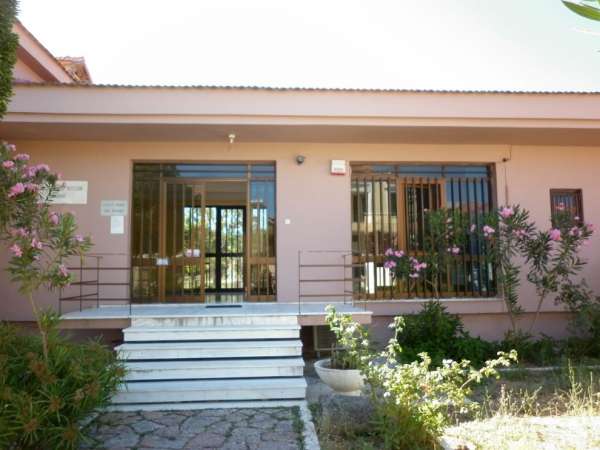 Vathy
small sample inside. Everything was in showcases. So it was great to photograph in general :-D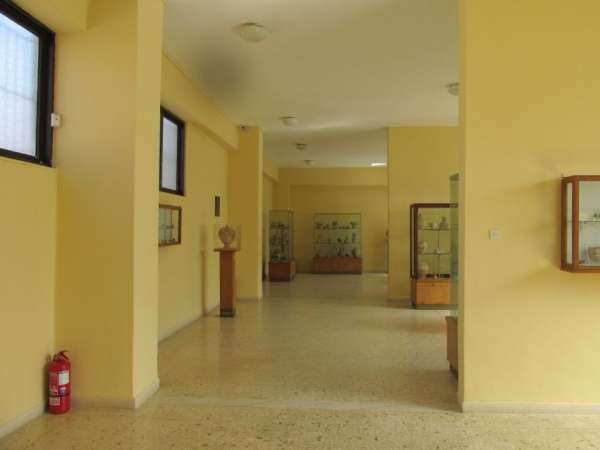 Gulf of Afales - by boat
the next day there was a lot of wind again, but on Saturday came the day D = loooooooď and especially the direction of Afales Bay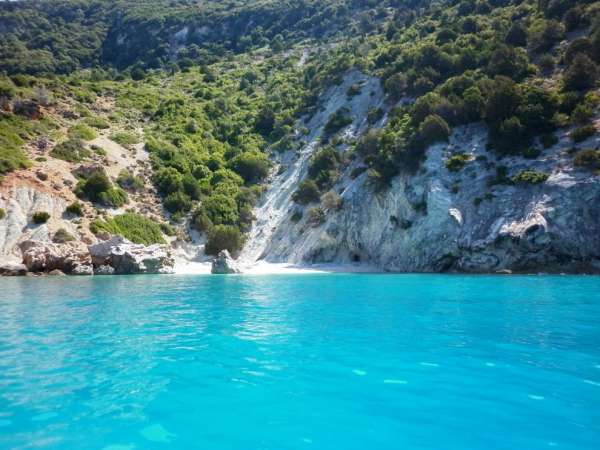 Gulf of Afales - by boat
Captain Míra. We burned it a bit and carelessly ran over Afales (even though I said it :-D) and almost finished the end of Kefalonia, haha :-D fortunately we realized it and followed the turn and then krááááása and krááááááása and just krááááása..I a­pologize for the stain …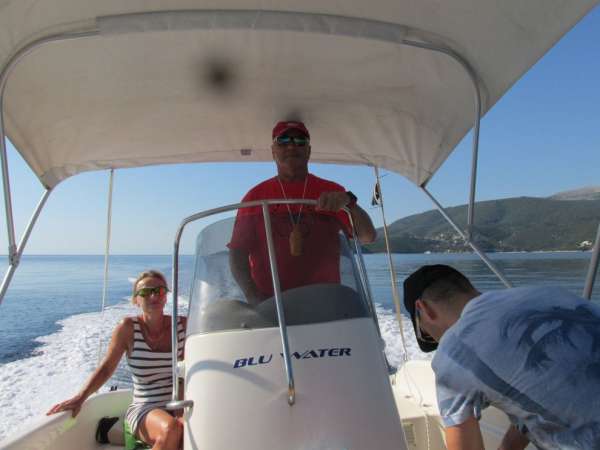 Gulf of Afales - by boat
there are xx beaches in the bay … and who is here? Only us, chááá … the main famous only Platia Ammos, however, around it are with the same water and stones, only smaller. There were a few people on Platia again, so it's cool and no one disturbed the beauty :-)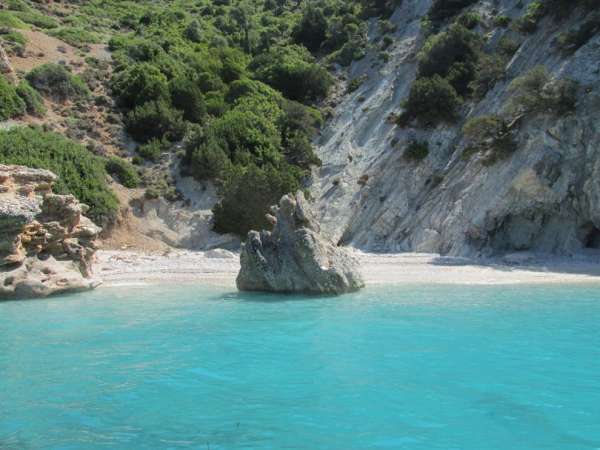 Gulf of Afales - by boat
satisfied Mirek, who would not be …: – D but he is an experienced fighter … it was not easy to anchor between the giant stones and the boat had to be tied from the other side of the anchor so that it would not "throw" it on the stones and "stand" in place. ..watch that out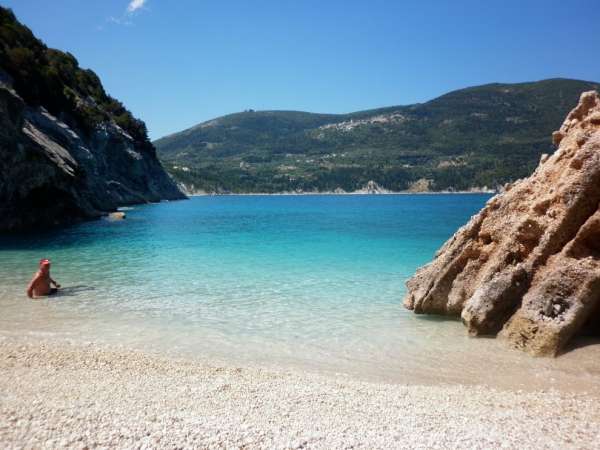 Gulf of Afales - by boat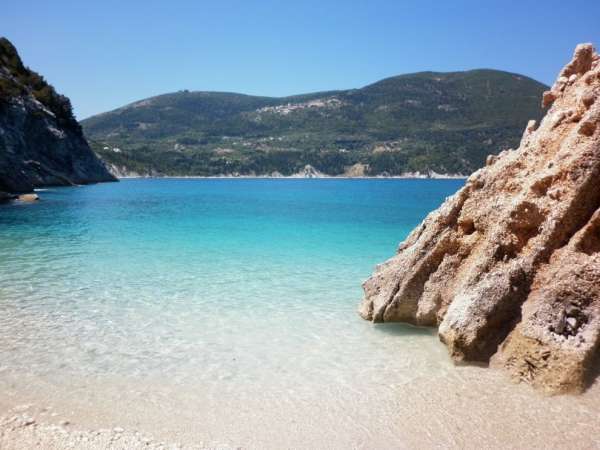 Gulf of Afales - by boat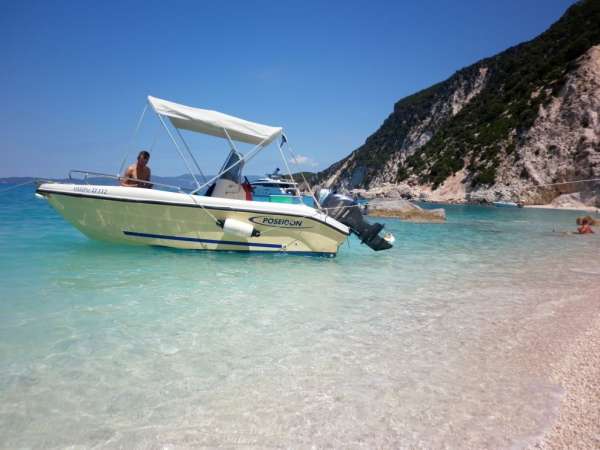 Gulf of Afales - by boat
boat and beautiful stain …: – /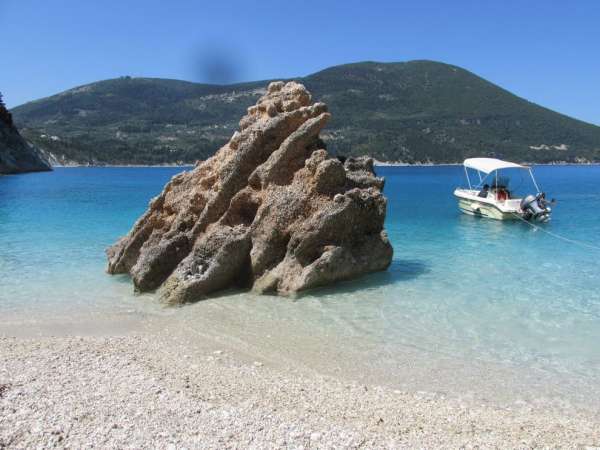 Gulf of Afales - by boat - Platia Ammos
after a smaller beauty comes a larger beauty – Platia Ammos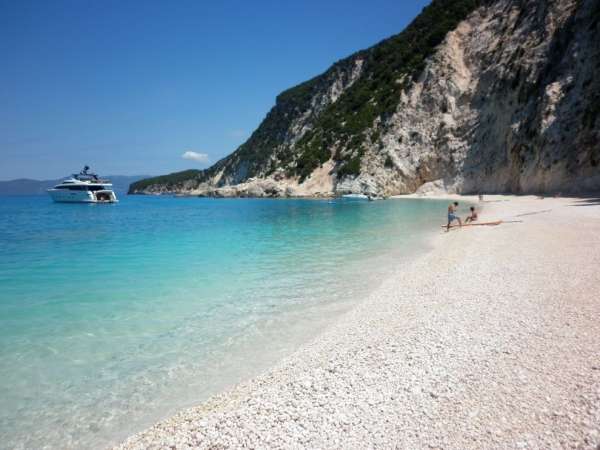 Gulf of Afales - by boat
like the sister of Lefkada Megali Petra, don't you think? :-)
Gulf of Afales - by boat - Platia Ammos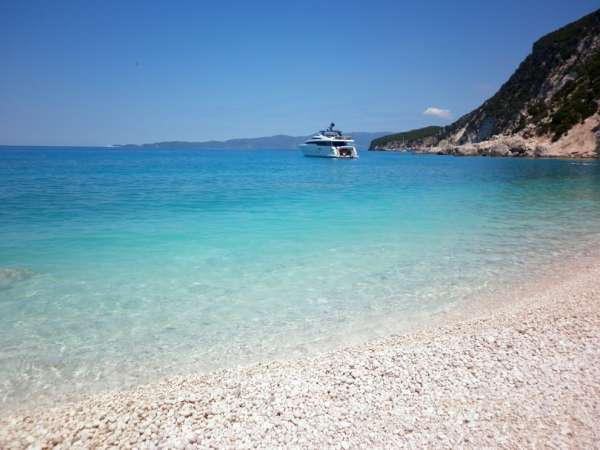 Gulf of Afales - by boat - Platia Ammos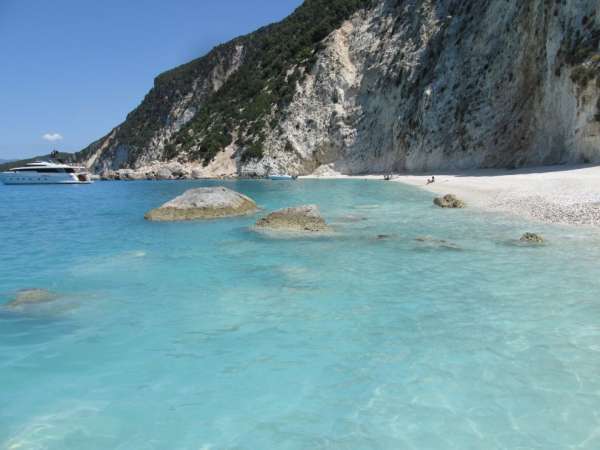 Gulf of Afales - by boat - Platia Ammos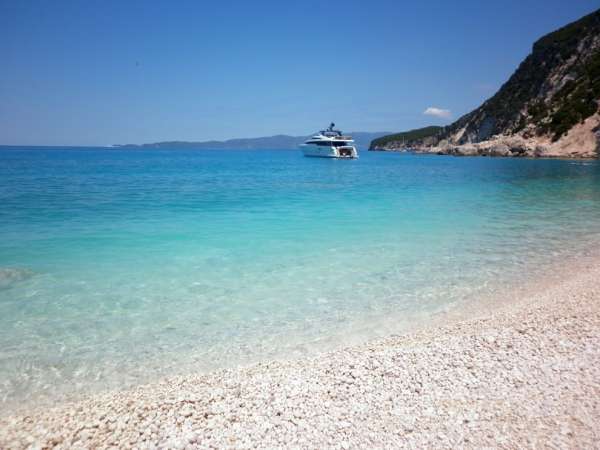 Gulf of Afales - by boat
behind Platia Ammos we pass about another 4 beaches, but we have to return the boat due to the weather by 5 pm so we keep running …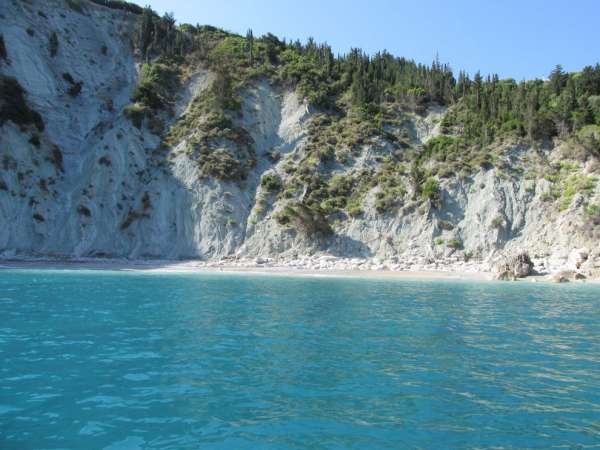 Frikes
in Frikes we will have a quick lunch …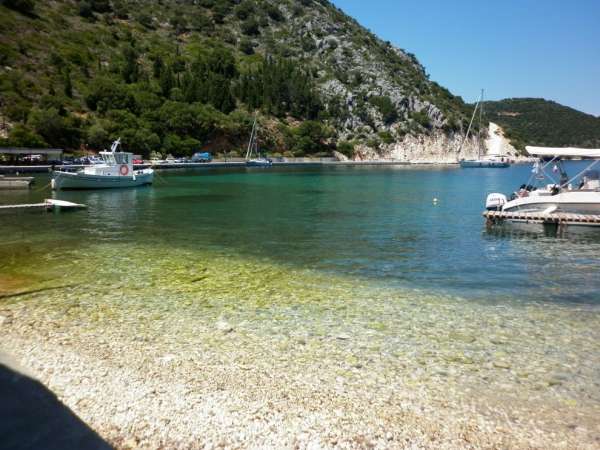 Frikes
Frikes is a very nice mini port, but we already had better food in Greece … so we pass Kioni and go a little down, time is quite pushing us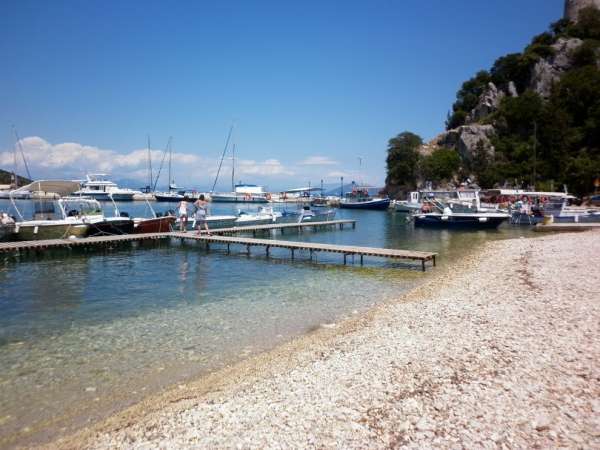 Kioni area - by boat
and here comes the absolute kráááááása … emerald green, so transparent water that we could peek out our eyes … I don't think it has a name … but you cross Kioni, pass the mills, drive on and pass a small church and the first bay and you will find this beauty.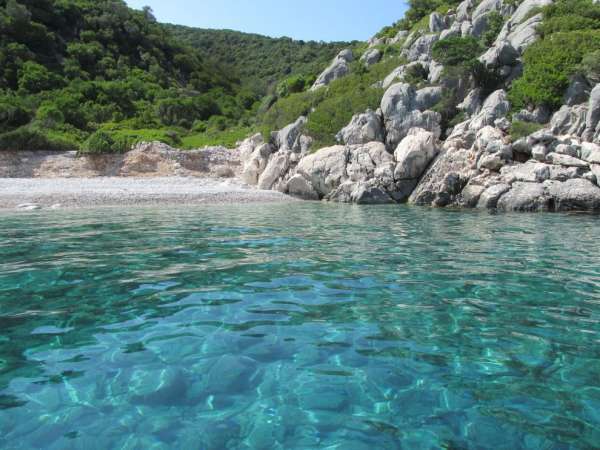 Kioni area - by boat
it is a beach in front of the famous Kaminia beach (probably). Time was pushing us very hard, so we decided to stay here because it was also beautiful … 3 castaways, the fourth is diving and the fifth me, taking photos.
Kioni area - by boat
emerald green ....... and so transparent that we saw our anchor in the depths!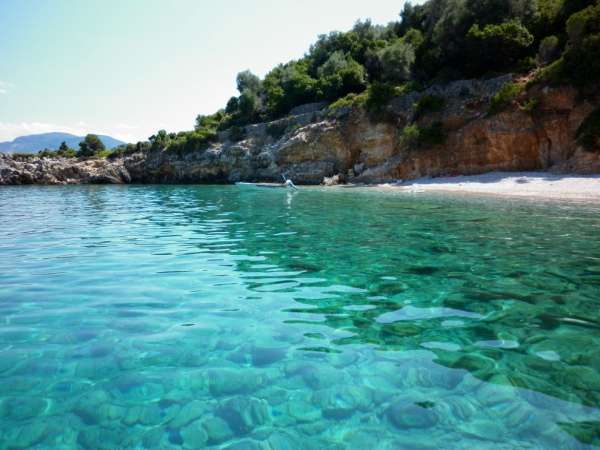 KIONI
last day in Kioni … and a sad farewell :-(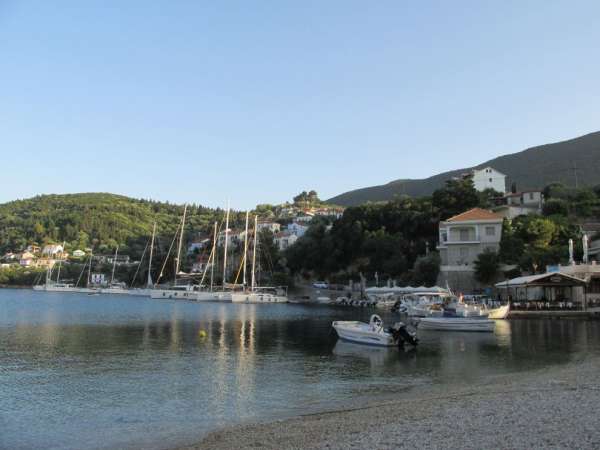 KIONI
last day in Kioni … and a sad farewell :-(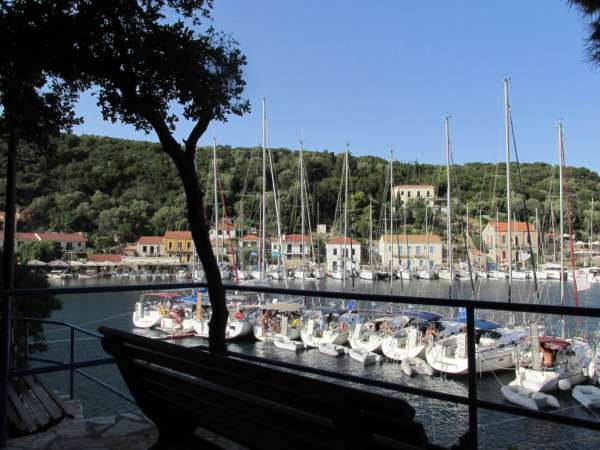 KIONI
last day in Kioni … and a sad farewell :-(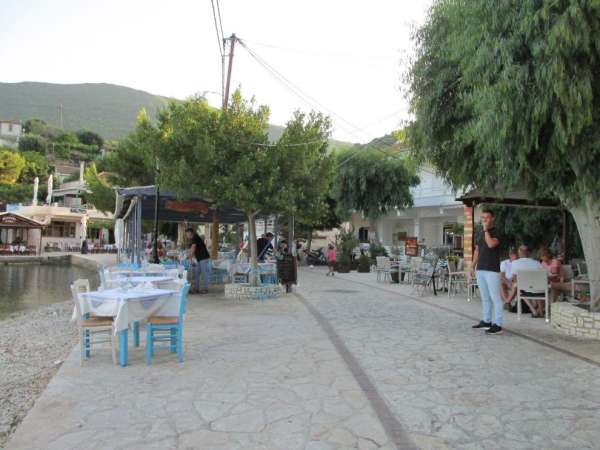 KIONI
last day in Kioni … and a sad farewell :-( Pension Argalios – beautiful and modern. There are only 3 studios and the whole upper floor belongs to the owner, an ophthalmologist from Athens, who is probably very rare in Ithaca …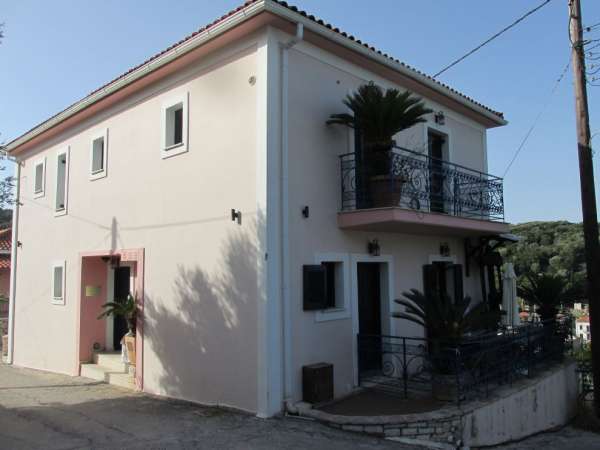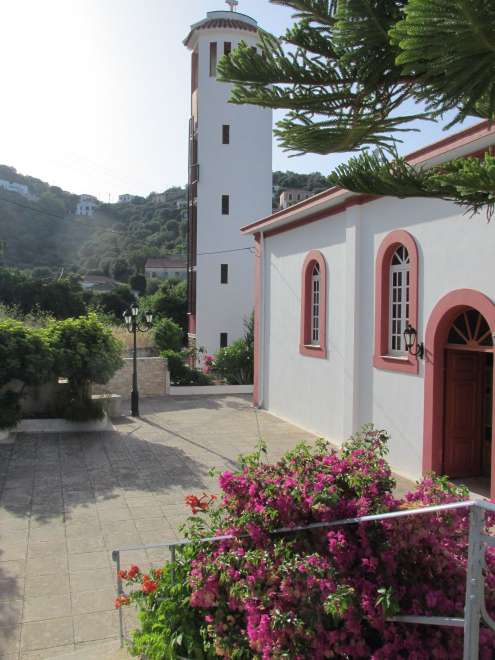 KIONI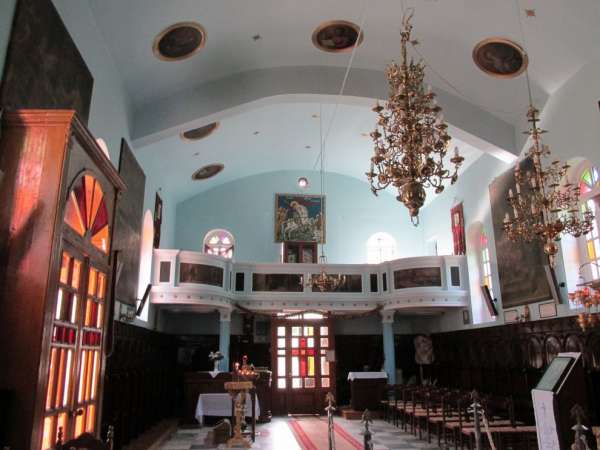 Departure
noooo and unfortunately the bell rang and our extended group about Tomáš announced the end. So the travel agency announced the end. In the small port I still messed up two hafaks belonging to one grandmother, we boarded this more luxurious boat and we suffered at Kefča.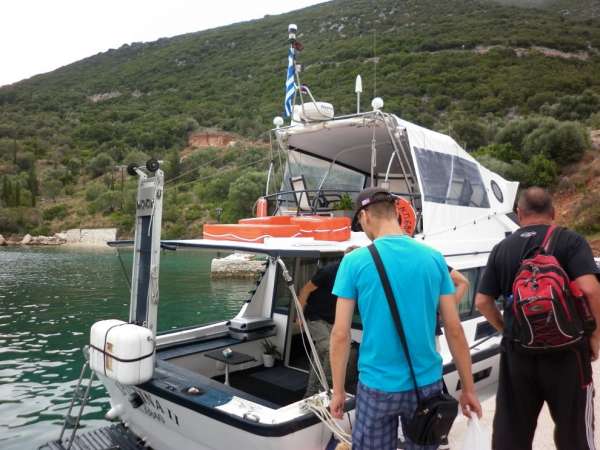 Departure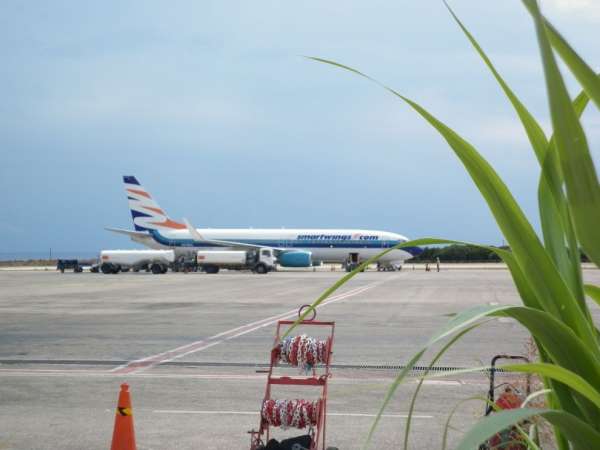 Departure
so hello ITHAKO, we definitely don't see each other for the last time!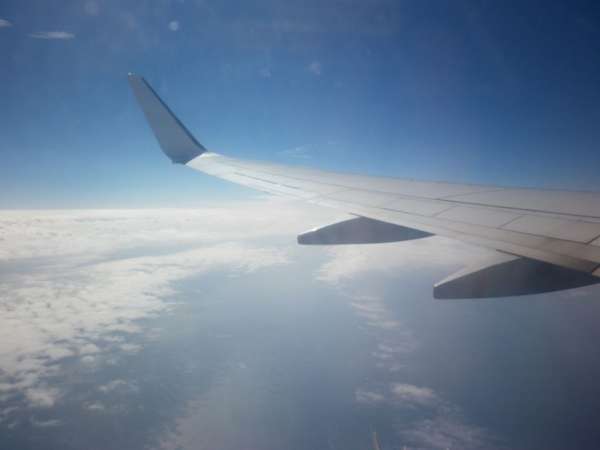 Postcard
Ithaca engraved in my heart and soul probably the most of the Greek islands. Her peace and beauty have left a deep impression on me, and no one can regret choosing Ithaca as their future vacation. :-) My "travelogue" was really thorough, don't hesitate to contact me if you have any questions. If I can, I will be happy to advise and pass on the information. :-) Thanks for your attention. Katka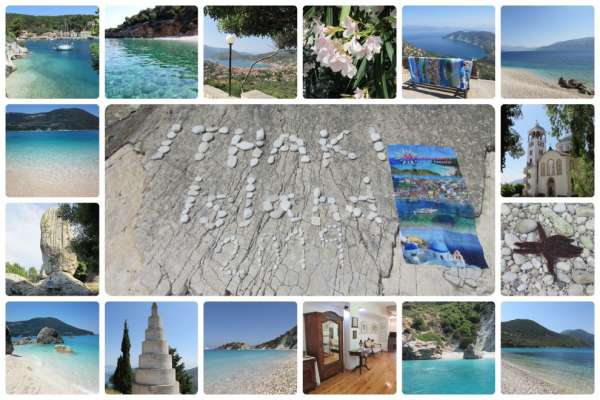 Applaud the author of the article!
Thanks!
Have you been there? Write a review of this place
Already rated by 2 travelers