Hike between two beaches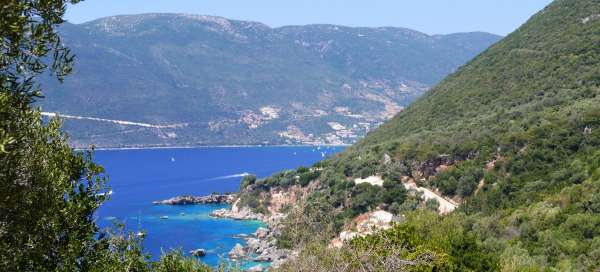 If you like not only swimming on the beautiful beaches of Lefkada, but also want to take an affordable and short hike, you can make the transition from Vasiliki to Ammousa Beach. It is a nice hike through the interior of the island, where you can bathe in two different places. Plus, you'll hardly meet anyone else here
View of Vasiliki
The tour begins in the town of Vasiliki, which is also worth a visit, especially the picturesque marina. We continue along the small beaches to the southern end of the town, where there are nice views from the road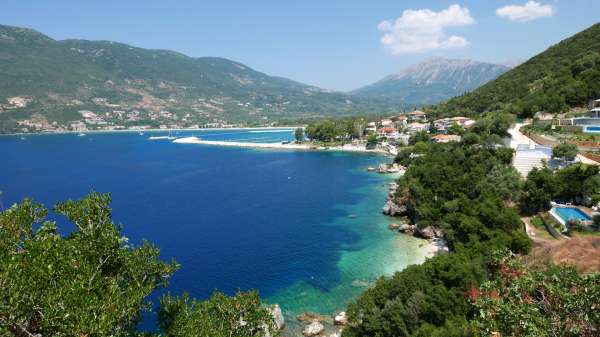 Road on a dirt road to Agiofili
The road leads along a dusty road, where there is quite traffic, because it leads to the beautiful beach of Agiofili. There is practically no shade, so it is recommended to leave early in the morning or afternoon rather than at noon. This section between Vasiliki and Agiofili is probably the only place where you will meet a pedestrian and is not very pleasant. There are perhaps only a few old olive trees and two huge villas to see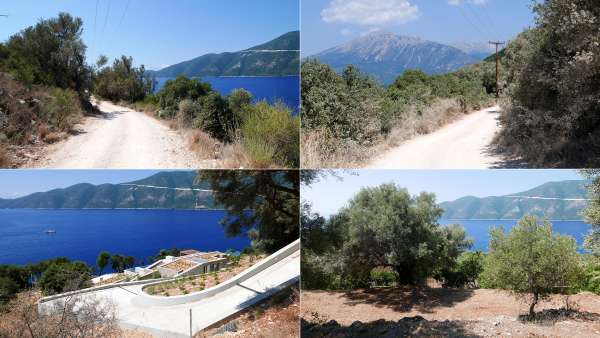 View from the hiking trail
After about half an hour's walk from Agiofili, you will start to come across cars parked along the road so that they do not have to pay for parking. Now be careful, just behind the box of the collector of the parking road descends steeper to the parking lot (you can also go to the beach of Agiofili to refresh yourself). But don't descend and take the footpath from the beginning leading practically along the contour line. After about 300 meters of walking, the road starts to climb and a pretty nice view opens up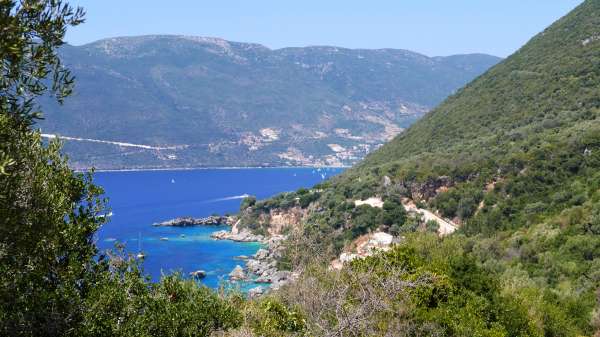 Inland vegetation of Lefkada
With increasing height, the vegetation becomes denser and it is finally possible to find some shade. The path is quite obvious there is nowhere to get lost. Just before the "pass" is a slightly steeper section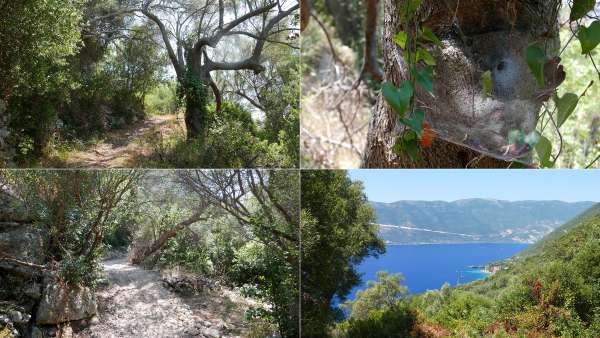 Pass (150m)
The hike culminates in a "pass", about 150 meters above sea level. There is also a sitting area made of discarded chairs and some agricultural fences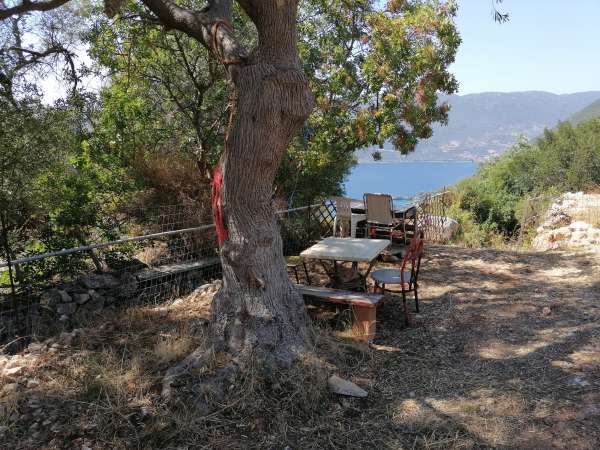 Descent to Ammoussa
A relatively comfortable dirt road leads down from the pass, probably sometimes someone even comes here by car. Gradually, the views of the "other" side, including the peaks of Kefalonia on the horizon, open up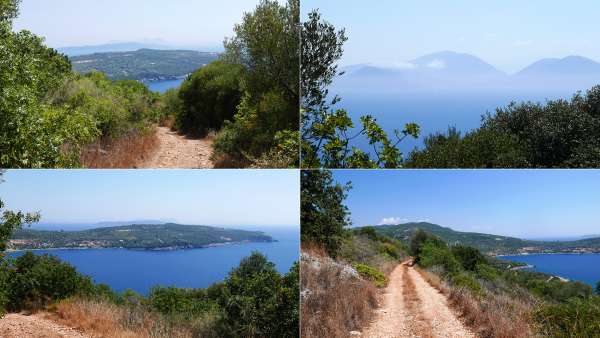 Descents on the descent
The road only slowly descends for a long time with nice views of a small peninsula. For new buildings, it turns to the other side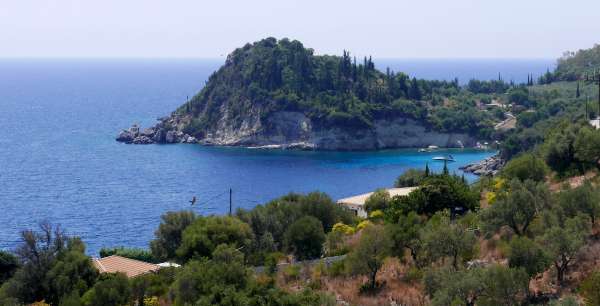 Views of Ammoussa Beach
In places where the road turns to the other side, it is possible to significantly shorten the route by walking down the slope directly to the beach. Choose your path carefully so that you do not end up in the bushes. If you do not want to risk this, continue for about 400 meters further along the road before connecting to the road and another 550 meters along the road back to the beach. The journey from Vasiliki here takes about 1h15 minutes. If you do not have an appointment from here, unfortunately the same way back awaits you.
Applaud the author of the article!
Articles nearby
Part of gigalist
Giga List:
The most beautiful trips to Lefkada
Lefkada boasts some of the most beautiful beaches in the world, so most trips will take you to explore the local sea bays.… continue reading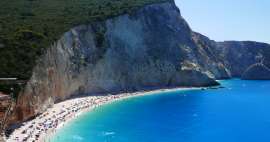 Part of itienary
Article:
A trip to the surroundings of Vasiliki
Vasiliki is the largest resort in the south of the island. It offers small beaches in the southern part and then a large beach… continue reading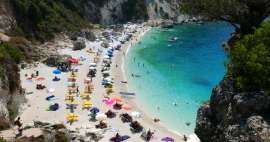 Thanks!
Have you been there? Write a review of this place
Already rated by 1 traveler