What to visit in and around Vasiliki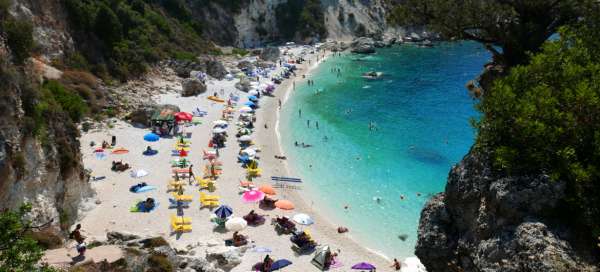 Vasiliki is the largest resort in the south of the island. It offers small beaches in the southern part and then a large beach popular with windsurfers. In addition, the famous Agiofili Beach is nearby by boat or on foot. From here you can go on a trip along the south coast, for example to the beaches of Ammousa
Vasiliki
We start the trip in the town of Vasiliki, where you will be particularly interested in a small picturesque yacht harbor. If you want to swim here, according to your preferences, choose either small beaches in the south or a large city beach.
The largest resort in the south of Lefkada
Altitude: 6 m / 20 ft
The largest center in the south of Lefkada is the former fishing village of Vasiliki. Now you will find a… continue reading
Beach as made for windsurfing
Altitude: 1 m / 3 ft
The 1.2 km long Vasiliki beach is a beach of many faces. The part located right next to the town of Vasiliki… continue reading
Trip to Agiofili beach
Probably the most famous and beautiful trip directly from Vasiliki is Agiofili beach. You can get there either by car, on foot or by boat. If you like hiking you can walk up the hill to the far south to Ammoussa
Trip to the most famous beach near Vasiliki
Agiofili Beach is probably the most famous of the beaches located near the town of Vasiliki. You can get… continue reading
Hike between two beaches
Altitude: 148 m / 486 ft
If you like not only swimming on the beautiful beaches of Lefkada, but also want to take an affordable and… continue reading
A trip to the very south of Lefkada
From Vasilika you can also go to the very south of Lefkada, By car it is about 10 kilometers to Ammoussa, which is the largest beach. besides it there are several other beaches
Three beaches on a kilometer of coast
Altitude: 6 m / 20 ft
If you want to visit the famous Ammousa beach you have to drive about five kilometers from the main road. The… continue reading
Applaud the author of the article!
Articles nearby
Part of itienary
Article:
Cognitive holiday in Lefkada
Lefkada is rightly considered one of the most beautiful islands in Greece. You will find really beautiful beaches and a beautiful… continue reading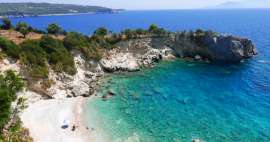 Thanks!
Have you been there? Write a review of this place
Already rated by 1 traveler