Hike along the Little Elbe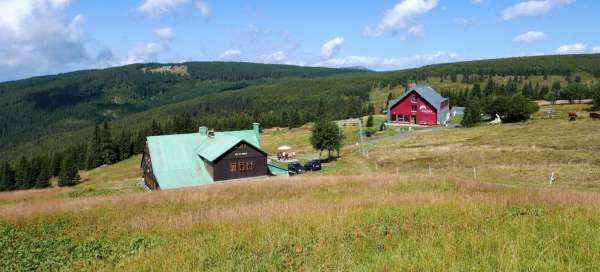 The start of this little walk is in the parking lot Strážné "Lom", which lies less than two kilometers north of the municipal office in Strážné. The path leads from the bottom of Klínový důl along an unmarked path, and then ascends to the picturesque meadows around Fries' huts. From here you can continue along the blue tourist path at the crossroads U Klínových bud from where there are several possible options to return
Crossroads at Hranostají skály
The first few tens of meters we go as in the tour Strážné – Cottage at the crossroads, ie. along the green hiking trail. It leaves us at the crossroads at Hranosatají skály (but it's nicely lit by the sun until late in the afternoon). We will continue from it along the paved road leading along Klínový potok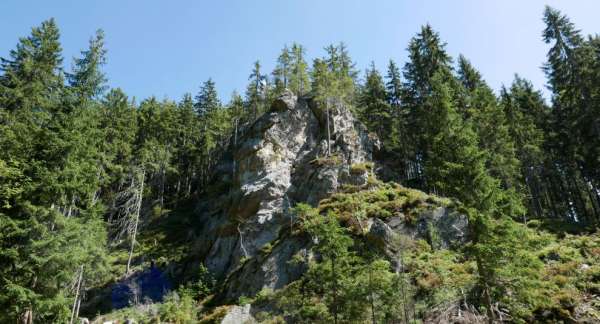 Artificial cascades of Klínový potok
The path still continues comfortably along the Klínový brook, where a lot of water-slowing cascades are exposed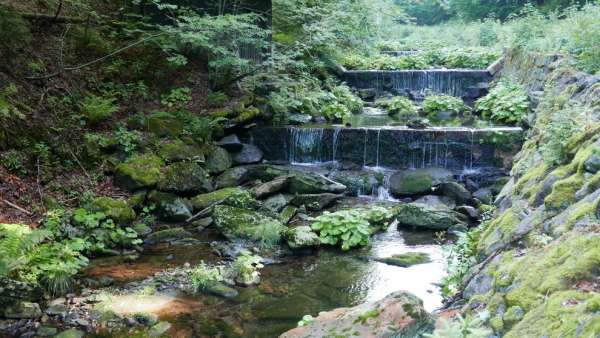 Klínový potok valley
The valley of Klínový potok is completely overgrown and only occasionally there are views of the surrounding slopes. In this part of the tour, it is simply without views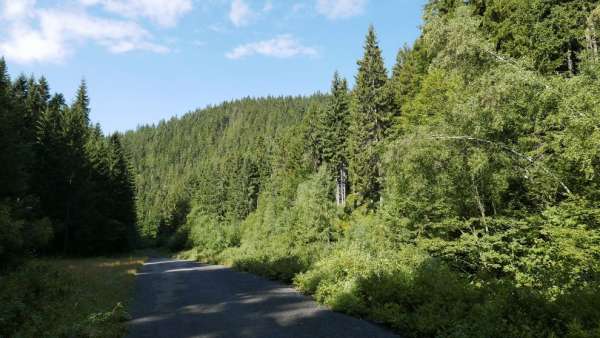 Forest footpath through Klínovy dol
It is more than a 2.5-kilometer walk from the car park before the paved road ends and the classic forest footpath leading further into the interior begins.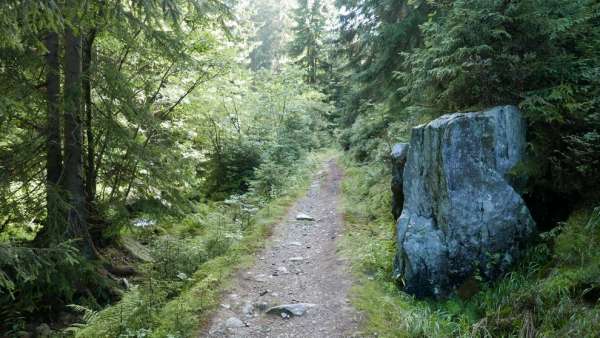 The beauty of Klínový potok
You probably won't meet anyone in this part of the tour, thanks to the fact that this route is not marked for tourists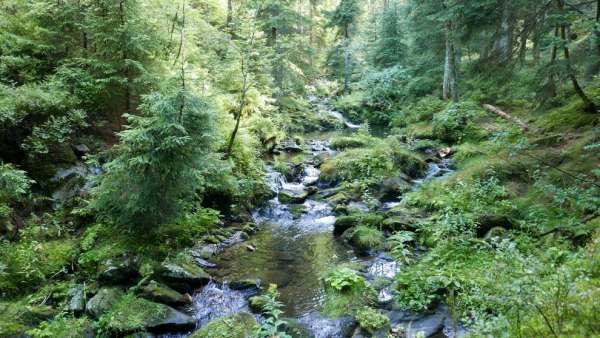 Klínový potok waterfalls
The attraction marked on the map – the waterfalls of Klínový potok are not a big attraction even by the Krkonoše conditions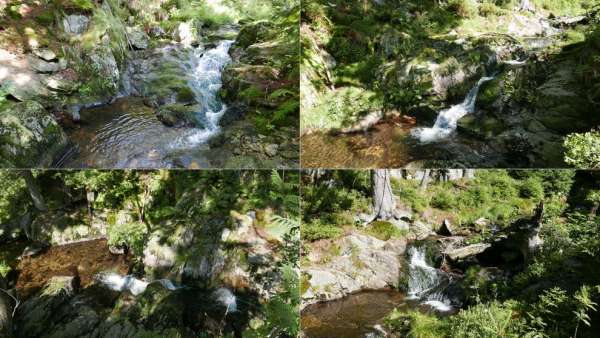 Crossroads by the wooden bridge
About a hundred meters behind Klínovový waterfall is a wooden bridge over a stream. We don't go through it, but we continue deep into the mine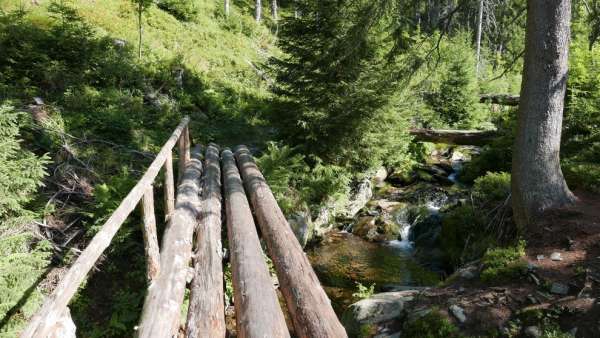 Ascent to Fries huts
According to the map, it looks like when you reach the intersection with Arnold's ditch, the path leads up to the meadows below Fries's huts. But the path is really noticeable, so just climb up the forest before you reach a meadow where you will have beautiful views.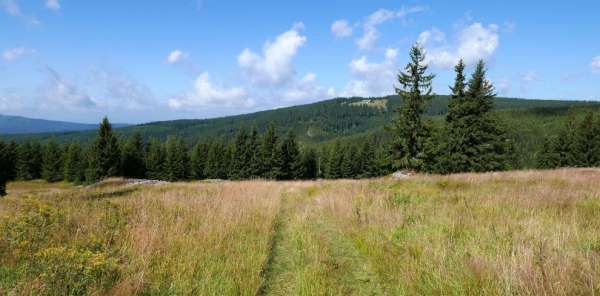 Fries huts - lower part
The local meadows are really picturesque and there are also nice views from here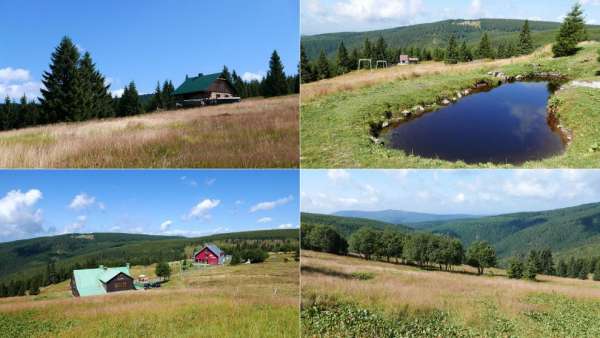 View of the Western Giant Mountains
From the lower part of the meadow to the upper part it is about 100 altitude meters. Upon the ascent, you will join the blue hiking trail and gradually will have beautiful views of the Western Giant Mountains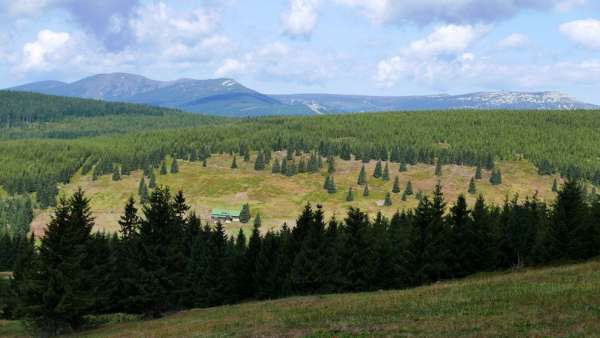 Friesova bouda
The busiest place on this otherwise very quiet hike is a large Fries hut with the opportunity to refresh yourself.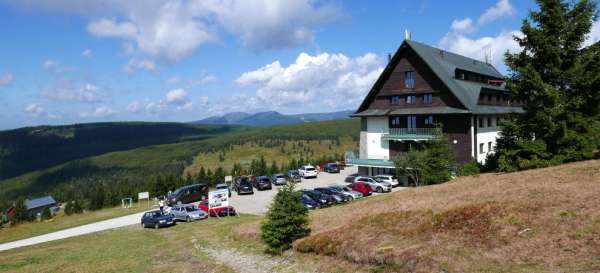 The path of Friesova boudy - crossroads at Klínových bud
You have less than 1.5 kilometers left to the crossroads at Klínovy bud. The road is comfortable, practically along the contour line with beautiful views of the Klínové boudy below you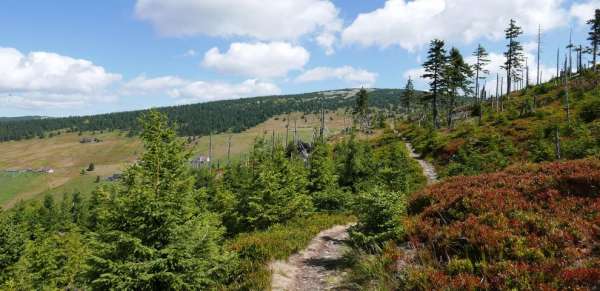 Wonderful views
From the road there are beautiful views of the meadows under the flat ridge Pláň, Medvědín and the ridge of the Western Giant Mountains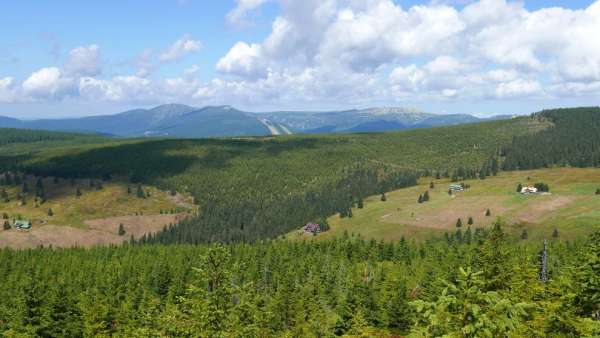 View of Klínové boudy
You are slowly approaching the crossroads at Klínových bud, from here you can go back along the green, around Klínových bud or walk to the cottage at Rozcestí and return along the red road. Or continue somewhere further.-)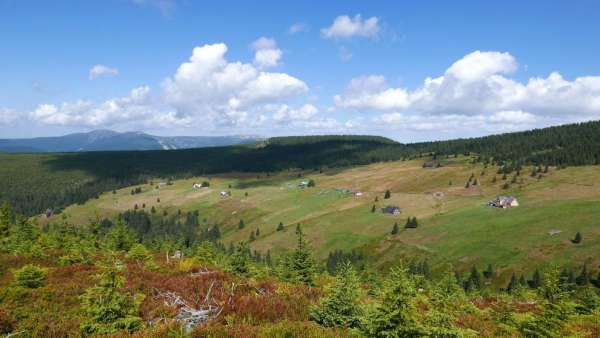 Applaud the author of the article!
Articles nearby
Part of gigalist
Giga List:
The most beautiful tours of the Giant Mountains
The Krkonoše Mountains are the highest Czech mountains and not only because of that, they offer great conditions for hiking. In… continue reading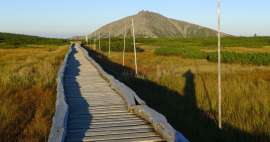 Part of gigalist
Giga List:
The most beautiful hikes from Strážné
One of the excellent tourist destinations in the Giant Mountains is a place called Strážné – quarry. There is a large (free)… continue reading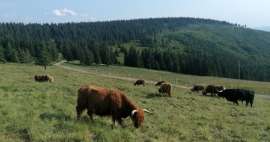 Thanks!
Have you been there? Write a review of this place
Already rated by 1 traveler