Hike along the wild valley of the river Kamenice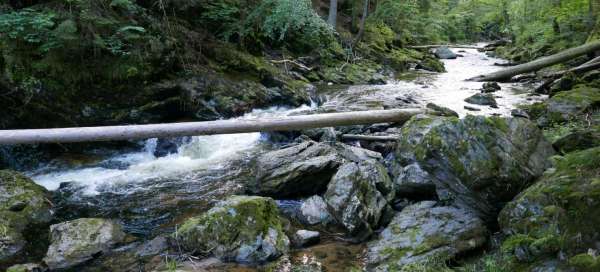 At the border of the Krkonoše Mountains, the Bohemian Paradise and the Jizera Mountains, you will find the wild river Kamenice. Along its lower course is a red hiking trail. You can go on a hike along it to Navarre from the Spálov train station, at the confluence with the Jizera, or from Bozkov, if you want to extend this trip with a visit to the local cave. The route itself along Kamenice adds to the attractions and wildness, the closer you get to Navarro. Here you can still continue to the ruins of Navarov Castle
The beginning of the tour in Bozkov
We start the tour in Bozkov. It was made famous by the local dolomite cave. The vast majority of visitors also go there and our route is quite frequented. Due to the influx of tourists, there is also a fairly large central paid parking lot. You will find a few other places in the area, but probably just outside the weekend rush hour. The city center is quite an impressive church of the Visitation of the Virgin Mary. Next door is a nice log cabin – restaurant Dřevěnka, where you can have a snack. We set off along the green tourist trail through buildings and at first we only gradually descend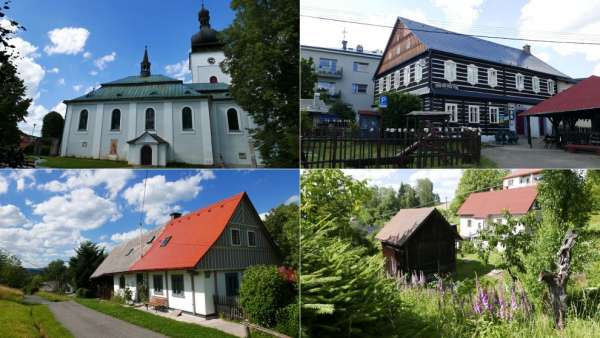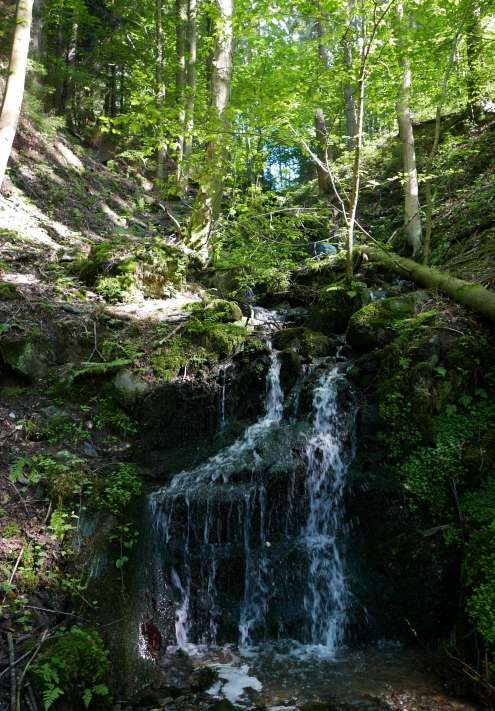 Bozkov waterfall
After you leave civilization and enter the forest, the trail begins to descend much steeper. Just above the crossroads "Pod Bozkovem" is a small Bozkov waterfall.
View of the Bohunov region
At the crossroads "Pod Bozkovem" we leave the green tourist route and connect to the main red "Palackého trail". The trail leads almost along the contour line about 50 meters above the river. Along the way you will also come across a well where it is possible to refill the water. After a while, a partial view of the Bohuňov region opens up, where there is a road bridge over Kamenice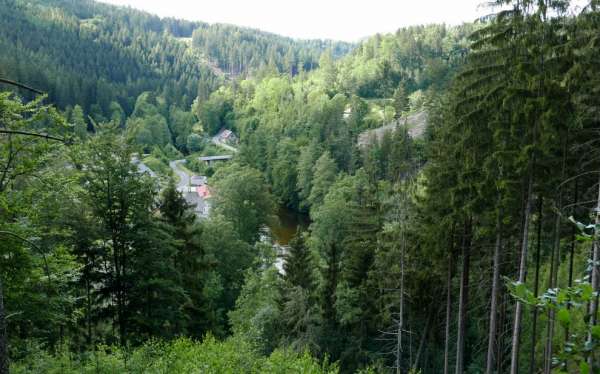 Bohunovsko
After a short walk you will reach another crossroads – "Under the Bozkov Caves", a blue hiking trail will take you here if you were heading to Kamenice directly from the caves. Now the descent to Kamenice is waiting for you. There is a weir, a bridge, an inhabited house and a nice log cabin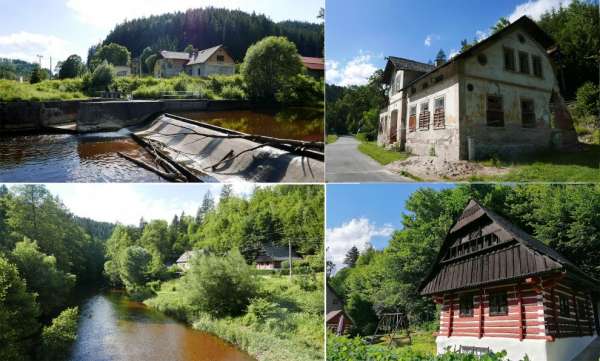 Road through the forest to the weir
Now you will walk about two kilometers through the forest to a fairly large concrete monster. Along the way there is an interesting cottage on a rock about 50 meters from the hiking trail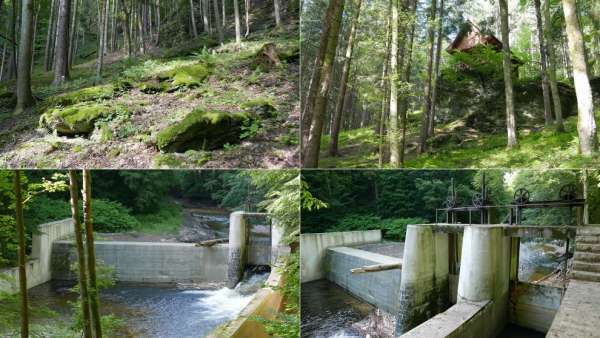 Road along Kamenice
You have two kilometers left from the weir to Navarre. But now is the right time to slow down and enjoy the surrounding landscape. It is the most beautiful part of the whole tour. The landscape around the river is very nice – high rocks rise and the riverbed is wilder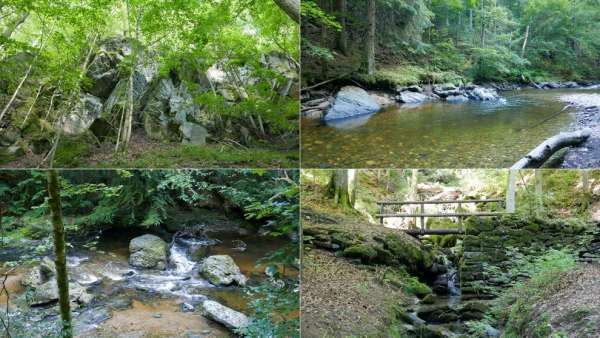 Divoká Kamenice
In some passages you feel as if you are not even in Bohemia, but in some northern wilderness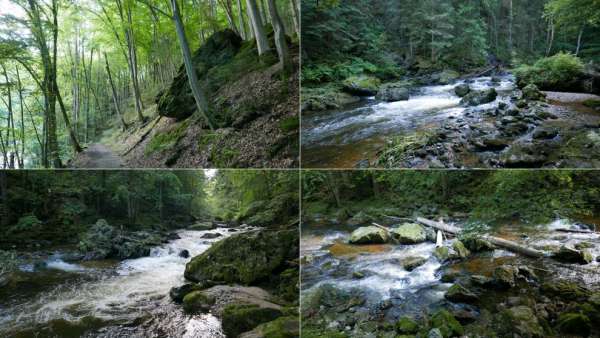 Beautiful Kamenice
Thanks to these passages, it is definitely worth taking the tour. If you want a shorter variant, it is best to start going through only these most beautiful parts in Navarre and return the same way back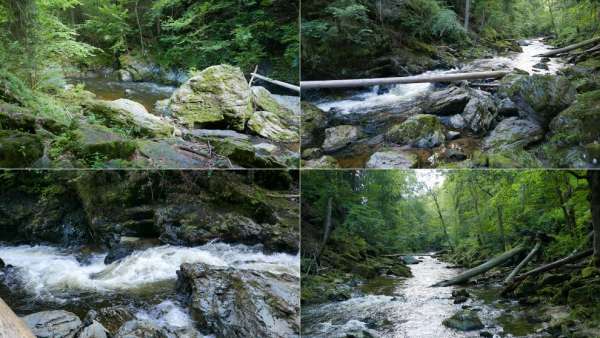 Passages with stairs
The place where the rock is up to the river is bypassed by stairs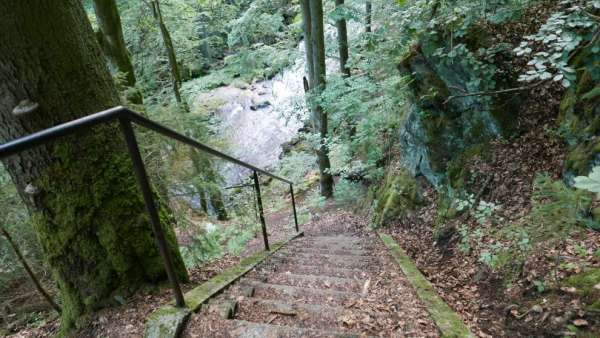 Navarov
You are slowly approaching Navarre. We will still pass the spring of Emperor Charles I, where it is also possible to add water and then we will leave the forest and we are at the road bridge over Kamenice. There are also the remains of the original stone bridge. There is also a train station. From here we can continue to the castle ruins or further along the blue road through Velké Hamry to Tanvald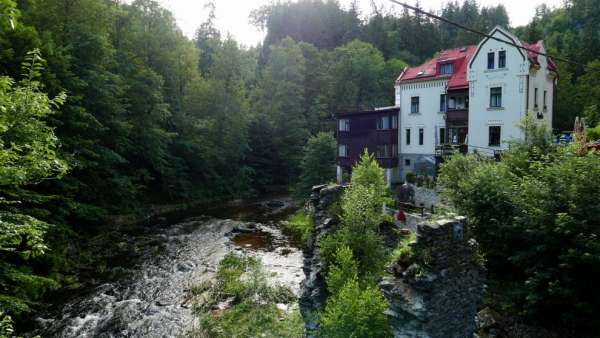 Applaud the author of the article!
Articles nearby
Part of gigalist
Giga List:
The most beautiful trips in the Giant Mountains
You may be surprised at how many beautiful trips and tours you can take in the Giant Mountains. There are many interesting towns… continue reading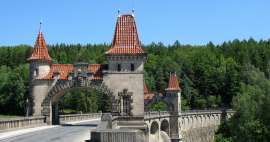 Thanks!
Have you been there? Write a review of this place
Already rated by 1 traveler