Drive over Desierto de Dali
Surrealistic Altiplano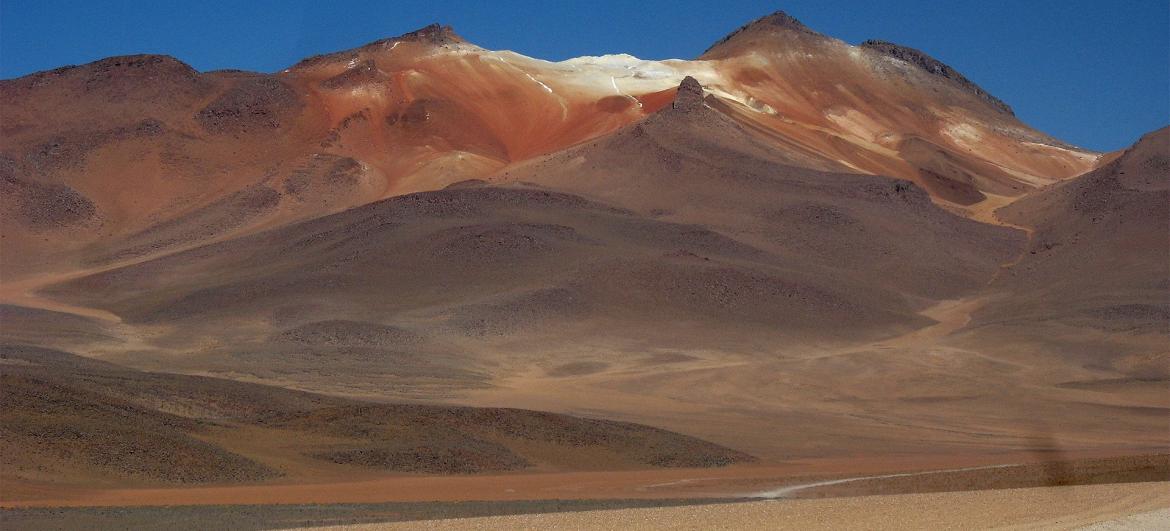 Altiplans high mountain desert of Salvador Dali is a truly a quirk of nature. Colorful, intensely weathered volcanic belt encircling the plain on all sides at a height of more than 4500 meters above sea level. Tourist can be very surprised to see shy vicunas running around here and ask himself how they can survive in so inhospitable landscape.
Sairecabur
The path from the lagoon Verde rises through the wasteland to the chain of colorful volcanoes that dominate the desert of Salvador Dali. The view west is more interesting from the beginning of the journey. Sairecabur – with officially reported height of (5971 m asl) dominates the border ridge between Chile and Bolivia. Tourists who have ascended it and measured it on the GPS, however, claim that it has slightly over 6000, so it is quite an interesting place for peak beggars.
Look back
Although the lagoons have disappeared from view, the two volcanoes can be seen like lighthouses for a long time.
Colorful volcanoes
View at a really surreal landscape finally opens after going over the pass (4730 m asl) in volcanic ridge.
Colorful mountains
The landscape is mostly colored with the shades of red and orange.
Wasteland
The region is really inhospitable here. But even so, there is scanty vegetation sufficient for life for beautiful vicunas.
Small rocks in the desert
Scattered small rocks on an otherwise completely eroded plain are another attraction of the desert.
Dali's inspiration
After about an hour drive from Laguna Verde the path descends to the Salar Challviri, on whose outskirts there are popular hot springs Polque. The look back on the volcanic ridge is considerably more interesting.
Activities
Practical information
Part of itienary
Article:
Salar Tour
Several days lasting off road trip around southwestern Bolivia is one of the most amazing travel experiences. On the way along… continue reading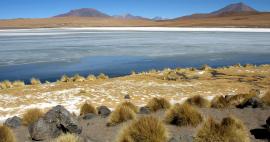 Applaud the author of the article!
They want there (0)
Be the first, who want to go there!
Have you been there? Contribute a good advice to travelers who want to go to this area or add places to your visited list.
Do you want to go there? There is nothing easier than having to deal with others and go on a trip or get tips on where you want to go.
Thanks!
Have you been there? Write a review of this place
Already rated by 0 travelers