Around Lagoon Colorada
Red paradise full of flamingos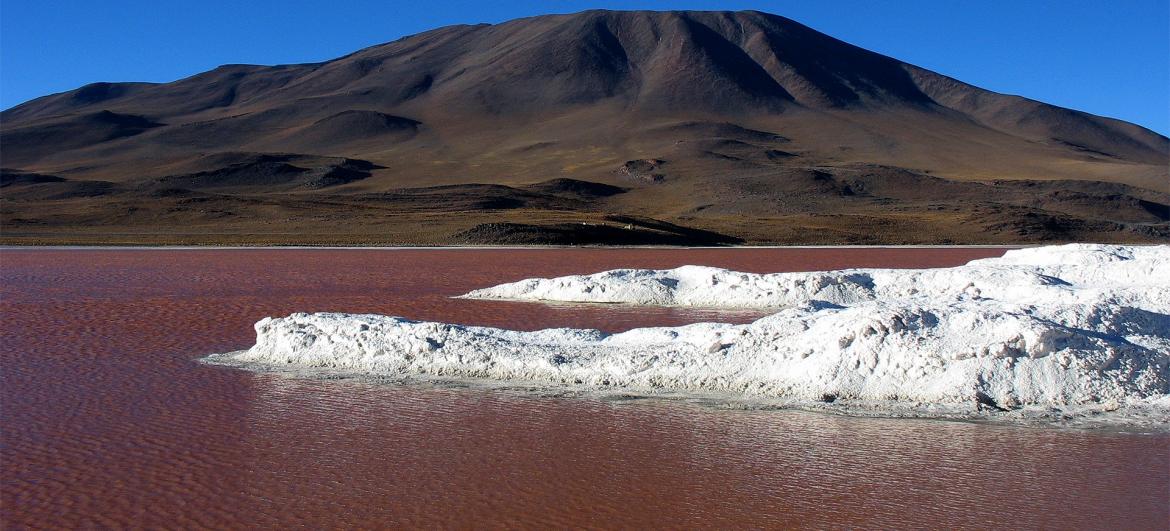 High-lying laguna Colorada (4295 m asl) with incredibly red water and white borax islands is a heaven for an incredible amount of flamingos in summer. It is as a table ready for feasting for them. Every tourist is flabbergasted by this amazing lake surrounded by volcanic hills and thousands of flamingos.There are several outlooks reachable by a car, or you can walk along the shore. 
Hostel by lagoon Colorado
After about 30 km away through the barren landscape of fumaroles Sol de Maňana comes the next surprise of Southwest Bolivian Altiplano – Laguna Colorada. Those who started Salar Tour in chilean San Pedro usually spend the very cold first night in a very simple dwelling on the western shore of the lake. It is also a nice starting point for walks to the lagoon and watching amazing night sky without light pollution.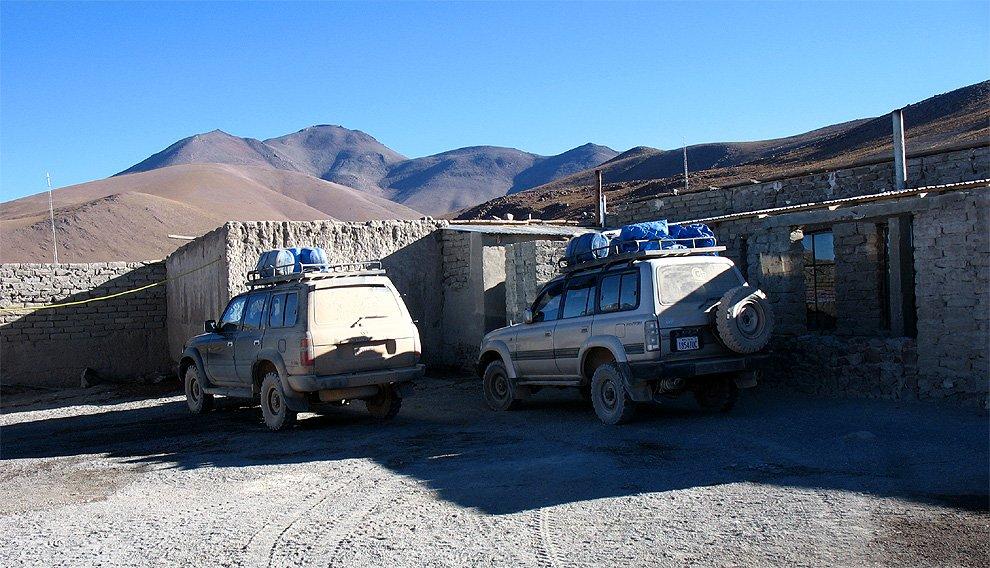 Unnamed volcano
Right from the shore of the lagoon rises more than 5,500 meters high volcano.
Borax islands
Borax islands scattered across the lagoon are also interesting – the source of boron.
The outlook from borax island
It is not bad to walk to some of the borax islands at sunset and have a look around the lake.
Summer at Lagoon Colorado
During bolivian summer (December to February) there is significantly less stable weather than in winter (June to August) in Altiplano. But on the other hand, there are huge flocks of flamingos and the lagoon has significantly redder color.
Summer storm
It's a little paradox that it is practically snowing here just in the summer when severe storms pass through Altiplano.
Flamingos
There is no problem to see flamingos on altiplano lagoons. But in such quantities they are only here.Many people always ask here how it is possible that the Laguna Colorada is so red. The explanation is simple – the reason are no minerals and chemicals, but the huge number of red-colored plankton and bacteria – the perfect food for the flamingos. They fly here to have a feast.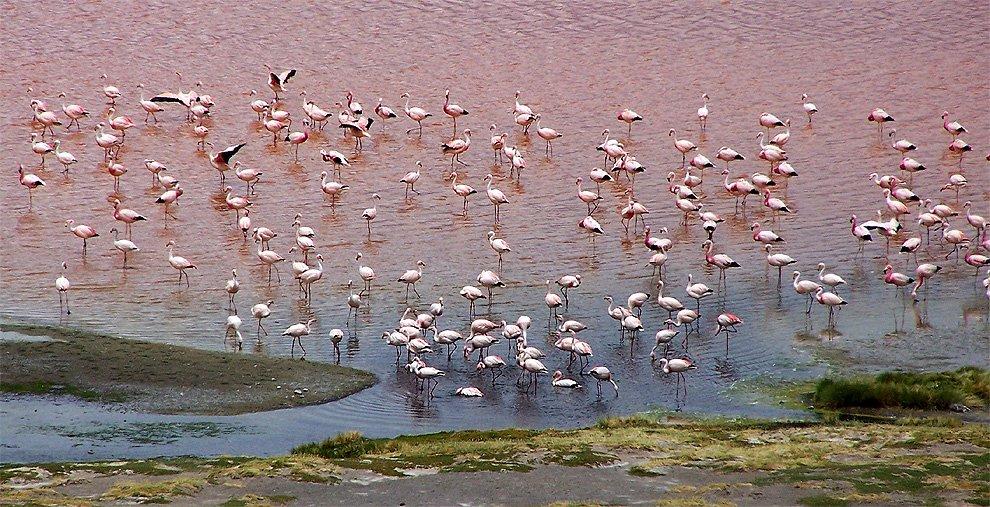 A flock of flamingos
Here live flamingo James, Andean and Chilean … educational signs at the lagoon can help you distinguish them. The simplest way to recognize them is by the color of the feet – Andean is a yellow, Chilean has red knee and James has red whole legs.
Red lagoon
Waters of the lagoon have the most beautiful color around lunchtime. As well as at the sea there is an exception from the classic photographic precepts that you should take photos in the morning and evening. Perpendicular midday sun makes it here always nicely colorful.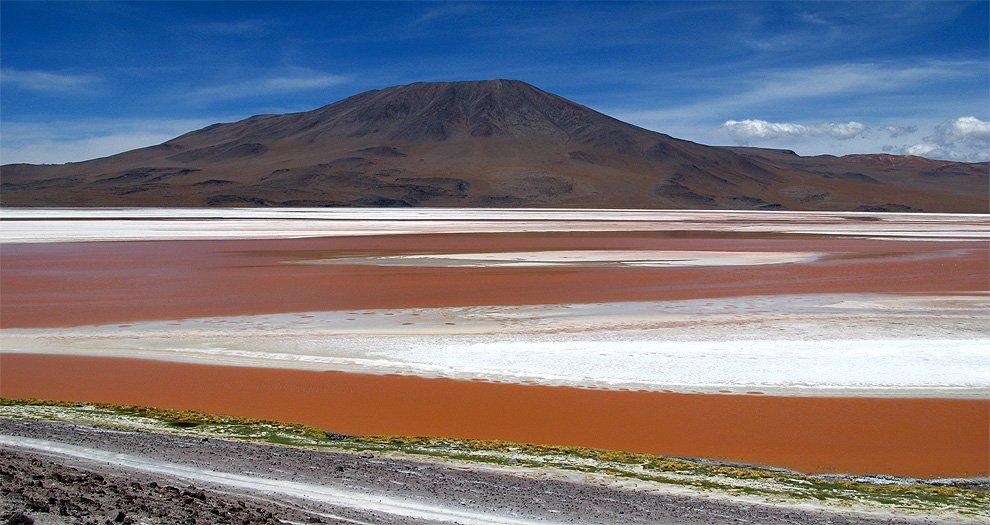 Wind over the lagoon
The wind fans uncomfortably borax powder.
Flamingo and volcano
A typical view of the lagoon.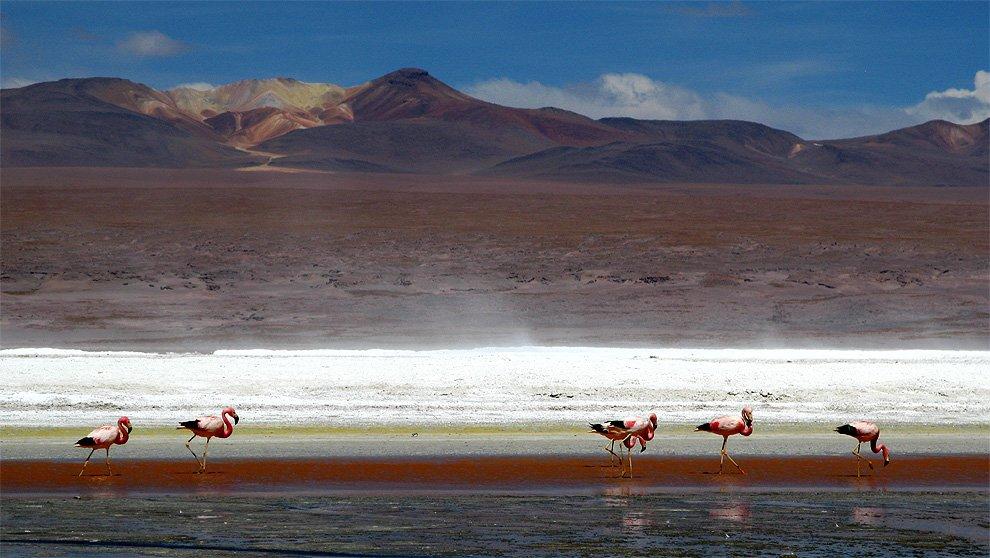 Activities
Practical information
Part of itienary
Article:
Salar Tour
Several days lasting off road trip around southwestern Bolivia is one of the most amazing travel experiences. On the way along… continue reading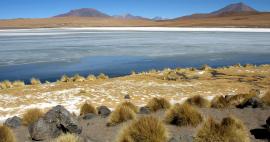 Applaud the author of the article!
Have you been there? Contribute a good advice to travelers who want to go to this area or add places to your visited list.
Do you want to go there? There is nothing easier than having to deal with others and go on a trip or get tips on where you want to go.
Thanks!
Have you been there? Write a review of this place
Already rated by 0 travelers
Recommended article
Magazine:
How to Travel South America
South America is undoubtedly one of the most colorful continents in the world. You will be captivated by beautiful mountains,… continue reading