By boat across the lake Attabad
Lake which killed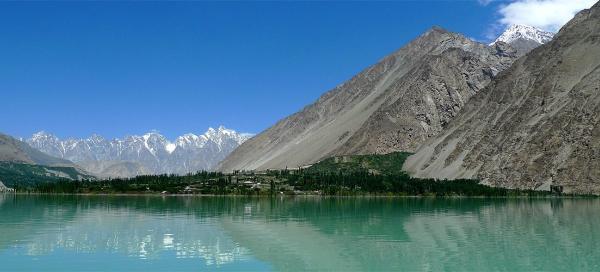 Only eleven kilometers north of Karimabad is a beautiful turquoise lake, which came into existence in January 2010 by a gigantic landslide. The whole mountain slid here, which perfectly dammed Hunza river. Within a very short time this new world wonder was created – 21 km long and 109 m deep lake Attabad. Dozens of houses, thousands of trees and also the only link to the north – the Karakoram highway ended buried under the ground. The lake surface ends today in steep slopes of the mountains, so it is not possible to pass through the valley otherwise than by a ship.
Buried valley
If you are going to go for a trip from Karimabad to Attabad lake or even farther north to Gulmit or up to Pasu, it is better to get up earlier, because the transport in this direction is not very busy after the landslide occured. Minibuses set off from the main road in Alitbad, so you need to run down those three kilometers from Karimabad or wait for a shared van that shuttle between these towns relatively often. Minibuses run every time they are full, which can here easily take more than an hour of waiting. After the driver decides that micro is satisfactorily full (4 people in three seats), it may finally start. The road winds high, in several places up to several hundred meters above the river and the views to the valley are thus very nice. Suddenly appears gigantic pile of mud and rocks, which tore here on January4th, 2010 and created this perfect dam. It took the river five months to spill over the top of the natural dam. Local's quite curse the government for doing nothing about it, but I would not be surprised that it will be used as a hydroelectric power station in the future. Even the Chinese do not build the dam for free and within a few seconds :-)
Road to harbor
People transfer into jeeps at the edge of the landslide and set off on quite adrenaline ride. Fifteen passengers stand on the deck and hold everything that is available. Some have quite a fear in their eyes. Jeep sways from side to side and rises along the breakneck track about 150 vertical meters to the top of the landslide. From there you will see a lake with a beautiful blue colour. From the top most people descend on foot to the improvised port.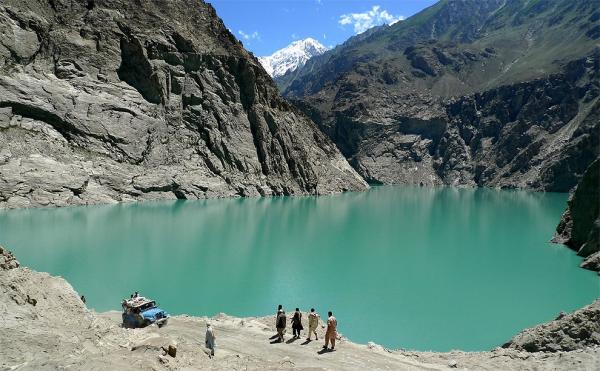 Boat taxi
An officer at the port enters passports into official book and distributes life jackets, just for any case. The state probably subsidizes the transportation, because fares free. The baggage is gradually loaded and you can set off on a cruise.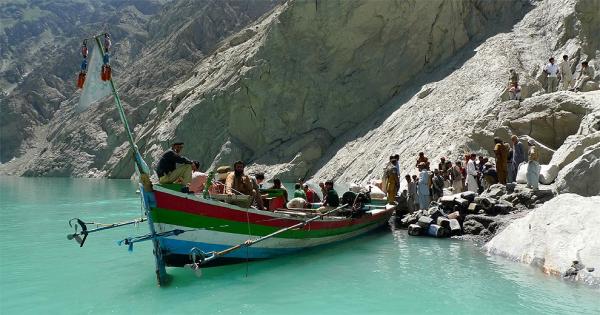 Landslide from the lake
Only after the departure you can see how impressive the landslide really is. It must have been incredible bang when it has dropped.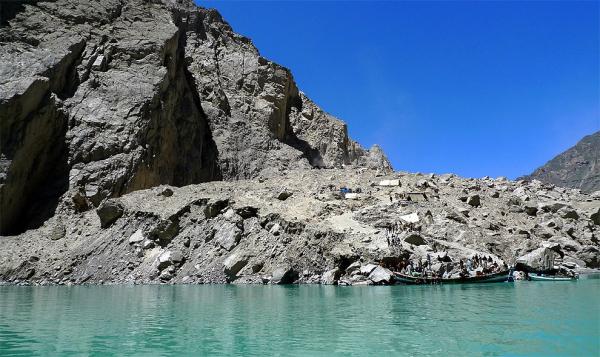 Flooded oasis
Voyage through the dramatic landscape of rugged rocks and tiny remnants of flooded oases is absolutely incredible.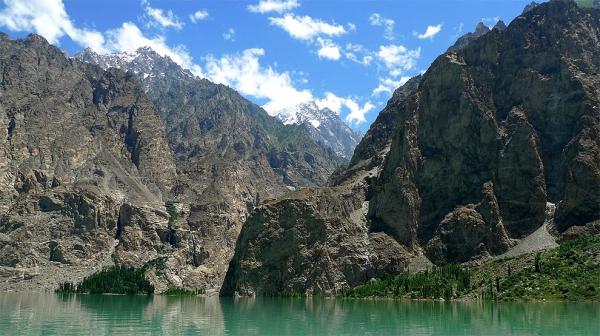 A small oasis with waterfall
Behind the wilderness of arid rocks tower karakorams giants covered in snow.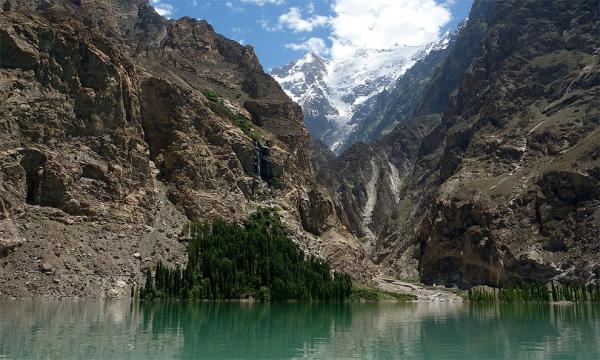 The rest of Shishkat
The most beautiful views from the boat are to the approaching huge oasis of town Shishko (see the introductory photo of the article). Also the close view of the village is not bad at all. Unfortunately, you can see how many partially submerged trees slowly die. Northernmost region of Pakistani Gojal alias Upper Hunza begins with Shishkat.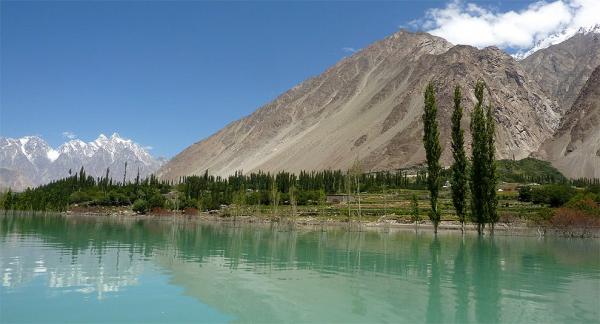 Gulmit Tower
Gulmit, tourist center of Gojal, is now from more than a third flooded. So most of the tourists prefer to change for another boat and go to Hussaini, where the lake ends and set out on tours to glacier tongue of Batura from here or from a few kilometers distant Pasu. Above Gulmit rises, not yet climbed, beautiful Gulmit Tower (5810 m asl). During the sail between Gulmit and Hussaini it is possible to see one of the glacier tongues, which ends directly in the lake. The whole sail takes more than two hours. You should take the earplugs, because the engines roar terribly and even a few hours after this trip you will hear the hums in your ears. So it's quite funny, how the locals try to phone during the sail and their attempts often end with thousand times repeated halo or salam alaykum.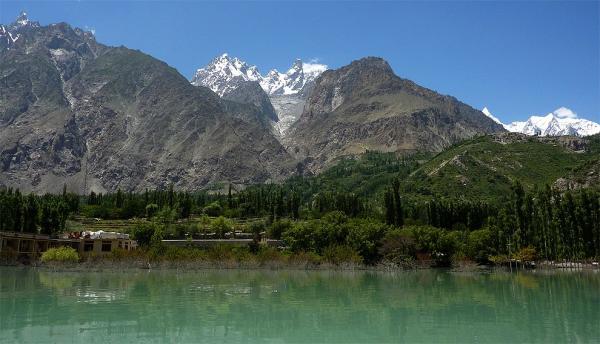 They want there (0)
Be the first, who want to go there!
Have you been there? Contribute a good advice to travelers who want to go to this area or add places to your visited list.
Do you want to go there? There is nothing easier than having to deal with others and go on a trip or get tips on where you want to go.
Activities
Practical information
Part of itienary
Article:
Trip to Karimabad
Hunza valley enclosed by ice karakorum giants offers countless number of amazing long treks and one day trips. Also lovers of… continue reading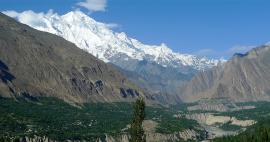 Part of itienary
Article:
Trip to Gojal
The northernmost part of Pakistan is called Gojal or also Upper Hunza. It is now, thanks to a gigantic landslide and origination… continue reading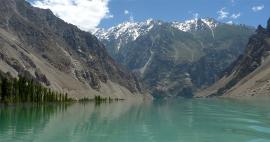 Applaud the author of the article!
Thanks!
Have you been there? Write a review of this place
Already rated by 0 travelers