Trip to Gojal
Northern outpost of Pakistan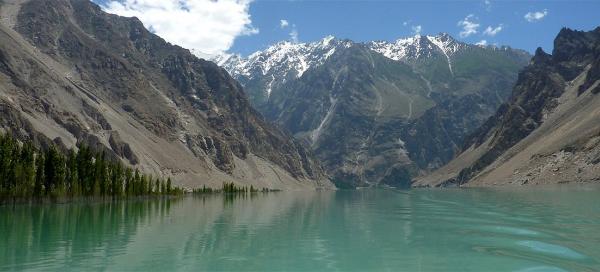 The northernmost part of Pakistan is called Gojal or also Upper Hunza. It is now, thanks to a gigantic landslide and origination of Attabad lake, even more isolated from the rest of the country than it used to be. Most travelers only transit here on their way along the Karakorum highway from or to China over the pass Khunjerab, although this area offers amazing hikes and treks. Basic and shortest trip is a visit to the village of Passu dominated by the massif Cathedral and interesting one-day trek in the vicinity of gigantic mountain ridge Batura Wall to lake Borit.  
Day 1
Across the lake Attabad to Passu
People usually set out to the Gojal area from Karimabad, the center of Hunza valley. However, it is also possible to get there in one day from the larger town Gilgit. In this case will await you very interesting cruise on the beautiful, though for locals very impractical Attabad lake. In the evening set out for a walk around the neighborhood of Passu and admire the views of the famous peak Cathedral.
 
Part of itienary
Article:
By boat across the lake Attabad
Only eleven kilometers north of Karimabad is a beautiful turquoise lake, which came into existence in January 2010 by a gigantic… continue reading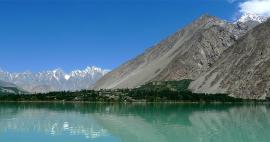 Part of itienary
Article:
Walk in Passu
Along the Karakorum Highway a few kilometers behind Gulmit is located only a few scattered houses, mostly tiny guest houses and… continue reading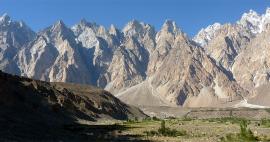 Day 2
Hike to lake Borit
The next day head out for a nice day hike to the lake Borit. You will probably not meet a living soul for the whole day and you will surely appreciate the number of views of the glaciers and Batura Wall.
 
Part of itienary
Article:
Hike Passu - Lake Borit
If you want to undertake a little more adventurous half-day hike in Passu, it is best to walk from the glacier Passu to lake… continue reading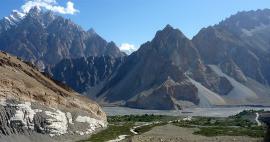 Another days
You can either return back from Passu the same way, or if you're heading to China, move to the town Sost, from where runs the bus through the Khunjerab pass to China.If you have more time, you can undertake a longer trek e.g.:
Shimshal trek
Batura wall trek
Trek to valley Chapursan
They want there (0)
Be the first, who want to go there!
Have you been there? Contribute a good advice to travelers who want to go to this area or add places to your visited list.
Do you want to go there? There is nothing easier than having to deal with others and go on a trip or get tips on where you want to go.
Activities
Practical information
Applaud the author of the article!
Thanks!
Have you been there? Write a review of this place
Already rated by 0 travelers
Recommended article
Giga List:
The most beautiful places of Provence
A selection of the most beautiful places in French Provence, where you can find beautiful historic towns, azure coast and amazing… continue reading