Mountains and Orthodox Jews in one place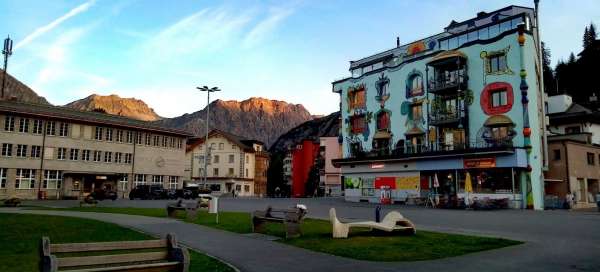 I visited Aros on the recommendation of a friend. But how to behave in the presence of 80% of the population of Orthodox Jews did not recommend me.
Welcome to Arosa
Bears, Jews and a self-service camp
When I was planning a trip to Switzerland and the associated trips in June, I did not expect to be surprised by Arosa – a mountain village in the Swiss canton of Graubünden. Around noon we pass the town of Chur (598 m above sea level), where we do not stop due to the temperature of 24 ° C, although it was included in the original plan. We are slowly cutting from 30 km to the destination, which we now have before us. We climb a narrow, mountain road, lined with a steep slope. After a few kilometers my hands start to sweat, after another few kilometers I lose my color and voice, after another few kilometers I stop and breathe out my condition. Why? Because, thanks to the incredible serpentines in combination with the character of the road, I feel like a Rallye racer, I don't have to turn the wheel and my kinetosis doesn't like it at all. I take the fact that I feel bad as a co-driver, but I probably won't experience that I feel bad as a driver other than on the way to Arosa. After an hour of such a ride, exhausted and white as a wall, we arrive at the sign "Welcome to Arosa", which clearly indicates to me that we have finally reached our destination today. Juchůůůůů. It's 4:30, and I'm looking forward to having a beer, lying down on the floor and breathing that the same journey awaits me a few days back. A remarkable meeting As I drive through Arosa intending to find a parking lot, I see people of a different appearance than I'm used to along the way. Black clothing, dark, long skirts, caps on the heads and dogs – twisted curls of hair on the chests. Yes, they are Jews, ultra-Orthodox Jews from Israel. They are transported in a horse-drawn carriage around the local lake Obersee and show their position in society. It's interesting to me, but I don't put much emphasis on it, because now I have other worries. Bear, where do I look? The map does not show the campsite I am looking for, so I will endeavor to find my way to the information center. Right behind the entrance, a huge, teddy bear stares at me. A few steps away from him, posters with bears, photographs, postcards, pendants, souvenirs, etc. hang everywhere. I don't know what to think about it. So I ask the worker at the counter, why are bears everywhere, if they are in the wild or what it means. The answer I receive reassures me. There are 3 bears here and they live in the "Bear Sanctuary" near the middle station of the cable car to Weisshorn. Uff, at least something positive. The crisis in the Infocentre It's time for the most important thing, and that is to find a campsite (https://www.campingarosa.ch/). On the map, a young lady in the Infocentre circles me a place in Cholgruobaweg Street, where I have to go and gives me a few tasks: 1. get there 2. register 3. return to the info center with the form 4. then we issue the Arosa All Inclusive Card 5. and you have to make it all by 18:00, then we close. I want to cry. I look at the watch, which shows that we have 50 minutes to complete the above tasks. I have a total crisis and I ask what am I doing here alone? I take a deep breath and head east. Self-service camp After arriving at the camp, which is only 1.5 km from the center, I am looking for a person with whom I would register to stay. Nobody anywhere, just empty chairs, forms and pens. That's why I turn around and ask an older couple from Holland when the person will come so I can report. This time the answer is not as favorable as a few tens of minutes ago with bears in the info center. The Lord tells me that no one will come, that it is a self-service check-in here. How self-service? I don't understand anything at all. So together we enter a room with an empty chair, a form and a pen from which I just escaped, and now I know what it's all about. An empty chair for me, because it will take me a long time, 4× forms in German, which the lady in the information center spoke about, and a pen in case I don't have my own. And I'm running out of time for everything. When the Dutchman decides that he has explained it enough to me, he leaves the room. I search in vain for a word in English, so I intuitively fill in line by line, get upset, swear, watch my watch. After a 30-minute German lesson, we hop in the car and return to the info center. It's 17:50. I literally throw the papers on the table, take my head in my hands, and only now do I take my breath. But my peace and joy of mastery does not last long, because I realize that I have nothing for the next days to eat. It was hot outside, even bigger in the car, Pedro with me. It was out of the question for me to leave him tied up in front of a shop where 80% of customers are Jews who have panic about dogs. Like leaving him in the car. Among my thoughts on making a purchase, I receive the rest of the forms and the Arosa All Inclusive Card, on the basis of which we have a free ride on the cable cars. So I can think of the only way to buy – to ask the staff at the info center if Pedro is looking after me for a while. The interview looked something like this: Me: "Could you please look after my dog while I need to do some shopping? I don´t want to leave him outside the shop and in my car is too warm for him. "(Can you please take care of my dog, do I need to shop? I don't want to leave him outside in front of the shop and the car is too hot for him. ) Info center: "Hmmmm, mnnnnoooo …… .." They look at each other questioningly and ask their supervisor if he has a problem with that. Finally, they answer, "Yes, sure, no problem." Me: "Thank you so much, I will be back in a few minutes, thank you.! (Thank you very much, I'll be back in a few minutes, thank you) I pass Pedro, and I'll start the exit. I turn around and call the Infocentre, "Hey, his name is Pedro by the way." (Yeah, and by the way, his name is Pedro.) I fly like a rag on a stick in the store, especially not to forget to buy the girls some chocolate. At 17:59 I run back to the info center with my bag in hand, the girls are smiling, Pedro is lying happy under the table. I exchange chocolate for Pedro, I say goodbye and we go straight to the car and to the camp step by step. But not all responsibilities are over yet. Who will set up the tent and make dinner? Evening Arosa Stan is standing, our bellies are full with Pedro, and yet I still find strength and energy in me for an evening walk in the city. The sun is slowly setting and the center of Arosa is coming to life. Not only are the local pubs, restaurants and bars full of tourists, but it is crowded with dozens, if not hundreds, of Jews heading to the Metropol Hotel for prayer. They are beautifully groomed, some even wear huge, hairy, black caps on their heads. They all have the same, characteristic features – dark eyes, eyebrows, dark hair, a large nose, an elongated face. As I pass the Metropol Hotel, there is a strange moan from the inside, the figures sway, and a traditional scent. Attempt to prove Early the next morning we set off on foot through the city to the cable car. The first person I meet in the morning is the Jews heading to the Metropol Hotel again for morning prayer. They are afraid of those people, they are so illegible, cold. I am curious and I have a lot of questions, but I do not dare to address anyone. When I pass a group of Jews, I secretly pull out my phone and click… A moment later, I'm so scared that I delete the photo right away. So I don't even have any proof, no authentic photo. But what experience it left in me cannot be replaced by a photo. Moses Another surprise for me is when, from my dream at Lake Älplisee on the way from the Parpaner Rothorn, I am awakened by the cry, "Moses, Moses." Confused, I get up and see what I can't see? A group of 8 Jews, 2 adult men and 6 children. Every boy's name was Moses. So I subtly observe them, their behavior, language, culture and clothing. They are people just like us, but they are very special to me. There are still a lot of questions running through my head, which I will probably find the answers to at home on the Internet. I come across Jews a few more times during my stay in Arosa, it's not really difficult to meet them at all. When I saw them for the first time, I looked back with my mouth wide open, when I passed them fasting, I looked back with the same astonishment as the first time. It's an incredibly powerful experience for me. I would also like to mention the top of the Parpaner Rothorn 2,899 m above sea level. This time we take the cable car only to Hörnli Hütte and we tread the rest on our own. The landscape is beautiful, but compared to what the already mentioned peak shows us, it's nothing. After 2 hours we cross the tongue of snow and soon after it we enter the tunnel drilled into the rock. It's weird who would expect a tunnel in the mountains like this. However, the character of the mountains is beginning to change into a lunar landscape, grass, greenery, flowers are declining and, conversely, stones, gravel and wind power are increasing. After the final steep climb with the tongue out, we come to the top cross, where there is a beautiful view of the region. I feel like I'm on another planet, the stones look like dry lava, playing with all colors, no sign of life, no greenery, nothing. Desolate, empty, dead. This is what makes the landscape so mysterious and magical. To all this, a man with a huge alpine horn stands a few meters below and plays beautiful melodies that have perhaps 1000 echoes. Combined with the "dead" landscape, it is a unique experience for a lifetime. The view from the plane is raining all night, the forecast is not at all favorable, but I do not want to accept that I will pack my few plums and leave due to the rain. It is not me. Although we were already at Weisshorn 2,653 m above sea level two days ago, something is pulling me so hard that at 10 o'clock we set off for the Weisshorn cable car to say goodbye to Arosa with a raincoat for Pedro and a Goretex jacket. When I stand on top and see the lambs in the sky, I do not regret my decision. The night rain turned the landscape into a beautiful backdrop. I feel like I'm on a plane. Blue sky above me, clouds below me. It's amazing. I couldn't have wished for a farewell other than that. The last day and such beauty. After an hour spent at the top, we head to the Hörnli Hütte hut, where I order food from a local farm with my "hands and feet" – a plate with cheese, bacon, salami and homemade bread. In addition, of course, a beer, after which the way down passed me somehow too fast. And as a dessert, a warm cake with whipped cream and coffee. My stomach is about to burst, so I pay CHF 37 and we go to the campsite for drizzle. Soon it starts to rain, then the rain turns into a downpour and a storm comes. This condition lasts until morning. Heroic departure The day of departure has arrived. In the rain, fog and with a burnt face, I pack my tent and, knowing what awaits me for the next 30 km, we leave Aros. I return the All Inclusive Card at the Infocentre, I say goodbye to the staff. Due to the unfavorable weather, the way back is even worse, unfortunately the serpentines remained serpentines, the slope at the curb remained a slope, nothing has changed. Only a steep climb now turns into a steep descent. I try to be tough, cool, but it has one catch. Actually two. The foot on the brake pedal doesn't stop working and I'm starting to get scared of welding the brake pads. Another catch is that the wipers go one hundred and six, I'm starting to get scared they'll fall on me. And then we really die. However, we arrive in Chur in the same, if not worse, mental state as we did in Arosa a few days ago. Alive, healthy, and the others are just trifles. It's all the more powerful for me, and every time I say Arosa, I immediately think of two things: an unforgettable ride on a mountain road and Jews. Only then will other experiences come into play, such as bears, a self-service camp, beautiful mountains, a hike to the Parpaner Rothorn or, for example, a gluttony on the Hörnli Hütte. This is how I experienced Arosa. Unusually, dramatically, yet beautiful.
The only campsite in Arosa
Quality camping facilities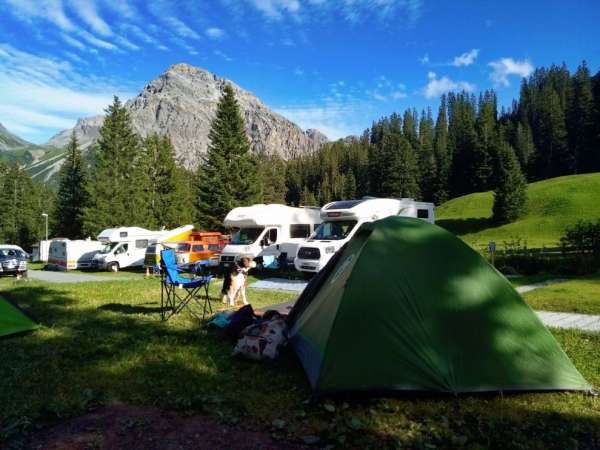 Parpaner Rothorn peak
You can also use the cable car from Lenzerheide, but I recommend walking, it's really worth the effort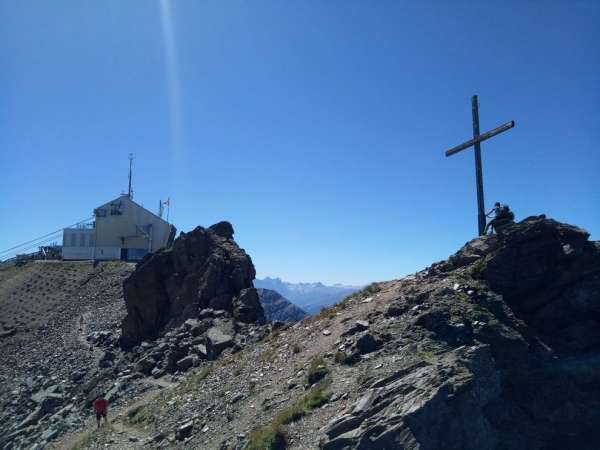 Bear Sanctuary, Arosa
it is a "field" with three bears rescued from a circus and a restaurant from Albania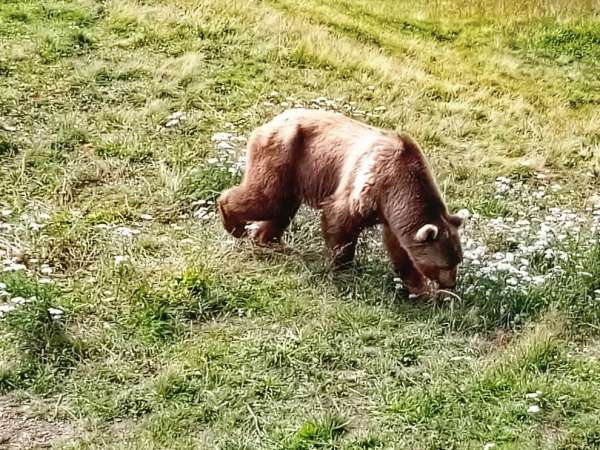 Applaud the author of the article!
Thanks!
Have you been there? Write a review of this place
Already rated by 1 traveler