What to see and visit around Pokhara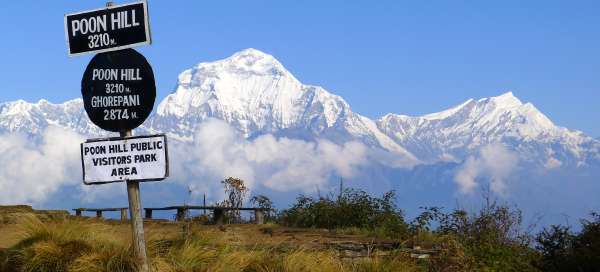 Pokhara is the second most visited city in Nepal after Kathmandu. Directly from the city you can take some very nice one or more day trips and hikes in the surrounding mountains and beautiful views. Let's take a look at the most beautiful trips around Pokhara.
Wonderful view of Dhaulagiri
|
Altitude: 3 193 m / 10 476 ft
The ascent to the beautiful outlook place Poon Hill is very popular among visitors to Nepal because it is… continue reading
Annapurnas from the south
|
Altitude: 1 560 m / 5 118 ft
Sarangkot (1 560 m asl) is a small village and at the same time the most popular lookout of Annapurnas lying… continue reading
Picturesque walk from Pokhara
|
Altitude: 820 m / 2 690 ft
It may surprise you, but directly from Pokhara can be done very picturesque walk first along Lake Phewa and… continue reading
An easier variant of the march through Nehyeaal Danda
|
Altitude: 1 172 m / 3 845 ft
The Nehyeaal Danda mountain ridge south of Pokhara offers distinctive villages with beautiful rice terraced… continue reading
Views above the Lake Phewa
|
Altitude: 1 500 m / 4 921 ft
Green ridge towering from the southern shore of Lake Phewa offers beautiful outlooks of extensive rice fields… continue reading
From Pokhara to India
|
Altitude: 1 043 m / 3 422 ft
Siddhartha Highway or in Nepalese Siddhartha Rajmarg is one of the most exciting Nepalese roads leading from… continue reading
Applaud the author of the article!