The eastern end of the Czech Paradise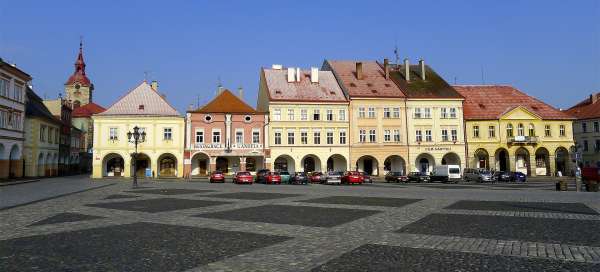 If you want to explore the Czech Paradise from its eastern end, the ideal starting point is the picturesque county town Jičín with nice surroundings tempting for short walks, cycling or swimming in many of the nearby ponds or pools. 
1 day
The center of Jičín and a walk to Zebín
On the first day of the trip to Jičín, see its historic center and other interesting monuments in its vicinity. Climb the Valdice Gate and enjoy the beautiful views of the whole city. Finally, take a walk to Lipová Alley to the Wallenstein Loggia or climb the nice hill Zebín. If you are here in the summer, you can spend some time at the nice, new Jičín swimming pool. If you are here on Saturday, you can also walk through the regular markets on Wallenstein Square and Hus Avenue.
Sights around the square Wallenstein
|
Altitude: 270 m / 886 ft
All major sights that can be seen in Jicin, are located near a large Wallenstein Square and along the… continue reading
View from the landmark of the town
|
Altitude: 305 m / 1 001 ft
52 m high Valdice tower not only dominates Wallenstein Square, but basically the whole Jičín. It is also a… continue reading
Around the most beautiful hill around Ji
|
Altitude: 325 m / 1 066 ft
One of the most popular short trips from Jičín is the way around nice symmetrical hill Zebín lying just… continue reading
The most beautiful hill around Jicin
|
Altitude: 399 m / 1 309 ft
Beautiful symmetrical hill Zebin (399 m asl) with interesting quarry and old chapel on the top dominates… continue reading
Day 2
Prachov rocks
It would be a mistake not to visit the biggest tourist attraction in the surroundings of Jičín the next day – rock town Prachov rocks, or at least its main circuit. You can combine this visit with a dip in Jinolice ponds.
The Most Beautiful Trail in the Prachov rocks
|
Altitude: 462 m / 1 516 ft
The most beautiful circuit in Prachovské skály ("Prachov rocks") leads you through the biggest attractions… continue reading
Day 3
Views around Jičín
If you want to see other attractions in the vicinity of Jičín, there are many lookout hills and several sights.
Volcanoes of the Bohemian Paradise
|
Altitude: 678 m / 2 224 ft
If you like nice views without any bigger effort, then the trip around hills, mostly old volcanoes around… continue reading
Applaud the author of the article!
Articles nearby
Part of gigalist
Giga List:
The most beautiful trips in the Bohemian Paradise
In one of the most beautiful parts of the Czech Republic – the Bohemian Paradise, you can make a number of beautiful trips, not… continue reading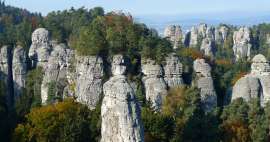 Thanks!
Have you been there? Write a review of this place
Already rated by 1 traveler