Trek through the Nepalese mountain jungle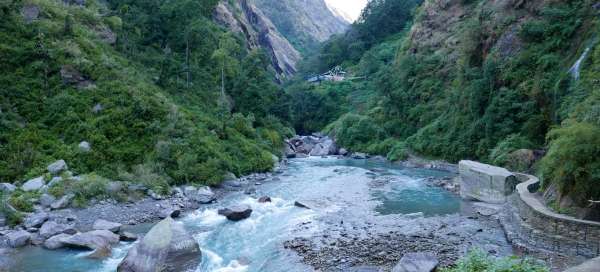 Langtang Trek 2 part: From Domen to Bamboo (2,010m above sea level) it is only three kilometers, but almost 400 altitude meters. Tourists who go Langtang trek slowly, end here their first day of trek (if it comes from Syabru Bensi). However, if you start in the Domain, it is just a warm-up stage for the day. The path leads through a narrow valley filled with lush vegetation with lots of waterfalls. Along the way, a trek across Lake Gosain Kund joins
Steep ascent over Domen
Right from the Domain, a steep ascent to a rocky promontory above the canyon begins. The first views of the region open up from it.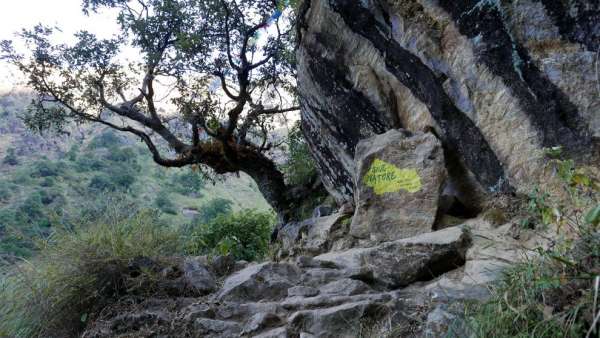 View of the opposite slope
The opposite slope is not overgrown with jungle, but is quite arid. Almost a kilometer above you is an alternative return route through the mountain villages of Sherpagaon and Khangjim – definitely a recommended option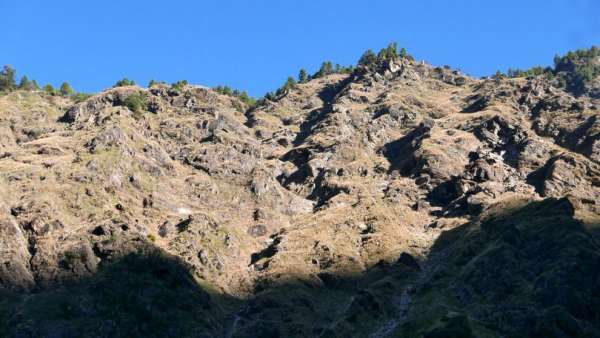 Crossroads of treks
After about a 15-minute walk from the Domain, you will come across a trekking signpost. If you have more time, it is definitely worth coming here via the lakes of Gosaikunda or returning to Kathmandu via them. The red panda depicted here is a symbol of the national park, and those who are lucky can really meet it here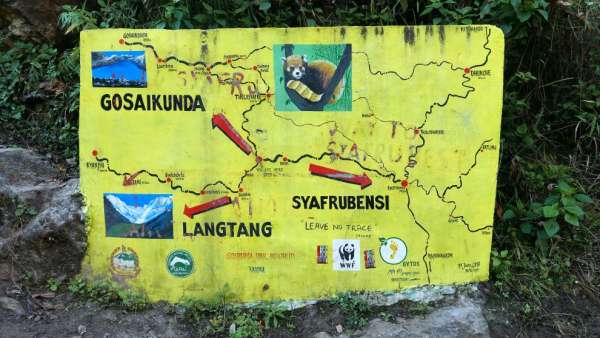 View of the region
Thanks to the ascent to the promontory, a quite nice view of the region opens up, even though the really beautiful ones will not come until the following days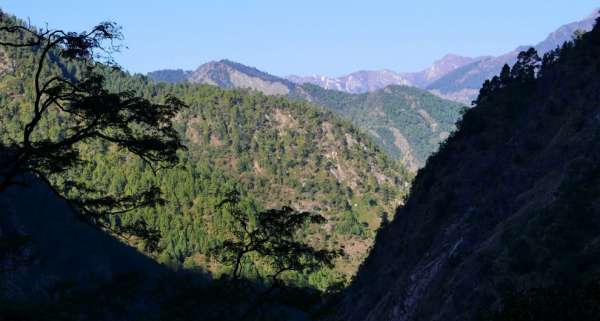 Before Pairo
A nice part of the canyon is in front of the loggias in Pair (1,750 m above sea level), another possible accommodation option. There is also a hotspring marked on the edge of the river, but we didn't try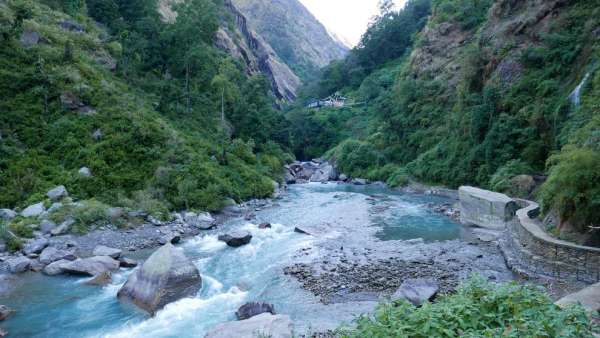 A small waterfall in front of Pairo
You will also pass one of the smaller waterfalls
View of Thulo Syabru from Pairo
From Pairo you can also see the village of Thulo Syabru (2,200 m above sea level) situated on a large rocky promontory above the river Langtang Khola. Via Thulo, the road leads to Gosainkunda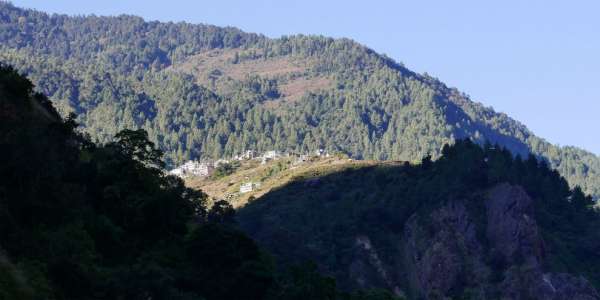 Nepalese wild bees
Behind Pairo and then at several other places on the trek you will see, if you look closely at the rock overhangs, the huge honeycombs of Nepalese wild bees. This honey is very valuable and also expensive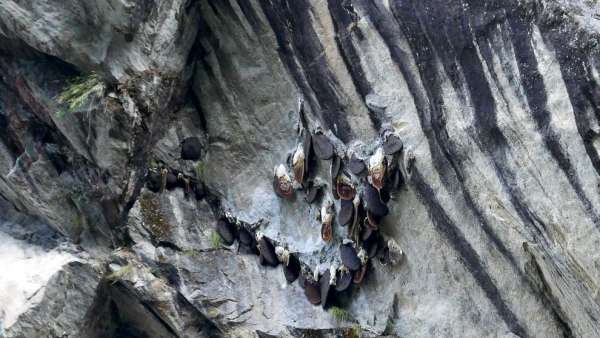 Jungle road
On the trek you will meet not only western tourists, porters and guides, students from Kathmandu, but also locals for whom the local trails are the daily bread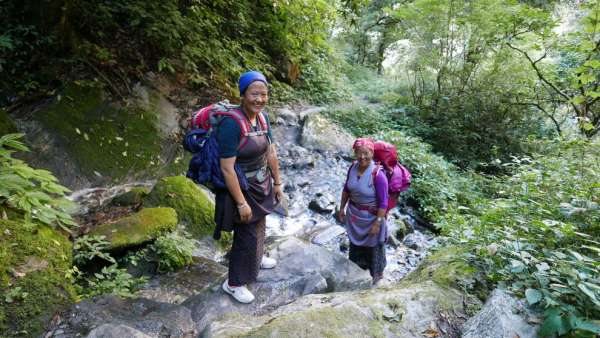 Waterfalls
The opposite, sunny slope is significantly arid, but there are also waterfalls. This trek is quite rich in them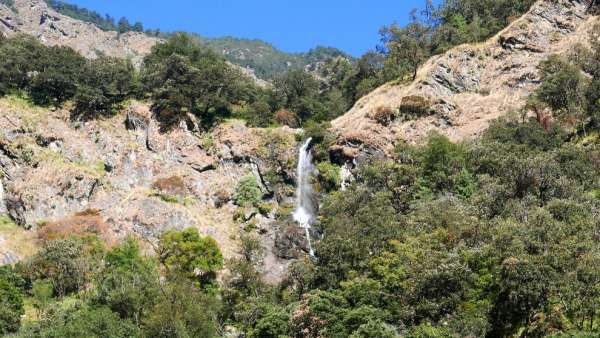 Nepalese porters
Porter – ordinary, very hard and not very well paid job in the Nepalese mountains. You will often be amazed at what these scantily clad men are capable of carrying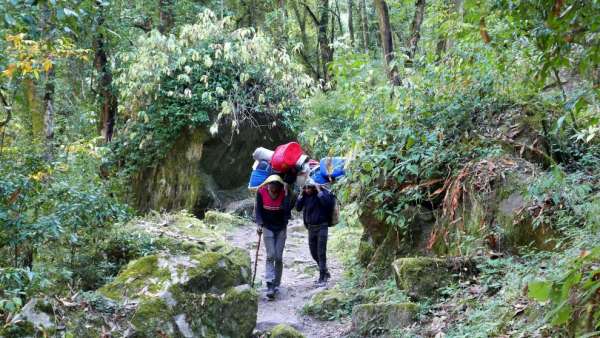 View of Bamboo
After less than two hours of walking from the Domain, Bamboo – which is a larger set of loggias – will appear in front of you, right by the roaring river.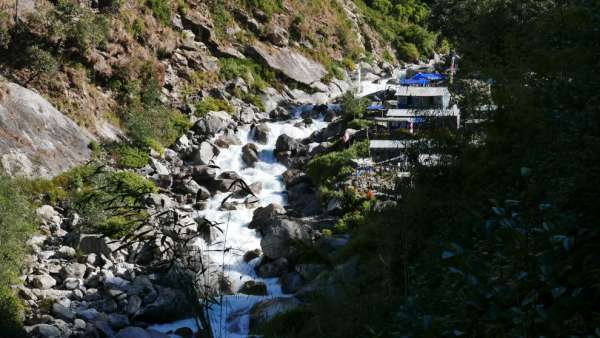 Langtang Khola in Bamboo
Bamboo is quite a picturesque place thanks to the river, but for the vast majority of tourists it is quite a short walk here and they continue to the Lama Hotel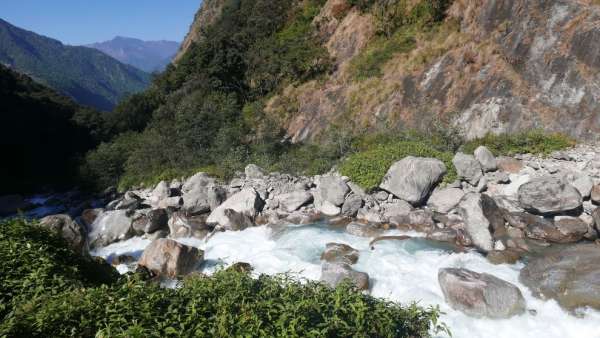 Applaud the author of the article!
Part of itienary
Article:
Langtang Trek
Langtang Trek is one of the most popular treks in Nepal. Thanks to its relative accessibility (by bus from KTM) and length (only… continue reading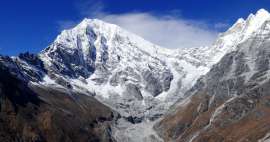 Thanks!
Have you been there? Write a review of this place
Already rated by 1 traveler