Viewpoint on the way to Ganja la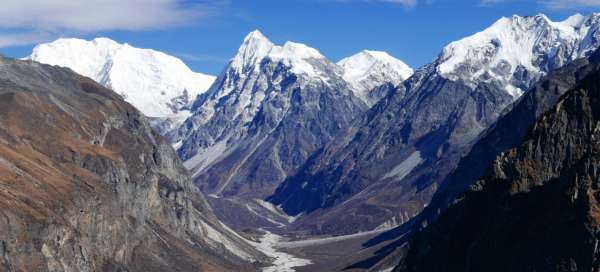 Langtang Trek Part 10: If you want to enjoy a one-day hike in Kyanjin gompa, where you will hardly meet a person and at the same time see the Langtang Khola valley from the other side, be sure to take a trip to Tangbu Pass (4,315 m above sea level). This small pass, however, is not marked in every map (it is not even on mapy.cz). However, it lies on the road that leads to the demanding 5,000-strong Ganja la saddle and it is a really great view. Orientation is especially challenging from the edge of the hike, when you have to hit the right path through the rhododendron forest
Descent to Langtang Khole
The beginning of this tour is marked by a descent of about 90 meters to the bridge over Langtang Kholu. The path down to the river begins at the southern end of the town, where quite a lot of garbage is thrown in the hillside – probably a local landfill. Helicopters are often flying early in the morning to take Korean tourists directly to Kathmandu. The path descends a boulder-covered slope with vegetation enjoyed by the Yaks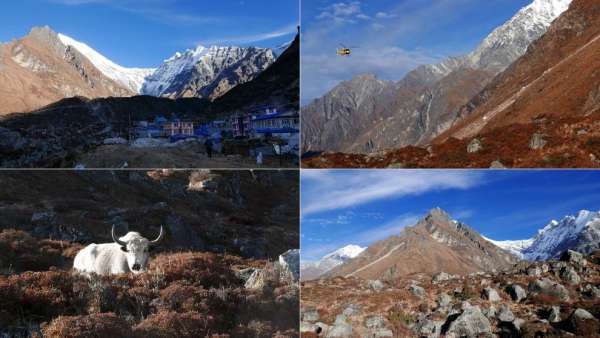 Looking back at Kyanjin Gompa
This is how the terrain surrounding the footpath looks from below. The photo is from the return from the hike, when you meet lumberjacks pulling wood from the rhododendron forest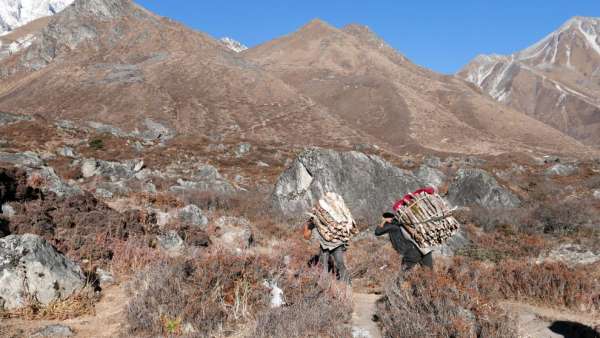 Bridge over Langtang Kholu
The first important point on this road (after about 15 minutes walk) is the bridge over the beautiful Langtang Kholu with the famous Tserko Ri on the horizon. Now comes the hard part to navigate. We asked the locals for the right way they showed different, they sent us to a big stone with flags (which is wrong). The only right way is the one that leads only a short distance from a small antenna standing on the edge of the forest, ie. stick only to the left not to the right. It's great to have an offline map of Nepal on mapy.cz, which shows very accurately and will help a lot on this tour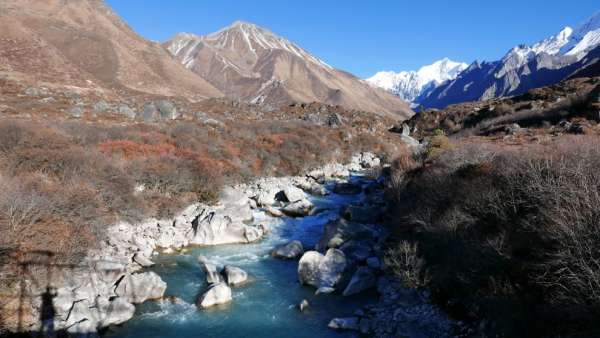 Ponds over the river
Before entering the forest, you can enjoy several lakes. It's also nicer here until the afternoon when you return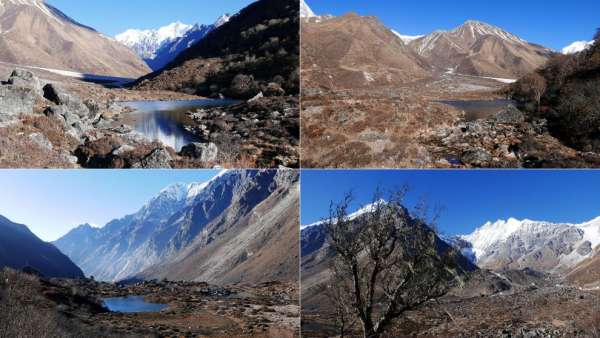 Rhododendron forest
When you finally find the right path through the forest and exhale the steep cliff, you can also enjoy the local fairytale-twisted forest with stray boulders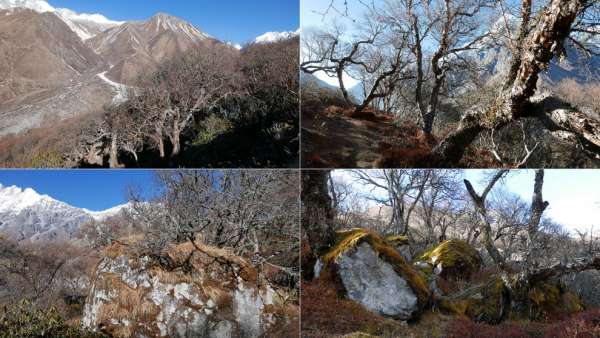 Beautiful view from the forest on Kyanjin Ri
Some views directly from the forest are absolutely breathtaking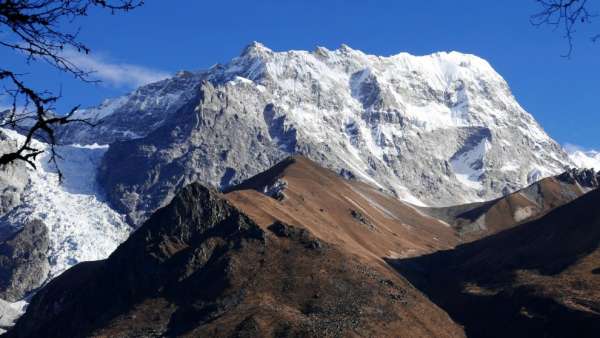 View of Kyanjin Gompa
Finally, the path emerges from the forest and opens up a wide view of the surroundings of Kyanjin Gompa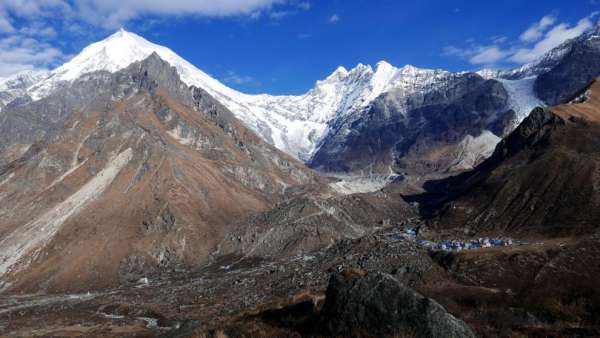 Pastoral fences
The road still climbs a slope of about 200 meters before the terrain flattens again for a while. In these places there are several stone fences and a few slabs where a tent could be set up. About two hundred meters to the east you can see a lot of prayer flags on the edge from where there is a good descent into the valley, certainly also a good view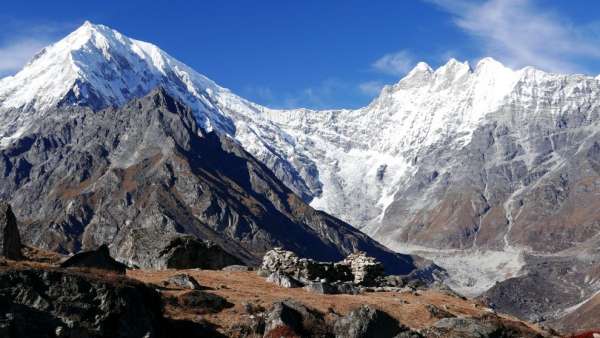 On the way under Tangbu Pass
There is a second confusing place at pastoral fences to hit the right footpath, if you have offline maps, you will soon get caught. The path between the stones begins to climb and you are slowly approaching a small side ridge, which is our goal. This is a look back and you can also see the flags on the edge of the pastoral plain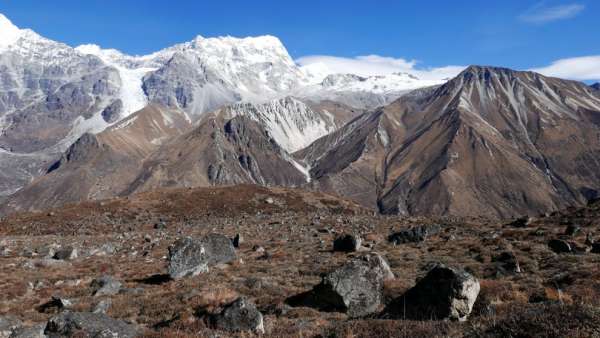 Views of the mountains beyond the valley
Climbing through open countryside, as here, has the advantage of constant views of the surrounding peaks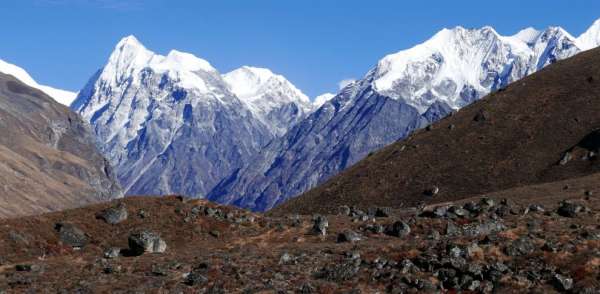 Landscape under the pass
The landscape under the pass is desolate, fine in good weather, I wouldn't want to go here in bad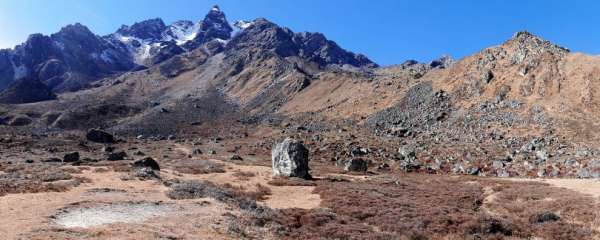 In the Tangbu Pass (4,315 m above sea level)
After a three hour walk from Kyanjin Gompa we are here in Tangbu Pass. It's definitely possible to manage it, but faster – we searched for a way a few times, loved the views and so on.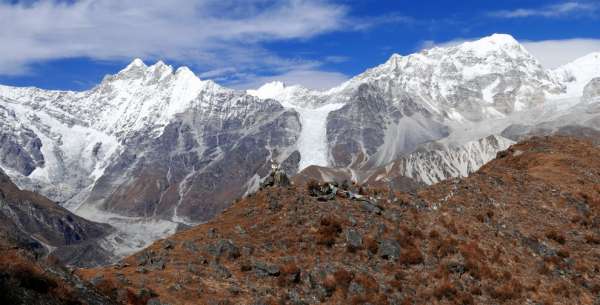 Views from the pass
From the pass, you can also see for the first time directly into the Langtang Khola valley and the mountain wall on the horizon. He returns from the pass the same way back. Or you can continue further and higher towards the saddle of Ganja La, but if you are not really a top athlete, then you do not have a chance to run out in a short day of November and still return to Kyanjin Gompa in the light of light. If you have a hard time with the fact that you have it as a trip for two days, then just below this mini pass is Naya Kanga Base Camp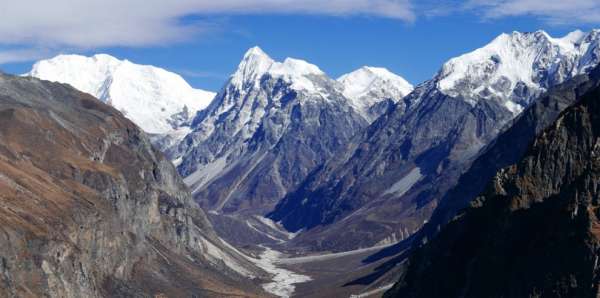 Looking back at Tangbu Pass
We continued even further from the pass. Right behind it, you can traverse a rocky slope and descend to the plot for Naya Kanga Base Camp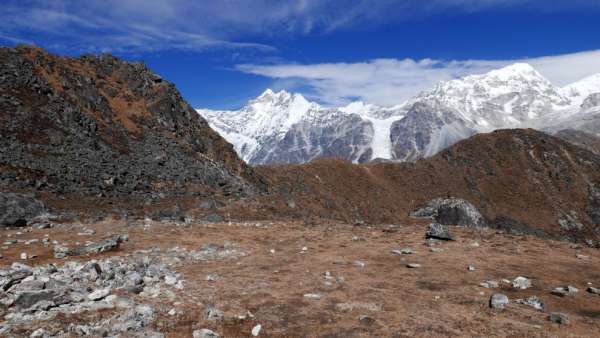 Naya Kanga Base Camp
This is what Naya Kanga Base Camp looks like. The plot is clean, but the tents are set up right at the end of the landslide route full of boulders – it doesn't look very quiet and safe to sleep here. From here it is also nice to see the continuation of the road in the direction of Ganja la – first by winding still along the meadow slope, but then continues to the rubble corridor, where the footpath is sometimes lost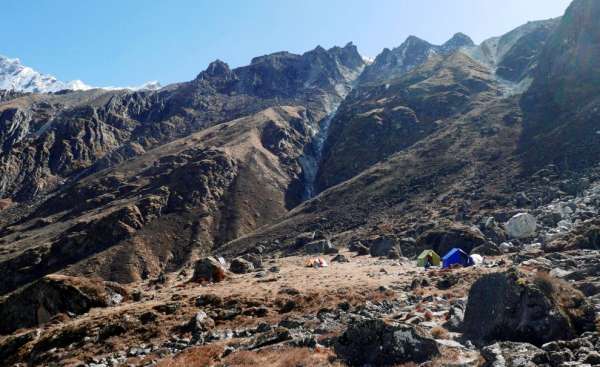 Above the camp
View from the slope, when the camp is already deep down
Rubble trough
The view of the camp gradually disappears behind the terrain wave and then the path climbs along the rubble trough, after which it disappears. During the one-day trip, we are starting to not have time, so we turn it back here in about 4,500 meters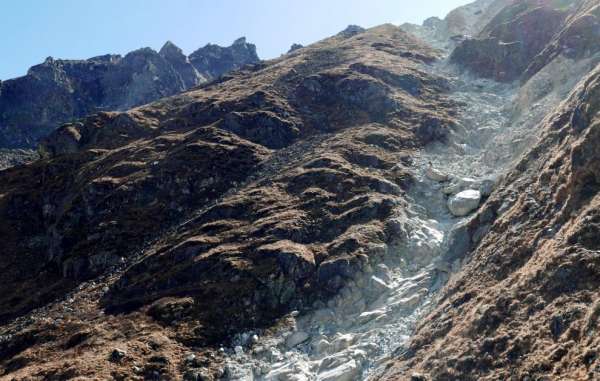 View of Tserko Ri
Last view of the Langtang valley and Tserko Ri, before descending back. An alternative descent traverse path from Tserko Ri is nice to see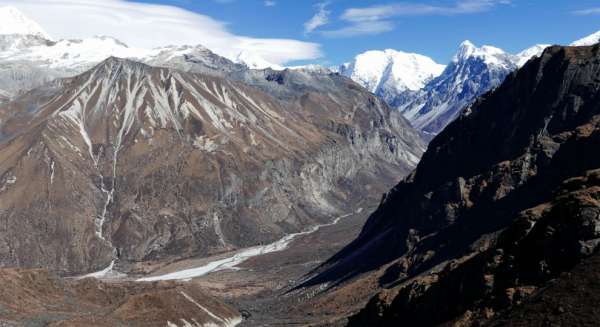 Applaud the author of the article!
Part of itienary
Article:
Langtang Trek
Langtang Trek is one of the most popular treks in Nepal. Thanks to its relative accessibility (by bus from KTM) and length (only… continue reading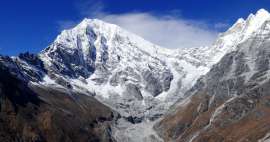 Thanks!
Have you been there? Write a review of this place
Already rated by 1 traveler