Alternative descent from Kyangin Ri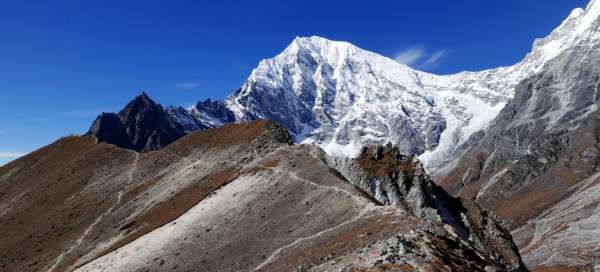 Langtang Trek Part 9: Kyangin Ri is a popular acclimatization tour from Kyanjin Gompa. However, most tourists return the same way or just a short distance away. A more interesting and adventurous alternative is to come down to the so-called Glacier Valley and return to the Kyanjin gompa by a little detour. Basically, you will make climbing from Kyangin Ri a relaxing trip for the whole day
Descent from Kyangin Ri by an alternative route
From the top of Kyangin Ri you continue on and descend along a narrow path towards the saddle. View back to the top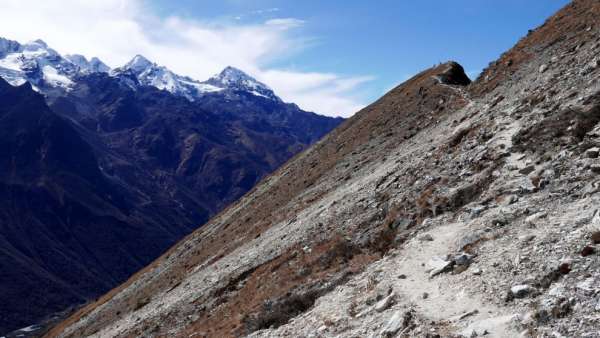 View from the saddle
You are in the saddle for a while, but before you start to descend into the valley, go a few meters further over the saddle and enjoy the beautiful view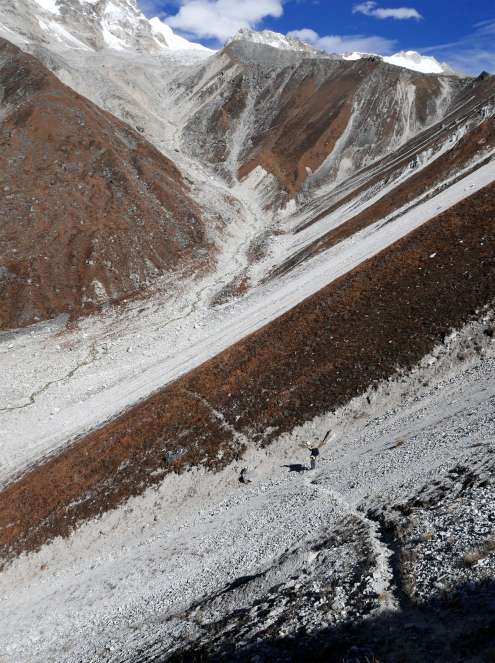 Bad descent
From the saddle, two paths descend into the Glacier Valley, the seemingly worse winding one is the right one. This more pronounced and at first glance more comfortable ends in a landslide slope and you will have to descend at least 50 meters before you hit the second one.
The bottom of the valley
The bottom of the valley is a proper stonemason supplied with material from weathered slopes. You must cross the valley to the other side along which the path leads down the valley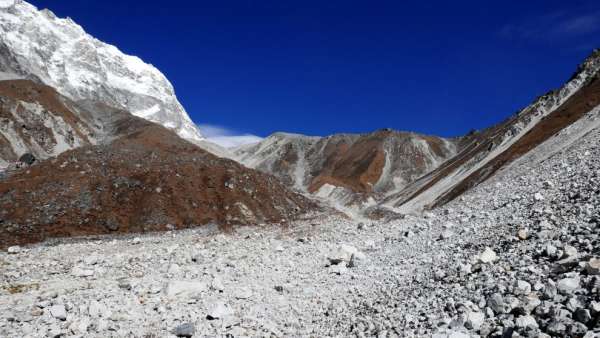 View of the saddle
In the stream in the middle of the stonemasonry, we replenished the water, which must be naturally nicely filtered. View from the other side of the valley to the saddle from where we started the descent and rubble slopes, which must be traversed on the way down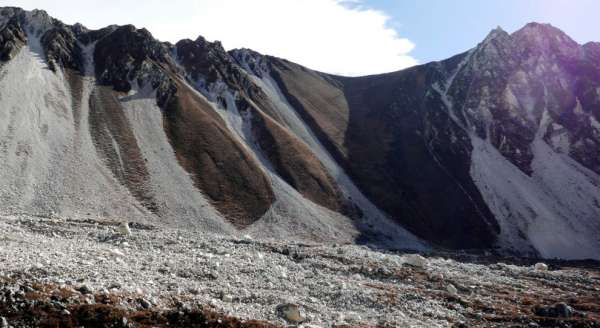 Descent down the valley
When descending, pay attention to the footpath, which is not always 100% clear. But be sure to always head to the pastoral stone pens, which you will see from a great distance on the edge of the valley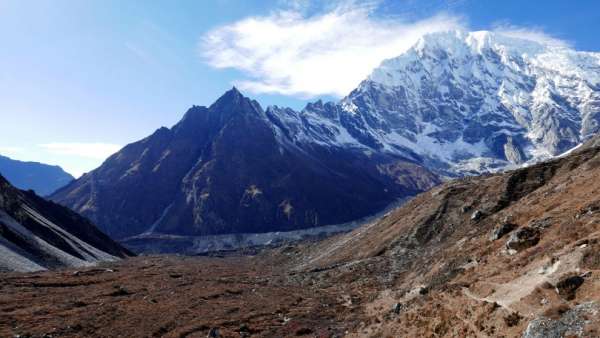 View of the Kimshung Glacier
When descending the valley, you have the largest Kimshung glacier here in the palm of your hand. If you still have the strength it is probably realistic to climb up the slope to the front of the glacier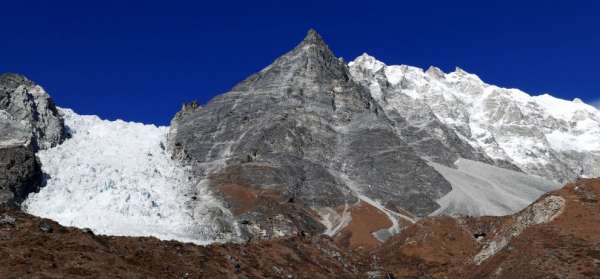 Glacier View Point
After about two hours of descent from Kyangin Ri through a completely deserted valley, you come to places where there are pastoral fences and large boulders. From here, the way back to Kyangin Gompa is absolutely clear and distinct. This place is also marked on the map as Glacier Viewpoint, which is based on the truth, as seen from the photo. From here you will meet people who come here for an easier acclimatization trip. So thanks to this alternative descent, you have two trips in one day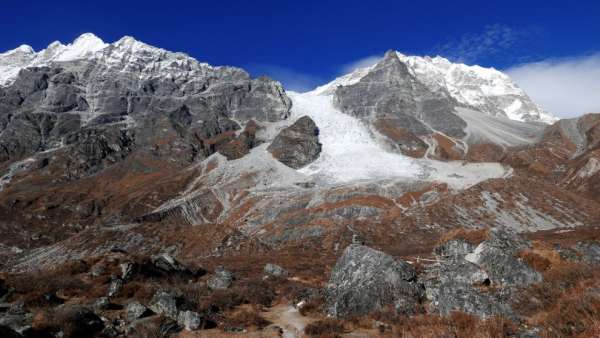 Langtang Lirung from Glacier View Point
Langtang Lirung is nice from everywhere
View of the descent path
Glacier View Point is more than a hundred meters above the valley and the road descends steeply. From here you can see all the way to our destination – Kyanjin Gompu far on the horizon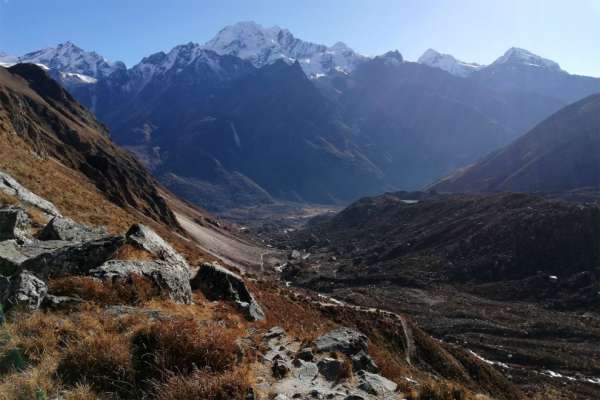 Road through the valley
After the initial steep descent, another walk through the valley is absolutely comfortable. It pays to turn quite often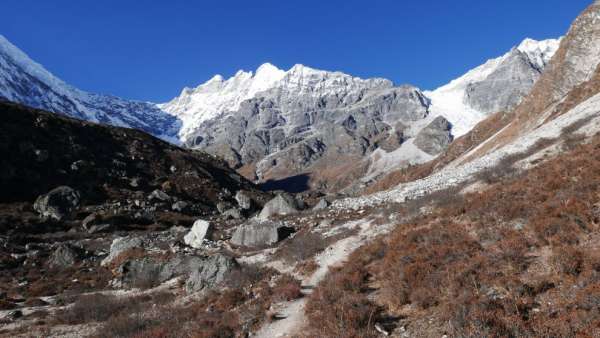 Road below Lower Kiangin Ri
The road follows the Lower Kiangin Ri, which we climbed at the very beginning of the day. From here it looks like a real rock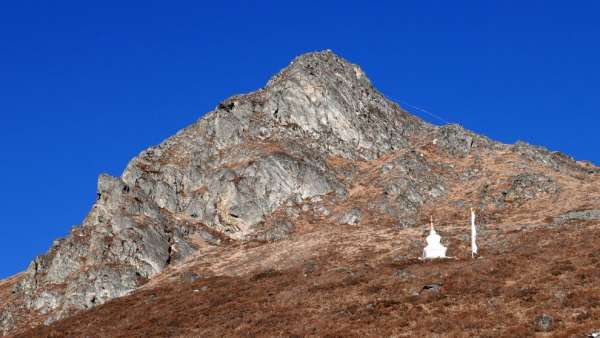 Before Kyangin Gompa
The circuit closes and we come back to Kyanjin Gompa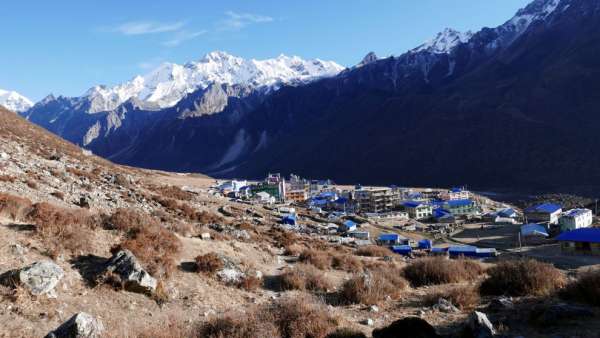 Applaud the author of the article!
Articles nearby
Part of itienary
Article:
Langtang Trek
Langtang Trek is one of the most popular treks in Nepal. Thanks to its relative accessibility (by bus from KTM) and length (only… continue reading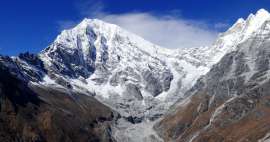 Thanks!
Have you been there? Write a review of this place
Already rated by 1 traveler