Beautiful views of monasteries and mountains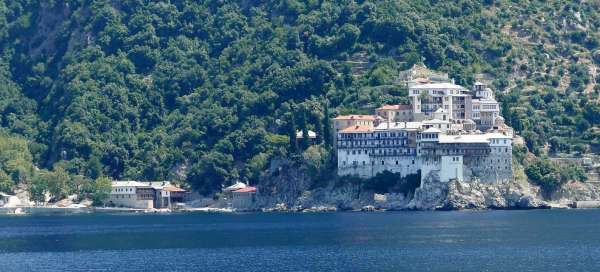 The most popular boat trip from Ouranopoli is undoubtedly the three-hour cruise to the impressive sacred Mount Athos and back. Along the way you have beautiful views of the magnificent monasteries and the mountainous landscape of this peninsula. Another bonus is the dolphins that often accompany cruise ships
Practical information for sailing
Boats leave twice a day, usually at 10:30 and 14:00. The standard price for an adult is 20E, if you inquire at the booths in the port, it is possible that they will offer you a price of 15E per cruise. You can board more than 30 minutes before departure and take a better seat. But it is not a problem during the voyage to commute around the ship between the decks and take pictures or enjoy. The ship does not stop anywhere, it simply goes to the holy mountain and back
Start of the cruise in Ouranopol
Right at the beginning of the cruise, at the exit from the port, you have beautiful views of the whole of Ouranopol with the famous tower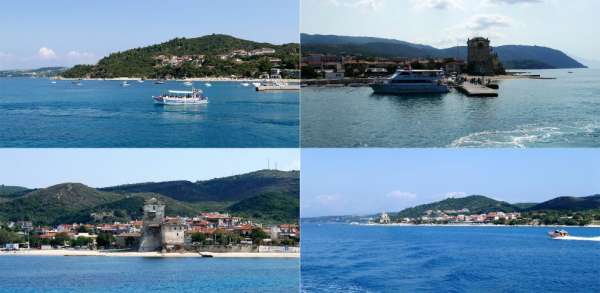 Agion Oros state border
After less than ten minutes of sailing, you are already at the borders of the Monastic Republic. The rest of the fortifications of the monastery of Zygos can also be seen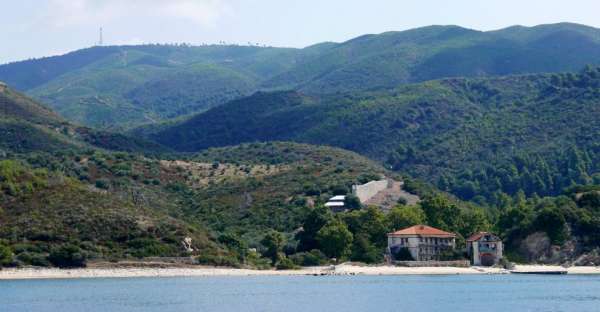 Seagulls
The seagulls know they'll get old bread, so they do aerial maneuvers around the ship. A very good opportunity to see them up close in flight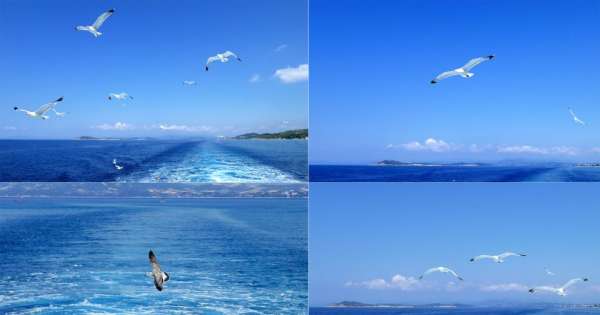 Ruins
At the mouth of a large mountain valley there are not only extensive groves of olive trees, but also the ruins of a small monastery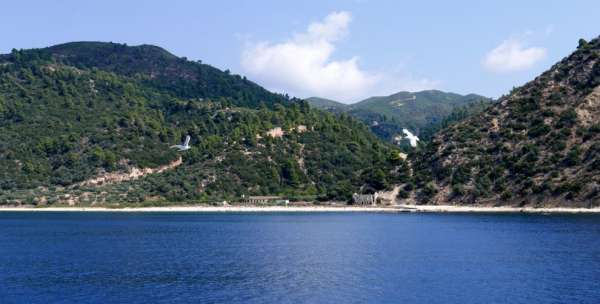 Gourounoskete
The first major monastery along the way is Gourounoskete, also called New Thebais
Beautiful beaches on Athos
Along the way, the boat passes a number of beautiful beaches, but it is not allowed to build here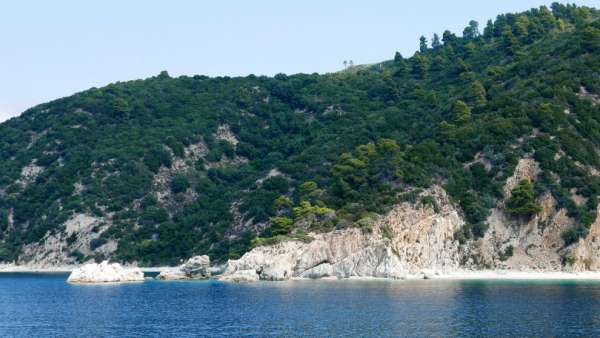 Yovanitsa
Another point on the way is the ferry port of Yovanitsa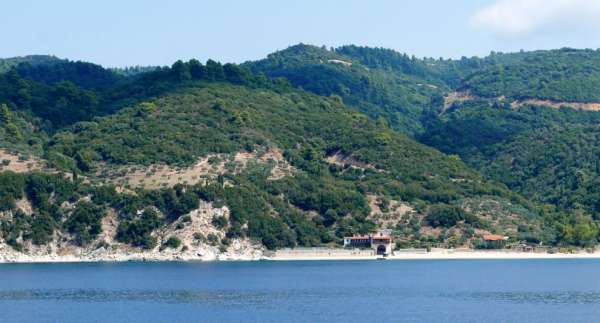 The port of the Zograph monastery
For me, the first really beautiful place on this cruise is the watchtower of the port of Zograph, set in a beautiful hilly landscape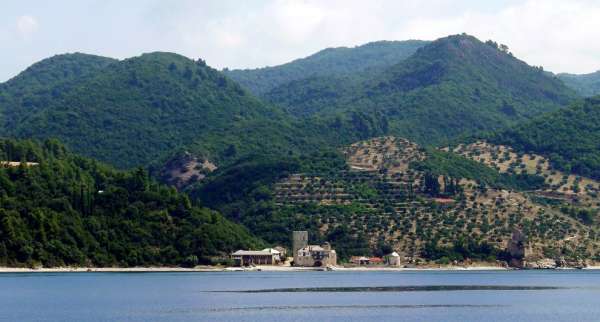 Little church
Just a few hundred meters from the port of Zograph is a small church on a rock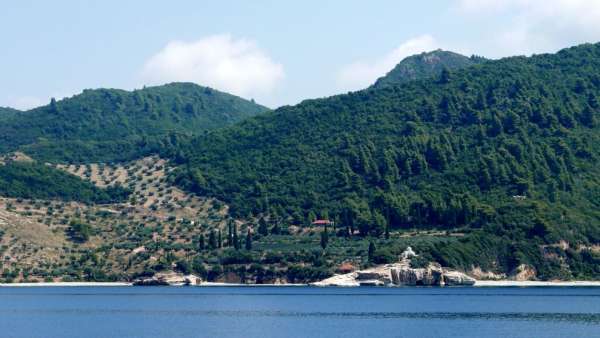 Dochiariou Monastery
You will only realize the monumentality of the monasteries on Athos when you arrive at the Dochiariou Monastery.
Xenophontos Monastery
Just less than a kilometer away is an even larger monastery – Xenophontos
Xenophontos and Dochiariou monasteries
The monasteries are so close to each other that they fit in one photo. Directly above them rise the green slopes of the local hills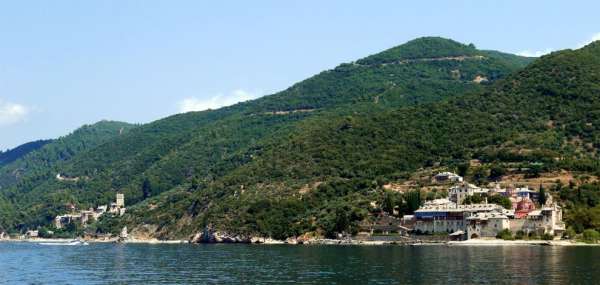 Monastery of st. Panteleimon
The most monumental of all monasteries is the so-called Russian monastery of st. Panteleimon
Xiropotamou Monastery
Xiropotamou Monastery is only less than two kilometers away from the Russian monastery, but unlike it high in the mountains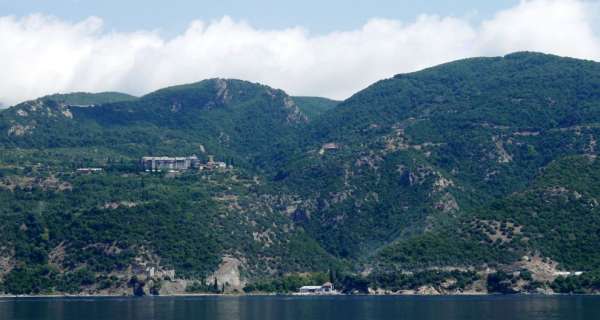 Dafni - the entry point to Athos
If you are a man and you get permission to enter Athos well in advance, Dafni is the only place where you can enter this monastic state.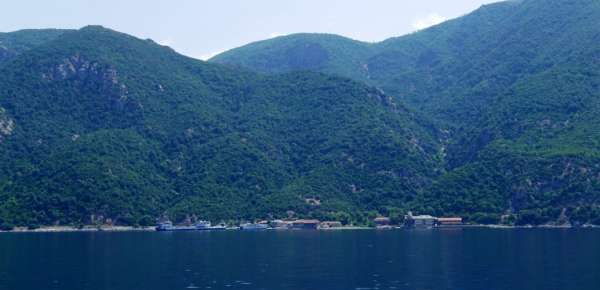 Simonopetra Monastery
The highlight of the whole voyage for me was the view of the "Eagle's Nest" monastery Simonopetra perched in rocks high in the mountains. Splendor
Simonpetra approached
When approached, it is beautiful to see how the monastery was built directly on the rock
Osiou Gregoriou Monastery
The closer you get to where the ship turns back, the more and more beautiful the landscape. Another of the monasteries, this time built on a rock directly above the sea, is Osiou Gregoriou
Dionysiou Monastery
Views of Mount Athos are getting better and the last monastery in relative proximity – Dionysia – is approaching
View of Athos
After an hour and three quarters of sailing, we are below Mount Athos, rising more than two kilometers above sea level, literally. The monastery of Agiou Pavla can still be seen on the horizon. The ship turns and returns to Ouranopol in the same way
Applaud the author of the article!
Part of gigalist
Giga List:
The most beautiful trips to Chalkidiki Athos
The northernmost of the three fingers of Chalkidiki is called Athos. Its western part belongs to Greece and the eastern part to a… continue reading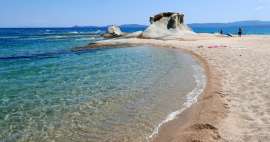 Thanks!
Have you been there? Write a review of this place
Already rated by 1 traveler