What to see and visit in Utah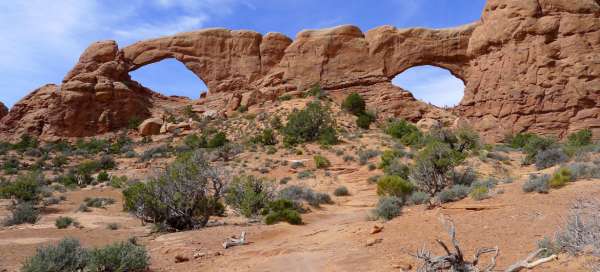 Utah is the most typical part of the American West – colorful rocks, deserts and mountains. In the south of this state you will also find the most beautiful national parks in the USA. Here you can take pleasant simple walks with beautiful views thanks to the perfect tourist infrastructure, but also adventurous hikes into the wilderness, where you will meet only a fraction of people. Let's take a look at the trips that are definitely worth taking in Utah.
Wading in the Virgin River
|
Altitude: 1 395 m / 4 577 ft
The Narrows is the narrowest part of the canyon in Zion National Park. At a height of over 300 meters and in… continue reading
Descent to the very bottom of the Grand Canyon
|
Altitude: 1 011 m / 3 317 ft
There is probably no more world-famous place than the Grand Canyon. I had the opportunity to look at the very… continue reading
Road to the symbol of Utah
|
Altitude: 1 473 m / 4 833 ft
Arches National Park is located in Utah and is unique with its gates, windows and arches. In the park there… continue reading
Marlboro country
|
Altitude: 1 711 m / 5 614 ft
Few who embark on a trip through the parks of the western United States miss the scenic Monument Valley. You… continue reading
Unique view of the Grand Canyon
|
Altitude: 1 011 m / 3 317 ft
There is an airport in Tusayan where there are sightseeing flights by helicopter and plane. The company… continue reading
Goosenecks State Park and Valley of the Gods
|
Altitude: 1 272 m / 4 173 ft
Maxican Hat is not only a famous rock formation, but also a small town located just off the San Juan River.… continue reading
An insight into the Pink Desert
|
Altitude: 1 792 m / 5 879 ft
This park is located in the state of Utah and was created by erosion of pink colored sandstone due to the… continue reading
Goosneck Point
|
Altitude: 1 938 m / 6 358 ft
Capitol Reef National Park is one of the younger parks. It was founded in 1971 thanks to its well-preserved… continue reading
Inside the Red Mountains
|
Altitude: 1 098 m / 3 602 ft
This inconspicuous park near the town of St. George is the gateway to the pearls of Utah. Snow Canyon has… continue reading
Mormon Sea
|
Altitude: 1 281 m / 4 203 ft
Salt Lake is one of the most famous lakes in the United States. It is located next to Utah's capital and… continue reading
Applaud the author of the article!
Articles nearby