The best of trips in Central and Eastern Turkey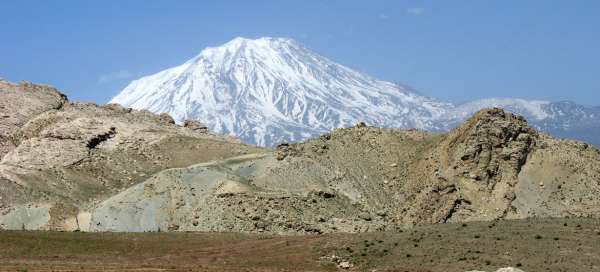 Most visitors to Turkey know only its coastal riviera in the south or west of the country, or the capital Istanbul. But the center and east of the country can offer far more exotic trips to beautiful nature and interesting monuments – such as the fairytale landscape of Cappadocia or the former capital of Armenia Ani. Let's take a look at trips that are definitely worth taking in the East and Central Turkey.
World of rocks from Göreme to Çavuşin
|
Altitude: 1 050 m / 3 445 ft
The trip starting near the town of Göreme is very beautiful and offers incredible views of the surrounding… continue reading
Fairytale palace near Ararat
|
Altitude: 1 945 m / 6 381 ft
At the very eastern end of Turkey, only a few kilometers from Iran, lies in the foothills of volcanic… continue reading
Town with 1001 churches
|
Altitude: 1 490 m / 4 888 ft
The ruins of the former mighty capital of Armenian Kingdom Bagratuni lie right on the Turkish-Armenian border… continue reading
Around two volcanic lakes
|
Altitude: 1 095 m / 3 593 ft
The 50,000-strong city of Karapinar attracts visitors only thanks to an interesting volcanic field ten… continue reading
A trip to the Armenian Church on the island of Ahtamar
|
Altitude: 1 663 m / 5 456 ft
Ahtamar is a small island on Lake Van with an area of 70 hectares located 3 km from the south coast and 18 km… continue reading
The heart of Cappadocia
|
Altitude: 1 100 m / 3 609 ft
Göreme belong to the most often visited towns in Cappadocia located in the center of Anatolia. If you think… continue reading
Ascent to the highest mountain in Central Turkey
|
Altitude: 3 917 m / 12 851 ft
Ercyies Dagi volcano (3,917 m above sea level) is the highest mountain in Central Turkey. It is a real… continue reading
The best preserved inn for caravans
|
Altitude: 947 m / 3 107 ft
Sultanhanı Kervansarayı is considered one of the best-preserved "inns" for caravans. The light fortifications… continue reading
Applaud the author of the article!
Articles nearby