What to do and experience in Iceland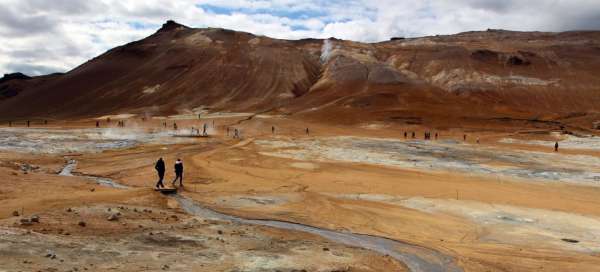 Iceland is one of the most beautiful countries in the world due to its rugged geologically very lively landscape. The most common destinations for trips are the local beautiful waterfalls, mountain landscape with glacial lagoons. Let's see what interesting things you can do here for trips
Including Europe's largest waterfall
|
Altitude: 199 m / 653 ft
Iceland is called the "landscape of ice and fire". But also "the land of thousands of waterfalls". And… continue reading
With ascent to Brennisteinsald (881 m asl) and Bláhnúkur (945 m asl)
|
Altitude: 945 m / 3 100 ft
Trek in the Liparite (rainbow) mountains of Landmannalaugár, in the Fjallabak nature reserve. Views from the… continue reading
About a beautiful volcano and its surroundings
|
Altitude: 420 m / 1 378 ft
Hverfjall volcano is located in northwestern Iceland on Lake Myvatn. It is a 420 meter high volcano, which… continue reading
View of the highest mountain in Iceland - Hvannadalshnjúkur.
|
Altitude: 1 126 m / 3 694 ft
Kristínartindar (1126 m above sea level) is a mountain rising between the slides of the glaciers Vatnajökull,… continue reading
Glacier lagoon
|
Altitude: 130 m / 427 ft
The Glacier Lagoon is located almost 400 km from Reykjavík on the main road that goes around the whole island… continue reading
Knowing what shapes the land of ice and fire
Altitude: 1 166 m / 3 825 ft
Iceland is a popular tourist destination for travelers from all over the world. Endless glaciers, monumental… continue reading
Churches and small churches, small and huge, picturesque and modern.
|
Altitude: 38 m / 125 ft
You will not find historical architectural monuments of the "European" type in Iceland. The view of the… continue reading
Rainbow waterfall
|
Altitude: 97 m / 318 ft
It is called one of the most beautiful and most impressive waterfalls in Iceland. 60 m high and 15 m wide… continue reading
Stone stairs
Reynisfjara is a beach known mainly for its surrounding hills, which look like stone steps and are also known… continue reading
Winter black beach
The journey to the plane takes an hour, the disadvantage is that you have to complete the same journey again… continue reading
Applaud the author of the article!