Excursions in the capital of Australia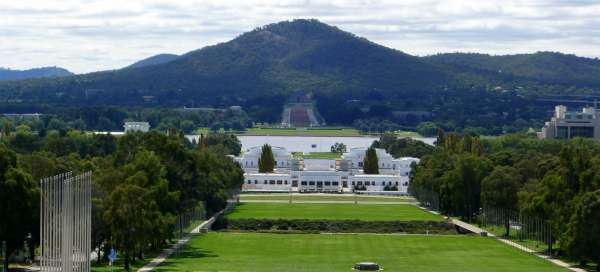 Although Canberra is the capital of Australia, compared to Sydney or Melbourne, it offers significantly fewer opportunities for excursions. You can walk around the city and its surroundings in a day or two. There are two important monuments – the Parliament and the war memorial. You can walk around the Central Basin or to several adjacent lookout hills such as Mount Ainslie or Black Mountain.
Walk in Canberra Nature Park
Altitude: 837 m / 2 746 ft
From Canberry you can go on some nice walks. Probably the most famous of these is Mount Ainslie, located in… continue reading
A hill with the new and old Australian Parliament
Altitude: 597 m / 1 959 ft
In the center of Canberry you will find the indistinct Capital Hill, topped by the architecturally… continue reading
The most important war memorial in Australia
Altitude: 587 m / 1 926 ft
The Australian War Memorial in Canberra is a very important building, of course, especially for Australians.… continue reading
A pleasant walk in the center of Canberry
Altitude: 556 m / 1 824 ft
The Molonglo River flows through the center of Canberry and forms a system of lakes. For visitors to Canberry… continue reading
Applaud the author of the article!