The best trips in the south of Jordan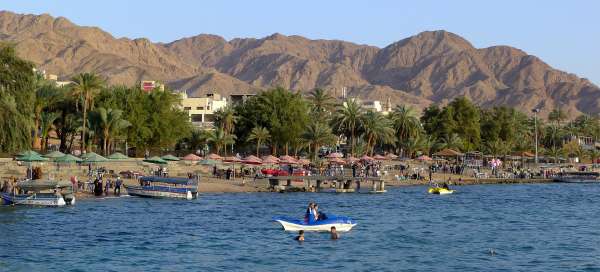 In the very south of Jordan you will find the city of Aqaba – Jordan's holiday center. From Aqaba you can go on a trip to Tala Bay, visit Israel with the famous city of Eilat or go to the beautiful Wadi Rum desert. The Aqaba itself is worth a visit.
Dolomiti in orange desert
|
Altitude: 1 050 m / 3 445 ft
Amazing orange desert Wadi Rum is somewhat unjustly in the shadow of Jordan's largest tourist magnet – rock… continue reading
A southern Israeli city on the Red Sea
|
Altitude: 41 m / 135 ft
Eilat is located in the south of the state of Israel, at the very head of the Gulf of Aqaba in the Black Sea.… continue reading
Center of Jordan Riviera
Fifteen kilometers south of the center of Aqaba is Jordan's tourist residence – Gulf of Tala Bay. Five-star… continue reading
Metropole of South Jordan
A tour of the Aqaba in southern Jordan will not take much time. Among the biggest attractions that are… continue reading
Applaud the author of the article!
Articles nearby