The best of Bratislava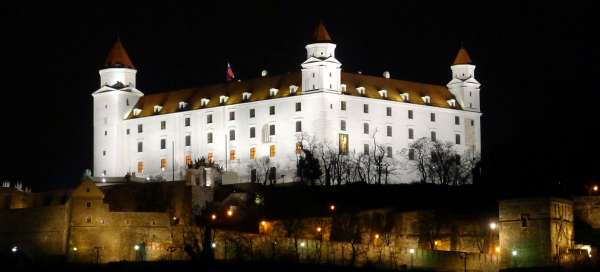 Bratislava, as the largest and capital city of Slovakia, offers a number of interesting sights. The icon of the city is, of course, the local castle, which towers over the historic center. Then there are some picturesque squares, monasteries and churches. Let's take a look at the most interesting places in Bratislava.
The most famous panorama of Bratislava
Altitude: 204 m / 669 ft
Bratislava Castle is undoubtedly one of the most famous Slovak symbols and an unmissable building in… continue reading
The heart of Bratislava
|
Altitude: 139 m / 456 ft
The square is located in the Old Town. It is a central square and one of the most famous in Bratislava. It is… continue reading
The most important church monument in Bratislava
Altitude: 145 m / 476 ft
St. Martin's Cathedral in Bratislava is one of the largest churches in Slovakia. It is the most important… continue reading
Historical building
|
Altitude: 141 m / 463 ft
It is a Neo-Renaissance building on Hviezdoslav Square. The building was built by Viennese architects… continue reading
The largest in Bratislava
|
Altitude: 140 m / 459 ft
It is one of the most famous squares in Bratislava, located on the left bank of the Danube between the SNP… continue reading
Entry into history
|
Altitude: 151 m / 495 ft
Michalská Gate is the only preserved gate out of the original four in Bratislava's city fortifications, named… continue reading
Altitude: 141 m / 463 ft
Almost the entire northeastern part of the Franciscan Square in the Old City of Bratislava is occupied by the… continue reading
Dominant bridge of the Slovak National Uprising
Altitude: 137 m / 449 ft
UFO is essentially a modern observation tower, 95 meters high, towering above the huge bridge of the Slovak… continue reading
Applaud the author of the article!
Articles nearby