The most beautiful valley of the Austrian Alps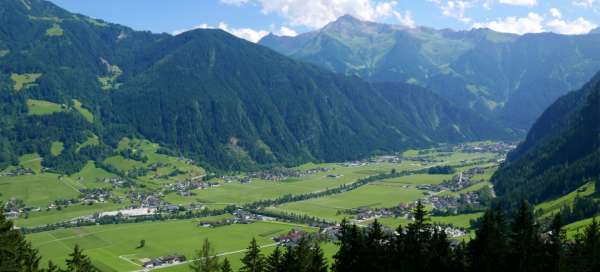 Alpine valleys are the most picturesque parts of the mountains and the starting point for all hikes. In Austria, you will find several very beautiful mountain valleys, including the largest – the valley of the river Inn. Let's see which Alpine valleys in Austria are definitely worth a visit.
Inn River Valley
Altitude: 616 m / 2 021 ft
The largest Austrian mountain valley is the Inntal. The mighty Inn River originates in Switzerland, not far… continue reading
The center of the Zillertal Alps
Altitude: 560 m / 1 837 ft
The beautiful Zillertal Valley is the heart of the Zillertal Alps. The mighty Ziller River itself flows about… continue reading
The longest alpine side valley in Austria
Altitude: 1 173 m / 3 848 ft
The Ötztal is a nearly seventy kilometer long valley. It is the border between two important mountain groups… continue reading
A picturesque valley in the west of Austria
Altitude: 982 m / 3 222 ft
At the very western end of Austria, you will find the picturesque Lechtal Valley to the north of the Lechtal… continue reading
The valley below the High Tauras
Altitude: 569 m / 1 867 ft
The Salzach River is the largest tributary of the magnificent Inn. The most visited and most beautiful part… continue reading
The beautiful valley of the Ruetz river
Altitude: 995 m / 3 264 ft
The Stubaital is a picturesque valley in the heart of the Stubai Alps. The Ruetz River flows through the… continue reading
The second largest valley in the Ötztal Alps
Altitude: 1 138 m / 3 734 ft
The Pitztal is a roughly forty kilometer long side valley in the center of the Ötztal Alps. It starts right… continue reading
The valley below Germany's highest mountain
Altitude: 963 m / 3 159 ft
The Loisachtal is a valley that starts in Austria, but its larger part is located in neighboring Bavaria. The… continue reading
Applaud the author of the article!
Articles nearby
Part of gigalist
Giga List:
What to experience in Austria
In Austria, a beautiful Alpine country, you should definitely experience its nature. You will find beautiful lakes here, not only… continue reading