Free or cheap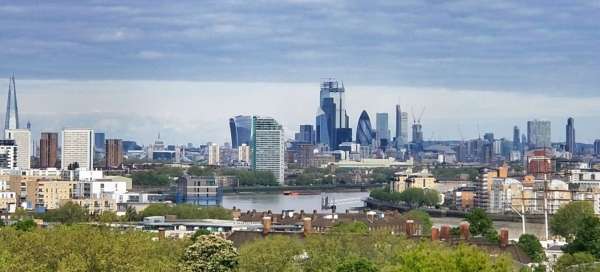 London is generally a relatively expensive city in terms of traditional experiences. Admission to landmarks such as the Tower of London or the London Eye is around £ 25 or more. Our several-month stay in London has allowed us to explore the city more, so I give you some tips on interesting attractions that are much cheaper or completely free and worth visiting.
Animal farm at Canary Wharf
They found an unconventional location on Canary Wharf for their Zoo corner or animal farm. This peninsula with modern skyscrapers is the new financial center of London. As an interesting combination, we came to combine a tour of this hyper-modern district, where there are a minimum of people on weekends, and then continue with a nice walk along the river canal and docks to the green space where the farm is located. It is interesting how you can move to such a diametrically different environment in 20 minutes. A visit to the farm is free, children can buy pellets and feed sheep, goats, llamas, ducks and other inhabitants of the farm. There are also toilets and a small bistro with snacks.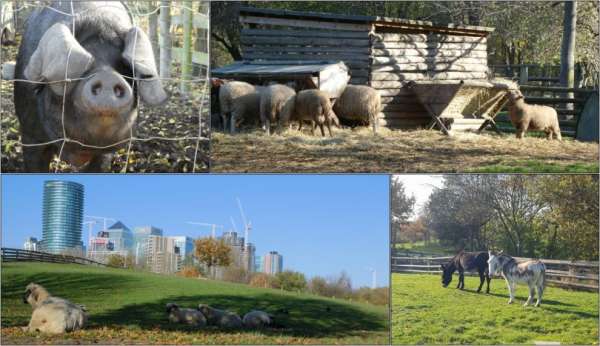 Sky Garden view
As a very good alternative to the view from the tallest skyscraper in London, the Shard, for which you pay CZK 1,200, we get a view that is completely free and only slightly lower. You will find it just across the Shard across the river in the City of London building nicknamed the "Walkie Talkie". All you have to do is make a reservation here (https://skygarden.london/booking) and then prove yourself at the time entry with a confirmation email. Upstairs you will find a panoramic terrace, a tropical garden and a restaurant with a café. You can make as many reservations as you want, but watch when they open the date you want on the site, because everything is dismantled soon during the season. Usually they open dates about 3 weeks to a month in advance.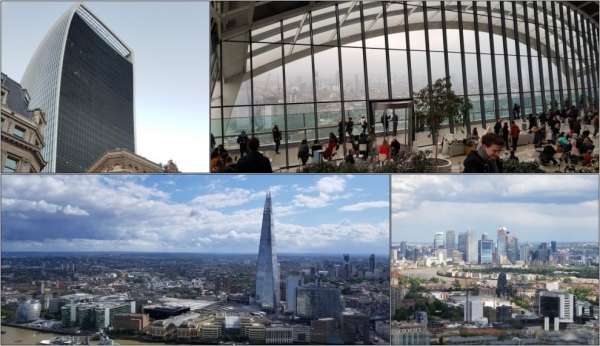 The Garden at 120
An alternative option if you have not made a reservation at Sky Garden is a building next door, where no reservation is mandatory. At the entrance, they will just drive you through an X-ray everywhere and you can already enjoy the roof garden with a water canal and a view of the whole of London. Here you can also sunbathe on the benches, because the garden is not covered, just like the Sky garden. Here, too, you will find small snacks upstairs, but no one minds eating their own snack.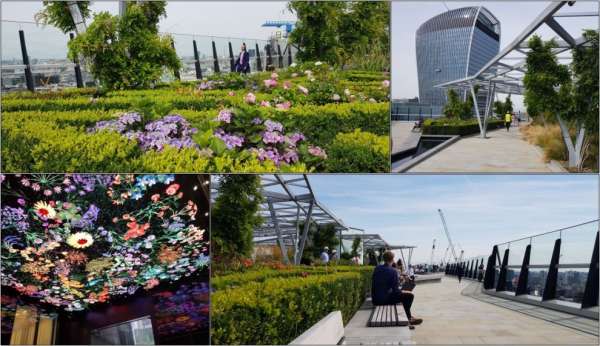 AirLine cable car
If your prospects are scarce, you can "fly" in London in the cabin of the cable car from Emirates. One end of the cable car is located in North Greenwich, just a few steps from the Tube and takes you across the river to the docks. This attraction is already charged, but you can also use a contactless credit card here (as for all public transport in London) and one way will cost you £ 3.5 (but that doesn't count to the all-day public transport limit). The views from the cable car are great and they can take a pram on board without any problems.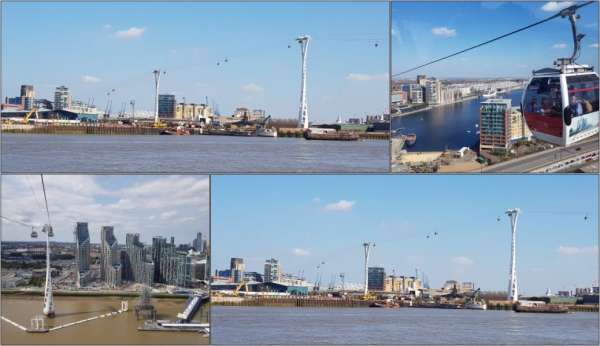 Boat trip-Thames clippers
Our favorite activity we do with visitors is a boat trip on the Thames. You pay £ 20 or more for a regular cruise, while with the Thames clippers, which serve in London, a 40-minute drive from Greenwich to Westminster costs about £ 7 as a kind of ferry. Again, you only use your contactless payment card and the trip does not count towards the daily public transit limit. Times and stops can be conveniently marked with Google maps, which we also use for navigation in public transport. On board the ferry you feel like you are in a comfortable train or plane. There is a bar, toilets and comfortable leather seats. The view of the city from the river provides new and unconventional views of monuments that you already know otherwise.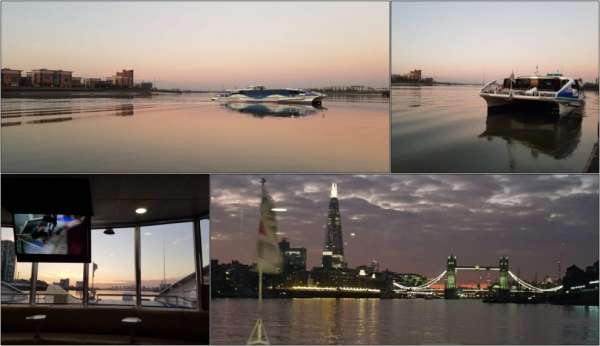 Parrots in Hyde Park
London is known for its squirrels in parks that can be fed by hand, but did you know that you can also feed parrots by hand? In Hyde Park, just behind the bridge (see the marked location), you will find a place where the locals learned a group of Alexander the Little parrots to fly in and eat grains or apples straight from their hands. You can observe or hear these parrots almost all over London. They have been domesticated in local parks since the 1970s, when a few breeders who brought them from sunny Spain flew away.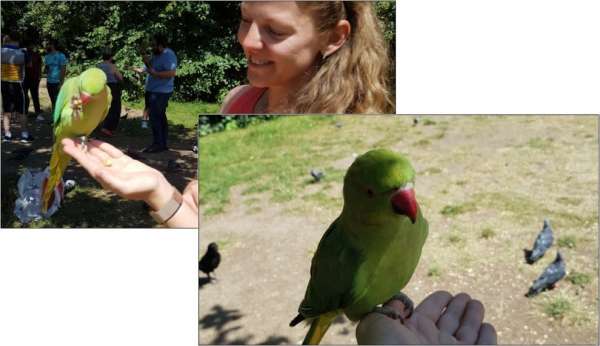 Squirrels in St. Petersburg James Park
We can't miss those famous London squirrels on our tour. Probably nowhere else in the city in the world do they have such domesticated and sometimes cracked squirrels as in London. The obligatory equipment of our backpacks thus forms a package of nuts. You can find the best ones in St. James Park in front of Buckingham Palace, but also in Hyde Park or at the farm from the beginning of this article, you can find them almost always and always to your liking.
Museums
In London, all state museums and galleries are accessible free of charge. You also have in the rain, which so often affects the city, where to hide and enjoy an interesting experience. We liked the following: – Museum of London – all about the history of the city up to its present. Very interactive elements and always new and interesting exhibitions. Such as Beast in London – an exhibition intended mainly for children, where you move to a new room every 10 minutes, where individual animal inhabitants such as pigeons, foxes (very often seen in the city), dogs, cats, horses, mice and circus animals. – Museum of Docklands – a subsidiary of the Museum of London, can be found on Canary Wharf and shows life in the docks and many other attractions around the city's water. Currently, the new exhibition maps the forgotten rivers that flowed through the city and were built. – Science museum – in South Kensington you will find many of the most important museums and also this one focused on science, where both children and adults will have fun for the whole day. You will find many interactive exhibits and everything is clearly explained, so that you will not even notice how much new knowledge you are taking away. – History museum – according to the photos, you will undoubtedly recognize it by the skeleton of a whale hanging in the main entrance hall. The entire museum building is a charming reminder of historic English architecture. Inside, the museum will introduce you to all the interesting animals and show you much more.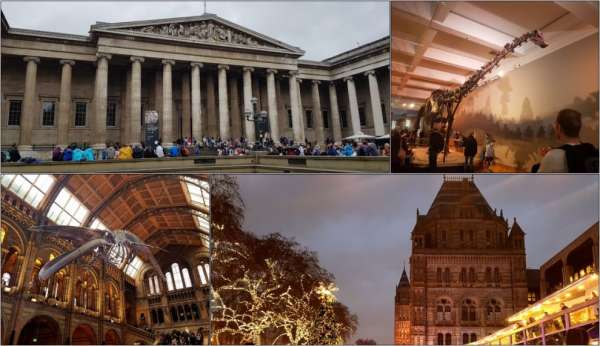 Zero meridian in Greenwich
A visit to East London Greenwich is undoubtedly a tour of the city. Here, too, you can choose an alternative version of the tour and not pay the entrance fee to the observatory. The zero meridian, which was artificially established by the British because they simply had the right to choose, passes through the observatory grounds, but of course it continues. A small black goal just above the footpath pointing downwards you will find a continuation of this zero meridian, where you can take a photo, as well as the original measures (inch, yard, elbow,…) just in front of the goal. From the top of the park there is also a beautiful view of the whole of Canary Wharf.
Queen's house in Greenwich
Once you're in Greenwich, here's another free entry tip. First, there is the Naval Museum, which you can walk through, and then also the Queen's House. Here you can walk through the three-storey Victorian house of Queen Elizabeth I. And a full parade of beautiful decoration and spiral staircases. It is also wheelchair accessible thanks to modern elevators.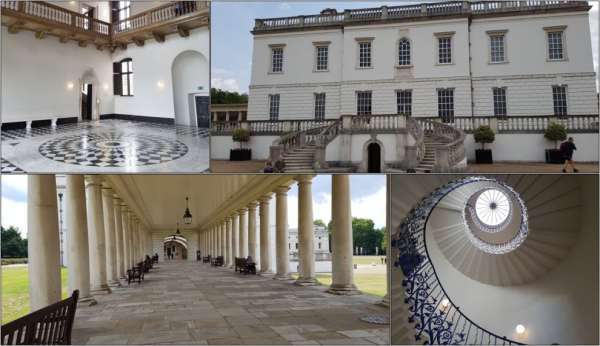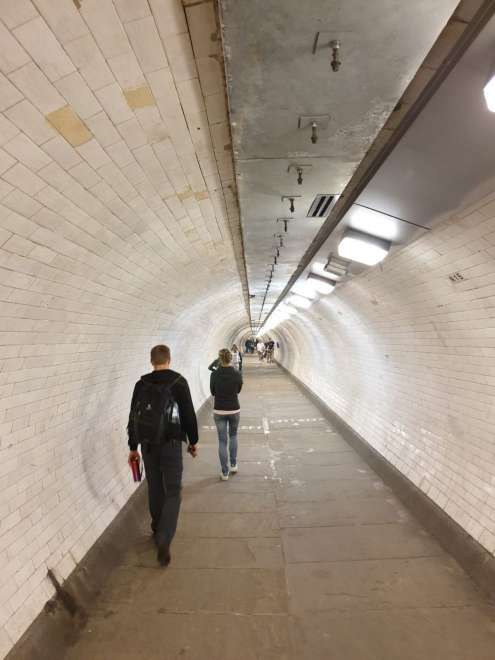 Subway under the Thames
An unconventional experience for tourists is the tunnel that leads under the Thames and lets you walk through dry feet from Greenwich to the other bank towards Canary Wharf. Of course it is free and barrier-free. Of interest is the narrowing of this tunnel at the end towards Grennwich, where the tunnel was hit by a bomb during World War II and had to be "patched".
Article:
Roof terrace on One new change
Beautiful views of St Paul's Cathedral in the heart of London can be enjoyed for free on the roof of the One new charge shopping… continue reading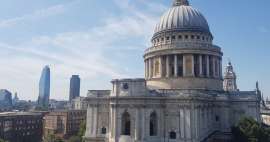 Applaud the author of the article!
Part of gigalist
Giga List:
The most beautiful trips from London
London, as one of the largest cities in Europe, offers a large number of interesting places and sights. In addition, it is… continue reading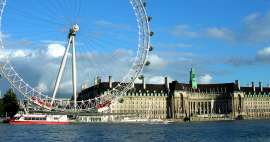 Part of itienary
Article:
An itinerary to explore London and the surrounding area
Do you think that the Euro weekend in London will show you everything that such a big city has to offer and nothing more? Error.… continue reading
Thanks!
Have you been there? Write a review of this place
Already rated by 2 travelers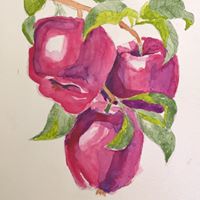 Děkuju za tipy. Bylo to super. Ještě bych doplnil výhled z Boken baru na budově Novotelu v Canary Wharfu https://www.google.com/maps/place/B%C5%8Dkan+38+Bar+%26+39+Rooftop/@51.5012029,-0.0254266,17z/data=!3m1!4b1!4m5!3m4!1s0x487602b89cd30151:0xfdd3a4528af2d564!8m2!3d51.5011996!4d-0.0232379