Advent in London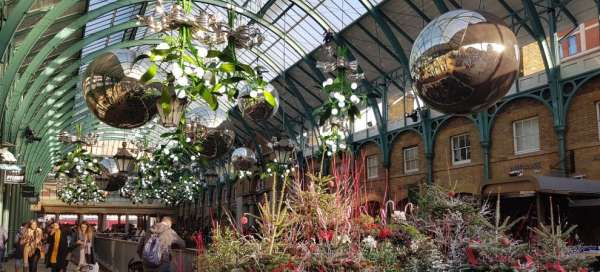 London has its charm at any time of the year and I was very pleasantly surprised by how to change during Advent. The places that were so well known to us before turned into a garment of lights and Christmas decorations beyond recognition. Londoners can really enjoy the Christmas atmosphere with everything. Here you will find lighted whole streets with decorations, picturesque nooks and crannies or decorated entrances to shops and hotels, and there are also classic city ice rinks. So up to the whirl of the big city in an unconventional Christmas coat.
Picturesque Covent Garden
Covent Garden is about a 5-minute walk from Charing Cross Rail Station in the city center. The district is made up of narrow streets, a tangle of small crossroads, courtyards and arcades. You will find countless small shops from boutiques, shops to delicacies, renowned restaurants with cuisines from around the world to hipster cafes. The center of events is the local market in front of the church of St. Paul. The neighborhood is undoubtedly worth a visit throughout the year, but during Advent this place becomes a "Must see" site. Colorful light decorations are at every turn. The courtyard of the market is decorated with decorations in the shape of mistletoe.
Christmas decorations in Covent Garden
A beetle loaded with presents up to the roof and a Christmas deer (raindeer) from Santa's team. Favorite stops for photography.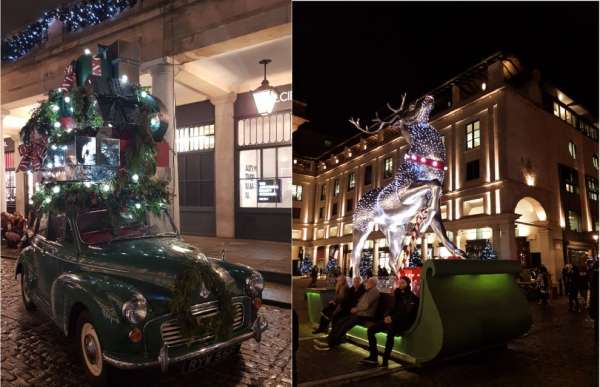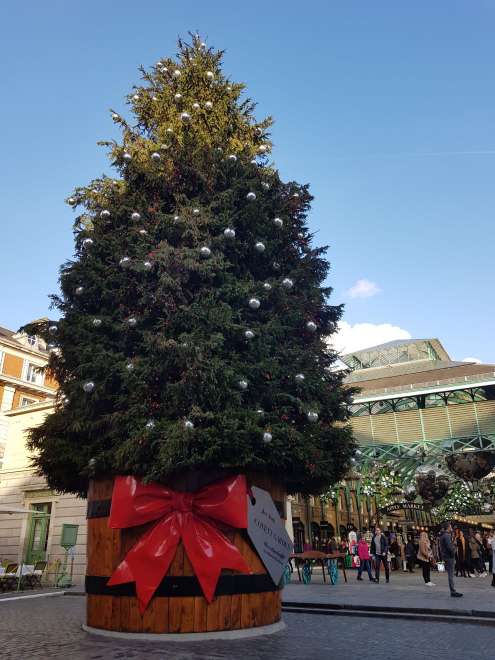 Christmas tree in Covent Garden
In the square between the market and the church of St. Paul can not miss the tree of giant dimensions richly decorated with lights.
Covent Garden
Decorated streets and passages to the courtyard in Covent Garden.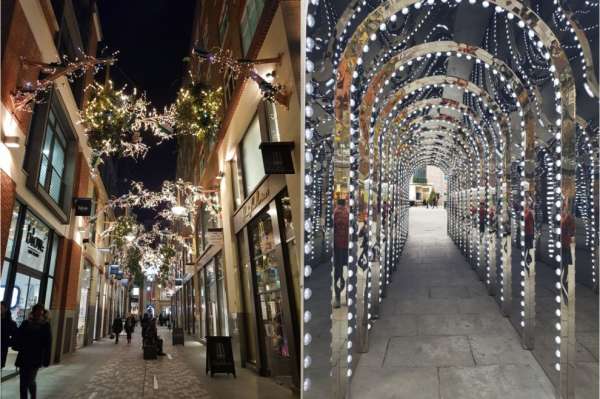 Seven Dials and Tree Courtyard
A crossroads of seven alleys with a small circle can also be found in Covent Garden. In Advent, she is decorated with a flood of snowflakes. A little further on in the courtyard, after entering, you will find yourself as if in a fairytale forest, where each of the living small trees glitters with lights. The magical atmosphere of Christmas guaranteed.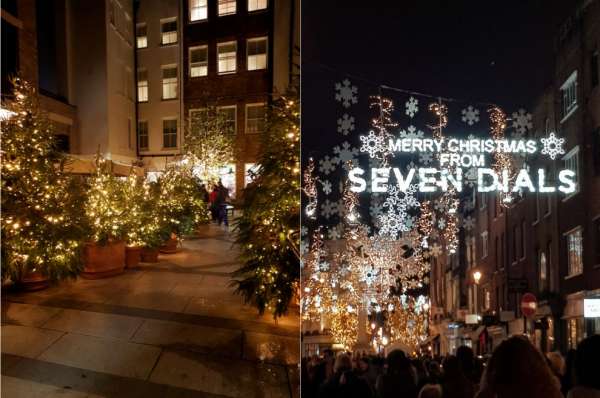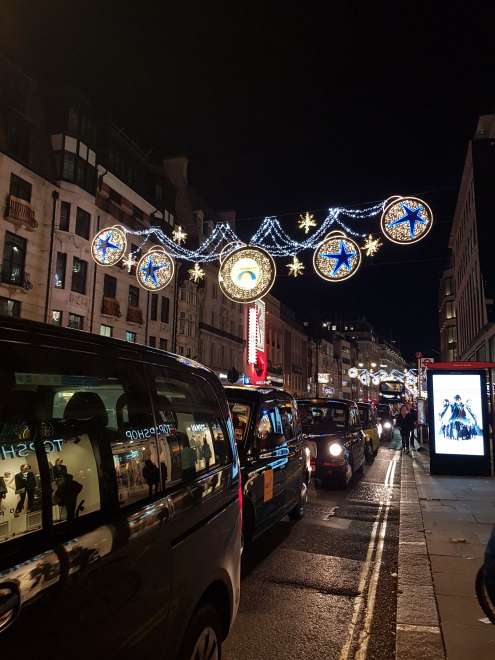 Northbank
The street adjacent to Charing Cross (Strand) Station, known as the Northbank area, is full of round spheres of light called Northbank. The street is very busy, especially at peak times, so it is better to walk it either later or just after sunset, before everyone ends up at work (17–18h) and hurry to the train.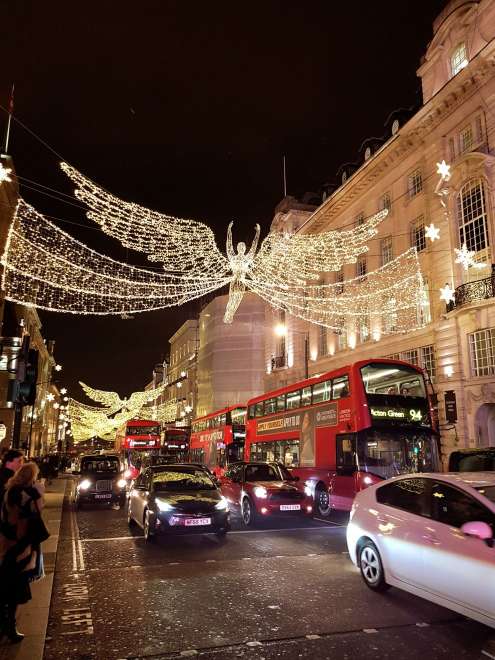 Regent street and angels
Also famous for its decoration is Regent street, which leads from Piccadilly Circus. The street is really long and you will find little angels hanging along it, but also countless shopping opportunities in many local shops.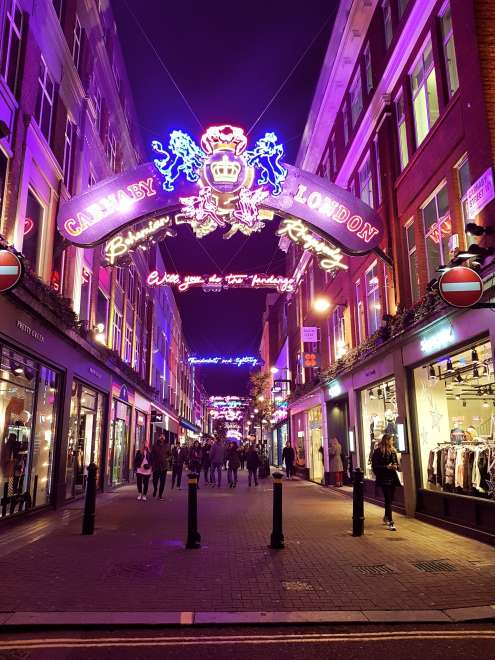 Carnaby street
A different style of Christmas decorations is offered by the nearby Carnaby Street, which is relatively small and tucked away, but it would be a shame to miss it on the way from Regent Street to Oxford Street. It offers arches with different inscriptions, each playing a different color and style. It is a more stylish decoration than a typical Christmas, but undoubtedly interesting.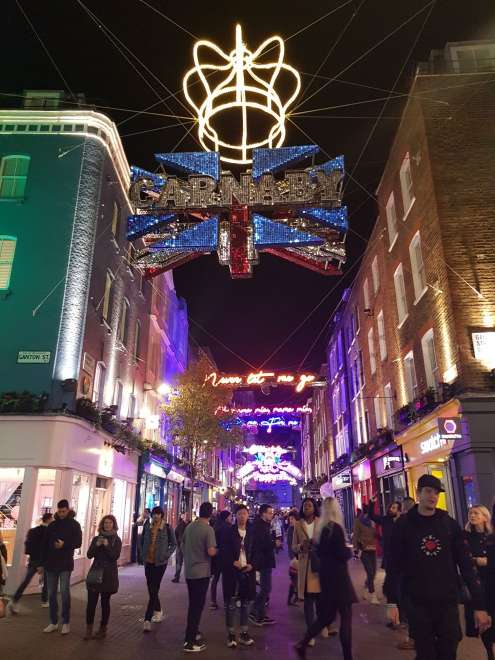 Carnaby street
Another of the decorations in Carnaby street.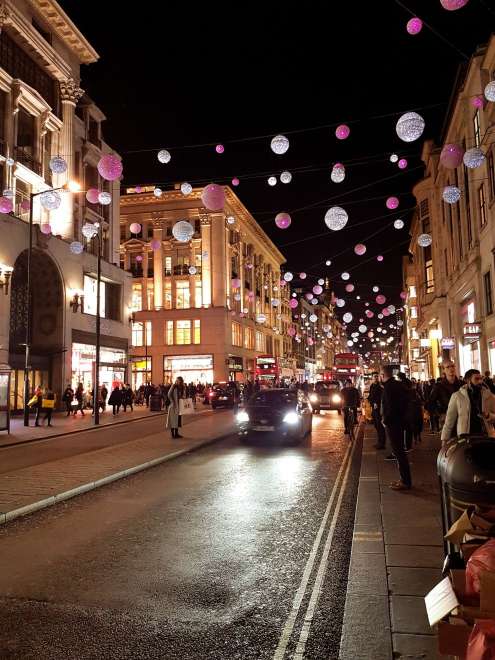 Oxford street
The main shopping street of Oxford Street is also dressed in Christmas clothes in the form of white-pink balls hung along its entire length. The only thing that spoils the Christmas mood a bit are the ubiquitous crowds of shoppers. So the ideal time to visit is a weekday morning or afternoon until 4pm max.
Other beautiful decorations around Oxford street
In the area around Oxford street and Regent street you will find countless beautiful streets decorated with beautiful light decorations.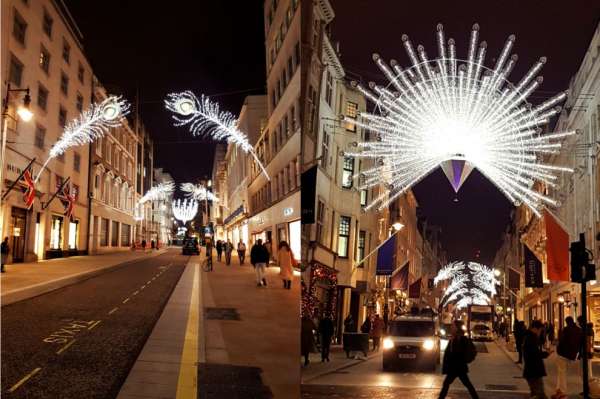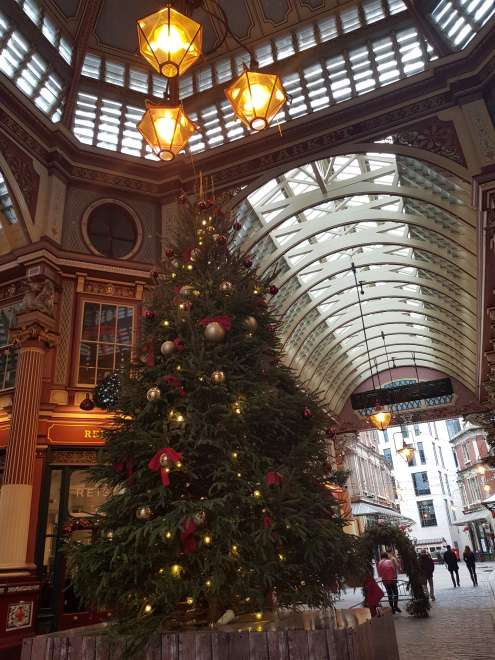 Leadenhall market
As a stone's throw from skyscrapers known as Egg or Walkie Talkie, you will find such a picturesque passage as cut from Harry Potter and Hogwarts. Even her Christmas decorations try to keep up with the style of the entire passage, which dates back to the early 19th century.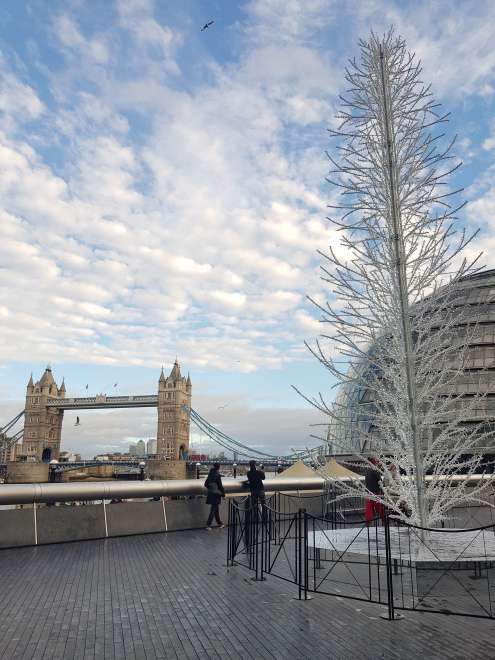 Christmas tree at City Hall
You will find the Christmas atmosphere in London everywhere during Advent. Such a modern tree harmonizes with the modern district of business buildings near the town hall and Tower Bridge in the background completes the picture to perfection.
Ice rink in front of the Natural History Museum
There are several ice rinks in London, but this is probably the most famous and most spectacular view in front of the Natural History Museum in Kensington.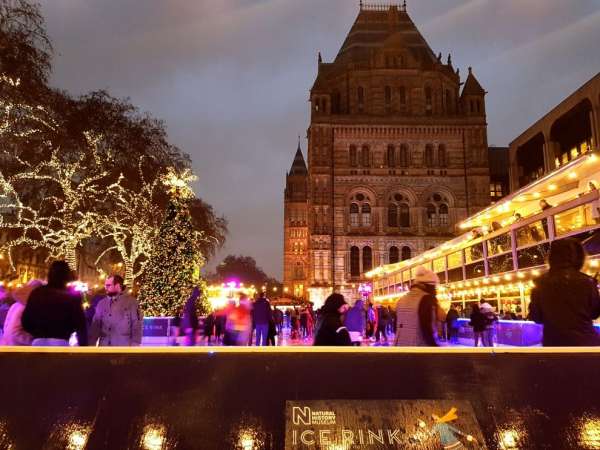 Applaud the author of the article!
Articles nearby
Magazine:
Advent 2019
Where to go for the best Christmas markets this year and enjoy the fairytale atmosphere of Advent? Christmas is not only shopping… continue reading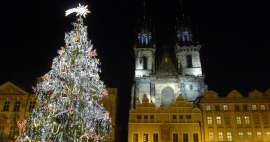 Thanks!
Have you been there? Write a review of this place
Already rated by 1 traveler