The most beautiful parks in the center and around the city

London is one of the greenest cities in Europe, so here you will find almost every corner a smaller or larger park or garden, where you can hide from the hustle and bustle of the city. British gardening and park maintenance has a long tradition and is evident on every corner. Deciduous trees that are several decades old are the order of the day, a well-kept lawn, which, unlike us, can be stepped on or sitting on, you will find all this and much more here. There must be ponds and all kinds of birds and famous squirrels.
Alexandra park
Alexandra Park, not very well known among tourists, can be found in north London, where you have to use a bus to take you up the hill to the park. From here, central London can be seen in the palm of your hand. Here you will find the Alexandra Palace exhibition center, where various events are held, and the park is crossed by a pedestrian-crossed park, which only invites walks.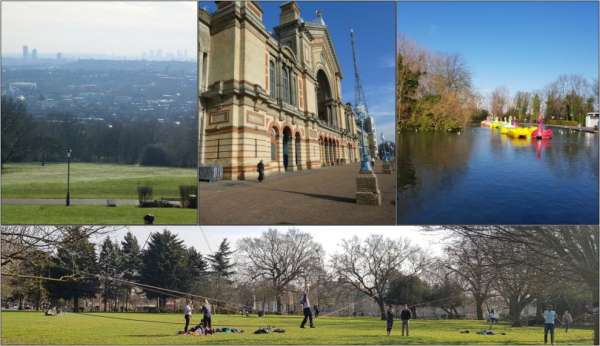 Battersea park
A medium-sized park on the south bank of the Thames can be found on the west tip of London. In the middle there is a pond full of birds and a bistro with tables outside and inside for sitting. Interesting is the Peace Pagoda. There are children's pla­ygrounds and a petting zoo. Cyclists and skaters can use the sidewalks for these purposes. Views from the promenade along the river offer views of the beautiful Albert Bridge.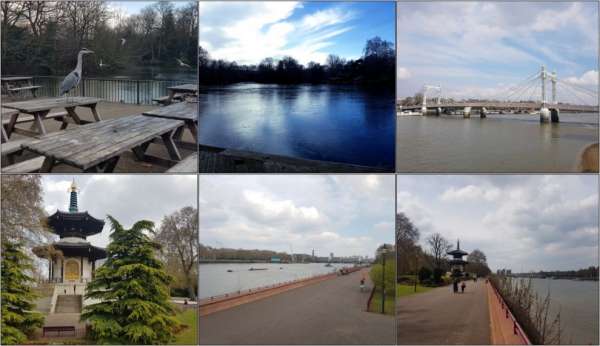 Green park
There are several important parks around Buckinham Palace. Green Park adjoins the palace from its northern side and you will find refuge from the crowds of tourists standing in front of the palace gates. The park is full of mature trees that line footpaths or form alleys. You will often meet the riding police here, grazing their service horses or riding on roads intended for horse riders.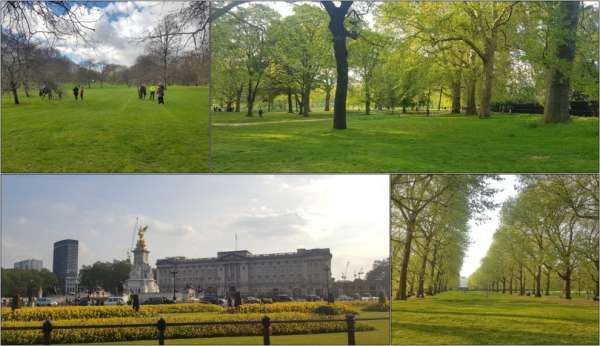 Greenwich park
To the west of the city on the south bank of the Thames you will find one of London's largest parks, Greenwich Park. At the top of its hill is the observatory along with the zero meridian denoting Greenwich Mean Time. From here there is also a beautiful view across the river to the new financial center at Canary Wharf and to the Royal Maritime University and the Maritime Museum below the park.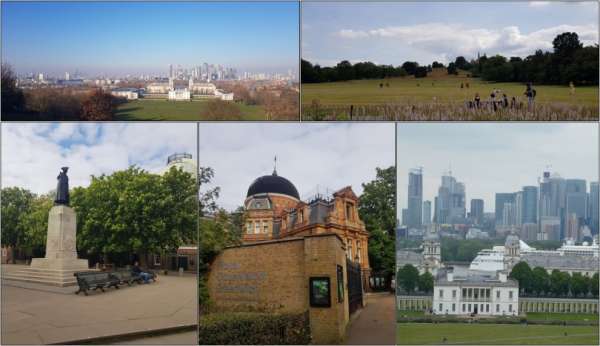 Hampstead Health
On a hill in north London is a large forest park, Hampstead Health, where you suddenly find yourself in the countryside. From the grassy meadows of the park, the lakes where you can take a dip in the summer to the deep forest, where you will be taken by various paths. All this is just a few metro stops away.
Holland park
A small park hidden in the middle of the upscale Kennsington district hides several themed gardens. From the Dutch, as the name suggests, which bursts with flowers and carefully landscaped greenery to the Japanese garden. It is in the spirit of zen values, so you will find a quiet lake, stones, clean lines but also a waterfall, which probably in the middle of the city would be looking for few.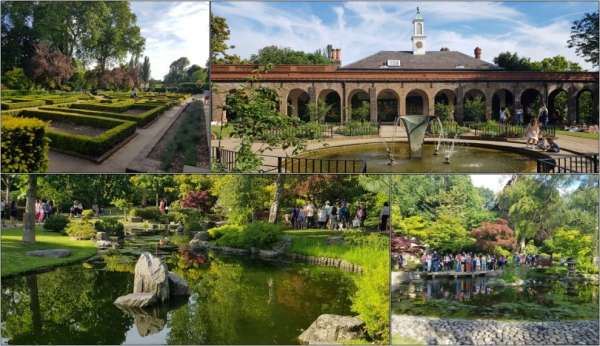 Hyde Park
The largest park in the heart of the city, just a stone's throw from Buckingham Palace, is Hyde Park. The dominant feature of the park is undoubtedly Lake Serpentine, where you can rent a pedal boat or swim in a reserved area. Of course, there are numerous flocks of various birds from swans, through several species of ducks to wild geese. In summer, children will especially appreciate the opportunity to take a dip in the fountain of Princess Diana, which is formed by a flowing river in a circular trough. An interesting fact that we discovered here is a place to the north just behind the bridge, where the locals managed to teach a few parrots (Alexander the Little) to return here and be fed by hand. These parrots are quite widespread in England, but only here have she seen them tamed like this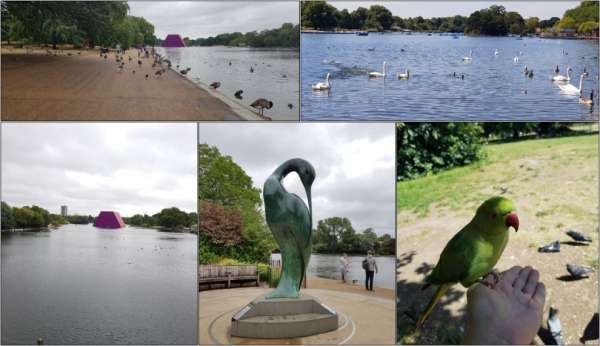 St. James's Park
The smallest of the three parks adjacent to Buckingham Palace is in front of it. James' Park, which lines The Mall. It is crossed by a lake along its entire length, where, in addition to classical birds, you will also find several pelicans from the Prague Zoo. In addition to birds, London's parks are also full of squirrels, but you will probably find the most domesticated (read the most glittering) right here. Tourists and locals alike have taught them to walk for a regular dose of nuts, which they take directly from their hands.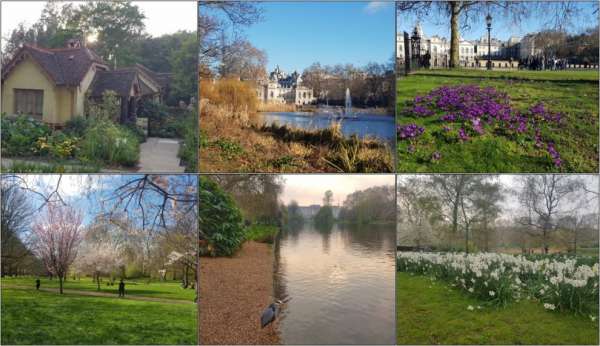 Kensington Gardens
The western read of the extensive Hyde Park consists of Kensington Gardens with the Royal Palace in the middle, which is open to the public for view – unlike Buckingham Palace, which is partially open to the public for only a few months of the year.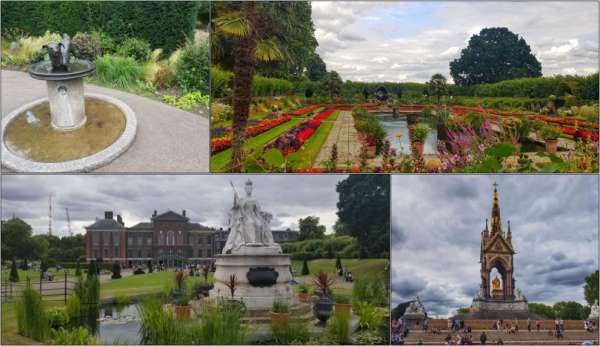 Mudchute park and farm
Mudchute Park and a hidden zoo with an animal farm can also be found on Canary Wharf, east of the center on the north side of the Thames. A visit to the farm is free, children can buy pellets and feed sheep, goats, llamas, ducks and other inhabitants of the farm. There are also toilets and a small bistro with snacks. Canary Wharf is a new financial center with skyscrapers. It is interesting how you can move to such a diametrically different environment in 20 minutes and enjoy a piece of open nature in the middle of the city in the park.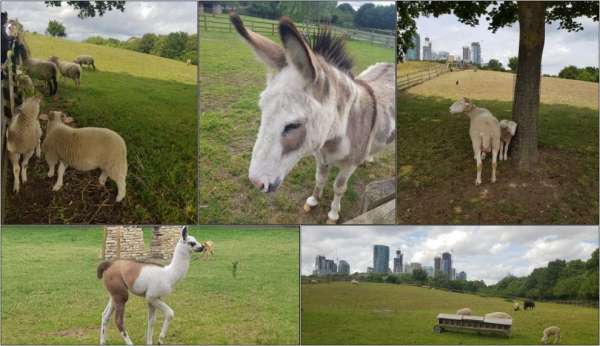 Queen Elizabeth Olympic Park
This park in East London was created for the Olympic Games in London in 2012. It features a large athletic stadium, a swimming area, an observation tower with the Arcelormittal orbit slide and many walking and cycling trails. The best connection to the park is from Stratford Station, where both the Tube and the train run.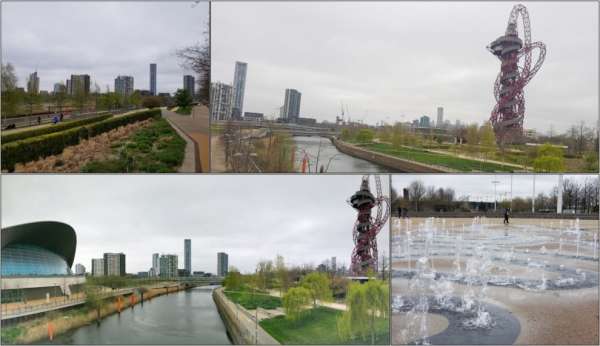 Parliament hill view point
Hampstead Health Park, in north London, has Parliament Hill and a viewpoint. From here, you have all of London in the palm of your hand. Londoners from around the park have this place very popular, even for weekend walks with dogs, for running or as a destination for a bike ride. It is beautiful here in any weather, but if there is good visibility, it is really worth it.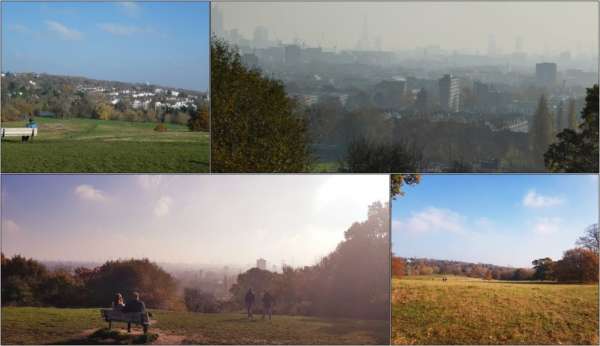 Regent's Park
One of the larger parks near the city center is Regent's Park. You can easily recognize it on the map by its circular shape, where a river canal runs along its perimeter, where both tourists and places pass by boat from Little Venice to Camden town. You will find London Zoo in the park, and you will see several animals as you walk along the path along the zoo's fence. In the middle of the park there is a pond with birds and a small bistro with refreshments on its shore.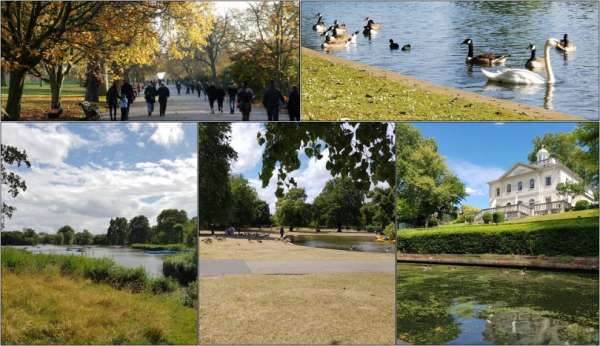 The Hill garden and pergola
The western part of Hampstead health park hides the beautiful park The Hill park, which is partly a forest park and partly here you will find free meadows for picnics as if created. In the center of this park is a hidden pergola. It is a hidden gem for everyone who loves mysterious gardens and nooks. You can walk through the alley on arched pedestals through a pergola overgrown with greenery and flowers. The pond with water lilies is then an oasis of peace.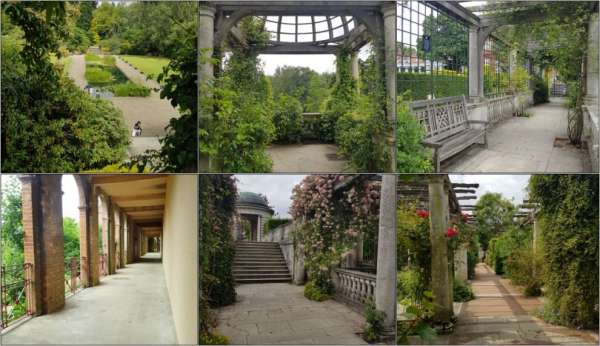 Victoria park
In north-east London, you will find Victoria Park, which is medium in size compared to other parks in the city. But it definitely deserves its place here, not only with an interesting Chinese pagoda, which you will also find here with an interesting path to the park, which leads along the river channel with hand-operated locks. During the spring months, all the parks in London turn into a flower show and are shrouded in a veil of pink sakura blossoms.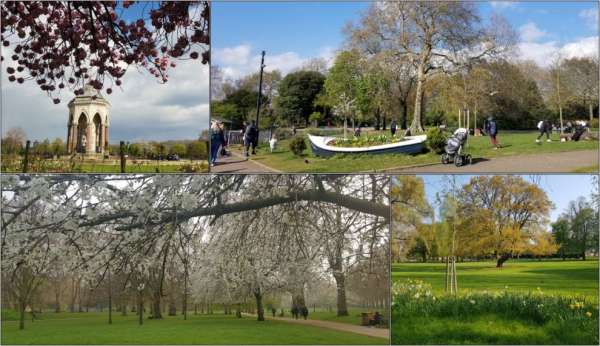 Parks around London
To drive from the center
Other parks and nature areas surround the city of London throughout its surroundings. Just get on the train or bus and in less than an hour you can enjoy a piece of real nature near the big city.
Kew Garden
All the mentioned parks are freely accessible, but I could not forget to mention here Kew garden, which is charged. Nevertheless, its tour is definitely worth it and I recommend setting aside at least half a day. There is really so much to see in the garden that you will definitely not regret £ 18 to enter. Several large greenhouses overflowing with tropical plants, a treetop trail, a pagoda, a Victorian palace and much more.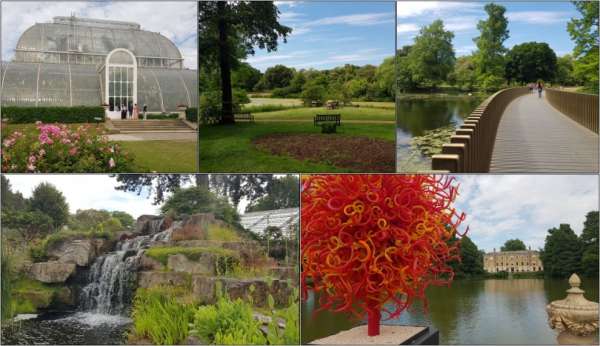 Richmond park
Richmond Park is less than an hour west of central London. It is a large park with forests, clearings, ponds and countless paths for pedestrians and roads for cyclists. But what makes this park special are the numerous herds of deer that move freely here. If you are lucky and come across them in a large park, it is an experience of a lifetime. The deer have already got used to the visitor, so they will let you come close without disturbing them in any way.
Wimbledon park
Wimbledon in south-west London is probably well-known for its famous tennis cups. But you will also find a large forest park, where lakes or a historic windmill are hidden.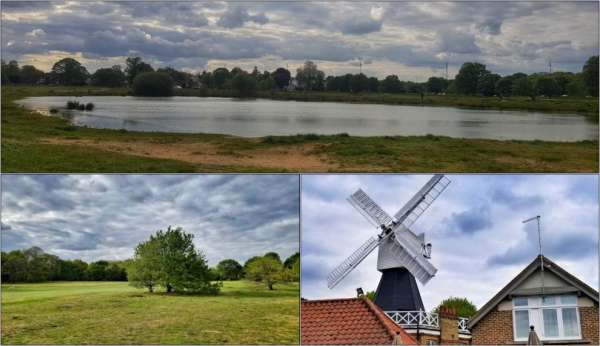 Walthamstow Reservoirs
In north London, you can reach the true water landscape in less than an hour by train or Tube. Near Walthamstow you will find a tangle of river canals and a number of water reservoirs that serve as a reservoir of drinking water for Londoners. Unfortunately, swimming is forbidden here and some reservoirs are fenced so that no one can contaminate the water. Nevertheless, this is an unconventional place to visit and walk along the dam between water bodies.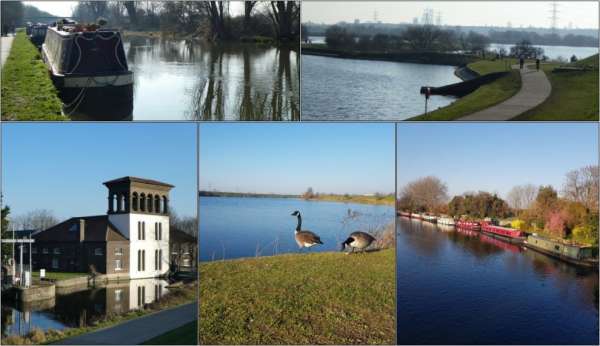 Epping forest park
A wild landscape interwoven with water areas of lakes and rivers and the ubiquitous bird shouts, this is Epping forest park. It is in north London, near Walthamstow. It has its charm in every season and so always where to go for a weekend walk in nature.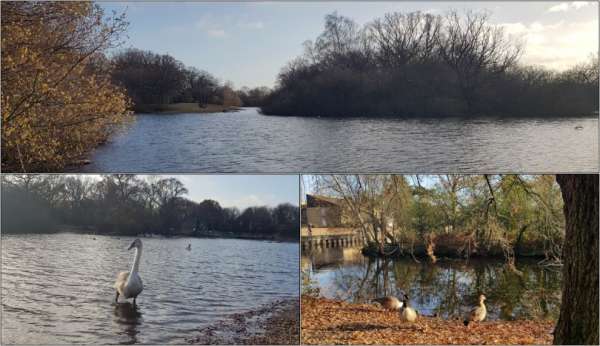 Applaud the author of the article!
Part of gigalist
Giga List:
The most beautiful trips from London
London, as one of the largest cities in Europe, offers a large number of interesting places and sights. In addition, it is… continue reading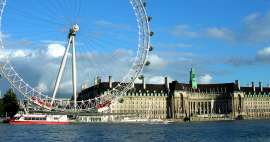 Part of itienary
Article:
An itinerary to explore London and the surrounding area
Do you think that the Euro weekend in London will show you everything that such a big city has to offer and nothing more? Error.… continue reading
Thanks!
Have you been there? Write a review of this place
Already rated by 1 traveler