Trip to Hruboskalsko
Rock town with castle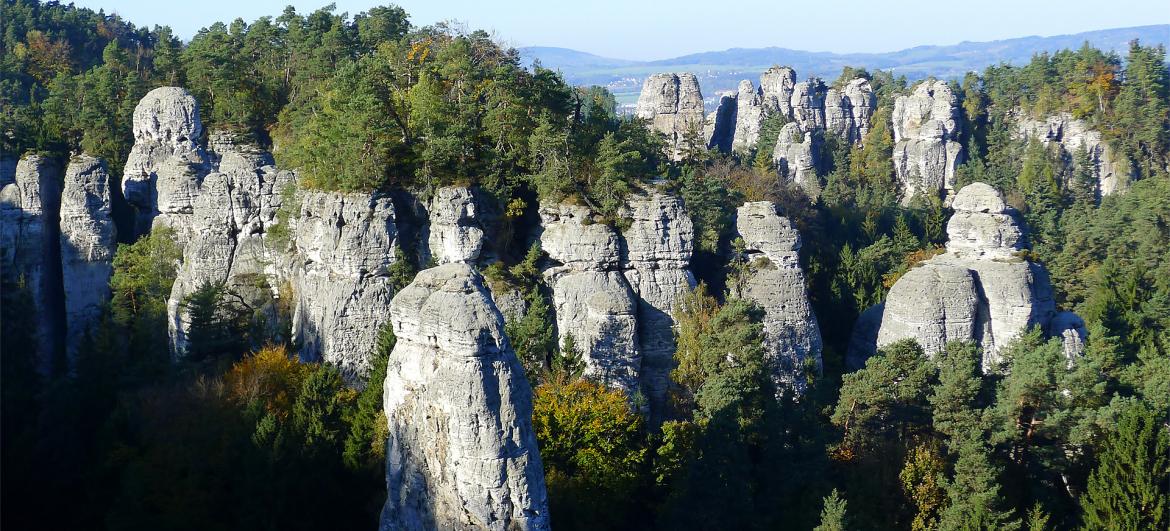 Hruboskalsko competes with Prachov rocks for the most popular tourist rock town in the Bohemian Paradise. You can admire here beautiful panoramas not only of interesting rock formations, but also distant views of Kozákov ridge ("Kozákovský hřeben"), Giant Mountains ("Krkonoše") and Ještěd. Except for it there is also nice castle Hrubá Skála, castle Valdštejn ("Wallenstein") and interesting Kopic farm ("Kopicův statek") and a short way from here also reliefs in sandstone rocks. It is possible to combine here easy hiking circuits suitable also for small children with more difficult ones, where you can expect hundreds of stairs in the center of the rock town.
The route of the most beautiful circuit around Hruboskalsko
From the car park at castle Hrubá Skála walk down through the mouse hole into a shadowy valley beneath the Dragon´s rocks and from there set out to Adam's bed ("Adamovo lože"). From the signpost then along the yellow trail through beautiful Marian outlook ("Mariánská vyhlídka") to Anton spring ("Antonínův pramen"). From there already along the blue trail through the interior of Hruboskalsko to John's outlook ("Janova vyhlídka"). You will then join the main red trail and walk back through the amazing Outlook of the Band ("Vyhlídka na Kapelu").
The most beautiful gorge in Hruboskalsko
|
Altitude: 370 m / 1 214 ft
If you are visiting Hruboskalsko ("the area around castle Hrubá Skála"), do not forget to go through the… continue reading
Walk in the interior of rocks
|
Altitude: 400 m / 1 312 ft
Compared with entirely relaxing walk along the red tourist trail from Hrubá Skála to Wallenstein ("Valdštejn"… continue reading
The easiest trip in Hruboskalsko
|
Altitude: 410 m / 1 345 ft
Three and a half kilometer long walk from Hrubá Skála to the castle Wallenstein ("Valdštejn") is one the most… continue reading
Extension of the trip
If you would like to extend this trip, you can walk to the castle Valdštejn or to Kopic estate, in the surroundings of which are interesting rock carvings.
Around the forest stone
|
Altitude: 395 m / 1 296 ft
Castle Valdštejn ("Wallenstein") situated on the north end of the picturesque Hruboskalsko is a popular stop… continue reading
Folk art in sandstone rocks
|
Altitude: 400 m / 1 312 ft
Kopic estate lies on the blue tourist route, halfway between Hruboskalsko and village Kacanovy. Because it is… continue reading
Activities
Practical information
Part of gigalist
Giga List:
The most beautiful hikes in the world
In this overview you will find a very beautiful, the maximum one-day hikes from around the world. Not only during long treks, but… continue reading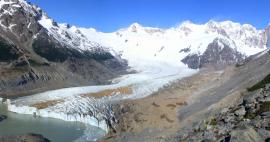 Applaud the author of the article!
Have you been there? Contribute a good advice to travelers who want to go to this area or add places to your visited list.
Do you want to go there? There is nothing easier than having to deal with others and go on a trip or get tips on where you want to go.
Thanks!
Have you been there? Write a review of this place
Already rated by 5 travelers