View of the largest hole in the Bohemian Paradise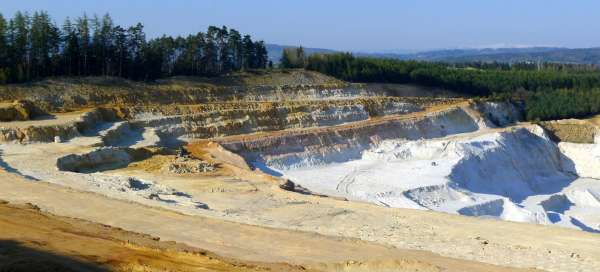 This interesting and at the same time little walk begins at the Doly pond, a tourist crossroads between Mladějov and Trosky. From here we set off on an unmarked footpath in the Žehrovka valley and climb to a impressive view of the huge sand quarry in Střeleč in a suitable place. The road ends in Mladějov
Pond Mines
The starting point of this tour is the Doly pond, where you will arrive after a while, for example from Mladějov, which is an ideal place for this trip.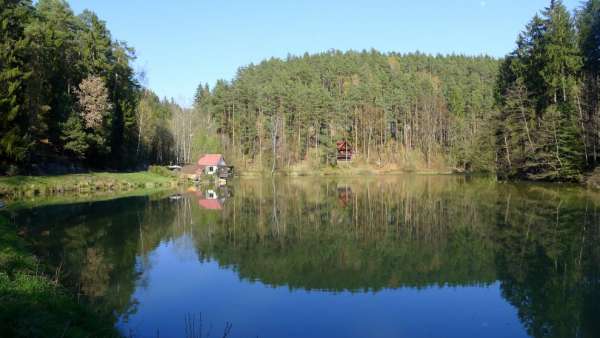 Pond Mines from the other side
From the crossroads of the blue and green hiking trails, continue along the blue, but after a few meters turn right onto a footpath leading along the pond and one cottage.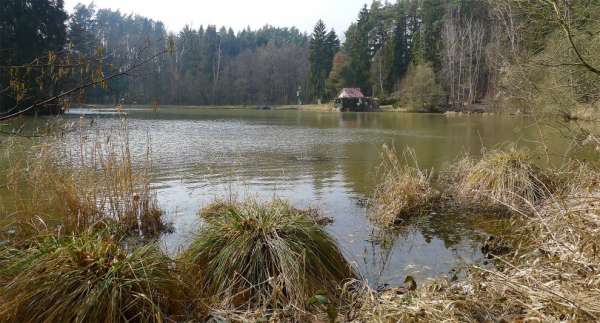 Comfortable path through the woods
The road rises for a while. In places where this significant road turns sharper to the left, take the footpath back to the river (be careful, this footpath is not marked even on mapy.cz, so don't get it wrong)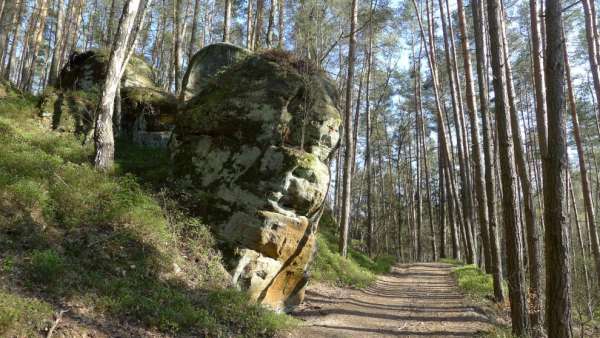 Bridge over the river
The road leads through the floodplain forest. When you reach a small wooden bridge, you are in the best places to start climbing the slope to the view of the sand quarry.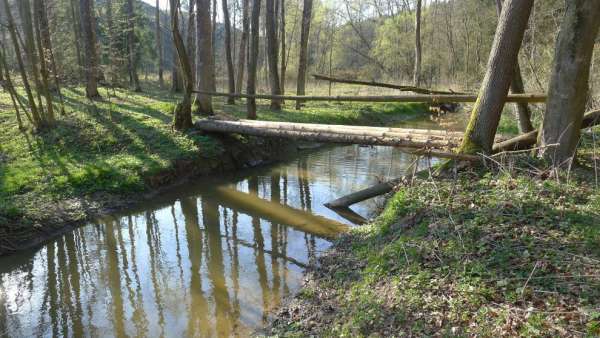 Ascent to the lookout
The ascent to the lookout is not completely comfortable and for everyone, so don't overestimate the strength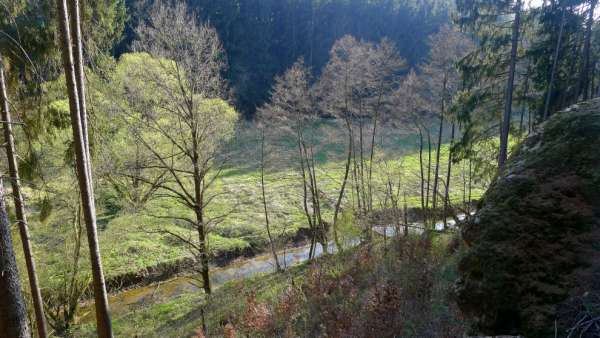 Sand wall
You will know that you are in the right place by the sand wall. Climb it, walk a few tens of meters and you are on the edge of a quarry.
Panorama of the Střeleč quarry
The pit is huge almost a kilometer per kilometer and a depth of more than 80 meters

Famous white sand
The sand has many colors here, but the most famous is the white one – you can make it a beach like in the Caribbean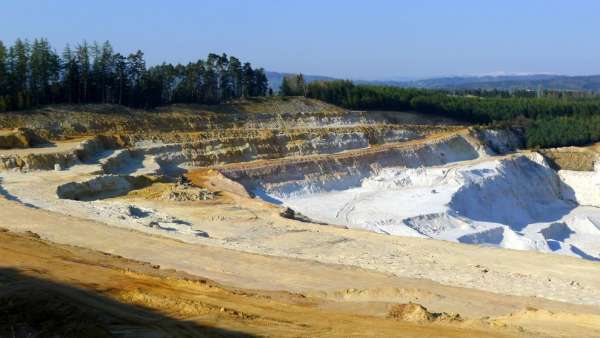 Truck Vs. quarry
Trucks look against the quarry like some toy cars for children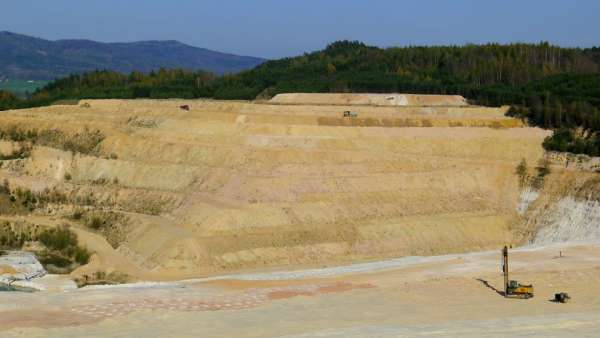 Lake at the bottom of the quarry
At the bottom of the quarry is a small lake. If it receded over time, it would definitely be a great place to swim. In the background you can see a gigantic processing plant
View of the Shooting Mountain
The highest hill in the area is Střelečská húra (456 m above sea level). It is interesting that the quarry is named after Střeleč, although it is much closer to the village of Hrdoňovice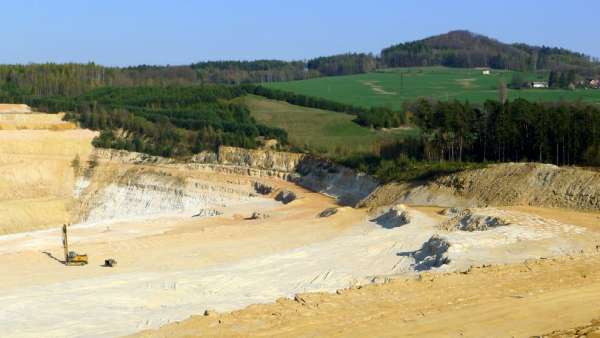 The first signs of civilization
Go back to the river. Beware of climbing a slope, which is more difficult than the way up. After a while you will see the first cottage and a wider path from it again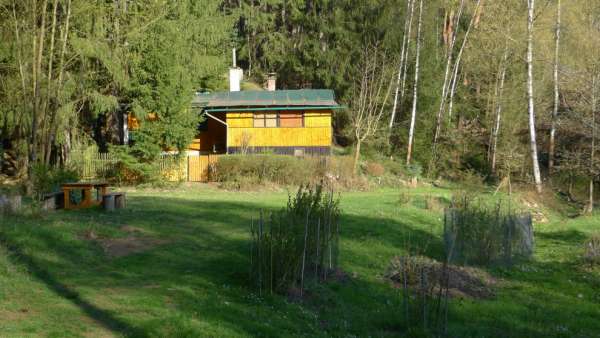 Picturesque road through the woods
The road leads along smaller rock blocks towards a smaller settlement a bit cut off from Mladějov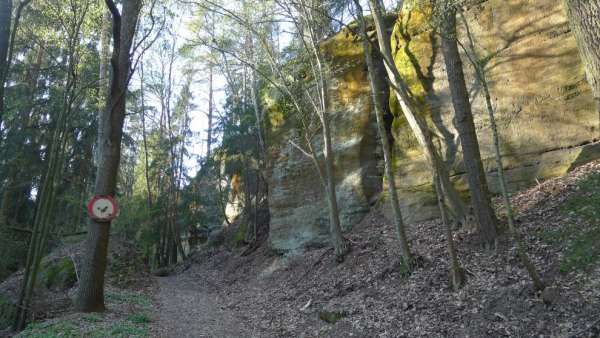 Nice log cabin
The first building in the settlement that you will meet is also the most beautiful – a log house built next to the rock massif. From here it is only a short walk to the main road and you are back in Mladějov a few hundred meters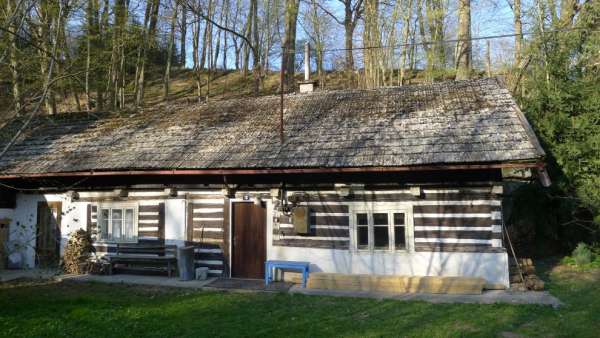 Applaud the author of the article!
Thanks!
Have you been there? Write a review of this place
Already rated by 1 traveler